Medal Haul For Harriers In Yorkshire Championships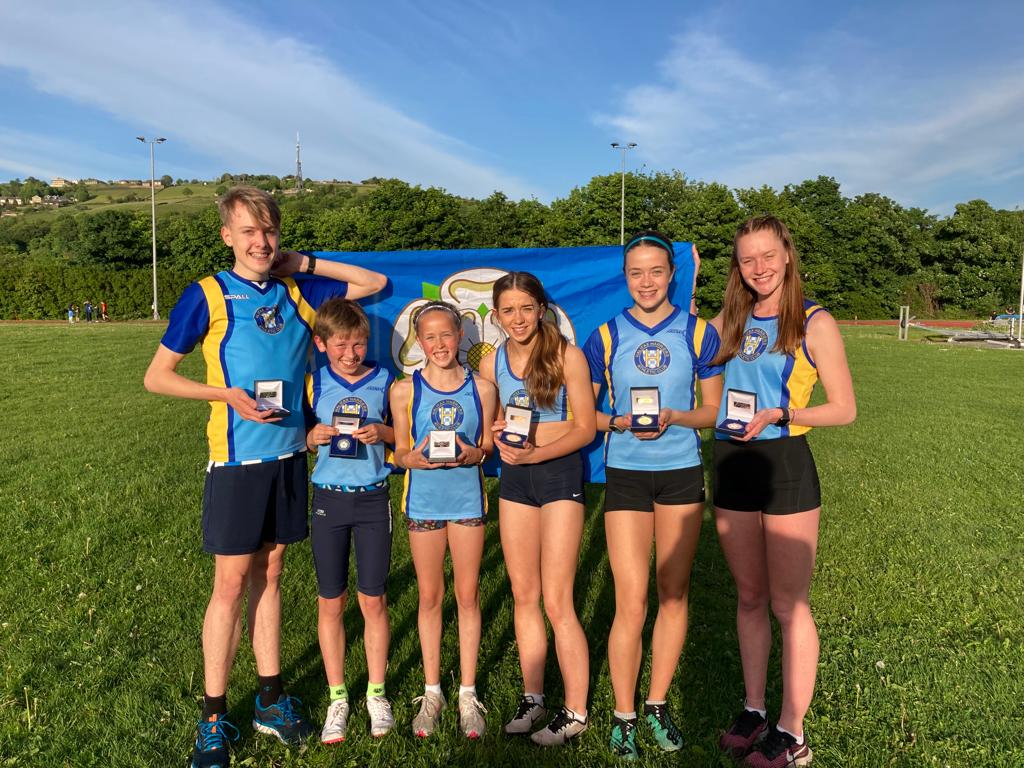 Yorkshire Championships
Eleven athletes recently represented Halifax Harriers at the Yorkshire Championships in Cudworth near Barnsley with seven runners coming away with county medals. Five were won in the 800 metres. Nia Harrison-Sargent took gold in the under 15 girls in a time of  2.16, whilst sister Kitty won silver in the under 13 girls in 2.28. Sam Keighley was second in the under 13 boys in a personal best (PB) time of 2.21, Jacob Ewart won silver in the under 17 men in a PB time of 2.01 and there was a bronze medal for Isabel Castelow in  2.20 in the senior women category. Molly Firth won a bronze in the Under 17 women's 300 metres and Louise Royston took bronze in the senior women's 400 metres. Freya Burgin, Chester Gately, Ben Slow and Maisie Brown all represented the Harriers and achieved PBs in their respective events.
Great Manchester Run 
Two Halifax Harriers competed in Sunday's Great Manchester half marathon. Liam Parkin was first home, finishing in 71st place overall in 1:21:44. Wayne Stevens completed the race in 1:49:02. There were also two Harriers in the 10k with Tom Hodgson and Tabitha Howe setting times of 32:20 and 48:59 respectively.
Blackstone Edge Fell Race
Last Wednesday evening, four Harriers were amongst the competitors at the short, but gruelling, Blackstone Edge Fell Race. Andrea Ackroyd was first back, clocking 48:32 on the 3.5 mile course with 1,200' of climbing. Paul Hopkinson (53:23), Margaret Deacon (59:08) and Jenny St Romaine (69:00) also ran. This was the latest race in the club's fell league. 
Duathlon/Triathlon
The club was also represented at multi-sport events on Sunday. Simon Gelsthorpe finished first in his age group in the Dalby Forest Standard Distance Duathlon with Andrea Ackroyd taking first place in her category in the Sprint event. Martin Ellis completed the Southport Triathlon.
Excellent Turnout At Bluebell Trail Race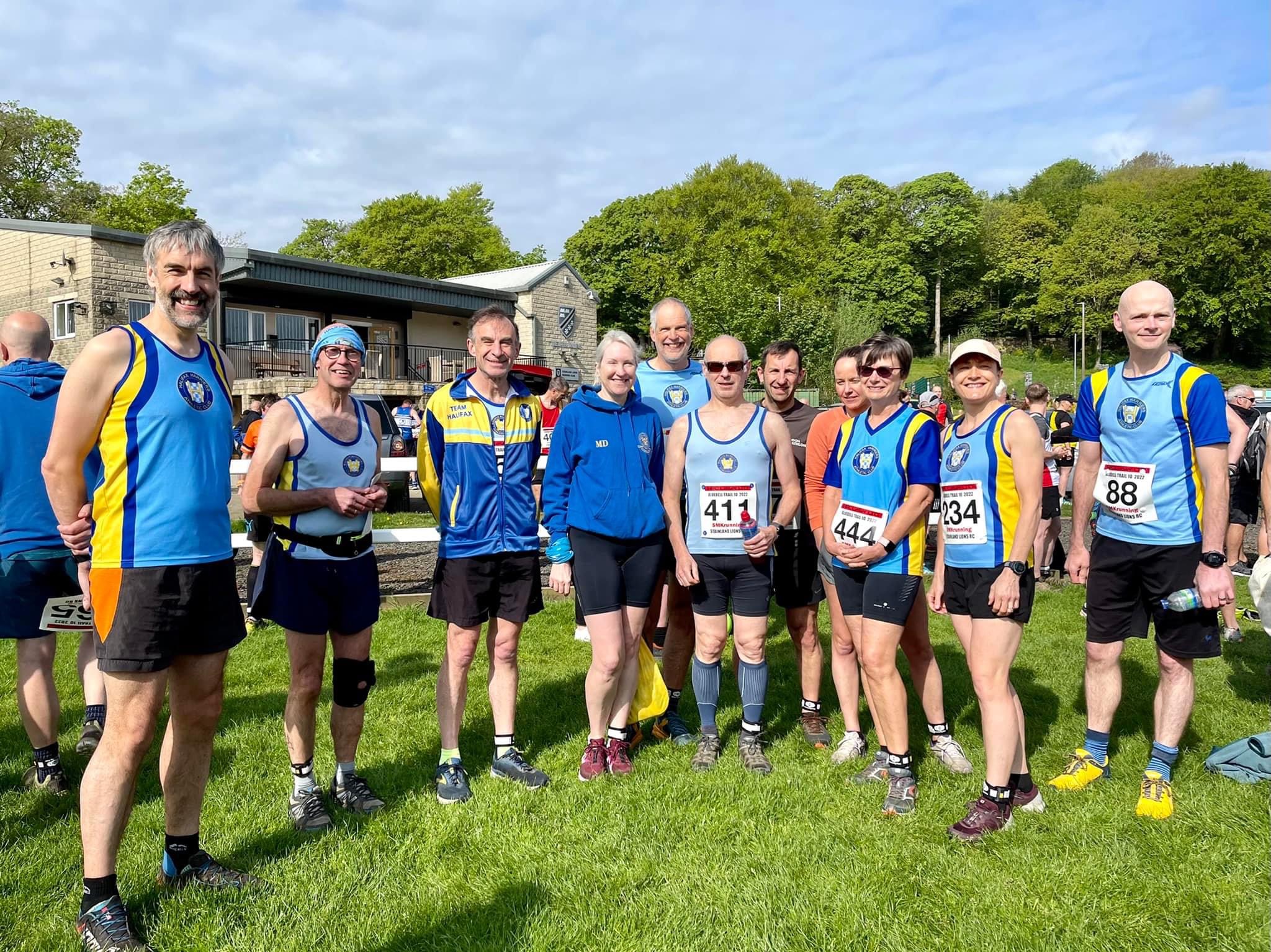 Bluebell Trail
There was an excellent turnout at Sunday's Bluebell Trail race with 13 Harriers competing. This popular multi-terrain race, organised by Stainland Lions, was taking place for the first time since May 2019. The route took runners through woodlands with stunning displays of bluebells, along canal towpaths and trails, and up cobbled streets including the very steep Trooper Lane. Finally, there was a very refreshing river crossing before a sprint across the grass to the finish line. Conditions were good and there were many comments about the excellent and friendly organisation of the race.
Will Carver was the first Harrier to finish the challenging 10.3 mile course with around 1,500' of ascent, coming home in 25th place in 1:23:22.
Tim Baxter was next in 1:29:22. Jane Hobson was the first of the five ladies, clocking 1:40:11 and picking up the prize for the FV50 category. Rob Hick was also first in his category (MV65) in 1:43:52.
Other Harriers results: David Ingle (1:30:01 -  2nd MV50), James O'Rourke (1:32:26), Marc Rocheteau (1:40:51), Stephen Fitz-Costa (1:46:12), Sophie Baxter (1:50:01), Sally Shacklock (1:53:53), Margaret Deacon (1:54:51), Martin Ellis (1:58:27), Jenny St Romaine (2:17:37).
Leeds Half Marathon
Seven Harriers were amongst the nearly 4,000 runners that took to the streets of Leeds on Sunday for the city's annual half marathon. Ian Whitehouse was first Harrier in 68th position in a time of 1:23:41. Joanne Arundale was the first female Harrier home in 277th place in 1:34:14. Alice Vick and Erika Nightingale were close behind in 1:35:17 and 1:39:50 respectively, just ahead of Angela Clarke who was third in the FV50 category in 1:40:00. Other Harriers to run were Adam Lewis (2:04:03) and David Parrington (2:17:16)
Other Races
Elsewhere over the weekend, Hazel Berrett tackled the brutal Moel Eilio Fell Race in north Wales on Saturday. This tough 8 mile course in the heart of Snowdonia starts in Llanberis and takes in a number of summits, climbing a total of 3,000'. Hazel was first F60 in 1:47:53.
On Sunday, Will Stewart and April Caufield ran in the Blacksticks Blue 10k in Lancashire, finishing in 41:17 and 43:41 respectively. April was third FSen.
Great Results For Juniors At Cleckheaton
Yorkshire and District League (YADs) - Division 1
Sixteen young athletes from Halifax Harriers took part in this year's first Yorkshire Development league meeting at Cleckheaton on Sunday.
The 800 metres provided a flurry of personal bests (pbs).  In the under 15s, Chester Gately ran and won his first ever 800 metres in a time of 2:16 ably supported by Ben Slow with a pb of 2:33. Jacob Ewart also won the under 17s race with a pb of 2:04.  In the under 13 girls we gained another first place with Kitty Harrison Sargent posting a time of 2:27 and a pb for Faye Skilbeck in the under 15s with a time of 2.34.
Sam Keighley led the way in the under 13 boys 1500 metre race with a time of 4:51 (pb and club record), backing that up with a pb and club record in the 150 metres.  Jacob Ewart won the U17 400 metre race in a time of 53.8, yet another pb.
In the under 17 girls Molly Firth won the 200 metres in a time of 27.0.  Maisie Brown was also first in the Under 17 300 metres in a time of 44.9.
There were also successes in the field events with a number of first, second and third places in the long, high jump, discus and shot putt.
The final event was the Under 13 boys 4 x100 metre relay, the boys bringing home the baton in 1st position (Team: Sam Keighley, Beau Clarke, Tom Wright and Albert Jones).
Kieran Leads Harriers' Challenge At Coiners Fell Race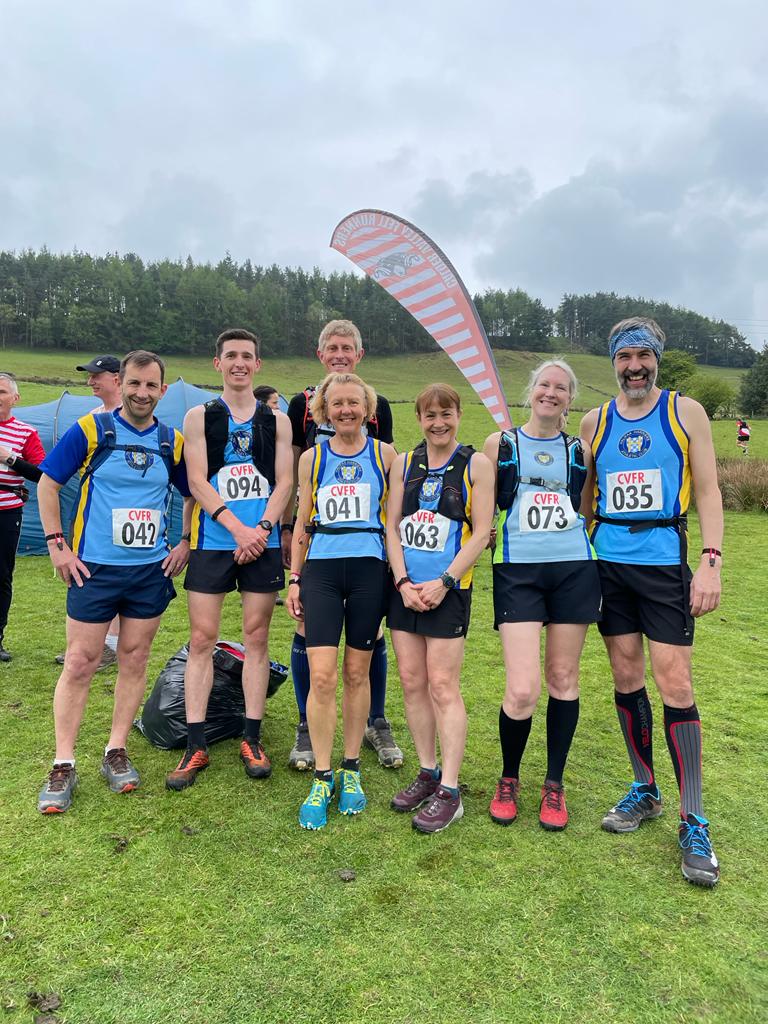 Seven Harriers turned out for the Coiners Fell Race on Bank Holiday Monday; the latest race in the club's fell league championship. The 11k course consists of a tour of Coiners' country above Mytholmroyd on paths, tracks and moorland, taking in Erringden Moor, Stoodley Pike and Bell House Moor. There are spectacular views of Cragg Vale with a total ascent of 300 metres.
Kieran Manchester was the first Harrier, impressively finishing in fourth place in 48:29. Hazel Berrett led the trio of ladies, winning the W60 category in 1:10:52. Hazel was hotly pursued by Jane Hobson, who was just two seconds behind, taking second place in the W50s.
Other Harriers were: James O'Rourke (1:07:33), Stephen Fitz-Costa (1:14:18), Paul Hopkinson (1:16:08) and Margaret Deacon (1:31:24).
On Saturday, Will Carver took on the classic Three Peaks Fell Race in near perfect conditions. The course is 23.3 miles long and involves 5,300' of ascent, taking in the peaks of Pen-y-Ghent, Ingleborough and Whernside. Will recorded a time of 4:24:32, coming home in 161st place out of 387 finishers. 59 runners did not complete the race.
On Sunday, three Harriers competed in the Willow Valley Flyer. The 7.5 mile multi-terrain race was organised by Brighouse Bumble Bees. Starting in Brighouse, the hilly route goes through Willow Valley golf course on both the outward and home bound stretches and includes road, bridleways and footpaths. Rachel McHale was the first Harrier home  and fourth placed lady overall, clocking 1:03:24. Angela Clarke (1:05:36) and Martin Ellis (1:09:18) were the other Harriers.
Also on Sunday, in central London, whilst club runner, Ellis Cross, was battling it out and finally defeating Mo Farah, our own Steve Denniss completed the Vitality London 10k in 51:20.