Greenhead Park 5k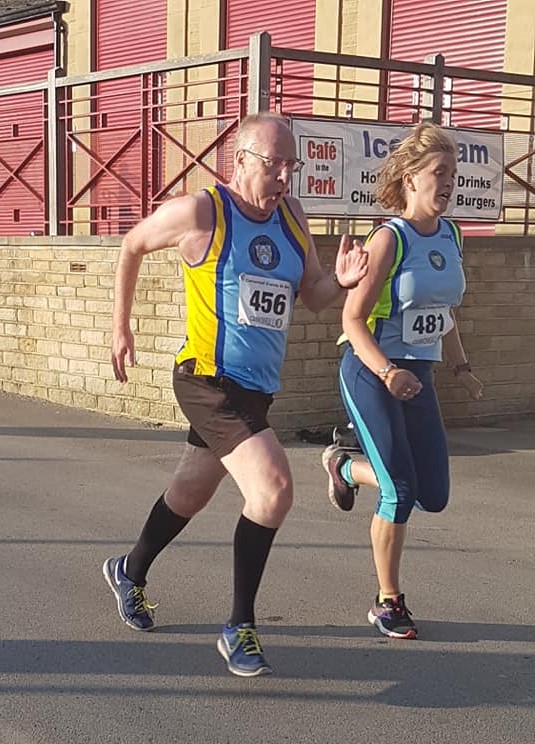 Twenty-two Halifax Harriers turned out for the Huddersfield Park 5k race on Thursday 18th July. This was the third of a four race series held in Huddersfield's Greenhead Park and was also in the Harriers Race Challenge. It was a warm night but thankfully for the runners there was a nice breeze that made running conditions bearable. 
First home for the Harriers was Ben Crowther who again managed to miss out on going under 17 minutes, finishing in 17 minutes dead, in a very respectable third position. Next was Harry Johnson in 5th position and second U23 (17:49). The first female Harrier to finish was Helen Ward who was second lady finisher and first F35 in 20:35. Other age group positions were Michael King 19:18 (M35 2nd), David Ingle 20:06 (M55 1st), Mark Crabtree 20:21 (M60 1st), Will Carver 20:45 (M40 1st), Marc Rocheteau 21:42 (M55 2nd), Jonny Lister 21:58 (M50 3rd), Nigel Taylor 22:25 (M45 3rd), Angela Clarke 22:33 (F45 2nd), Sean Morland 22:47 (M40 3rd), Rachel McCauley 26:20 (FSen 1st) and Deborah Kirkbride 27:21 (F55 3rd). 
Other Harriers finishers were Ian Giles 21:43, Paul Bunker 23:51, John Moore 24:50, Martin Ellis 24:57, David Parrington 25:48, Christopher Kirkbride 28:37, Kirsty Carver 28:37, Monica Gallagher 29:13. 
The highlight of the race from a Harriers point of view was the sprint finish between Chris Kirkbride and Kirsty Carver, who were both given the same chip time, but Chris was given the higher position in a photo finish. 
Halifax Harriers Win Their Own Race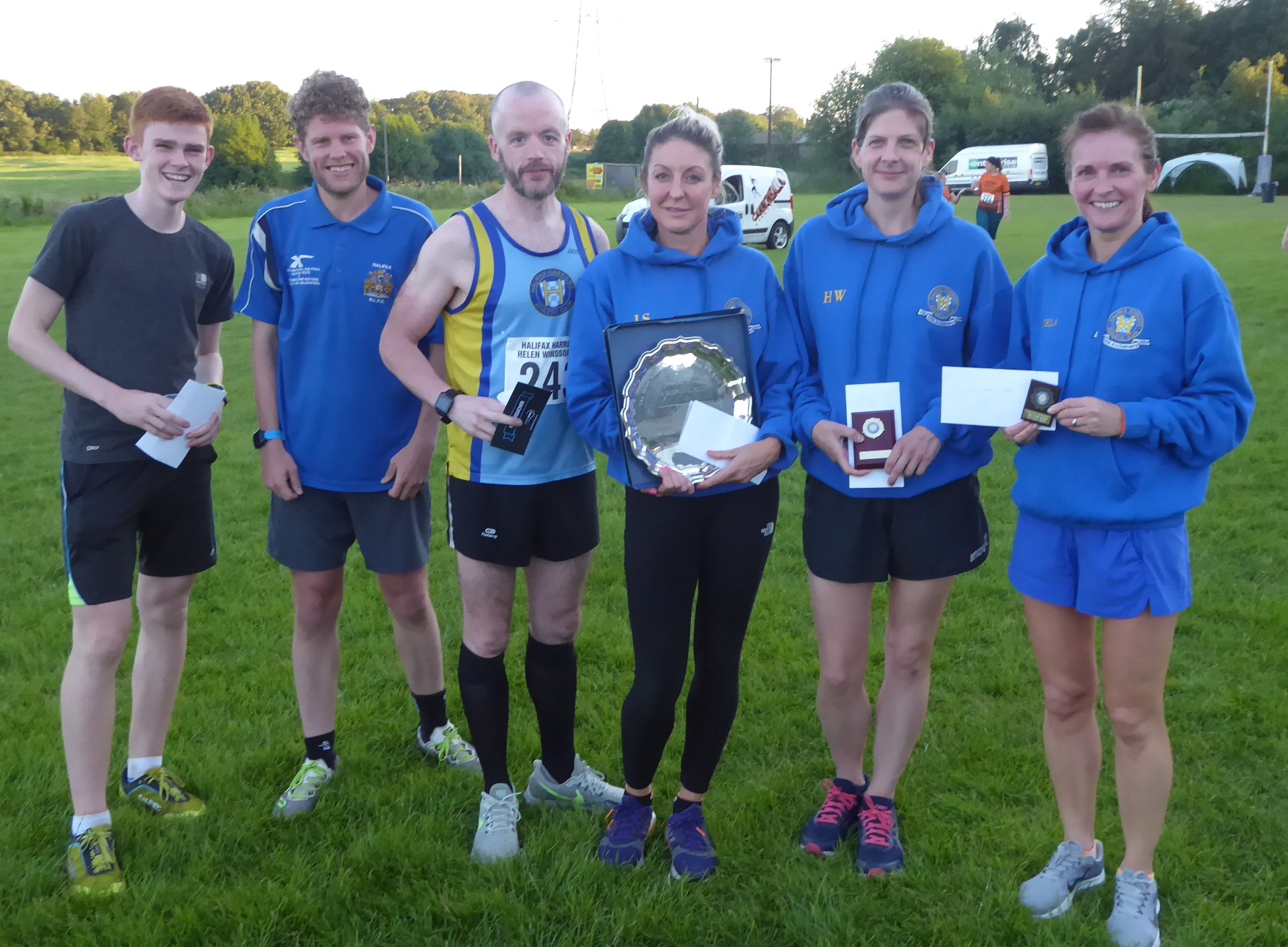 Both Halifax Harriers ladies and men's teams were winners at the Helen Windsor 10k which was run on a lovely summer evening with blue sky and still conditions.
The race, which comprises of a small lap and then a larger lap setting off from Greetland Allrounders Rugby Club, attracted a field of 240 runners from local clubs and unattached competitors.  The race incorporated the Yorkshire Vets 10k Championships with trophies for all age groups from 35 years to 75 years.
The race was promoted by Halifax Harriers AC and both their ladies and men's teams were winners.  The ladies team consisted of Johanna Sutcliffe 40:09 (2nd lady, 1st F40), Helen Ward 42:23 (1st F35) and Angela Clarke 47:21.  Ben Crowther 34:45 (3rd Male) led home the men's team, followed by Harry Johnson 38:17 and Michael King 38:34.
The race was won by Joe Sagar (Spenborough) in a new record time of 33:17. The ladies winner was Fiona Davies (Rotherham), also in a new record time of 38:34.
Other runners for the club were James Johnson 39:38, Niall Smith 41:12, Mark Crabtree 41:21 (2nd M60), James O'Rourke 41:29, David Ingle 42:26 (2nd M55), Marc Rocheteau 44:53, Robert Hick 46:15, Ian Giles 46:34, Sean Morland 47:44, Richard Palethorpe 48:15, Nigel Taylor 48:32, Erika Nightingale 50:08 (3rd F40), David Broadley 50:33, James Goldsmith 50:56, Jane Hobson 53:08, Rachel McCauley 54:17, Geraldine Roby 55:05 (1st F60), Christopher Kirkbride 61:24, Penny Bottomley 62:18, Sue Corney 64:21 (2nd F65), Richard Corney 64:21.