Hall-brown Wins At Leeds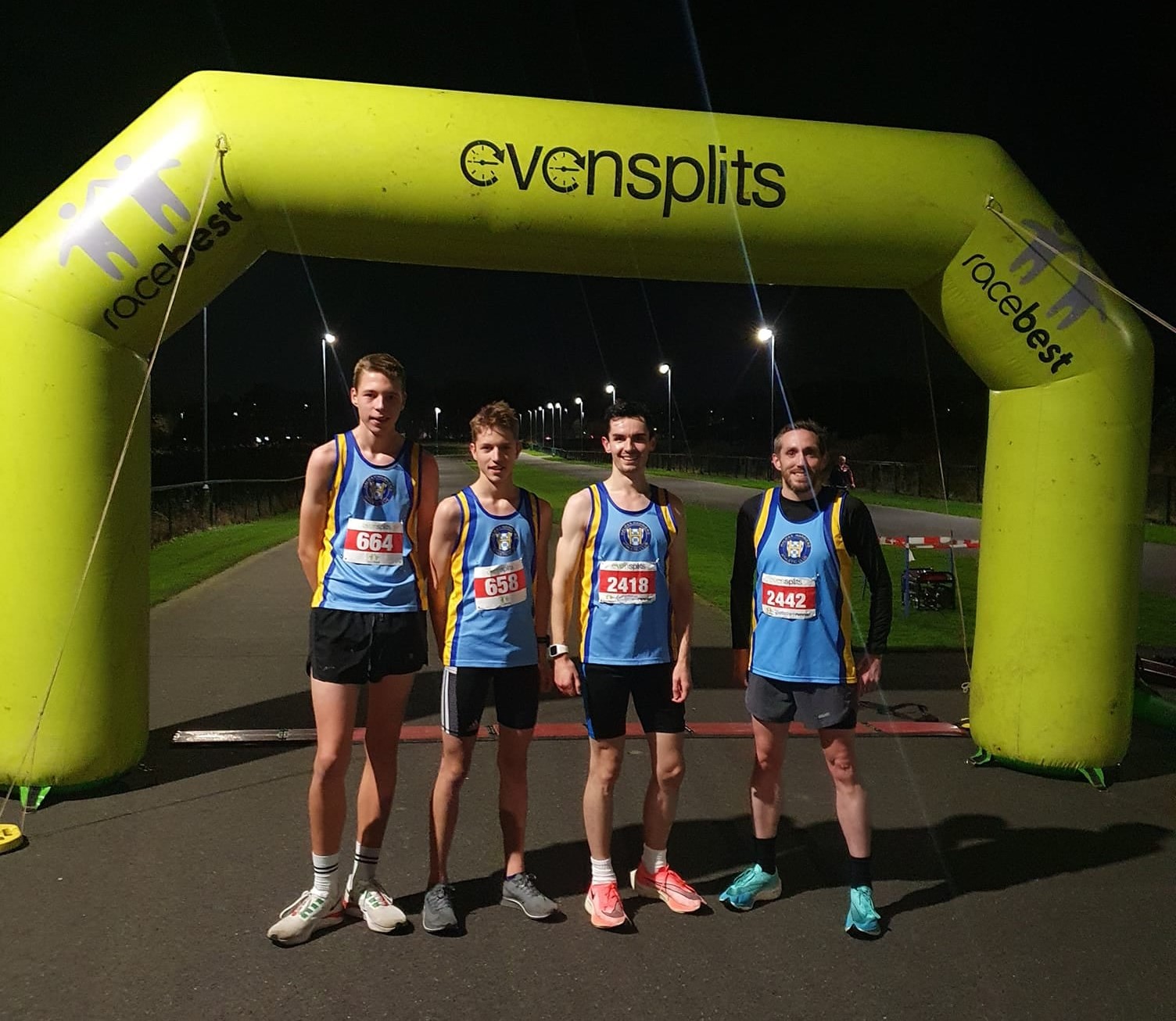 Josh Hall-Brown of Halifax Harriers was the race winner at the Even Splits 5k held at the Brownlee Centre, Leeds.  He, along with the next three runners for the Club, all set PB's.  Hall-Brown ran 15:37, Alex Franklin (6th) 16:39, Thomas Needham (9th) 17:12 and Ned Hughes (12th) 17:22.  John Moore finished in 28:18.
Four members of Halifax Harriers travelled to Spain for the Benidorm 10k and half marathon.  Simon Johnson was first back in the 10k in 37:48, Craig Empsall ran 43:33 and Mark Crabtree 50:02.  In the half marathon, Ryan Barker finished in 1:27:12.
Sarah Cumber of Halifax Harriers was 2nd F50 at the Hatfield 5 mile race finishing in 31:48 and setting a new club record for that age group.
Tadcaster 10 Mile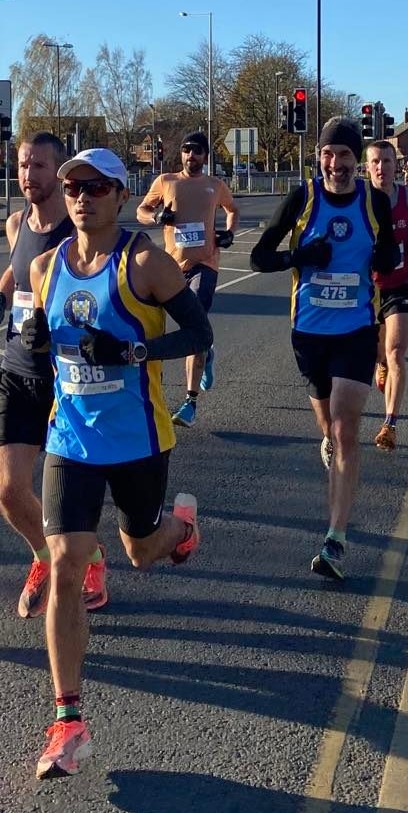 Halifax Harriers had 20 runners at the Tadcaster 10 mile race.  The route comprises of one small lap of two miles round the town centre, followed by a large lap on undulating country roads.  The day was sunny but with a cold breeze into runners faces for the first five miles.
Two new members of the Club showed their potential in posting good times.  Erawan Wanithanont ran 63:38 (PB) and Joanne Arundale 69:28 (PB) and 2nd F35.
The first three men back for the Club were Niall Smith 62:59, Erawan Wanithanont and James O'Rourke 64:00 (PB).  The first three ladies were Alice Vick 69:25 (PB), Joanne Arundale and April Caufield 70:07.
Other runners for the Club were Will Carver 68:28 (PB), William Stewart 70:06, Paul Bateman 70:15, Erika Nightingale 73:22 (PB) and 3rd F45, Robert Hick 73:55, Paul Hopkinson 77:38, Stephanie Dickinson 79:17 (PB), Marc Rocheteau 80:26, Nigel Taylor 81:48, Raymond Hall 82:34 (2nd M75), David Parrington 90:08, John Moore 99:18, Kirsty Carver 1:43:08, Susan Hall 1:50:24 (2nd F70).
Harriers In The Prizes At Soyland Moor Fell Race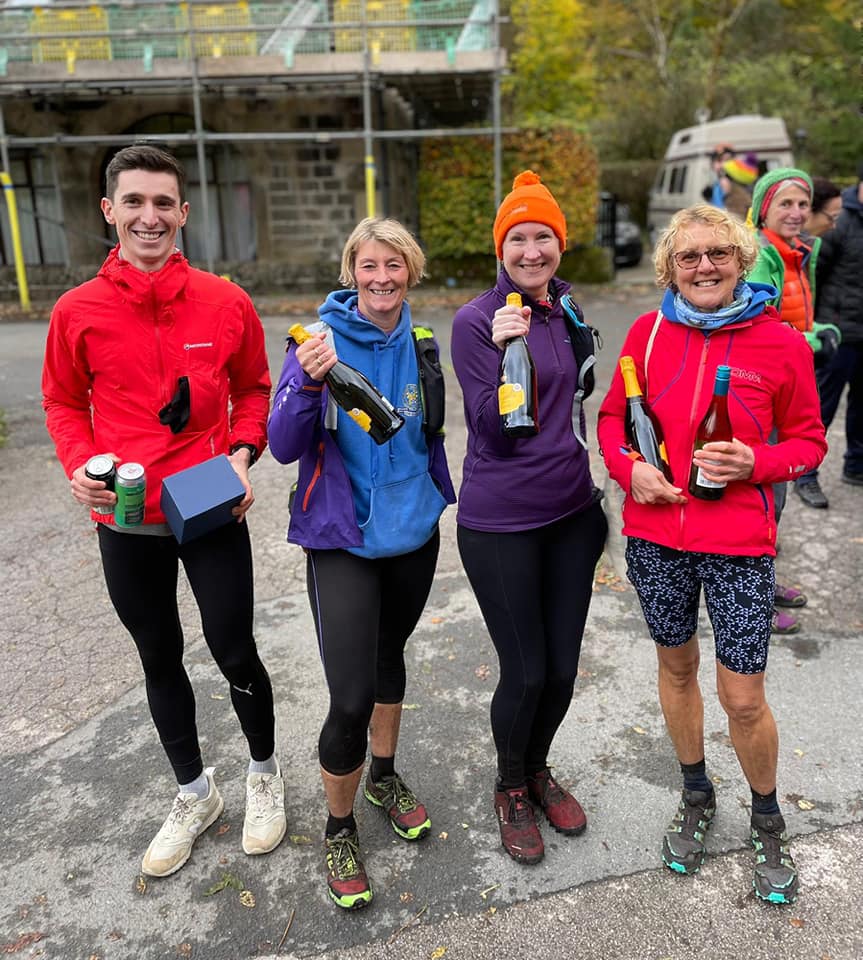 Five Halifax Harriers competed in the inaugural Soyland Moor Fell Race on Sunday.  A boggy race of 13.5 miles with 1300 feet of climbing from Cragg Vale, visiting Stoodley Pike before heading along the Pennine Way to North Warland and Light Hazzles reservoirs then the final pull to Great Manshead Hill and into back to Cragg Vale.
First back for the Harriers and in 2nd place overall was Kieran Manchester (1:37:52), improving on his recent good form.  First lady back and 3rd F50 was Andrea Ackroyd (2:26:16), followed by 1st F60 Hazel Berrett (2:31:16) and Margaret Deacon (2:48:08) making a fine performance by the ladies to claim first team prize.  Will Carver had another fine run and finished in 20th place overall in 1:56:41.
In other races this weekend, Thomas Needham was first finisher in the Sowerby Snails Flat Caps 10k with April Caufield and Helen Ward second and third ladies respectively. Jane Hobson was 1st F50 and Sue Corney 2nd F60. Other runners were Will Stewart, Joanne Arundale, Richard Corney and Rachel McCauley. In the Guy Fawkes 10 Mile race at Ripley Castle, Ian Whitehouse was 3rd M50. Nigel Taylor and Chris Burrell also ran.
Plucky Runners Graduate From The Harriers Couch To 5k Training Programme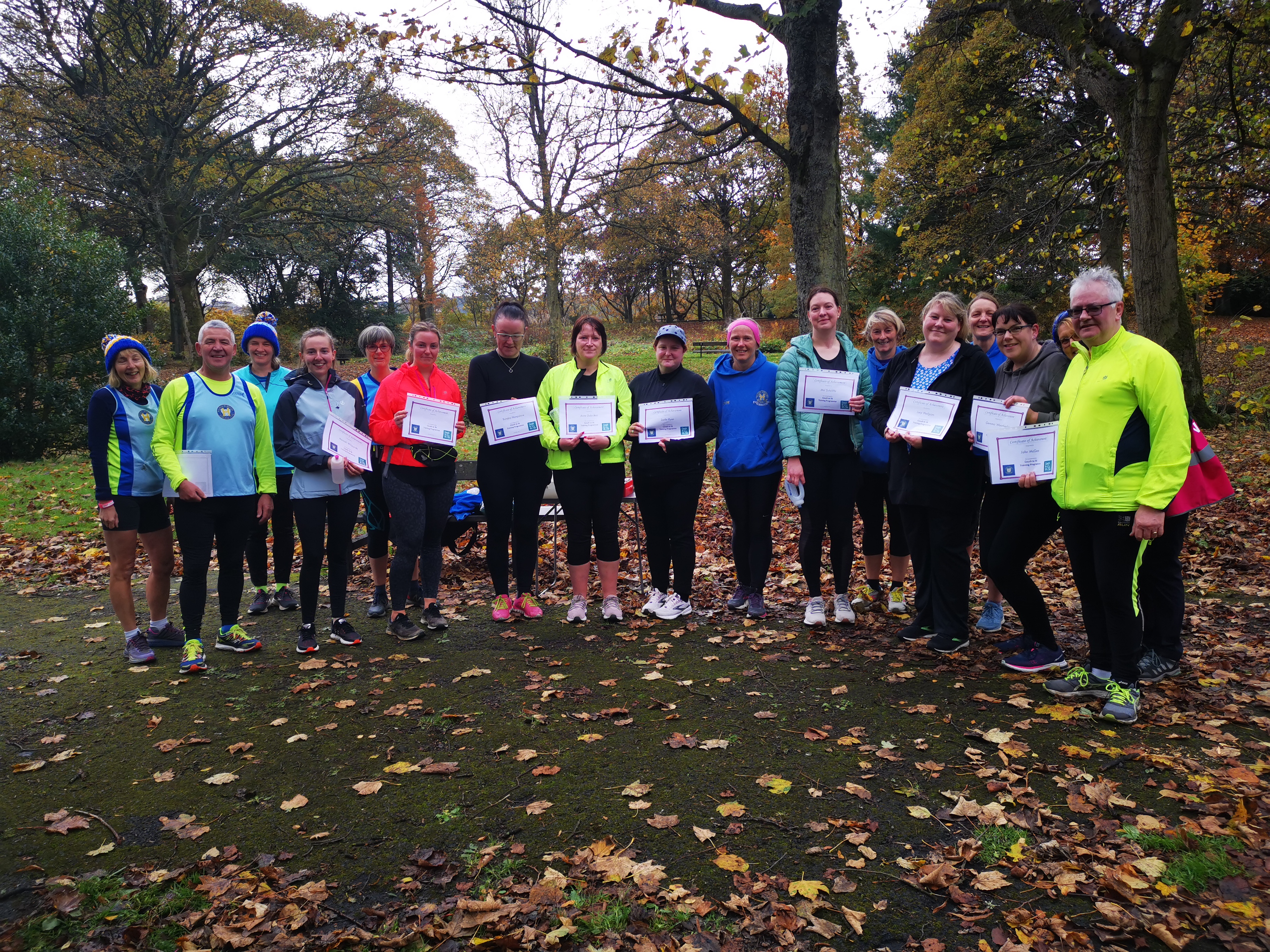 Personal fitness has never been as important as it is today so two members of Halifax Harriers, Jude Baines and Jenny St. Romaine, organised a nine-week Couch to 5k programme on behalf of the club.
Halifax Harriers celebrated the completion of its first couch to 5k (C25k) course last weekend at Halifax's Shroggs Parkrun with eleven participants successfully graduating. C25k is an initiative for those new to running or looking to return to the sport after an absence. The nine-week programme, where new runners were supported by Harrier's members running alongside them gradually builds distance, stamina, confidence and friendships culminating in a 5k run.
Shroggs Parkrun is a free, timed, inclusive 5k which is hosted each week by a team of volunteers and was chosen as the ideal event for the C25k trial. Graduates of the training programme include: Lucy Hodgson, Sadie Ryan, Hannah Wilczynski, Gemma Weatherby, Mel Sutcliffe, Sandra Hampshire, Aktar Hussain, John McGee, Katherine Coussement, Vickie Steadman and Anne Dubickas. Each graduate was supported during the parkrun by a Halifax Harrier.
Many of the C25k graduates are going to continue running with the support of the Harriers as they embark on the next phase of the journey, the 5k to 10k programme.
Anyone who is interested in starting running please have a look at the 'Training' tab of this Halifax Harriers website, where details of our training groups, which are suitable for all abilities from beginner to elite runner, can be found. 
Halifax Harriers Success At The Very Wet Bradford City Runs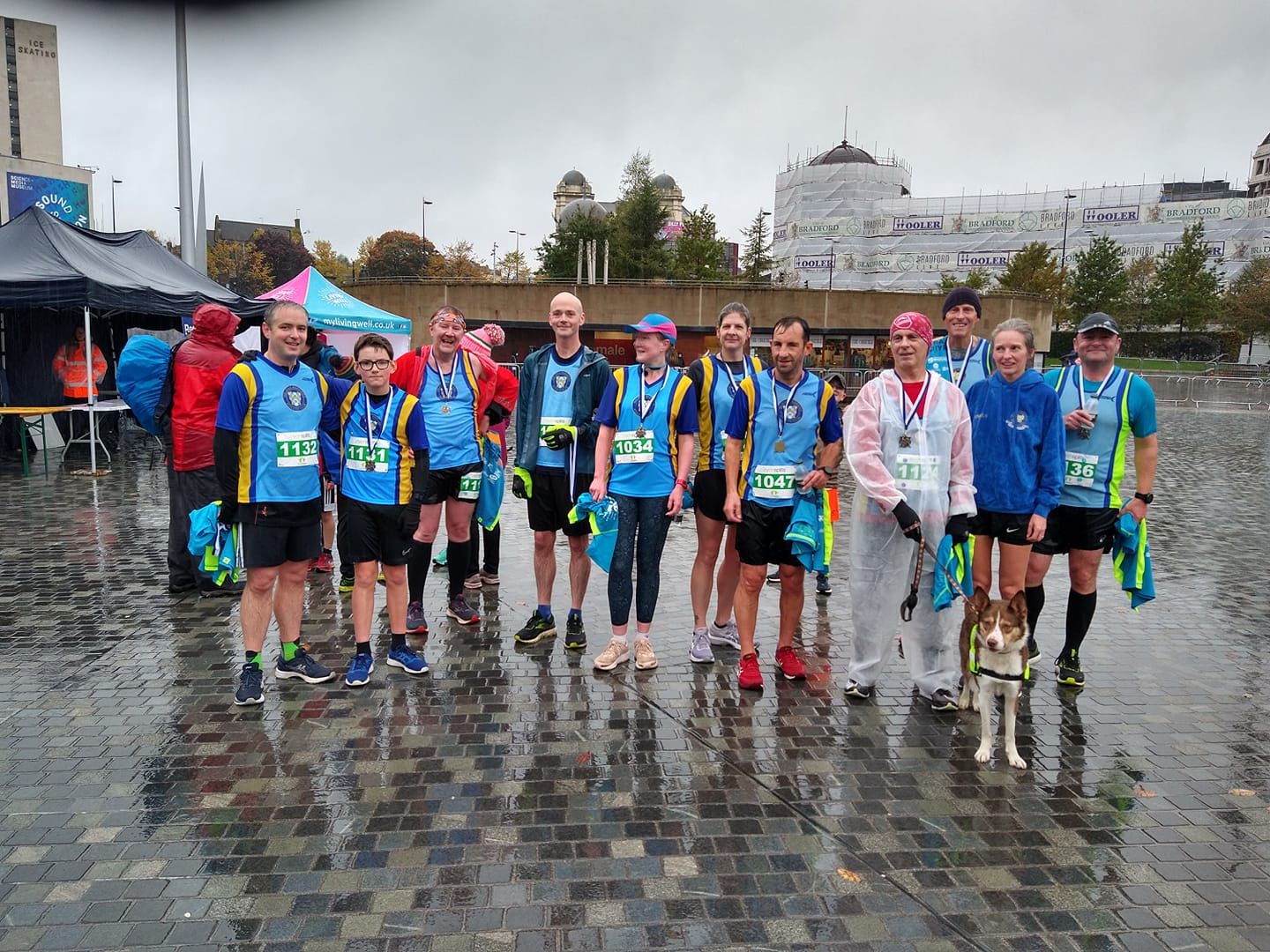 Halifax Harriers had great success at the Bradford City Runs on Sunday 31st October. Bradford City Runs is a festival of running with a unique format; one 5K loop starting at Ciry Park then up past the University, The Broadway shopping centre and Little Germany to create 3 adult race distances; 5k, 10k and a half marathon and a kids one mile fun run. The number of entrants was around 350 for the three senior races, down by over a half from the last time it was run in 2019. The non-stop torrential rain must have put some runners off and it was impossible to avoid the rivers of rain running down the streets.
The first three Harriers in the 5k race were Ben Crowther who won the race in a time of 17:28, Niall Smith was 5th (3rd MSen) and Danny Baxter 6th (1st MU20). The first Harriers three ladies back were Helen Ward (1st F35), Angela Clarke (2nd F45) and Stefanie Dickinson (F45 3rd)
Other runners for the club were James O'Rourke (1st M45), Will Carver (2nd M40), Stephen Fitz-Costa (1st M55), Wayne Stevens (3rd M50), Paul Hopkinson (1st M60), Marc Rocheteau (M55 2nd), Ben Slow (MJun), Tim Slow, Katie Brook (2nd FJun). David Parrington, Jane Stewart (1st F60), John Moore, Kirsty Carver, Chris Kirkbride (2nd M60), and Deborah Kirkbride (3rd F60). 
In the Half-Marathon Will Stewart finished third overall (1st MSen), April Caufield was the first female finisher (1st FSen) and Joanne Arundale was 2nd female finisher (F35 1st).