Yorkshire Track And Field Championships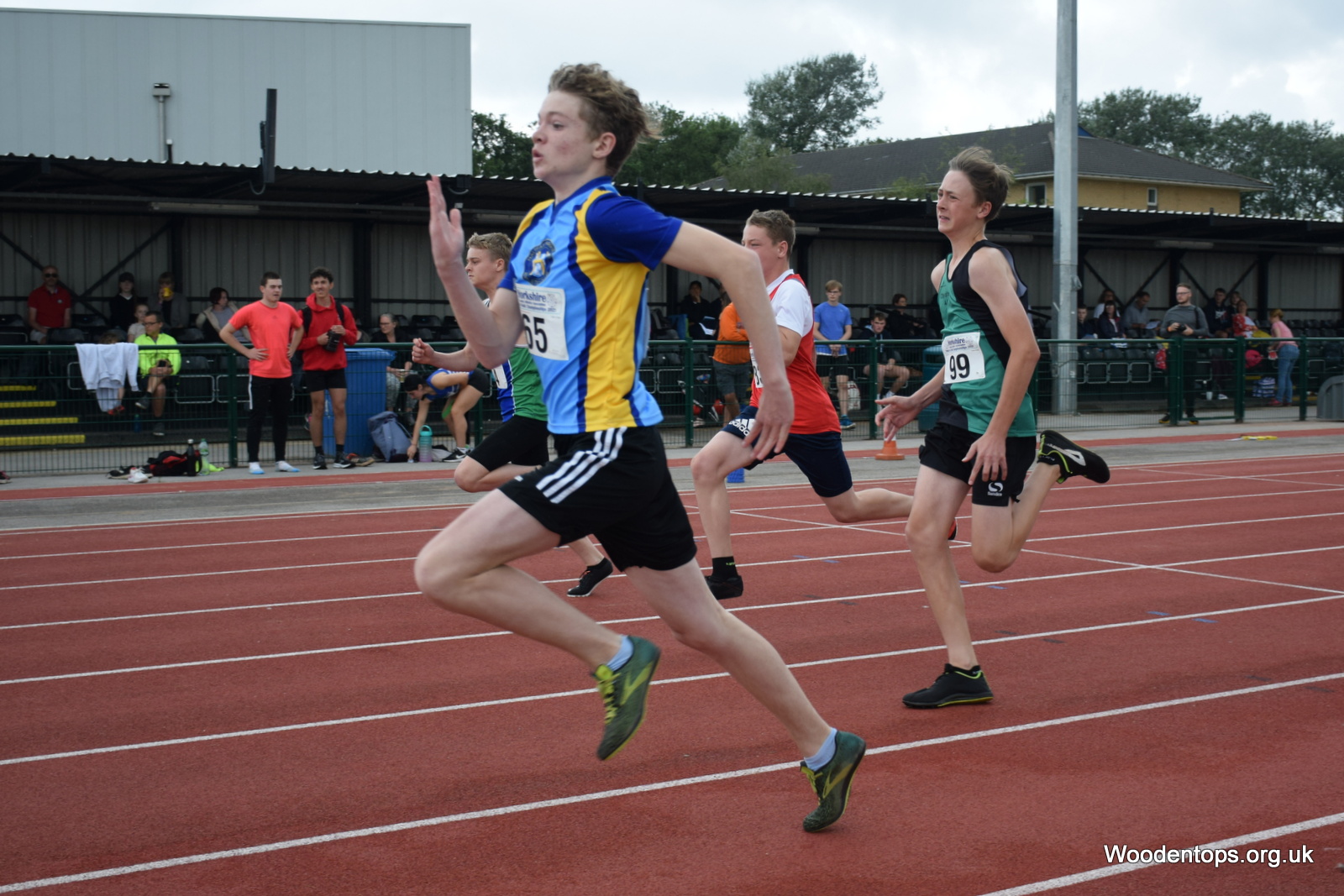 Halifax Harriers had a small, but successful, team at the Yorkshire Track and Field Championships held at York University Athletics Stadium. 
Two club records were set. One by Freddie Bentley in the U15 Boys 80m hurdles with a time of 13.60 and the other by Thomas Hodgson in the Senior Mens 5000m in a time of 15:24.23.
The following members made the finals of their events.  Freya Burgin U17 discuss 20.24m (4th), Eli Cattermole U13 long jump 3.42m (9th), Freddie Bentley U15 long jump 5.03m (3rd), 200m 25.19 (2nd), 100m 12.20 (3rd), Will Cattermole U15 3000m 10:55.76 (7th), Javelin 14.84m (6th), 1500m 5:08.44 (8th), Jayde McGregor U15 long jump 3.48m (13th), Sam Keighley U13 800m 2:22.75 (3rd), Nia Harrison Sargent U15 800m 2:17.72 (1st).
Tour Of Norland And John Carr 5k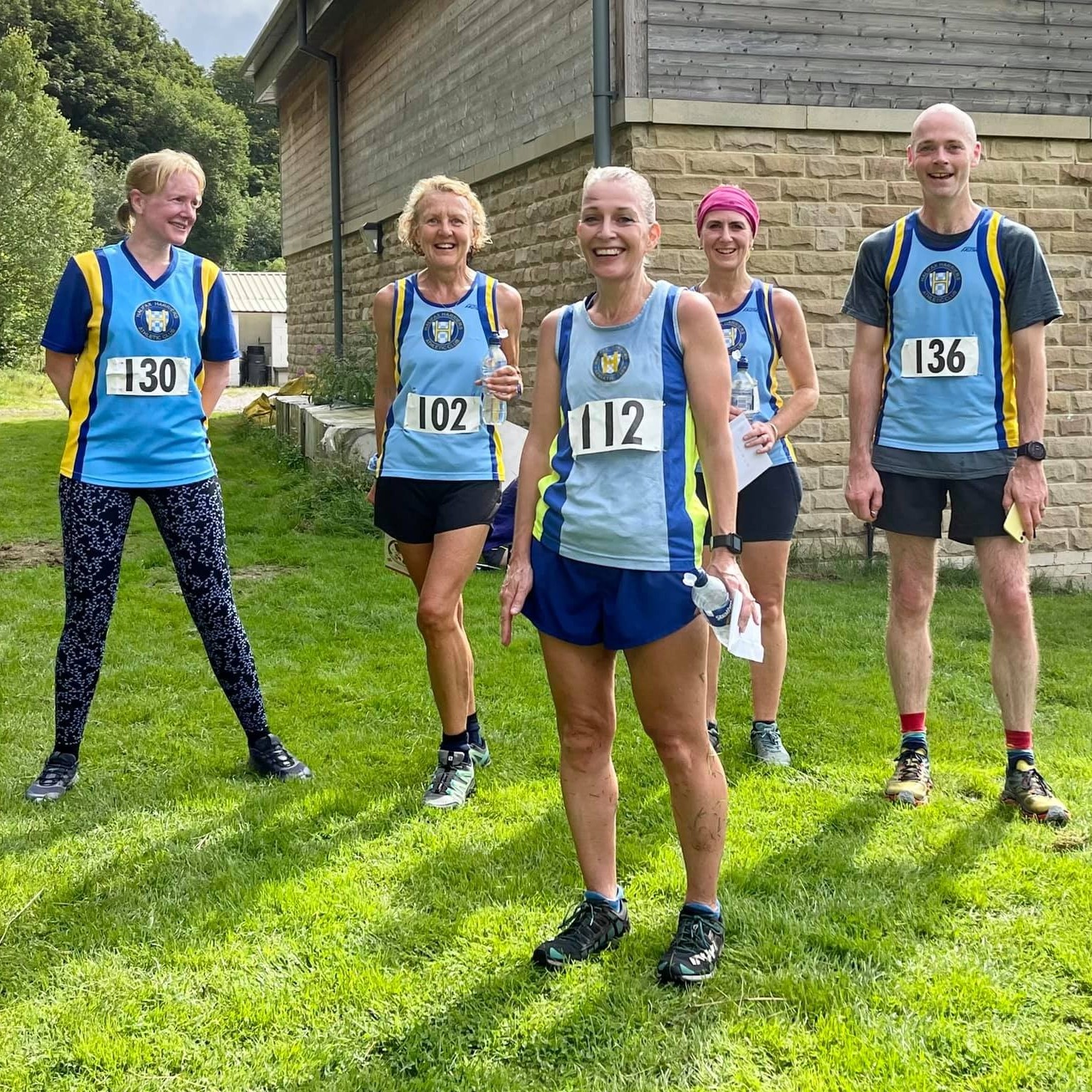 TOUR OF NORLAND MOOR TRAIL RACE
The Tour of Norland Moor Trail Race, organized by Halifax Harriers, is a testing trail race.  It starts with a fairly steep climb up North Dean Road and then takes a bridleway up to Turbury Lane, then it's a clockwise loop round Norland Moor before returning to finish at Copley Cricket Club.
The race was won by Jonathan Moon from Sowerby Bridge Snails with Fred Carver second, just in front of his father Will Carver of Halifax Harriers.
The first three ladies to finish were all from Halifax Harriers – Rachael Beaumont, Jude Cole and Stef Dickinson.
JOHN CARR 5K
The John Carr 5k attracted a field of 90 runners for a relatively flat course starting in Roberts Park, Shipley.  After leaving the park there was a short road section before following a path by the side of the river, then there were a few steps to negotiate before returning on the canal tow path to the finish in the park. 
Halifax Harriers had a good turnout for the race which was part of the Club's Race Challenge.  Six runners set PB's for 5K.  First back for the Club in fourth place was Ben Crowther 16:45, followed by Nial Smith 18:38 PB and James O'Rourke 19:03 PB.
Sally Shacklock was third lady finisher in a PB of 24:13. Three other ladies also set PB's – Beth Sharp 25:06, Milly Carver 25:09 and Jane Stewart 26:45.
Other runners for the Club were Will Carver19:49, Robert Hick 22:10, Steven Fitz-Costa 22:17, Marc Rocheteau 23:15, Tom Paget 23:22, Paul Hopkinson 23:56, Raymond Hall 25:03, David Parrington 26:02, Deborah Kirkbride 28:16, John Moore 30:14.
Halifax Harriers Senior Awards Presentation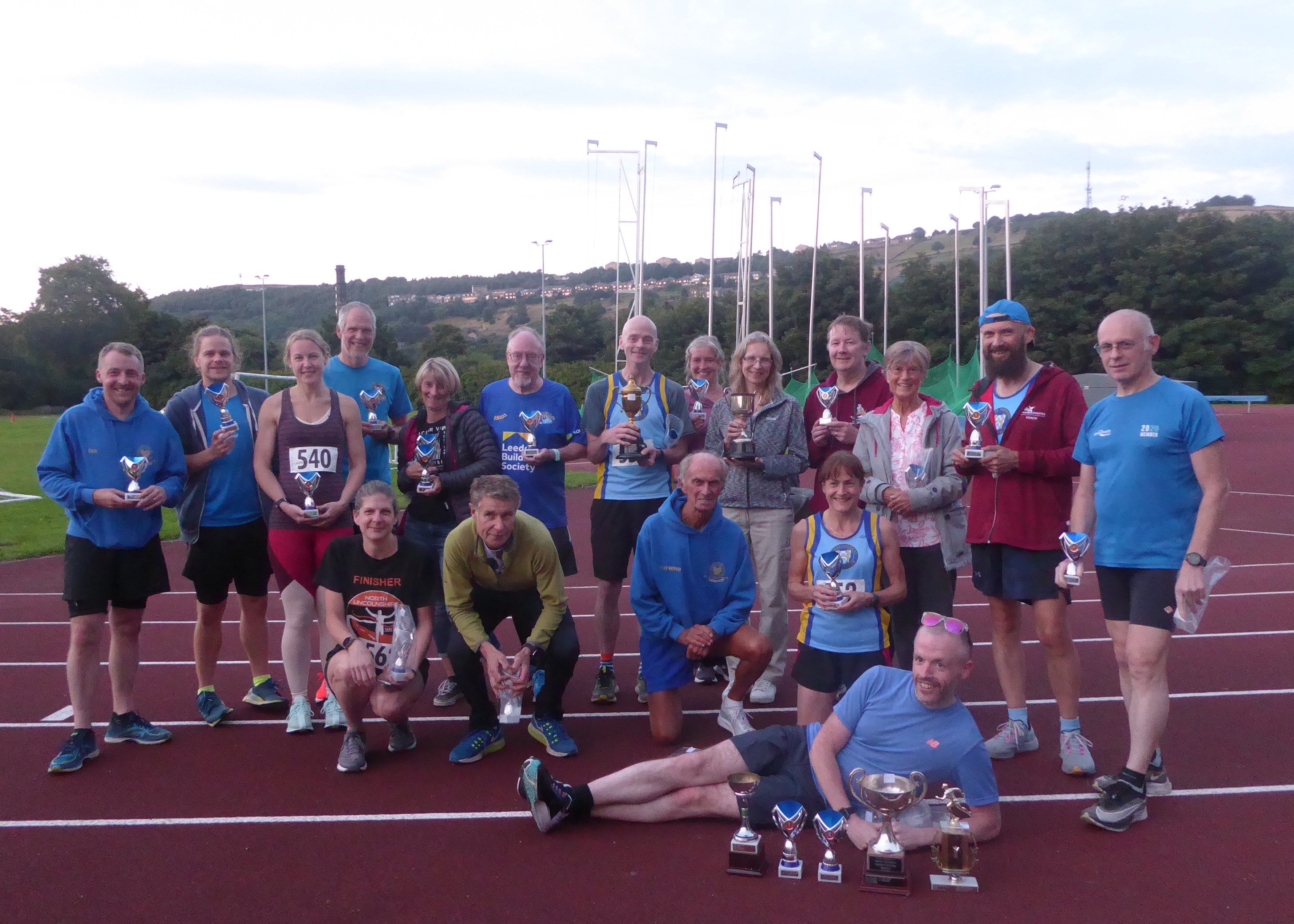 Halifax Harriers Annual Dinner 2020 was cancelled due to the Covid outbreak and the presentation of the awards was postponed until last week when it was incorporated into the club's Summer 10k handicap.
The handicap starts at the top of the Hebble Trail, which is close to Spring Hall Athletics Track, and follows the canal almost to Sowerby Bridge.  The slower runners start first and faster runners later.  This year's winner was Jane Hobson who completed the race in 47:52.
Following the race, the club awards were presented at the Spring Hall track.
The Chairman's Trophy is awarded to members who have made a significant contribution to the club.  For 2020 it was awarded to Deborah and Christopher Kirkbride.  They compete for the club and are active members of the club's General Committee.  They spend a great amount of time and effort welcoming new members and encouraging all members to compete for the club.
The Pearson Trophy for Endeavour was presented to Will Carver.  Will joined Halifax Harriers in 2014 and since then has completed many races from 10k's to Ultra Marathons.
The most improved runner award was presented to Bethan Davies who improved her 10k time from 56 minutes to 46 minutes.
The Burnsall 10 mile race trophies were won by Sarah Cumber and Michael King.
The winners of the Cross Country Championships were Bethan Davies (senior lady), Katrina Oddy (veteran lady), Michael Gaughan (senior men) and joint winners Ryan Barker/Michael King (veteran men).
In the Fell League, the ladies winner was Rachael Beaumont and male winner Michael King.
The Road Race Challenge is split into 5 divisions.  Division 'A' winner was Will Stewart, Division 'B' Mark Crabtree, Division 'C' Jonny Lister, Division 'D' Sharon Cousen, Division 'E' Christopher Kirkbride.
PODIUM 5K BARROWFORD
In the 'A' race, new recruit Tom Hodgson finished in third place, setting a new club U35 record for the 5k in a time of 14:58.  Also in this race was Josh Hall-Brown 16:23 and Ben Crowther 16:29.  In the 'B' race, Will Smith broke the club M45 record with 16:20.
FIREFIGHTERS 5 MILE
Two members of Halifax Harriers competed in this undulating 5 mile race.  Simon Johnson (first M55) in 31:52 and Angela Clarke (first F45) in 38:18.
WINDMILL HALF MARATHON
The Windmill half marathon at Lytham St Annes saw Bryn Barker as second M60 in 1:28:47, while fellow club member Robert Hick was third M60 in 1:45:07.
It's Good To Be Back Racing Again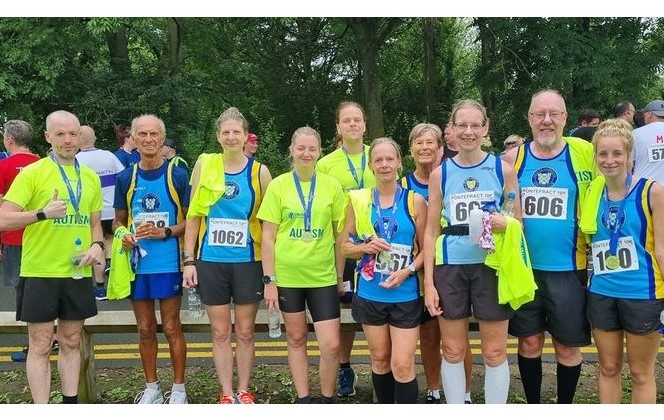 Damp, but still conditions, saw 19 members of Halifax Harriers take the short journey to Pontefract for the 10k, which is run on an undulating course from Pontefract Race Course.  Early morning rain cleared just before the start for the 800 or so runners, making the conditions good for running.
First back for the club was Nial Smith 37:42 in eighteenth position overall.  Three other men went under 40 minutes – Will Stewart 39:17, Michael King 39:26 and James O'Rourke 39:33.
The first lady finisher for the club was April Caufield 40:56 followed by Helen Ward 42:44 and Samantha Layfield 51:26. Jane Stewart 55:22 was first F60 with Deborah Kirkbride third F60 in 57:40. Susan Hall was second F70 in 62:05.
Other runners for the club were Ryan Barker 40:04, Stephen Fitz-Costa 45:35, Wayne Stevens 48:30, Nigel Taylor 48:34, Marc Rocheteau 48:38, Raymond Hall 50:50 (third M70), John Moore 55:43, Christopher Kirkbride 57:35, Emily King 58:57.
CLUB RECORD AND FASTEST IN UK 2021
Sarah Cumber had an outstanding run at the Riverside 10 mile race at Lancaster where she broke the race ladies record for the distance in a time of 66:48 which was also a club F50 record and the fastest time by a female V50 runner in the UK this year. Also running was Jonny Lister who finished in 71:02.