Vets Win For Halifax Harriers Ladies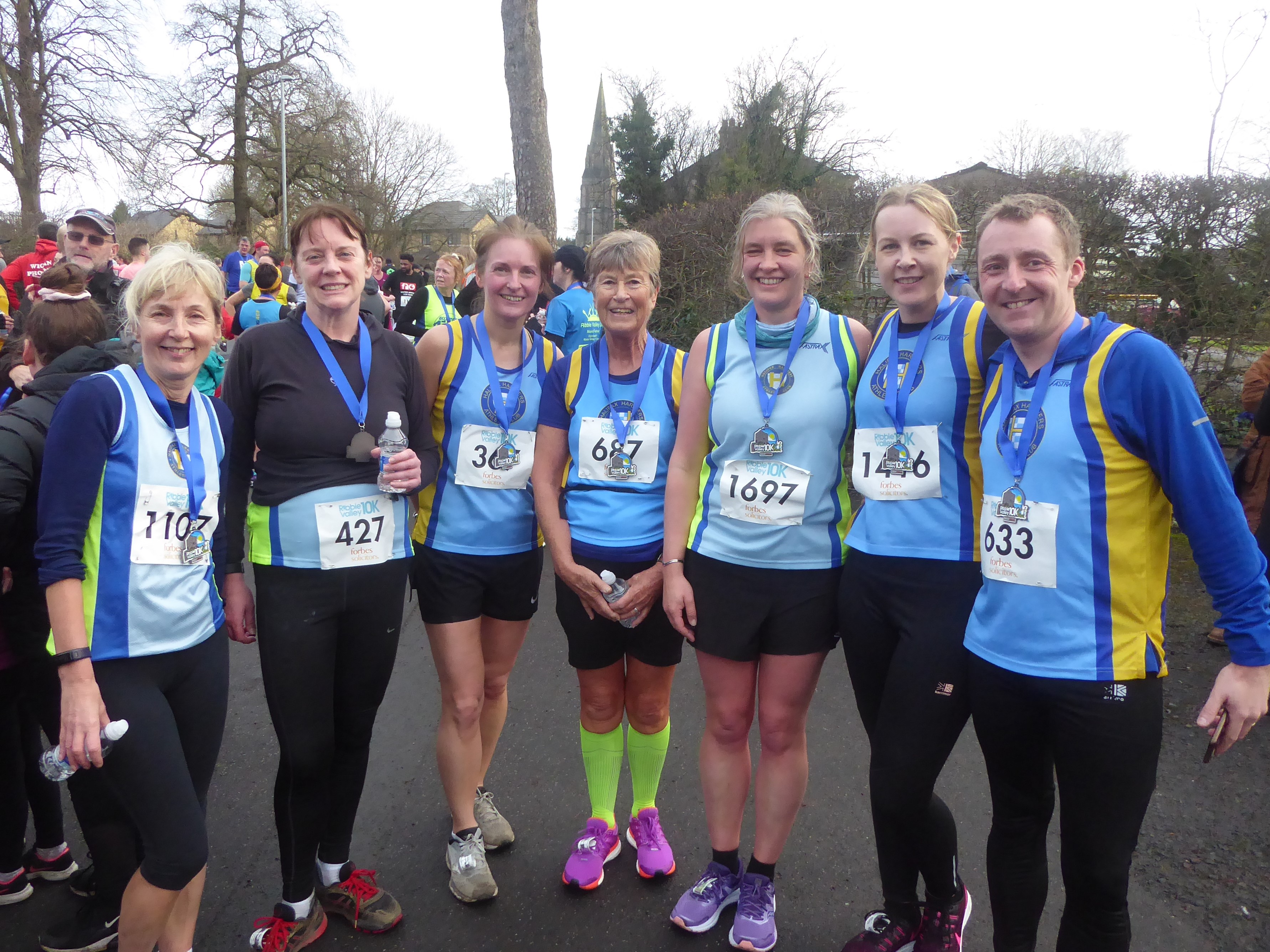 The standard of the elite runners at the Ribble Valley 10k gets higher each year.  This race attracts athletes from all over the UK out to get a sub 30 minutes 10k.  This year there were 12 men under 30 minutes, with the first three breaking the course record.  The winner was Marc Stott in an excellent time of 28:22.  The ladies winner was International runner Jess Judd in 32:17.  There were also a further seven ladies under 35 minutes.
Halifax Harriers ladies were the Vets champions led home by Katrina Oddy 42:42 (F50 winner), with Rachael Beaumont not far behind in 43:51 (3rd F50) and Angela Clarke made up the team in a PB of 44:50.
Susan Hall was F70 winner in a club record of 1:00:35, breaking her own record by almost four minutes.
Halifax Harriers men were led home by Sunny Curwen in a PB of 39:48, followed by Will Carver 41:47, and Tristan Watson 43:56 (PB).
Other runners for the club were Paul Hopkinson 45:17, Ian Giles 46:59, Jenny Hopkinson 48:24, Sharon Cousen 51:07, Rachel McCauley 51:43 (PB), Fiona Murphy 52:20, David Parrington 54:34, Kirsty Carver 59:13.
Records Tumble At Myerscough 10 Mile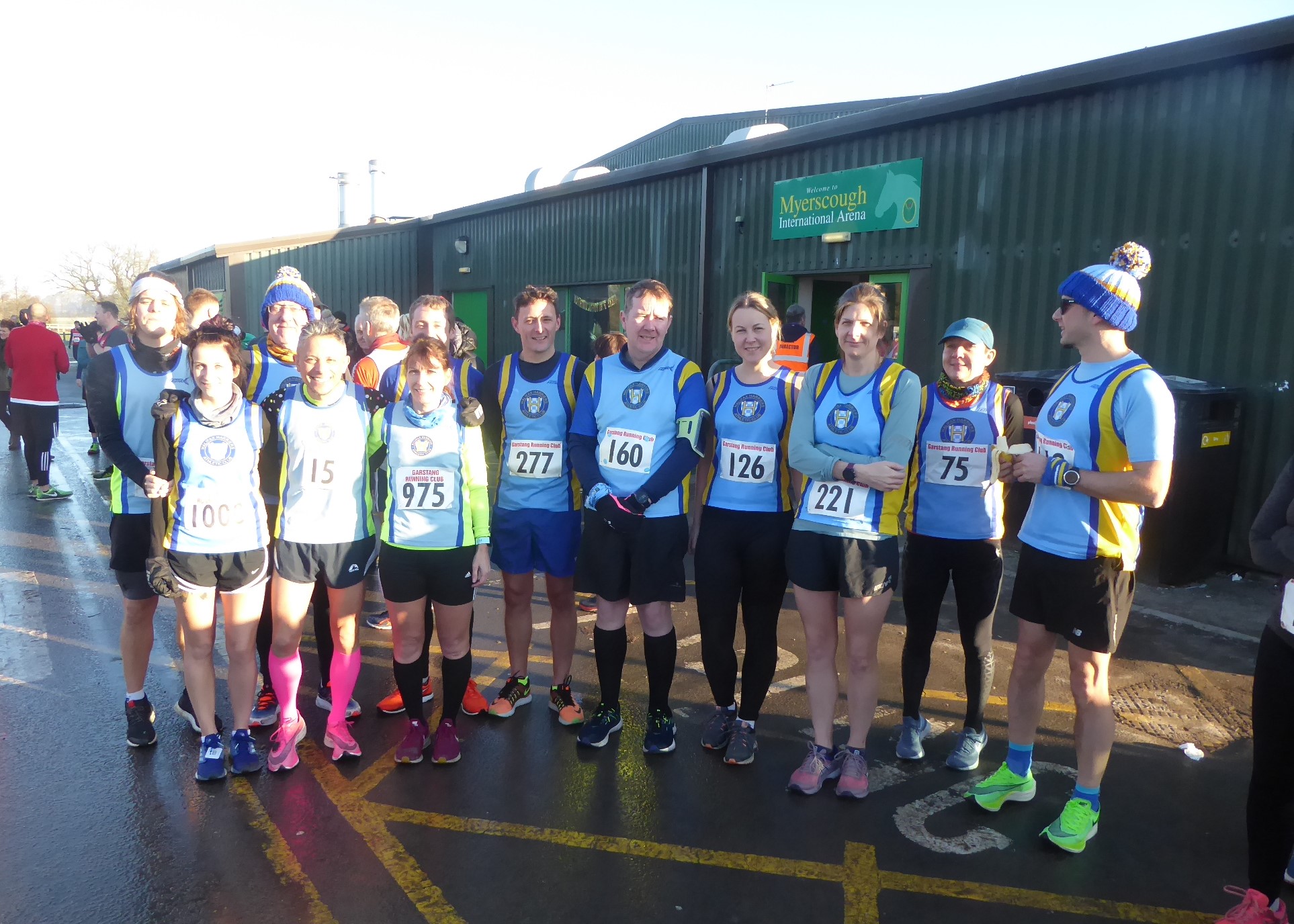 Halifax Harriers saw some great times at the Myerscough 10 mile race organised by Garstang Running Club.  On what was a cold morning with the thermometer below freezing at the start of the race, there were three club records broken and numerous PB's. 
The race starts with a mile loop round the grounds of Myerscough College and then it is out on mainly quiet country roads to Inskip before returning the same way.  In places the roads were still iced over on the shaded sections so runners had to use caution at times to stay upright.
Niall Smith led the 20 runners from Halifax Harriers from start to finish and in his first race over the distance was pleased to break the hour barrier in a time of 59:48.  April Caufield had a good run on her comeback trail to finish as second lady in a time of 1:07:23.
It is only two weeks since Fiona Murphy and Susan Hall set club records for the 10 mile distance and they both reduced their records by a few minutes.  Fiona set a new F60 record with a time of 1:22:55 finishing as 2nd F60, whilst Susan was the F70 winner in a time of 1:39:25.  Rachael Beaumont was first F50 setting a club record in the F50 category with a time of 1:10:49.  Helen Ward was first F35 in a PB of 1:09:08.
Other results for the club - Will Stewart 1:06:43, Sunny Curwen 1:09:09 (PB), Jonny Lister 1:10:20 (PB), Marc Rocheteau 1:11:35, Nigel Rigg 1:16:29, Ian Giles 1:16:37 (PB), Paul Hopkinson 1:17:06, Sean Morland 1:17:11 (PB), Sharon Cousen 1:21:50, Jenny Hopkinson 1:22:12, Rachel McCauley 1:25:59, John Moore 1:26:41`, David Parrington 1:31:04, Christopher Kirkbride 1:33:55.