Max Selected For Manchester International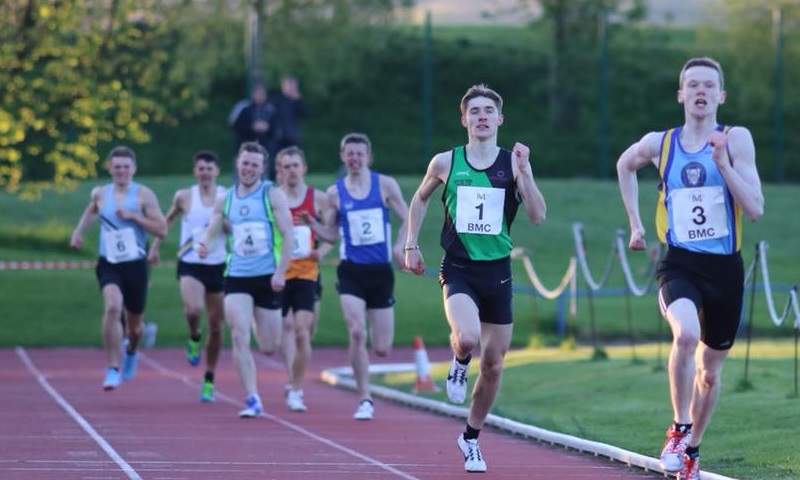 Max Burgin has earned another international call up. This time he has been selected to run as part of a Team GB U20 team at the forthcoming Manchester International event at Sports City on August 15th, where he will line up in the 800m against a quality field of seniors and U20 athletes.
Tickets can be bought from https://events.englandathletics.org/event/manchester-international-athletics/profile
Yadal Division 1 Champions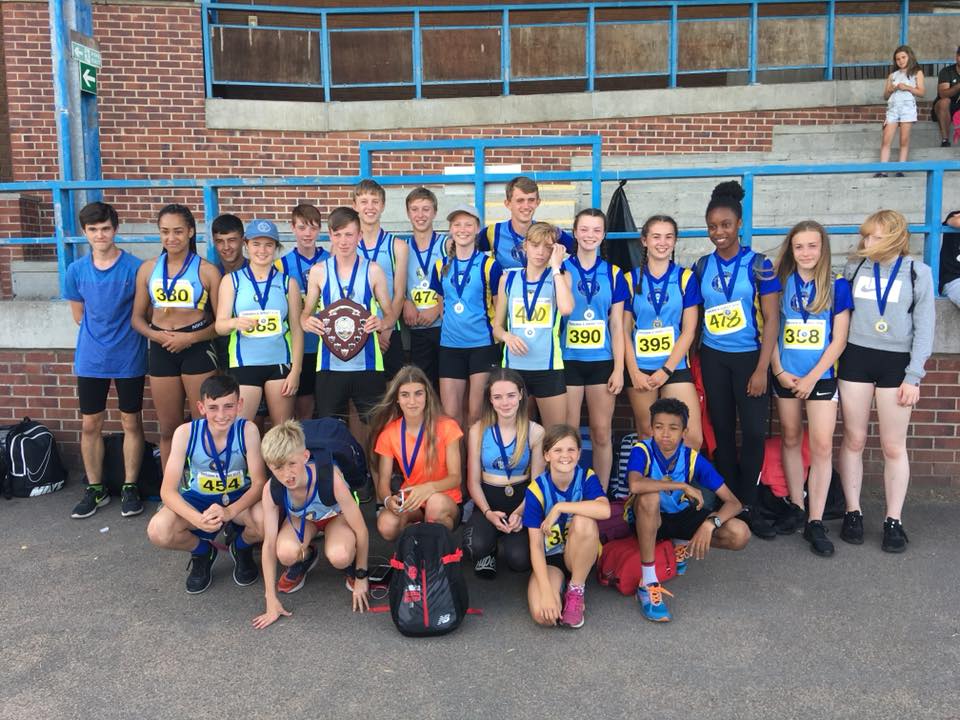 The young athletes from the Halifax Harriers dominated the Yorkshire and District Athletics League this year , taking the division one title and securing a place in the Premiere division for  next season. The competition took place over four meetings the final one taking place in Cudworth, Barnsley last Sunday. Team captain Harry Keighley was presented with the winners shield on his last outing for the junior section. The Harriers would like to thank all the coaches and helpers who made this great achievement possible.
Halifax Ladies 1, 2 And 3 At Brighouse 10k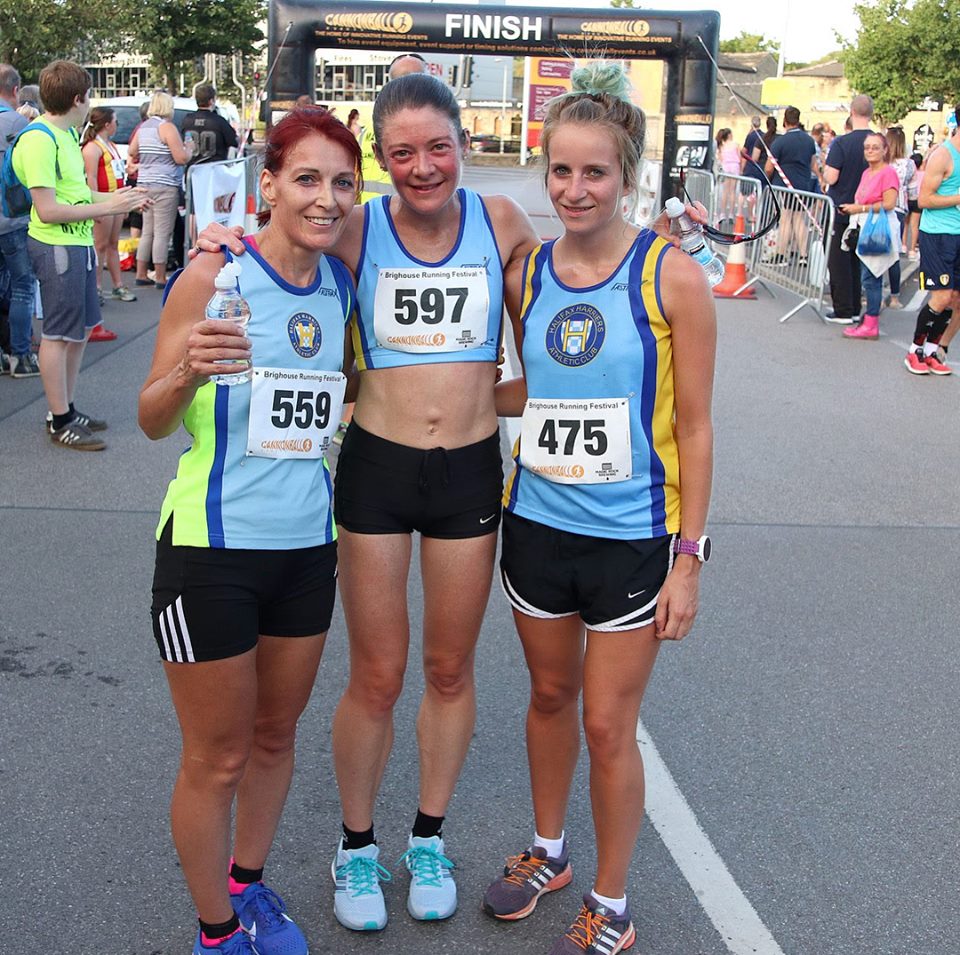 The Brighouse Running Festival was this year moved from it's usual dark and cool October evening slot to a baking hot July evening. The race course starts in Sainsbury's car park and has 3 out and back laps of a fairly flat route. The race was in the Halifax Harriers Race Challenge and the club had 26 out of the 309 finishers in the race. This race is traditionally one for runners achieving Personal Bests but the high temperature saw many runners way off what they would normally expect to achieve on this course. The only Harrier to achieve a PB was Martin Ellis in a time of 51:13. 

The race was won by Under 18 runner, Matthew Hill of Wakefield in a time of 34:14. The first Harrier home was Michael Gaughan in 7th place in a time of 36:40. The Halifax Harriers Ladies once again dominated the race with the first three female finishers and took the Ladies Team Prize. First lady was Sarah Cumber who finished 11th in a time of 38:21. Next was Rachael Beaumont 43:40 and April Caufield in 44:03.
Age group places for the Harriers were Sarah Cumber 1st F45, Michael King 3rd M45, Paul Berry 1st M45, David Ingle 2nd M55, Mark Crabtree 1st M60, Rob MacDonald 3rd M50, Rachael Beaumont 2nd F45, April Caufield 1st FSen, Marc Rocheteau 3rd M55, Geoff Cumber 1st M70, Robert Hick 2nd M60, Harry Brackenridge 1st MU16, Angela Clarke 3rd F45, Deborah Kirkbride 3rd F55, Audra Naylor 1st F50.
Other Halifax Harriers runners were James O'Rourke 40:44, Tom Paget 40:51, Will Stewart 44:26, Keith Lemon 46:45, Wayne Stevens 47:07, Paul Bunker 50:33, John Moore 51:52, Samantha Layfield 53:06 and David Parrington 55:18. Paul Bunker had previously run the 2k and 4k races before taking on the 10k race. 
Bingley Show Trail Race
Two Harriers ran the Bingley Show Trail Race on Saturday 21st July. April Caufield finished 2nd lady and first in her age group in a time of 52:48. Will Stewart finished in a time of 55:28. 
Burgin Is European Champion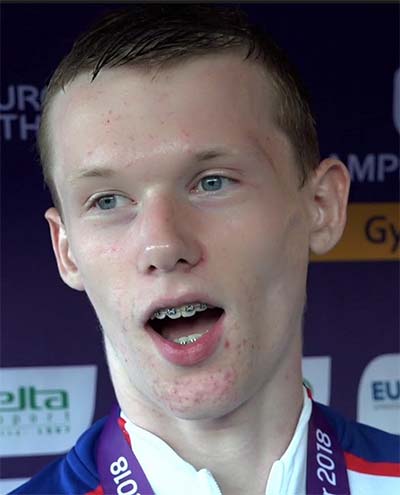 Halifax Harriers Max Burgin was selected to run the 800m for Great Britain in the European Under 18 Championships in Gyor, Hungary, which was his first GB vest.
Max Burgin always looked in control through the heats and semi-final and when it came to the final his intentions were clear to see from the start.  As soon as the race started he moved to the front and totally dominated the race.  After 400m he had a lead of several metres and continued to pile on the pressure.  By the end he was well clear and won in a new Championship record of 1:47.36.
Max ran a world age 15 800m record of 1:47.50 back in May, but his performance in Györ eclippesed that effort, achieving a new PB and championship record of 1:47.36 showing a clean pair of heels to Spain's Eric Guzman (1:49.19) and Portugal's Joao Miguel Peixoto (1:49.42). Max's time was also a world best for a 16 year old and the fastest time this year for an under 18 year old.
"It's unbelievable. It's a PB as well so it was the perfect race really, everything I could have hoped fo. I didn't know I had that time in me but now that I do, hopefully in a time trial race I can go even faster," said Max. "We'll have to see but I'm really pleased with the result. It is a cliché but it is a dream come true."
"I just ran my absolute hardest. I left everything on the track and fortunately that was enough. I think I saw the splits at 500m but that's about all I can remember. I wanted to go through in around 52 / 53 seconds, that was going to be perfect for me."
Well done Max!
Helen Windsor 30th Edition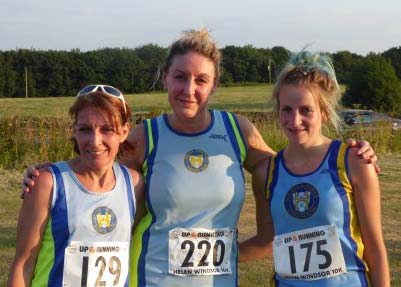 The 30th running of the Helen Windsor 10k promoted by Halifax Harriers from Greetland Allrounders Rugby Club took place on a hot summer evening and attracted 246 participants.  The race incorporated the Yorkshire Vets 10k Championships and was chip timed.  There was big support from local clubs – Stainland Lions, Sowerby Bridge Snails and Queensbury.
The race started above the Rugby Club on Norland Road.  As this road was closed to traffic for the start of the race, there was plenty of room for the runners to get into their running pace and spread out before joining the fast descent of Turbury Lane.  Then it was a 4k steady pull up to the high point at Scammonden Road, followed by 3k back down Shaw Lane and Turbury Lane.  Just when runners legs were beginning to tire, there was the final 800m back up to the finish.
Halifax Harriers Johanna Sutcliffe was 1st lady to finish the race in 41:28 (1st F40).   April Caufield finished as 3rd lady in 43:10 (1st Senior Women) and Rachael Beaumont 7th lady in 45:28 (3rd F45).  These 3 Halifax Harriers ladies took the ladies team prize.
For the men, Michael Gaughan was first Halifax Harrier to finish in 39:08.  He was followed by James O'Rourke 41:06 and Tom Paget 41:39. 
Andrew Wiggins 41:57 was 3rd M45, Robert Hick 46:06 3rd M60 and Samantha Layfield 52:19 2nd Senior Women.
The winner of the race was unattached runner Nigel Hockin in 36:27 and Stainland Lions took the men's team prize.
Other Halifax Harriers runners were:  David Ingle 43:11, Rob MacDonald 44:17, Marc Rocheteau 45:15, Harry Johnson 45:16, Harry Brackenridge 45:28, Keith Lemon 47:15, Angela Clarke 49:50, Nigel Taylor 50:15, Margaret Deacon 50:45, Nigel Corns 51:42, Paul Bunker 51:59, John Moore 52:08, Samantha Sugden 53:35, David Brackenridge 55:19.a