Autumn And Alan Proud Of Their Hebden Bridge Pride Run.
Autumn Good, who is only 8, took part in her first ever 5k run at Happy Valley Pride on Sunday 30th July. She was joined by Alan Brady on a course which took the runners from Hebden Bridge park to Mytholmroyd then up towards Old Chamber and back to Hebden Bridge.
Autumn came in at 30.14 minutes in 9th position, with Alan coming in at 32.13 minutes at 15th. Both were also awarded a trophy for being the youngest and oldest entrants respectively.
Jane And Stef Complete First Ultra
Many congratulations to Jane Hobson and Stef Dickinson who today joined the club's growing band of hardy ultra-marathon runners. A group that should perhaps have their own annual dinner?
Jane and Stef took on the new Yorkshire Wolds Ultra; a 50km (31 miles) circular route, starting and ending on the edge of Pocklington, near York. The route took the competitors through the picturesque Wolds, visiting a number of pretty villages en route and including just over 1,100m of climbing. The two Harriers supported each other all the way round, listening to each other (at times) moaning and offering suitable encouragement in return! Both finished in 6 hours 35 minutes with Stef coming in a few seconds ahead of Jane with the two in 15th and 16th place respectively out of 62 female runners. 
Jane commented, "First ultra and it was brilliant! Lovely route, great weather and so well organised. Thanks to Stef for keeping me going all the way around. Also thanks to [daughter] Rachel and [husband] Mike for your support." Stef said, "Ouch. Lovely route. Thanks to Jane for getting me round!"
Great running. Very well done to both!
Stephen Gallops Round Aintree
Stephen Rainbow took part in the Aintree Half Marathon for the first time on Sunday 23rd July 2023. Having travelled through torrential rain, it's safe to say that the going was soft, but the rain mercifully eased off during the four laps around the race course. Fortunately for Stephen, runners were not advised to jump the fences, but there was a bit of jockeying for position to be done during the latter laps of the race in order to avoid the odd collision with some stray runners. Nevertheless, Stephen galloped around in a time of 1 hour 23 minutes 21 seconds finishing as the 3rd M40 runner and 20th overall. But, whisper it, two members of Stainland Lions beat him by only a matter of seconds. So no doubt there will be much exasperation back at the stables!   
Junior Presentation 2023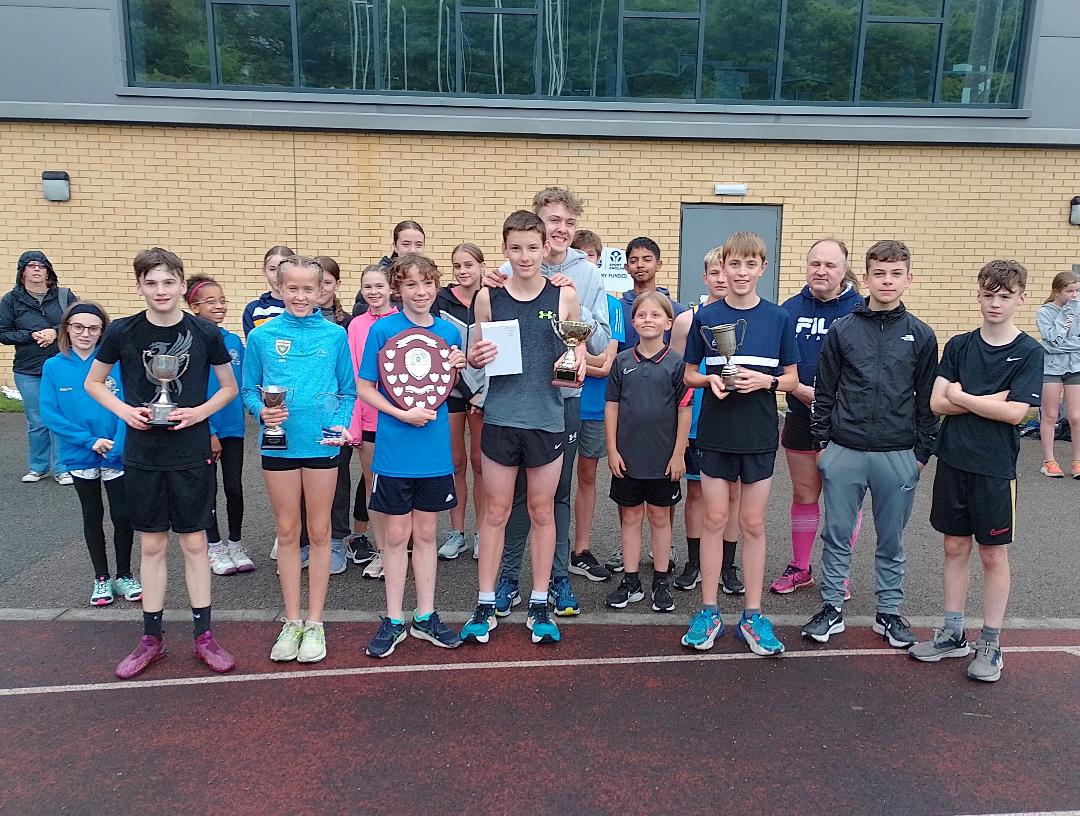 Last night we were honoured to welcome Malcolm Fisher down at the club. Malcolm first joined the Harriers in 1947 and he is still a social member. Malcolm has purchased a trophy for the 'Malcolm & Kathleen Fisher Award' that is to be presented to the outstanding jumper at the end of the season. Malcolm also presented the trophies to the junior award winners. Congratulations to them all.
Cross Country Trophy - girls under 11 - Casey George
Cross Country Trophy - boys under 11 - James Neil
Cross Country Champion - girls under 13 - Kitty Harrison-Sargent
The Colts Cross Country Champion - boys under 13 - Beau Clarke
Girls U 15 Cross Country Shield - Faye Skilbeck
The A Mitchell Trophy - under 15 Boys - Ben Slow
The B.T. Sutcliffe Youth Cross Country Challenge Trophy - under 17 men - William Cattermole
Outstanding Junior Female Athlete - Kitty Harrison-Sargent
Outstanding Junior Male Athlete -  Ben Slow
Sean Pugh Trophy -  Ralph Jones
Summer Handicap 10k
This years summer handicap was celebrated with the presentation of a special '50 years a member' vest to Martin Haigh who passed this amazing milestone earlier this month. Joining as a 19 year old (just), Martin has been a valuable, ever-present in competing for and representing the club in various capacities and he plans to continue doing so for the next 50 years, which he started by running in the handicap.
We had 28 runners in this years event which was run along the usual course starting at the Hebble Trail and following the canal tow path to Sowerby Bridge and back. First back this year, and winning the champions trophy was Keith Lemon in 54.30. Keith is currently on a come-back from injury but showed he's making really good progress by leading from start to finish. Second place went to Adrian Conway in 56.13 and 3rd place for the second year running was Ian Giles in 58.18 (50.18). First lady was Sharon Cousen in 60.03 (53.13) and 5th place overall.
Thanks to all the marshals and officials and to Debbie & Chris for organising a fantastic post-race buffet.
Max Returns To Action Taking Bronze In Manchester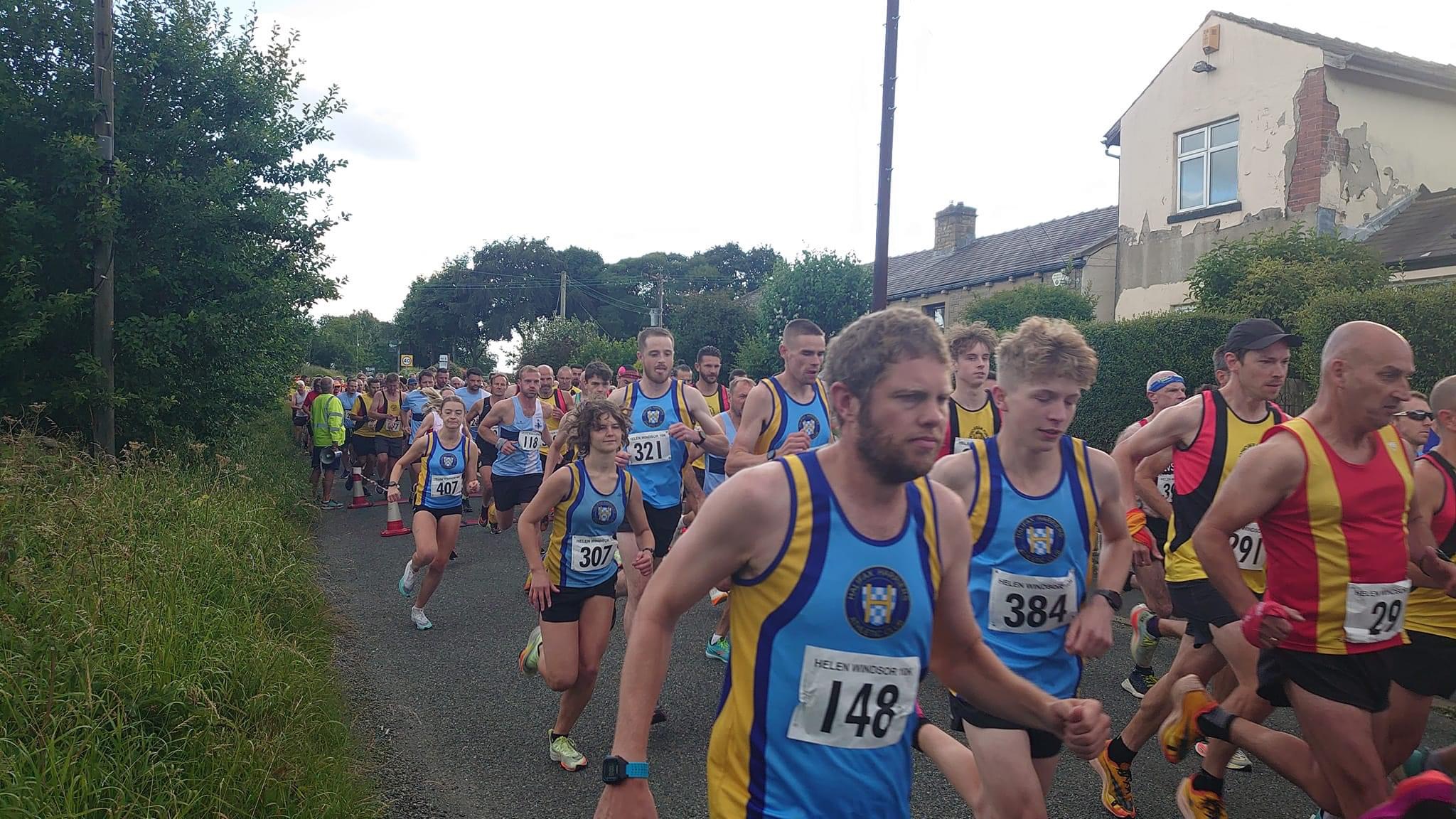 UK Championships
Max Burgin returned to action this weekend following his struggles with injury. Max finished third in the UK Athletics Championships 800 metres in Manchester following a dramatic conclusion to the final in a time of 1:45:16.
Helen Windsor 10k
The club hosted the annual Helen Windsor 10k race last Wednesday evening on the undulating course on the roads around Norland Moor. There were 23 Harriers amongst the 190 runners with three placing in the top ten: Alex Franklin finished fifth in 34:04 with Ben Crowther seventh in 35:04 and Liam Parkin tenth in 35:36. Jayde McGregor was the first of the eight female Harriers to finish, taking 57th place in a new personal best (PB) time of 43:37. Five other Harriers also set new PBs; David O'Brien (37:16), Will Cattermole (38:26), Harris Faulkner (44:04), Verity Clements (44:01) and Joanne Arundale (44:13).
Eccup 10
Eleven Harriers took part in Sunday's Hollybank Eccup 10 mile race; the latest counter in the club's road championships. The course takes in rural closed roads and a scenic route around Eccup Reservoir in north Leeds. Fred Carver was the first home, finishing in 38th place in 1:03:33 with Stephen Rainbow next in 1:05:28. Tabitha Howe was the first of the two Harriers women to complete the course, clocking 1:20:55. Rob Hick was the fastest in his age group (M65), crossing the line in 1:15:38.
Ultra Marathons
Two Harriers were in ultra-marathon action on Saturday. Sarah Cumber was the first placed woman in Saturday's Race to the Stones 50k from Lewknor to Wantage in Oxfordshire, along one of Britain's oldest paths. Sarah completed the course, which included nearly 2,000' of ascent, in 4:47:54 and finished fourth overall out of 416 participants. Nearer to home, Ryan Barker took on the Lyke Wake Challenge race, running  across the North York Moors from Osmotherley to Ravenscar. Ryan completed the arduous 40 mile course, with over 4,000' of climbing, in 7:20:51.
Multi-Terrain Races
Elsewhere, Marc Rocheteau ran in the Holme Valley 5 Mile race on Friday evening, clocking 43:52 and finishing third in the M60 age category. Martin Ellis took part in Sunday's Stocks Lane Stinger, completing the challenging 6.5 mile multi-terrain course in the Luddenden Valley in 1:06:51.
Juniors
In the juniors, James Sutcliffe ran in the Lothersdale Show Fell Race, near Skipton, on Saturday, finishing second in the boys' under-12s section. This is one of the oldest fell races still in existence, being first run in 1847. James finished 18th out of 43 in a race where seniors and juniors take part in the same race. Fantastic running, James!