Weekly Round-up Including London And Manchester Marathons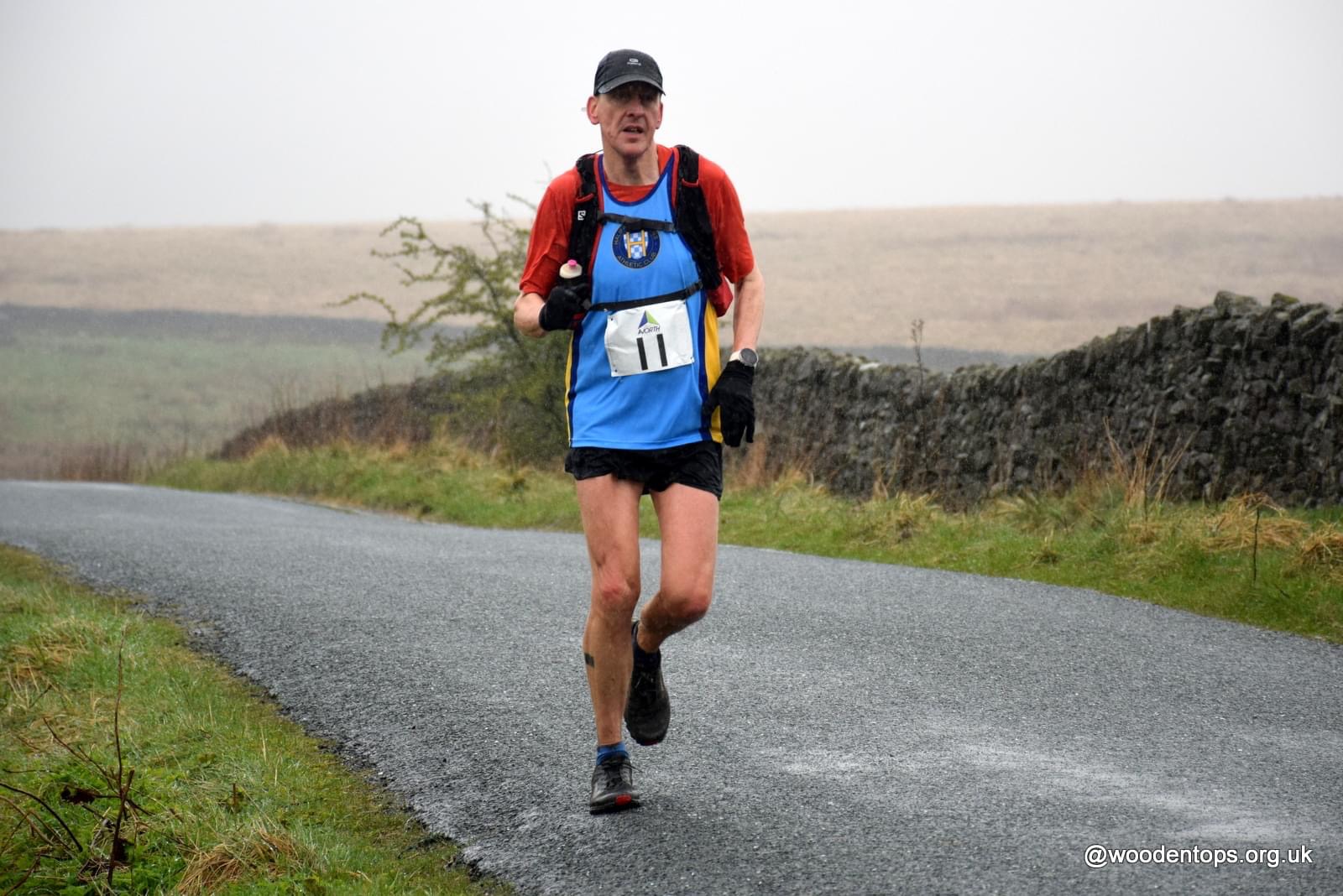 Harriers have been busy in marathon action over the past two weekends.
Seven club members took part in Sunday's London Marathon. Michael Gaughan was first home in a personal best time of 3:40:19. Angela Clarke (3:41:44) and Joanne Arundale (3:46:06) were also under the 4 hour milestone. Sarah Glyde (4:22:20), Mark Gaughan (4:50:47), Steve Denniss (4:56:38) and John Moore (5:29:54) were the other Harriers to succesfully complete the course.
Five Harriers ran in the previous weekend's Manchester Marathon. Astonishingly, all five set personal best times. Erawan Wanithanont and James O'Rourke both broke the three hour barrier, clocking times of 2:55:28 and 2:58:35 respectively. Harry Johnson was close behind in 3:02:52. Tom Paget (3:12:01) and Ellie Horrocks (3:37:46) also competed.
Well done to all our Harriers participating in these two marathons. All magnificent achievements following a great deal of hard work.
Four Harriers took part in Sunday's Brighouse 10k. Rachel Beaumont was fourth woman and second F50 in 44:51. Howard Coney completed the flat and fast course in 45:42 with Lucia Cattermole (1:11:04) and Heidi Coney (1:22:22) also wearing club colours.
Will Stewart and April Caufield competed in the Magaluf Half Marathon in Mallorca on Sunday, finishing in 1:23:51 and 1:41:30 respectively. 
Ryan Barker ran in Saturday's Burnsall Trail Half Marathon (see photo). Ryan finished ninth overall and was first in the V50 category, clocking 1:47:21 on a course that takes in several sections of the Dales Way footpath and has over 1,500' of ascent.
Harriers were again well-represented at the third and final race in the Bunny Run series at Haworth last Tuesday evening with nine running in club colours. Alex Francis finished the off-road 2.7 mile race in 16:13 in third place. Eli Cattermole was first in the BU15 catergory in 18:01 with brother, Will, third BU17 in 17:23. Dad, Lee, and mum, Lucia, trailed in behind their two sons in 19:49 and 35:14 respectively. Liam Parkin, Jane Hobson, Andrea Ackroyd and Jenny St Romaine completed the Harriers line-up.
Will and Eli finished fourth and eighth respectively in the overall series standings. Magnificent achievements, especially for two juniors. Both won first prize for their age groups too. Andrea Ackroyd (LV50) and Jayde McGregor (GU17) were third in their categories for the series.
Ellie At The Manchester Marathon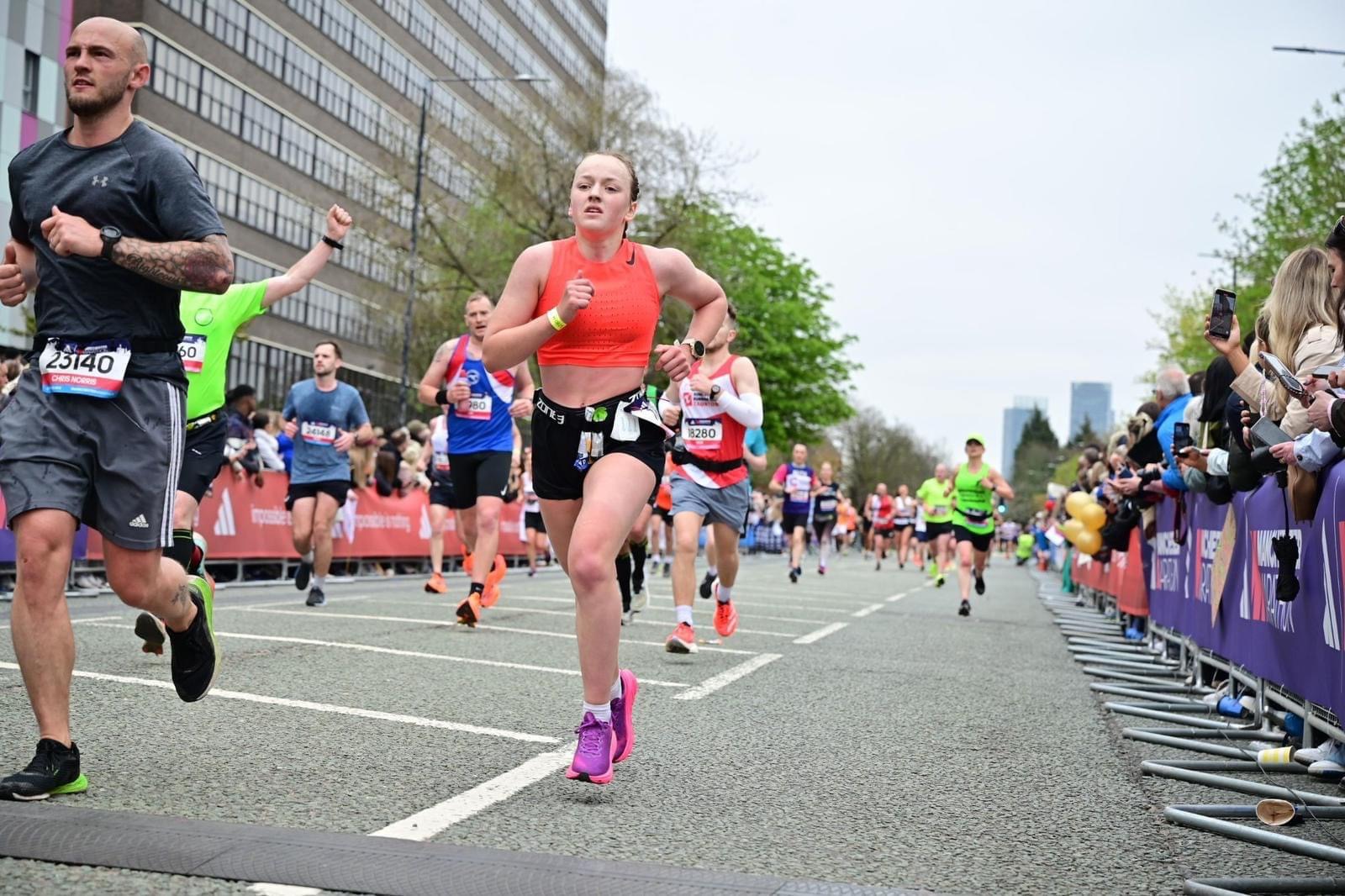 Ellie Horrocks in action at the Manchester Marathon.
Ellie completed her first marathon and was aiming for 3hrs 45. Smashed it !! 3hrs 37. Pretty good for an U20.
Well done Ellie.
Salford 10k - Good Friday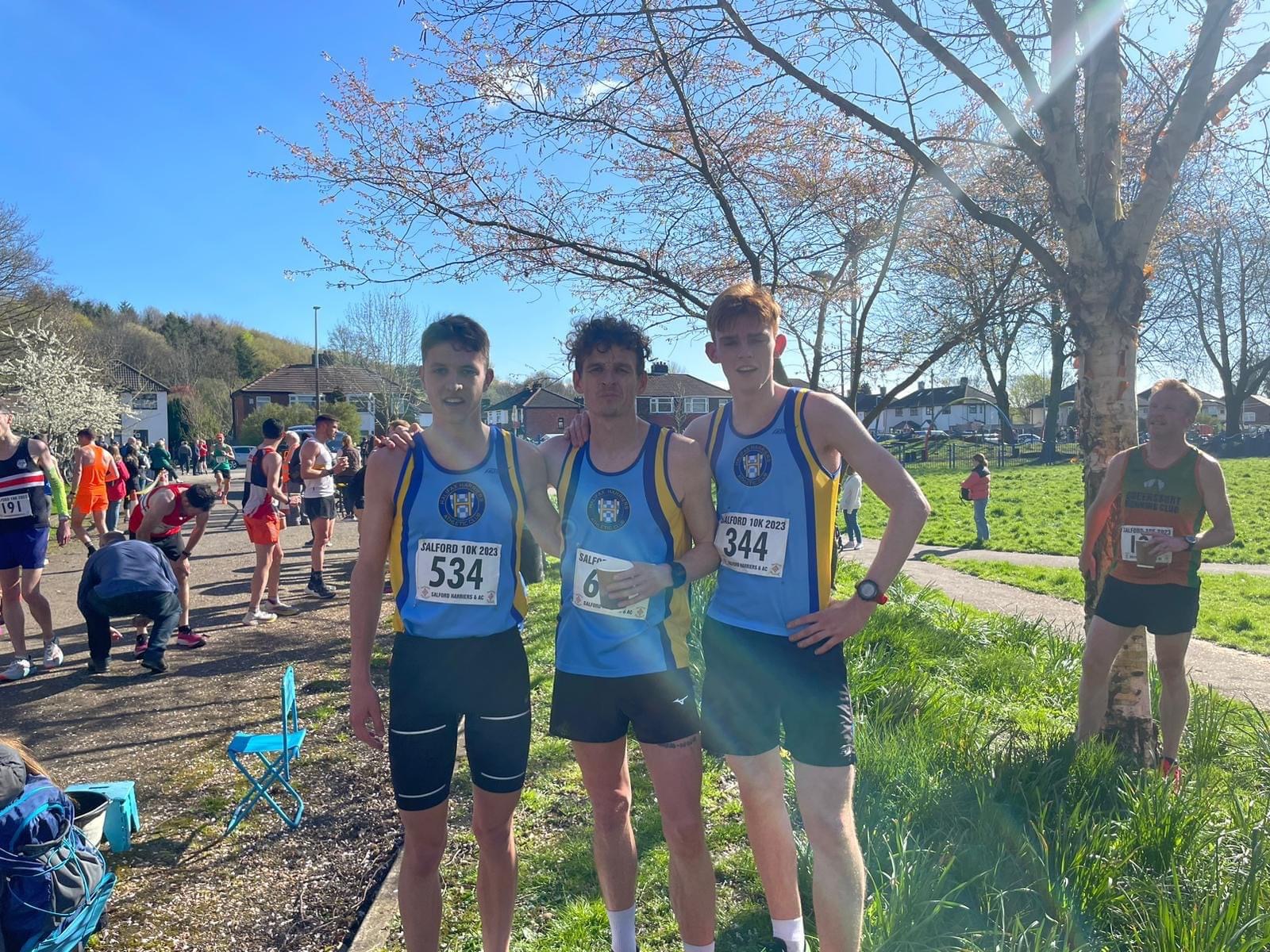 Perfect racing conditions produced amazing times and new PBs for 3 leading Harriers this morning. And not to be outdone there were other PBs to report too.
Tom Hodgson knocked a massive chunk off his best time to record a PB and a new club record V35 of 31.14 finishing in 7th place, only missing Josh Hall Brown's overall club record by 3 seconds.
Harry Johnson produced an amazing run to knock 2 minutes off his best time to finish 18th in 32.48 and only 6secs behind Harry was U20 Alex Franklin with a new PB and new Club U20 record of 32.54 in 19th place and 2nd U20. Halifax Harriers finished 2nd team behind the hosts Salford. 
Liam Parkin ran a PB of 35.24 to finish 64th.
Will Stewart ran a PB of 37.05  to finish 101st
April Caulfield  ran 40.42 for 169th
Cara Bintcliffe ran 46.53 289th
John Moore V50 ran 55.07 421st
Susan Hall V70 490th 66.24 2nd V70
Well ran all, a great day all round - Happy Easter.
Rob Doubles Up At World Indoor Masters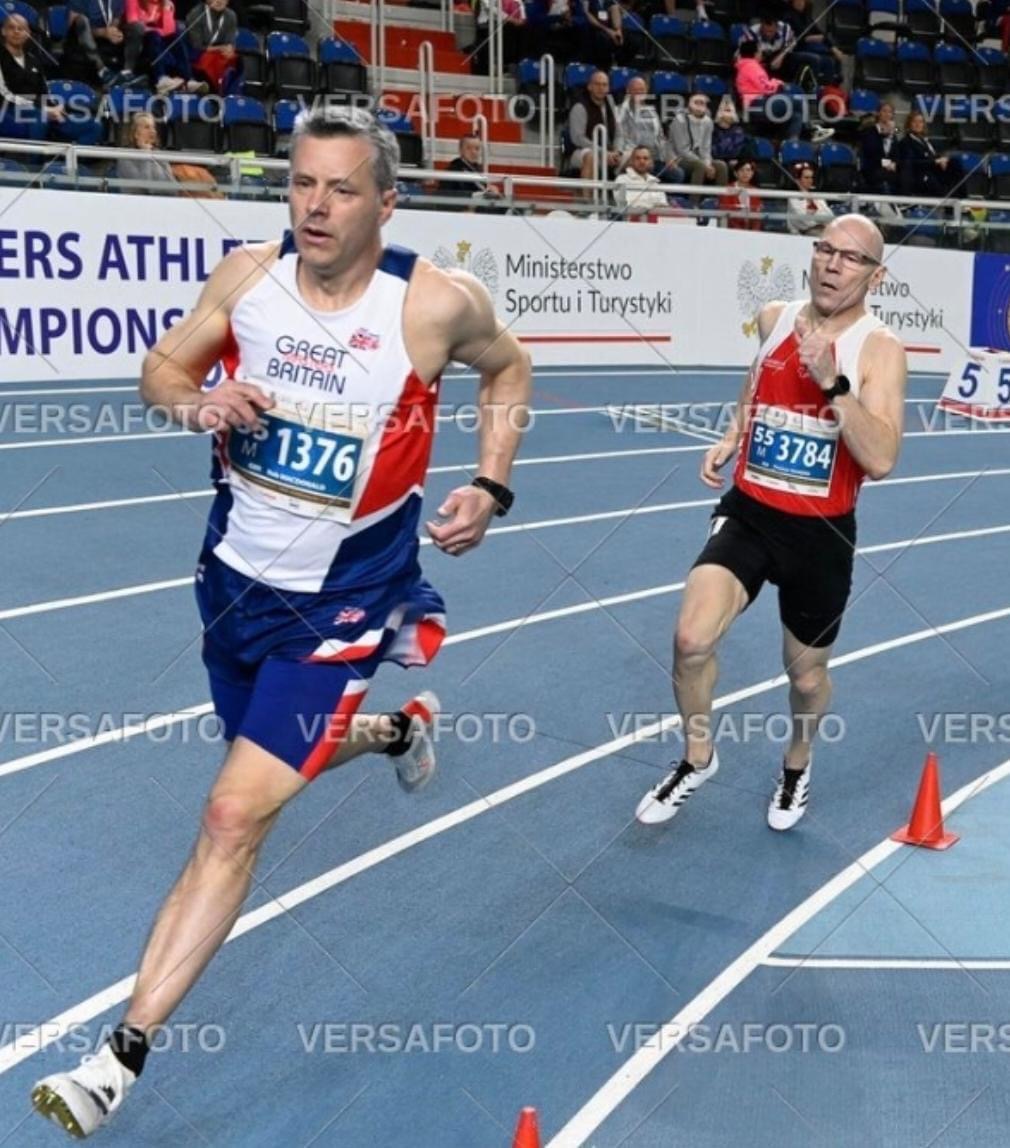 Rob McDonald represented Great Britain this weekend at the World Indoor Masters Champs in Torun, Poland.  Rob competed in the 200m and 400m double V55 but just failed to qualify into the Finals. The Canadians/Kenyans  and the  French were his nemesis on this occasion. Well done Rob and we look forward to seeing you train on the track in your GB vest.