Club Record For Tom At The Ribble Valley 10k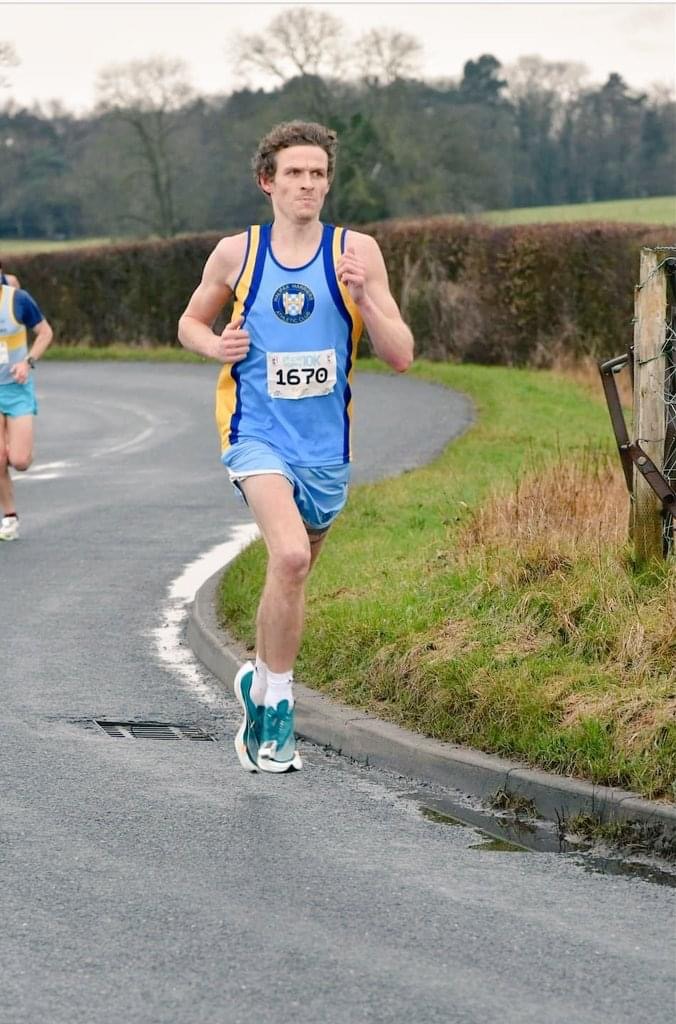 16 Harriers took part in the scenic undulating Ribble Valley 10k on Tuesday. This was the latest race in the club's 'Road Race Challenge'. This event, starting and finishing in Clitheroe, incorporates The Northern 10k Road Championships which attracts a number of Elite runners, guaranteeing a very strong field in the race.
The forecast was set to be wet and windy but the runners were afforded with near perfect conditions. The race was won by Calum Johnson of Gateshead Harriers in 29.10.  There were 9 runners sub 30 minutes. 
Bravo then to Tom Hodgson who ran a pb and a club 10k record (all ages) in 31.24, finishing 24th overall in a field of 1,158 runners. Amazing! Also it is important to recognise Will Carver who also ran a pb in 38.39, just pipping his son Fred who also ran sub 39 minutes. Congratulations!
Well done to Adrian Thomas the 2nd Harrier back (36:44), Sarah Louise Cumber for achieving first f50 in sub 40 mins (39:26) and Rob Hick for being first m65 in 43:28.
There were also age group successes for Geoff Cumber (2nd m70), Hazel Berrett (3rd f60) and Susan Hall (3rd f70). Indeed, a big cheer to all the Harriers for taking part who all worked equally as hard. The others were: Ryan Barker, Rachael Beaumont, Erika Nightingale, Paul Hopkinson, Stef Dickinson, Kirsty Carver and Martin Haigh. Full results can be found in the Recent Races section of the website.
This is a most beautiful race and I shall look forward to taking part next year.
Harriers Out In Force At The Coley Canter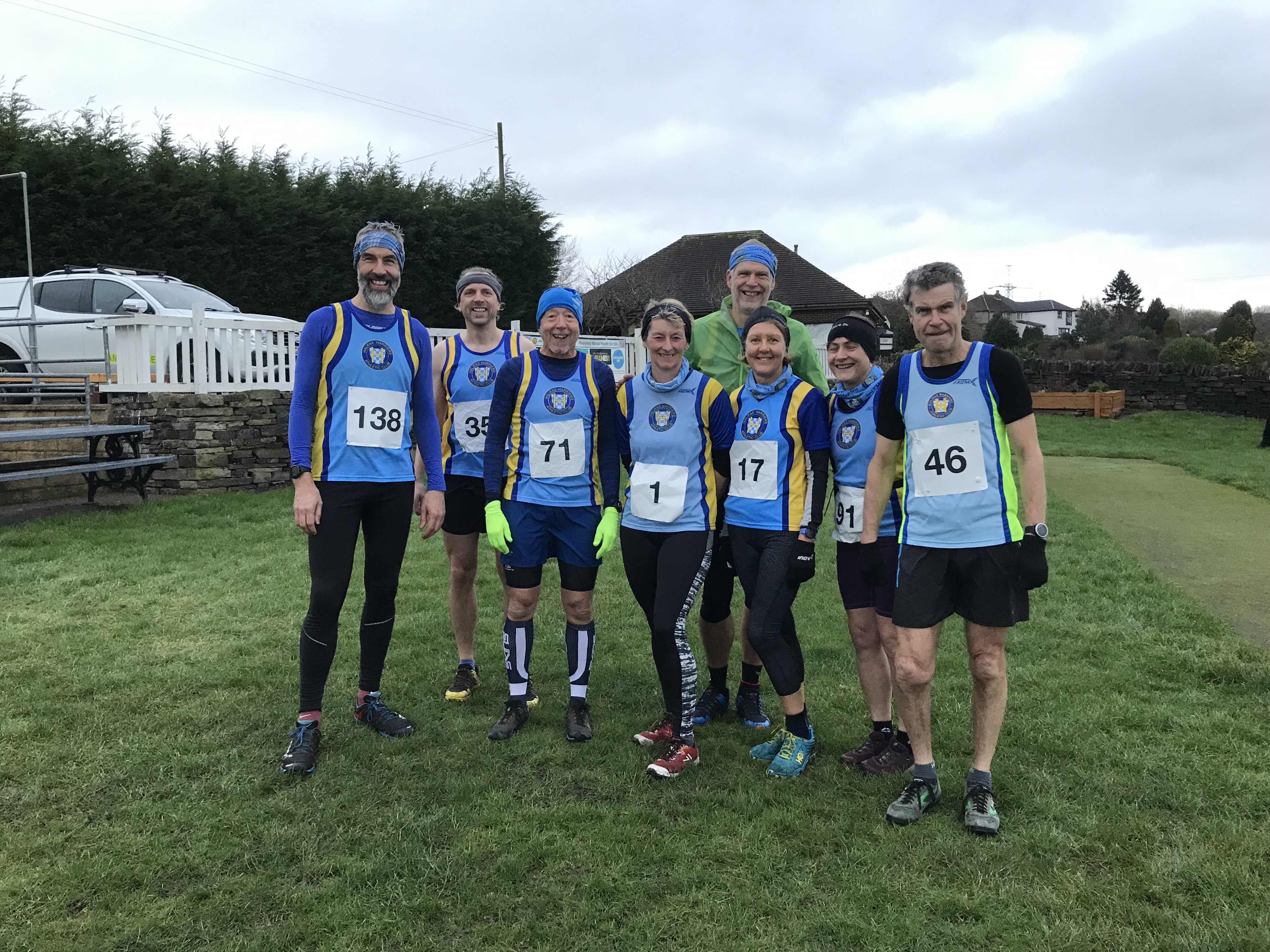 Fifteen Harriers took on the challenge of this year's Coley Canter; an excellent trail race organised by Northowram Pumas. The hilly 7.7 mile course takes in a total climb of nearly 900' and includes a good dose of mud and a stream crossing. The route starts in Northowram before taking in Norwood Green, Judy Woods and a circuit around Coley. Highly recommended for anyone who fancies racing off-road but not necessarily wanting the big hills.
Gareth Burrell was the first Harrier home in 17th place in 1:01:37. Lee Cattermole was close behind, finishing 20th in 1:02:27 and was second M45. James O'Rourke was third in the same age category in 1:05:33.
April Caufield led the Harriers women home, finishing third female overall in 1:06:00. Hazel Berrett won the prize for the F60s in 1:19:39. Jane Hobson was third F50 in the same time as she and Hazel crossed the line together. Andrea Ackroyd completed the female quartet, coming home in 1:22:02.
Other Harriers results: Will Carver (1:03:52), Tom Paget (1:04:41), Will Stewart (1:06:04), Ken Montgomery (1:06:31), Mark Crabtree (1:11:22), Simon Gelsthorpe (1:11:27), Martin Ellis (1:28:14), Chris Burrell (1:29:13).
Harriers Support Charity At Winter Solstice Strider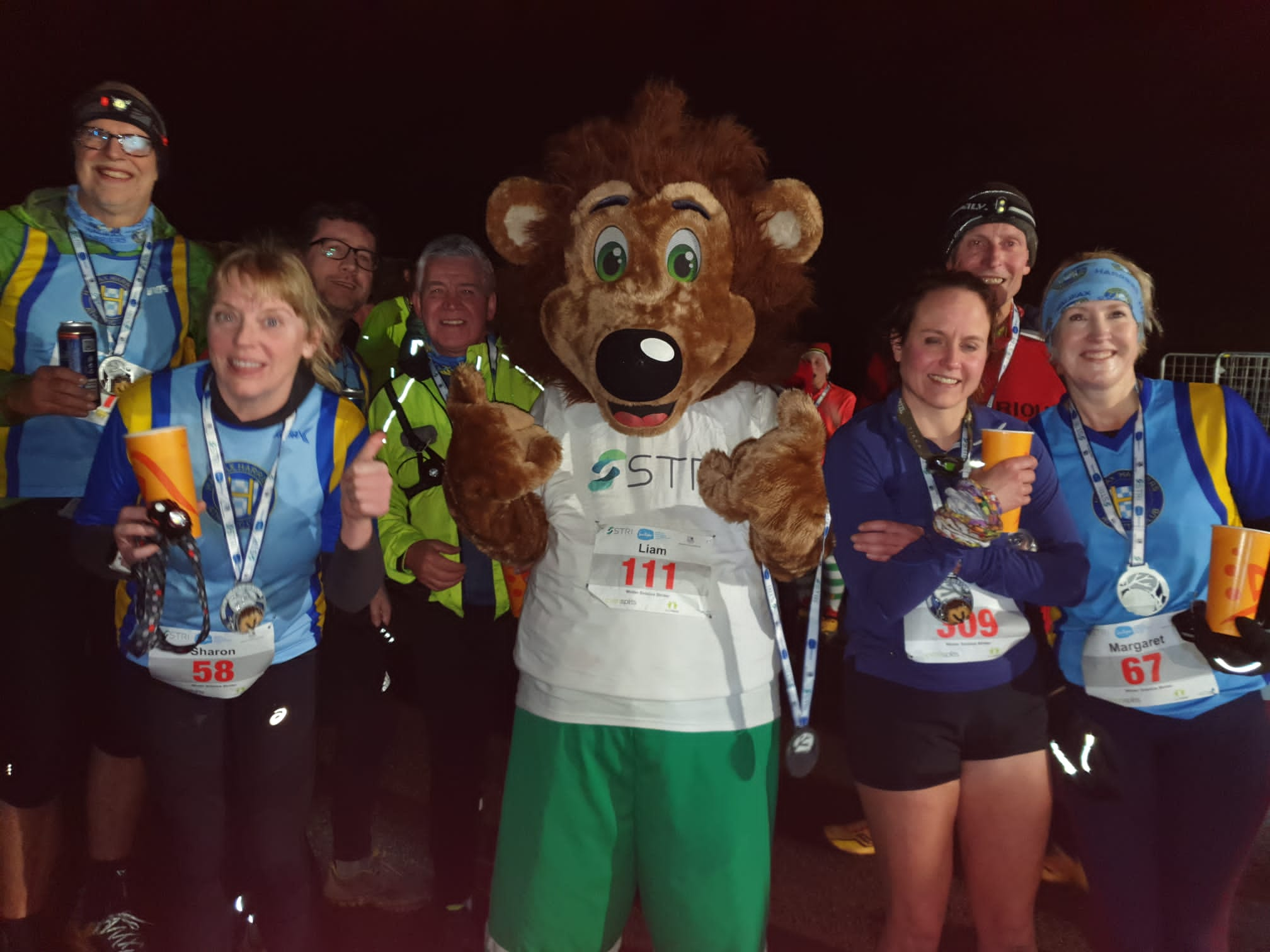 Thirteen Harriers donned their headtorches for the inaugural Winter Solstice Strider on Wednesday evening in aid of the Sue Ryder charity. Runners were able to choose between a 5k and 10k race. Both races took place on the same course using undulating trails, winding through the woods of the St Ives Estate in Bingley. Participants were fittingly taken past the Druids Alter.
Ten Harriers opted for the two-lap 10k event. Will Carver was the first to finish despite falling, clocking 48:15 in 13th place overall and third in the M40 category. James O'Rourke was next in 21st place in 50:34. Andrea Ackroyd led the five-strong contingent of women, taking third place in the F50s in 1:01:02. Sophie Baxter and Paul Hopkinson also placed third in their age categories in 1:02:15 and 1:03:20 respectively. Other Harriers were; Sharon Cousen (1:02:50), Nigel Jamieson (1:02:55), Martin Ellis (1:05:55), Margaret Deacon (1:08:35) and Jenny St Romaine (1:17:58).
Three Harriers chose the one-lap 5k race. Sally Shacklock put in a very impressive performance, finishing first in the F40 age group. Sally was third female finisher in seventh place overall in a time of 29:34. Melody Sutcliffe had an excellent race debut, clocking 41:23, with Martin Haigh close behind in 41:35.
Harriers Brave The Ice At The Stoop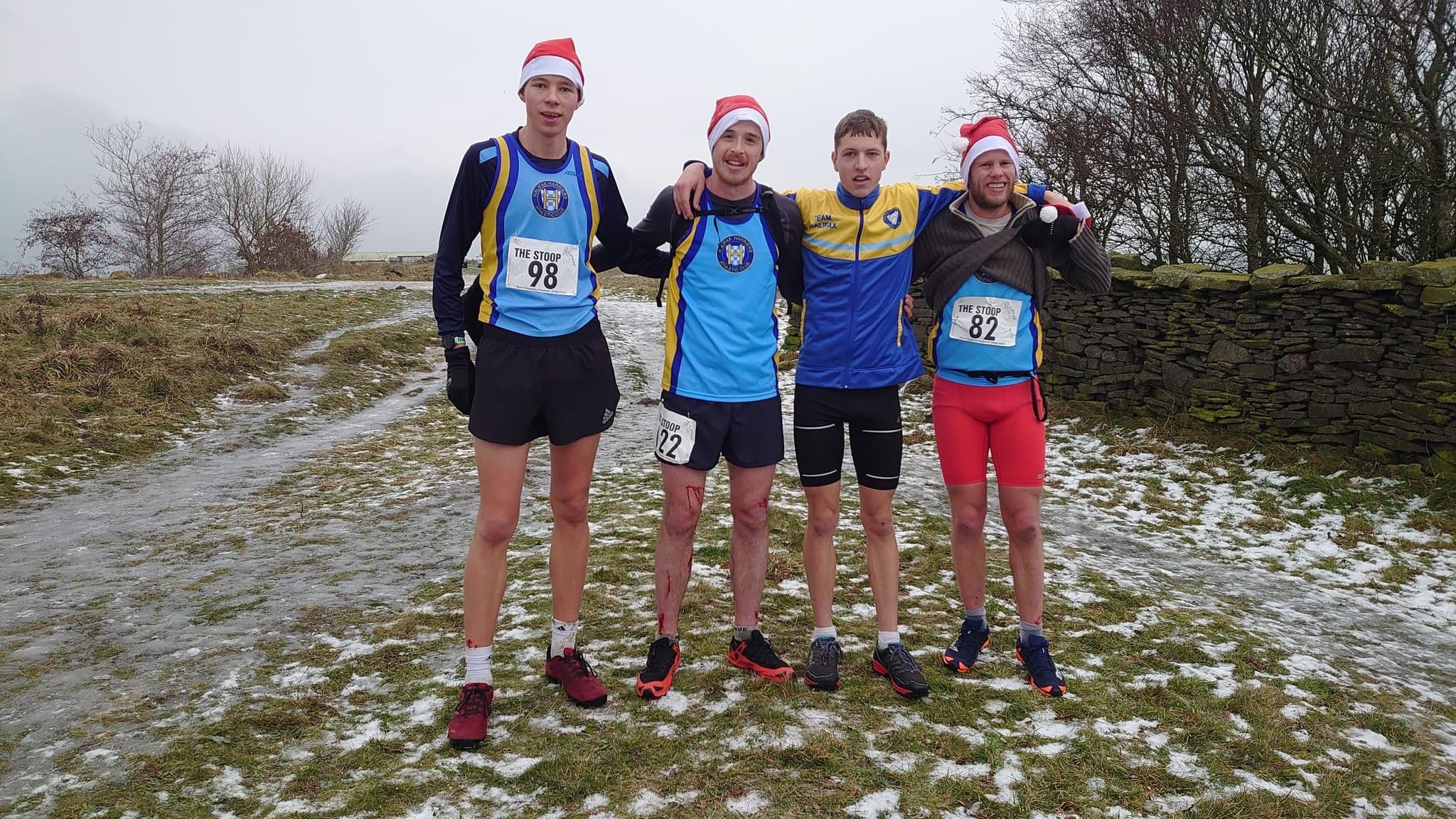 Harriers were well represented at this year's Stoop Fell Race on Sunday morning with some excellent performances in very difficult, icy conditions. Freezing rain overnight resulted in treacherous sheet ice in places, leading the organisers to alter the course, making it slightly shorter than usual. The 4.3 mile course started from Penistone Country Park outside Haworth, and consisted of an out and back route to the top of the Stoop with a total ascent of 820'.
Alex Franklin was first in his category (MU21), finishing sixth overall in 31:55. Ben Crowther was close behind, coming eighth in 32:59. Liam Parkin (36:12) and Ned Hughes (37:12) were also amongst the top 20 finishers. The men's team came second, pipped narrowly to the prize by the hosts, Wharfedale Harriers.
Other Harriers' results: James O'Rourke (46:24), Andrea Ackroyd (49:46), Jane Hobson (55:01) and Martin Ellis (58:52).
Harriers Christmas Handicap 2022
Ben Slow and Nia Sergeant-Harrison shared the spoils at this years Christmas handicap covering the cold, icy course in a time 53:26 (37:26). Kitty Sergeant-Harrison finished 3rd just behind in 53:26 (37:53) making it a clean sweep for the over 11 juniors who joined the seniors for the first time. This year saw the best turnout since 2006 with 23 participants, partly due to the club night reccie run that helped boost the numbers – thanks! John Greenwood was welcomed back and finished 5th after missing last year that halted his 35 year continuous record.
How do you rank on the all-time list (since 1985)? See the attached to compare your performance.
Thanks to Nigel Rigg for once again organising the race and to all the helpers on the day. 
Food And Drink For Harriers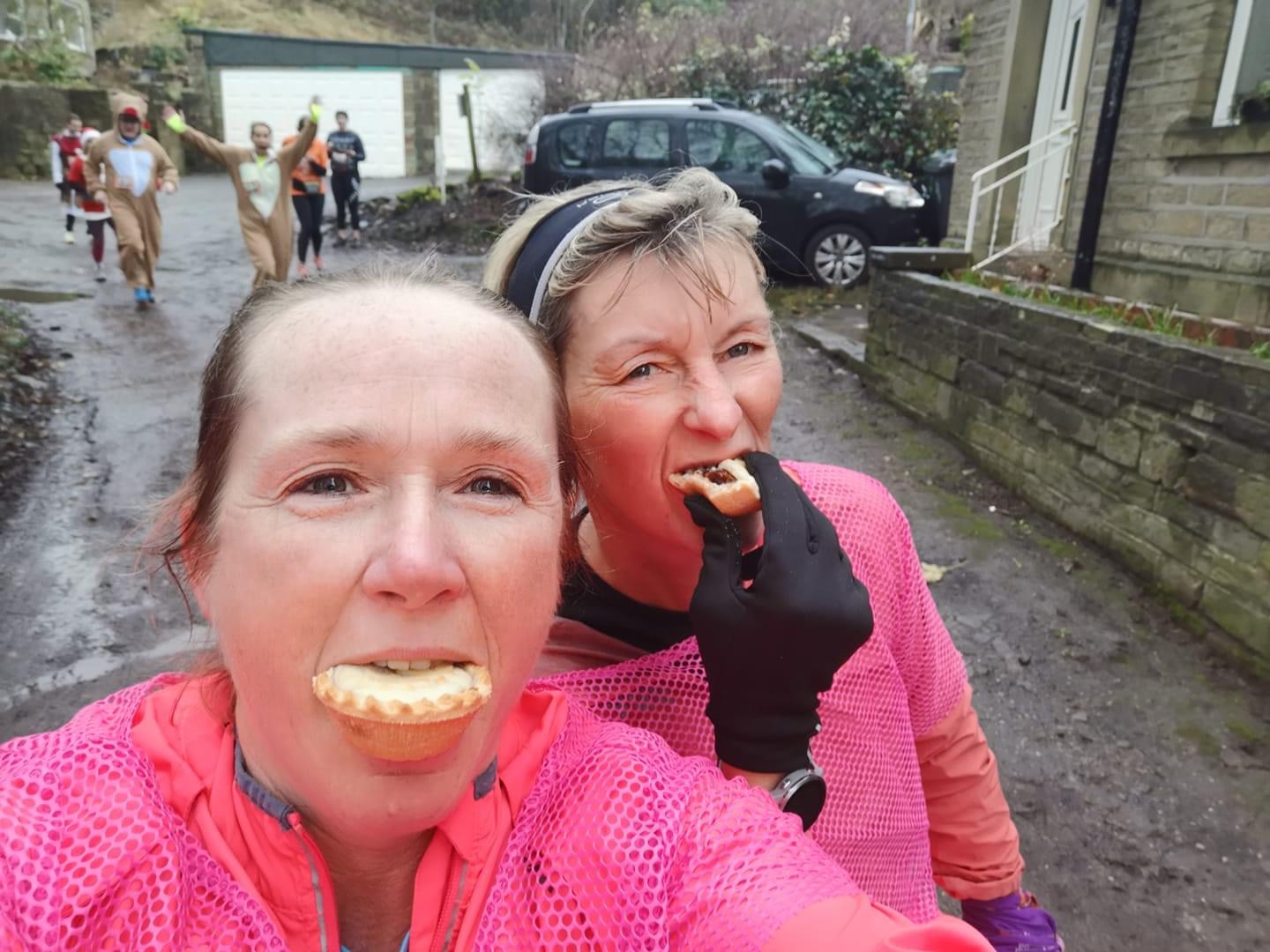 Races involving food and drink were the order of the day on Sunday.
Myerscough 10
Thirteen Harriers competed in the Myerscough 10 near Preston; the latest counter in the club's road race championship. All finishers received a piece of Lancashire cheese. Gareth Burrell was first home, continuing his recent fine form, finishing in 18th place and clocking 1:01:38 on the flat, fast ten mile course. Will Carver was next, recording 1:03:57 and taking third place in the M40 category. Erika Nightingale was the first of the three Harriers women, crossing the line in 1:13:58 in third place in the F45 age group. Full Harriers results can be found under the Recent Races tab on the website.
Mytholmroyd Fell Race
Closer to home, four Harriers competed in the Mytholmroyd Fell Race; a tough six mile course with 1,600' of total ascent over Midgley Moor. Liam Parkin finished in a highly creditable fifteenth place in 54:02  in his first fell race. Cara Bintcliffe (1:11:47), Jane Hobson (1:22:00) and Martin Ellis (1:26:28) also raced. Runners were rewarded with beer, soup and bread at the cricket club afterwards.
Pieathlon
Andrea Ackroyd and Jude Baines took part in the PieAthlon Trail Race in Huddersfield. This fun event involved a number of stops to eat pies during the 6k course. Andrea and Jude ran, walked and ate together, finishing in 57:42 and 57:43 respectively.