Three Way Tie For Women's Fell Challenge Title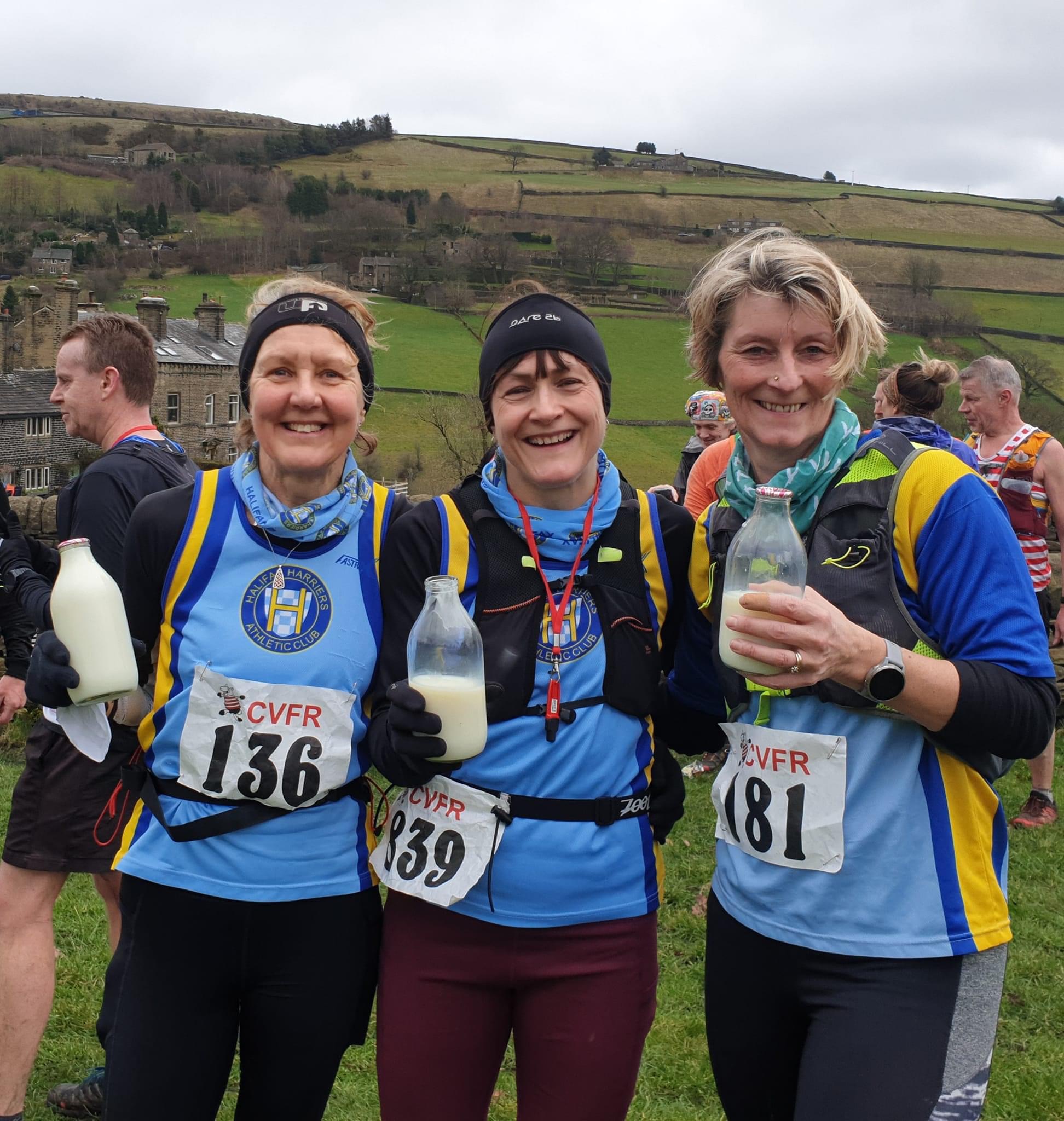 Standish Hall
April Caufield was the first woman home at Saturday's Standish Hall Trail race near Wigan. April completed the approximately 10k off-road course on bridle paths and woodland trails in 44:10 and was 20th overall. Will Stewart finished tenth in 41:58.
Midgley Moor

Six Harriers competed in the local Midgley Moor fell race on Sunday morning; the last race in the club's 2022-23 Fell Challenge. Fred Carver consolidated his position as the season's men's champion, completing the tough five mile course in 48:04 and finishing sixth overall. Will Carver (55:08) and Nigel Crossfield (56:37) also ran. Will finished in second place in the Fell Challenge with Paul Hopkinson third. Congratulations to Fred, Will and Paul.
All three contenders for the women's crown ran. Jane Hobson was the first to finish in 1:01:39 with Andrea Ackroyd hot on her heels in 1:01:58. Hazel Berrett completed the trio, clocking 1:06:42. Incredibly, these results meant that all three tied for first place for the season! Congratulations to all three. 
Great North West
Sharon Cousen and Nigel Jamieson took part in Sunday's Great North West half marathon along the coast in Blackpool. The two Harriers crossed the line together in just under two hours three minutes.
Bolton 5k
Also on Sunday, Sarah Cumber and Geoff Cumber participated in the Bolton 5k with both taking first place in their age groups in 19:31 and 25:57 respectively.

 
Another Busy Weekend's Racing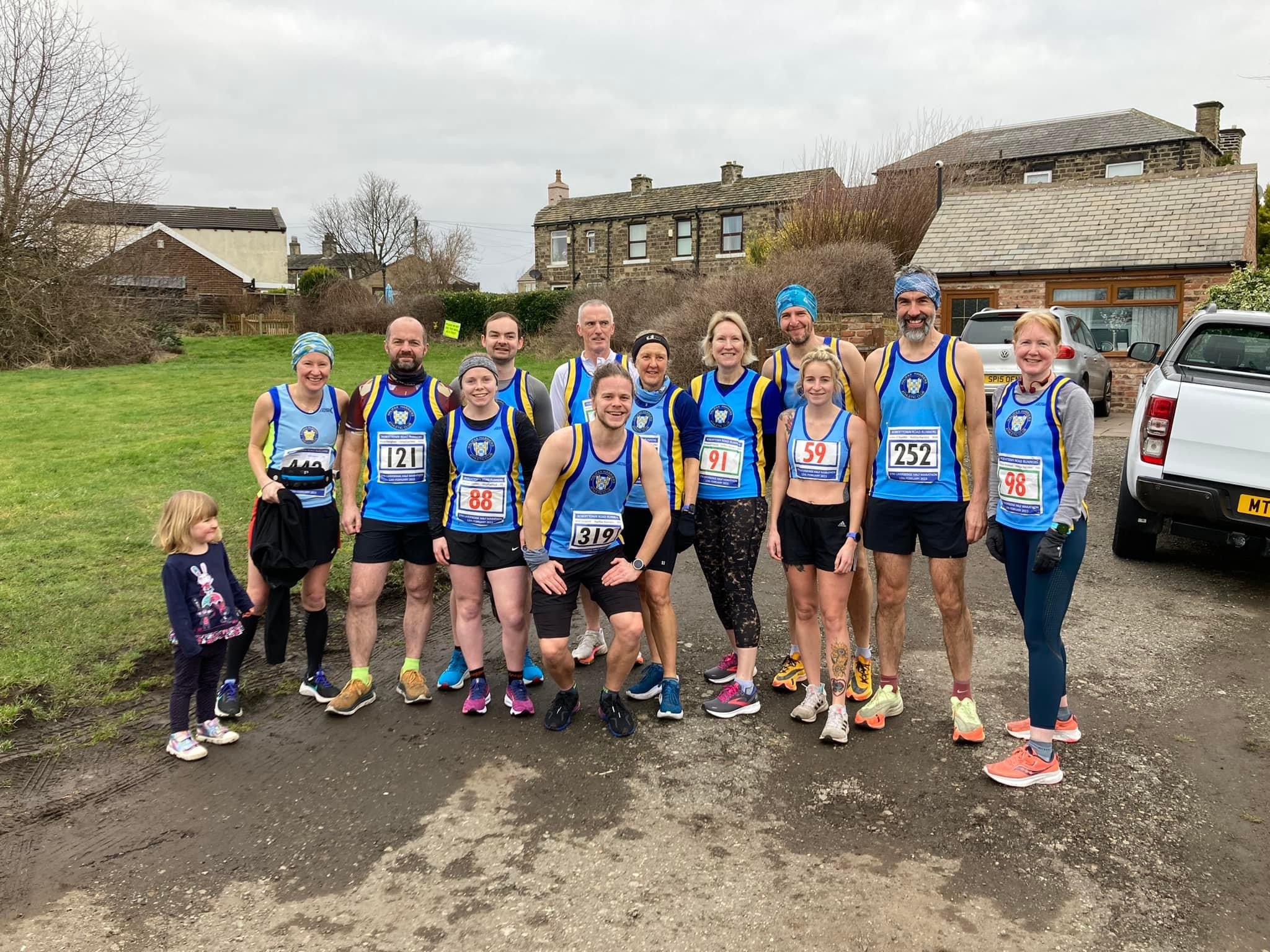 Liversedge Half Marathon
Fourteen runners wore the club colours at the tough Liversedge half marathon on Sunday. Simon Johnson was the first to complete the hilly course (around 1,000' of ascent), finishing 29th overall in 1:28:12 and first in his age group (M55). Tom Paget also recorded a time of under 1 hour 30 minutes, clocking 1:29:54 in 35th place.
April Caufield again led the Harriers' women across the line, in a time of 1:36:00. There were also age group podium places for James O'Rourke (2nd M45), Hazel Berrett (2nd F60) and David Ingle (3rd M60). Watch out for this popular local race next year when it will be in the club's Race Challenge.
Windy Hill Fell Race
Meanwhile Kieran Manchester and Jane Hobson ventured off-road to run the hills around Blackstone Edge and above Hollngworth Lake in the Windy Hill Fell Race. Both had excellent races on the course of nearly 12 miles with over 2,000' of climbing. Kieran was fourth overall in 1:24:22 and Jane was third in her age category (F50) in 2:04:58. Weather was good with clear and dry conditions. The race thankfully failed to live up to its name as it was only a little bit windy! 
Harrogate Hustle
Andrea Ackroyd and Jenny St Romaine also left the tarmac behind to take on the Harrogate Hustle Trail Half Marathon on Saturday morning. Andrea took first place in her age group (F50), spurred on by the need to keep up with other runners so as not to get lost due to the lack of promised waymarkings! Andrea completed the scenic course in 2:10:07 with Jenny finishing in 2:46:32.
Tatton 10k
Two Harriers competed in Saturday's Tatton 10k. Bryony Baron completed the course around the beautiful Tatton Park in Cheshire in 48:44 with Keith Lemon finishing in 51:40.
Personal Bests Galore For Harriers At Dewsbury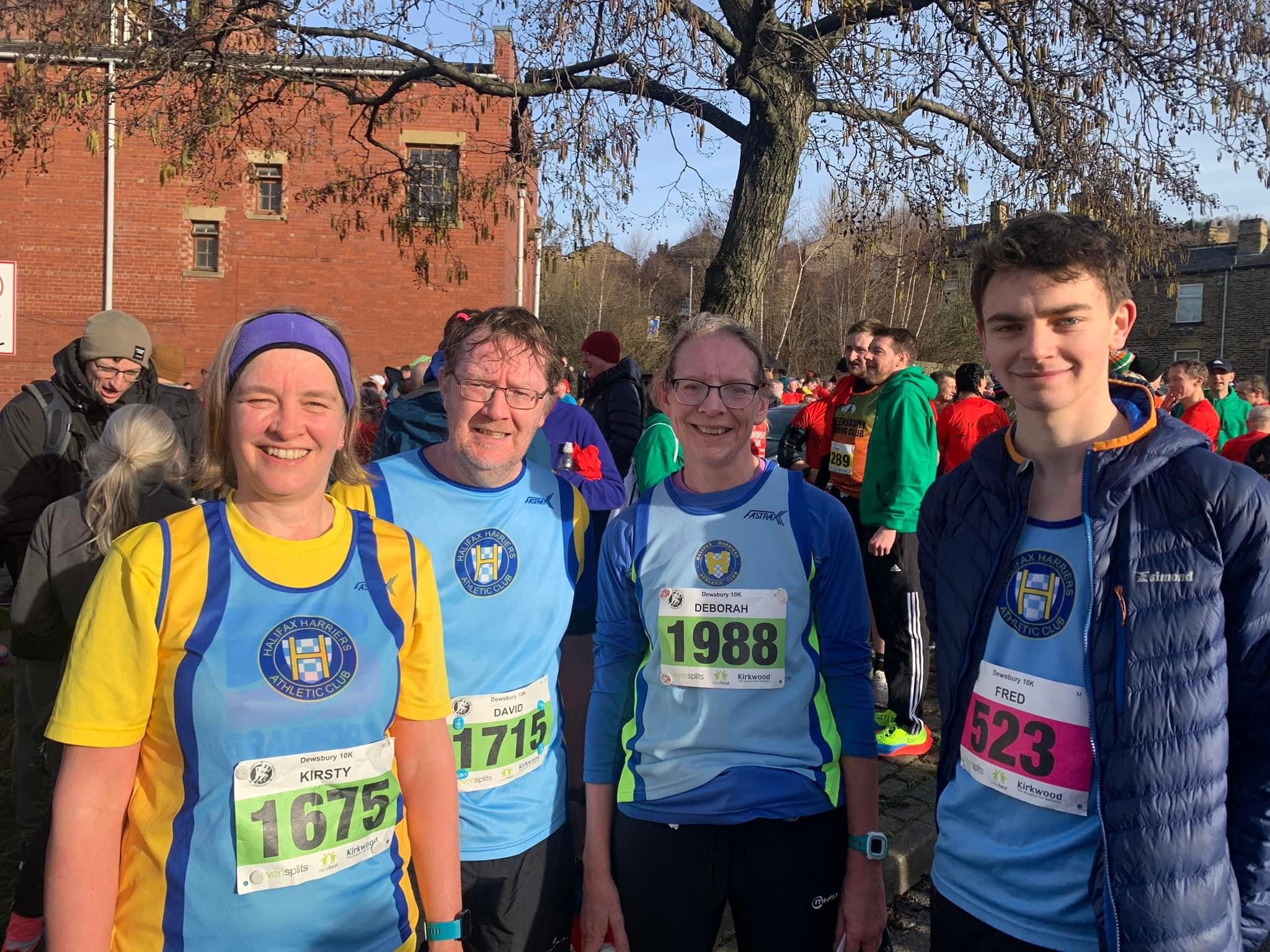 Dewsbury 10k
Twenty-seven Harriers competed in today's Dewsbury 10k; the final race in the 2022/23 season's Road Race Championships. A third of our runners took full advantage of the fast, flat course to set Personal Best (PB) times for the distance.
Kieran Manchester was the first Harrier home, finishing 32nd overall in a field of 2,212 runners in 32:50. Kieran, along with Fred Carver, Tom Paget and James O'Rourke, all recorded PBs with times of under 40 minutes. Will Stewart completed the quintet of Harriers clocking sub-40 times.
April Caufield was the highest placed of the 11 Harriers women, placing 466th overall (25th FSen) in 40:32. Tabitha Howe (44:21), Jane Stewart (55:21) and Monica Gallagher (57:04) all ran PBs.
Rob Hick was second M65 in 41:48; the best age group category result of all the Harriers. Hazel Berrett bettered her own F60 club record by 27 seconds to set a new benchmark of 47:28.
Full Harriers results are on the Recent Races page of the website.
Alsager 5 Mile
There were also some excellent results for Harriers at the Alsager 5 Mile race in Cheshire. Sarah Cumber recorded a new F50 club record for five miles, clocking 31:47 whilst coming third in her age group. Katrina Oddy finished in 35:06 with Geoff Cumber winning his age category (M75) in 43:52.
Harriers Quiz 2023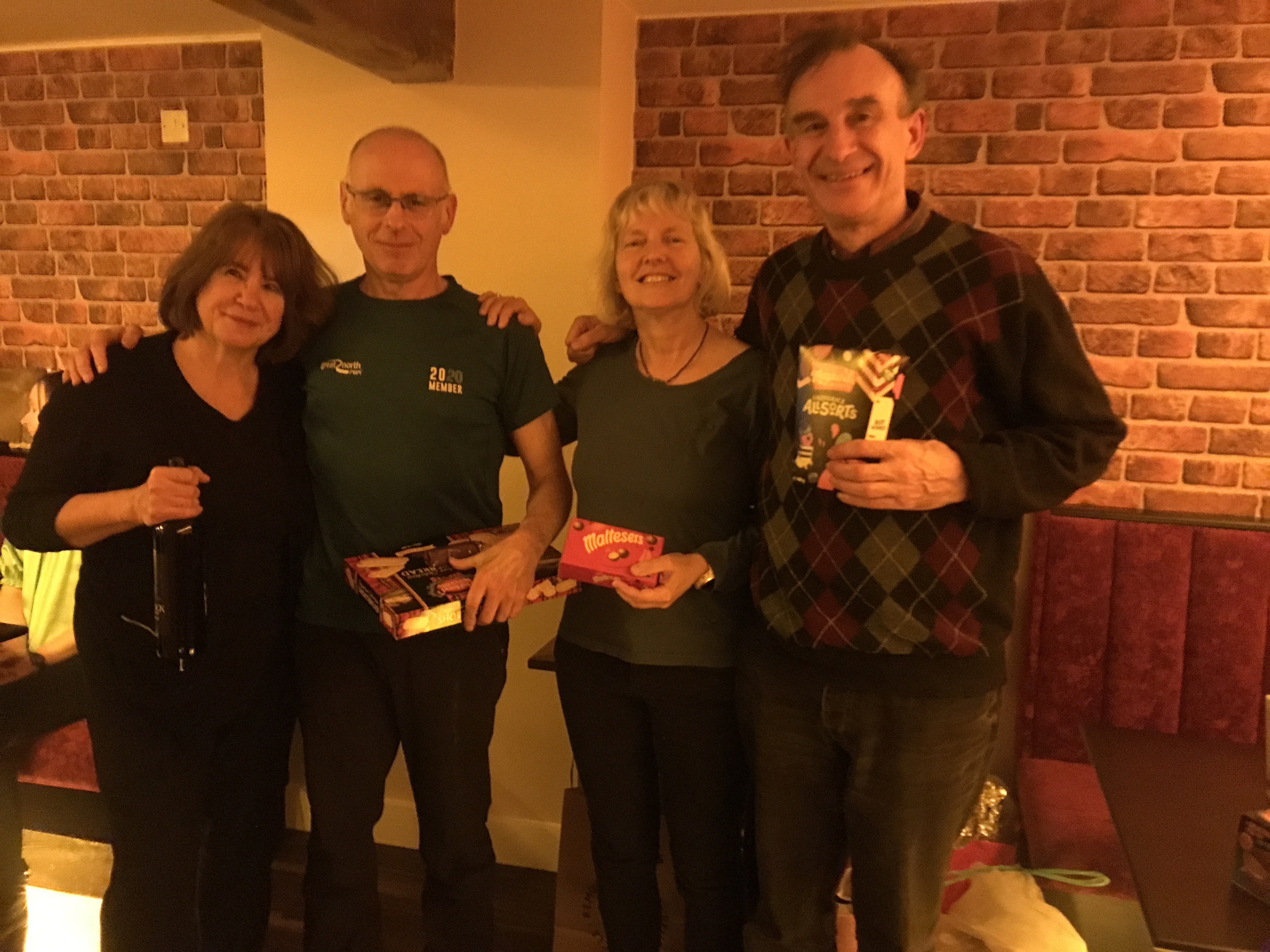 There were 11 teams at this year's Harriers Quiz, which was held, at very short notice, at The Hourglass bar in the Westgate Arcade.
Well done to Team Kingle, who were the outright winners. There was a three team tie for second and third places, which was decided by a tie-break question. Team 'Please Excuse Barry From Swimming...' took second place and 'Wudya Lika Beer' finished in third spot.
The profits from the quiz and raffle raised £213 which will be donated to the Halifax Food Bank.
Thank you to every one that attended and helped make it a great night. 
More photos from the night can be seen on the Gallery tab of this website. Link - Halifax Harriers