Cragg Vale Fell Race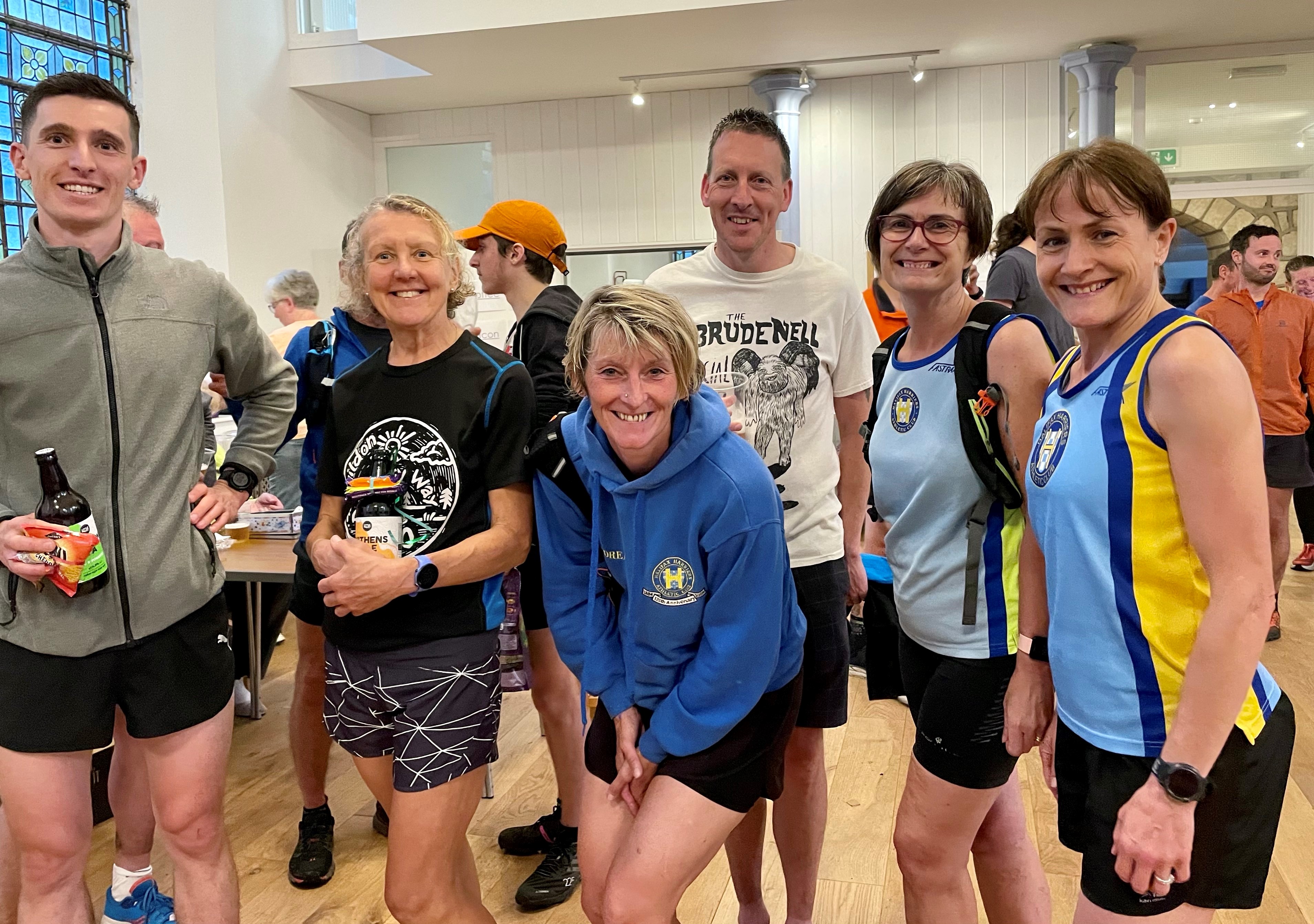 This was the 6th race in the Fell Challenge and seven Harriers turned out and braved the midges on Wednesday night.
The race starts with steep climb out of Cragg Vale onto Dick's Lane, crossing the field of bog and Sunderland pasture before a tussocky run over Erringdon moor and then a fast tricky descent back to the pub.
Keiran Manchester was 3rd overall in 27:33.  Jane Hobson took 2nd F50 in 40:53 followed by Hazel Berrett 1st F60 in 41:21. Andrea Ackroyd took 3rd F50 in 43:04.  Making a return after recent injury was Ryan Barker (40:24) with Paul Hopkinson (46:20) and Jenny St Romaine (61:00) all scoring points in the fell challenge.
Hollybank Eccup 10 Mile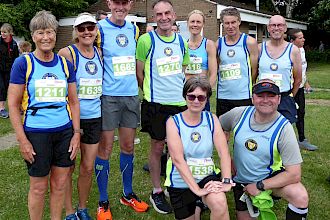 12 Halifax Harriers travelled to Leeds on Sunday for the Eccup 10 mile race which was part of the Road Challenge.  The undulating route is on rural lanes and takes in a scenic lap of Eccup reservoir. 
Susan Hall took the 1st F70 prize in 1:52:33.  Hazel Berrett took 3rd F60 in a new club record of 1:20:59 and Robert Hick was 2nd M65 in 1:16:21.
Niall Smith was first back for the club (1:13:06), closely followed by David Ingle (1:13:35).  Mark Crabtree (1:14:24) managed to hold off Erika Nightingale (1:14:42).  Wayne Stevens (1:22:55), Paul Hopkinson (1:24:25), Stefanie Dickinson (1:26:47), Jenny St Romaine (1:39:46) and John Moore (1:46:20) completed the Harriers contingent.
Many Successes For Juniors At Cleethorpes
On Sunday 5th June, 13 junior athletes from Harriers competed in this year's second Yorkshire and District Development League meeting in Cleethorpes, in cold and windy conditions.
Kitty Harrison Sargent won both her 800m and 150m races for the Under 13s girls category. The 800m brought Halifax further success with Chester Gately and Ben Slow in the Under 15 boys finishing first and second respectively, with Ben taking a massive 3 seconds off his personal best. Jacob Ewart also claimed victory in the U17s 800m with a blistering sprint finish. In the 1500m Halifax had two victories; Sam Keighley in the under 13s and Euan Logue in the under 17s.
Harriers also had many successes in the sprint races with Kitty Harrison Sargent, Sam Keighley and Poppy Jowett all cruising to victory for the U13s. Freddie Bentley and Joe Ball finished first and second in the U17s 100m with Joe Ball also winning the U17s 200 metres.  Sprint hurdles provided two more first places; Tom Wright (U13 boys) and Freddie Bentley (U17 boys).
Three Harriers came away with points for the team competing in various field events for the first time; Annabele Aghahowa in the U13s long jump, Faye Skilbeck in the U15s high jump and Abbie Brown in the U15s javelin.
There were stand out performances in the jumping events. Freddie Bentley set a PB of 5 metres 17 cm in the long jump. The high jump provided two more personal bests and first places; Ben Slow (U15s) with a leap of 1 metre 35,  and Jacob Ewart (U17s) with 1 metre 60.
Sarah Wins Northowram 5; Kieran Third At Otley
Northowram 5
Seventeen Harriers competed in Friday's Northowram 5 mile race, organised by Northowram Pumas and the latest event in the club's road race championship. Ben Crowther finished third in 29:06, setting a new club record for the M35 age group. Sarah Cumber won the women's race in 32:19, finishing in eighth overall. David Ingle, Rob Hick and Geoff Cumber all finished first in their respective age categories.
Otley Chevin Fell Race
Last Wednesday, seven Harriers travelled to take part in the annual Otley Chevin Fell Race on a beautiful evening. Kieran Manchester completed the tough three mile course with 700' of climbing in 18:30, coming home in third place. Hazel Berrett won the FV60 category in 27:34 and Jane Hobson was second in the FV50s in 27:59. Other Harriers were: Andrea Ackroyd, Martin Ellis, Jenny St Romaine and Jude Baines.
Other Fell & Trail Races
Nigel Jamieson ran the very scenic Ilkley Trail Race on Friday, completing the seven mile course in 1:07:05.
Jane Hobson and Fiona Murphy both took on the challenging Wharfedale Trail Half Marathon on Saturday, finishing in 2:12:04 and 2:43:22 respectively. Jane was third in the FV50 category, capping an excellent week's racing.
Elsewhere in the Yorkshire Dales on Saturday, Simon Gelsthorpe competed in the classic Pen-y-Ghent Fell Race, finishing the very hilly six mile course in 1:11:10.
Full Harriers' results are on the website at the Recent Races tab.