Nia Excels In Mud At Nationals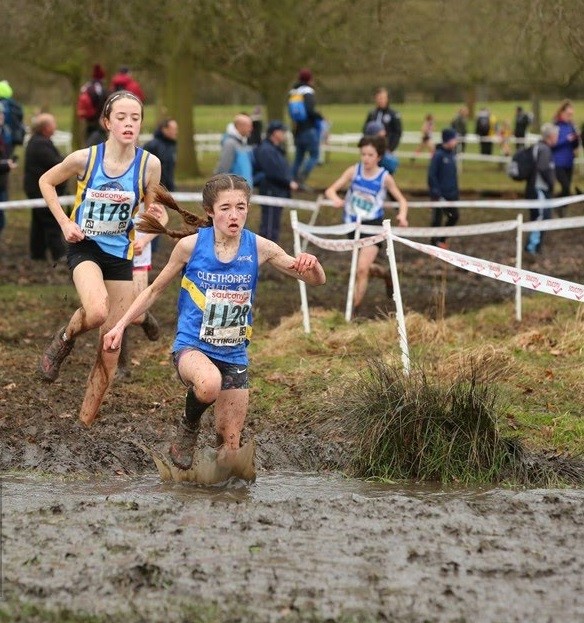 The National Cross Country Championships were held last Saturday at Nottingham over a very muddy course with one section knee deep in water and mud. 
In the U13 girls, Halifax Harriers star Nia Harrison-Sargent showed her potential when finishing in 32nd place out of a field of 360 runners, which was a great result considering that she has another year in this age group.  In the U17 boys, Ewan Wheelwright was 112th and in the U17 girls Ellie Horrocks was 83rd.
As the day went on the course gradually became a mud bath most of the way round, so there were some extremely dirty and tired runners. 
In the senior ladies, Bethan Davies was first back for Halifax Harriers in 630th place, with Hazel Berrett some two minutes behind in 690th place.  Halifax Harriers men were led home by Michael Gaughan 728th, followed by Ryan Barker 943rd, Michael King 1101 and Mark Gaughan 1554 out of a field of 1700 runners.
Over the winter months, Halifax Harriers runners have competed in the West Yorkshire, Yorkshire and Northern Cross Country Championships in addition to the National Championships.  Runners collect points over all the races towards the Club's Cross Country Championship. 
The U11 girls winner was Kitty Harrison-Sargent, with older sister Nia Harrison-Sargent the U13 winner.  The U15 girls winner was Elise Horner, U17 girls Ellie Horrocks, senior ladies Bethan Davies and the vets ladies winner Katrina Oddy.
In the male categories, the U11 winner was Sam Keighley, U13 Euan Logue, U15 Ned Hughes, U17 Ewan Wheelwright, U20 Harry Johnson, senior men Michael Gaughan and in the Vets a dead heat between Michael King and Ryan Barker.
All the senior awards will be presented at the Club's Annual Dinner at the end of March and the junior awards in April.
HUDDERSFIELD 10K
This hilly 10k saw five Halifax Harriers at the event.  First to finish was Will Stewart 41:51, closely followed by Sunny Curwen 42:12.  April Caufield was second senior lady in 45:51.  Judith Cole ran 48:52 to finish 1st F50.  Andrew Hills time was 55:44.
Halifax Harriers Race Challenge Final Race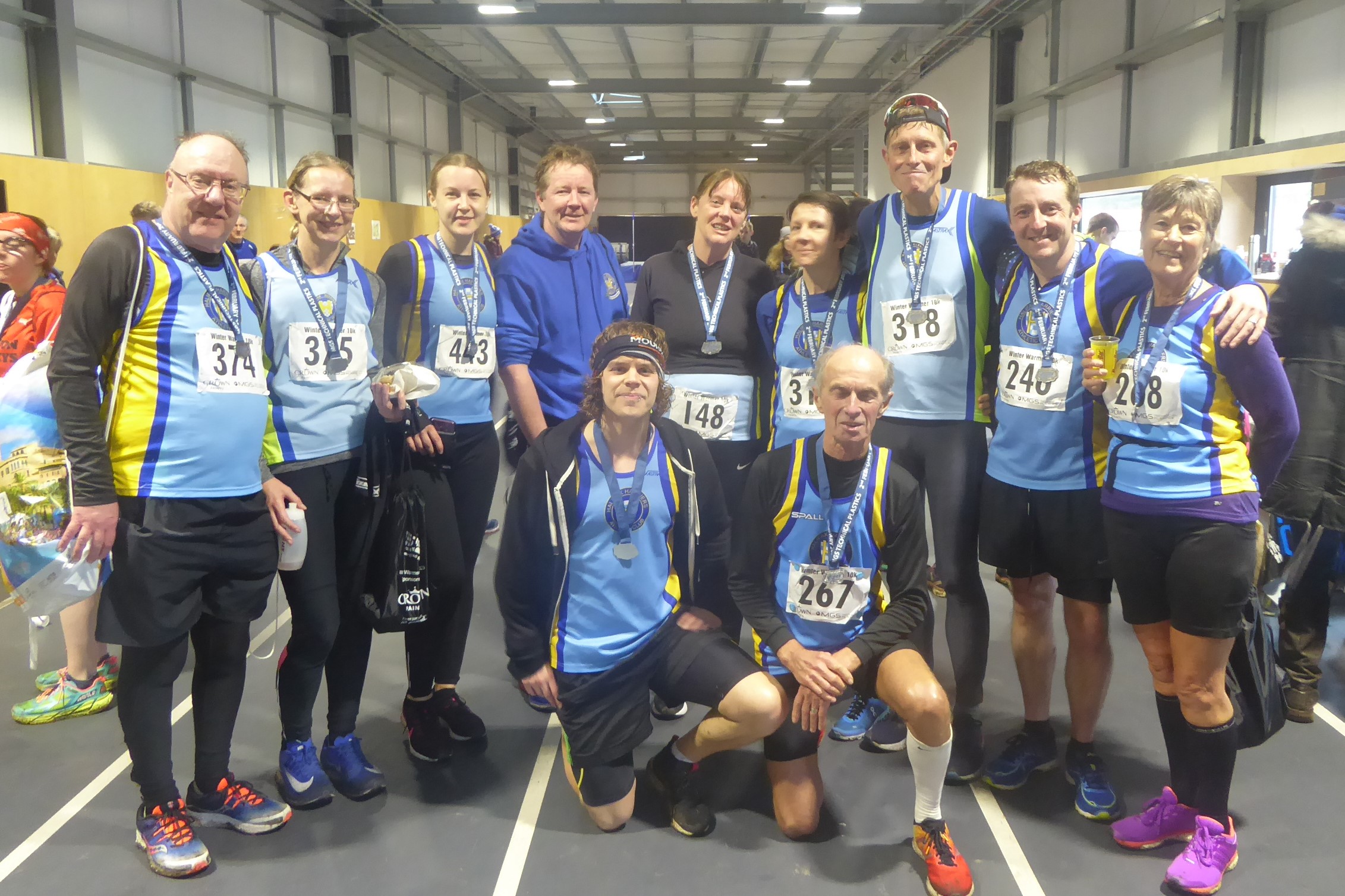 Halifax Harriers each year has a Race Challenge in which members compete over distances from 5k to half marathon.  Members are divided into five divisions depending on their 10k times. 
The final race for 2019/20 was the Blackburn Winter Warmer 10k.  This race is certainly a challenge with the first four kilometres uphill followed by some steep descents before the final two kilometres along the side of the River Darwen.  The race attracted over 700 runners and starts and finishes with a lap of Blackburn Harriers Athletic Track.
In division 'A', it was a battle between Will Stewart and Michael King to secure valuable points as it was a case of who was first back would win the division.  Both runners were neck and neck most of the way with Stewart pulling away to finish first some 27 seconds in front of King and securing the top position in the division.  Their times were Stewart 39:48 and King 40:15.
In division 'B', Mark Crabtree had already secured sufficient points to become champion so missed this race out, as did Jonny Lister the division 'C' champion. In Division 'E' Chris Kirkbride having also secured sufficient points did run and finished in 60.28.
However, in division 'D', Sharon Cousen continued her dominance in the last few races to overtake Rachel McCauley and knock McCauley off the top spot.  Cousen's time was 51:26 against McCauley's 53:36.
Other runners for the club were Will Carver 42:53, Paul Hopkinson 48:03, Ian Giles 48:05, Raymond Hall 48:29 (1st M70), Jenny Hopkinson 48:56, David Parrington 55:20, Deborah Kirkbride 58:30, Kirsty Carver 61:46, Susan Hall 64:27 (1st F70).
DEWSBURY 10K
Twelve Halifax Harriers competed in the fast Dewsbury 10k which starts on Dewsbury ring road before the runners go along Bradford Road towards Birstall.  There is a slight incline going out but it is a fast return back down the same way.  The course always produces some PB's for those in form on the day.
First back for the club was Michael Gaughan in 36:55.  Not far behind was Tom Paget in a PB of 37:51.  Helen Ward also set a PB in 41:05, as did Jonny Lister 43:12 and Bethan Davies 46:40.  Rachael Beaumont was first F50 in 43:01.
Other runners for the club were James O'Rourke 39:16, David Ingle 40:42, Mark Gaughan 45:16, Nigel Taylor 47:13, John Moore 55:59, Monica Gallagher 61:23.
ALSAGER 5 MILE
Five Halifax Harriers had some good runs at the popular Alsager 5 mile race.  Simon Johnson was first back in 30:09 (3rd M50) in a new M50 club record, eclipsing the old record set by Geoff Cumber in 2011 by just one second.  PB's were set by Sunny Curwen 31:33 and Paul Sutcliffe 31:52.  Katrina Oddy was 3rd F50 in 34:20 and Geoff Cumber also third in M70 age group in 36:05.