Round Hill Fell Race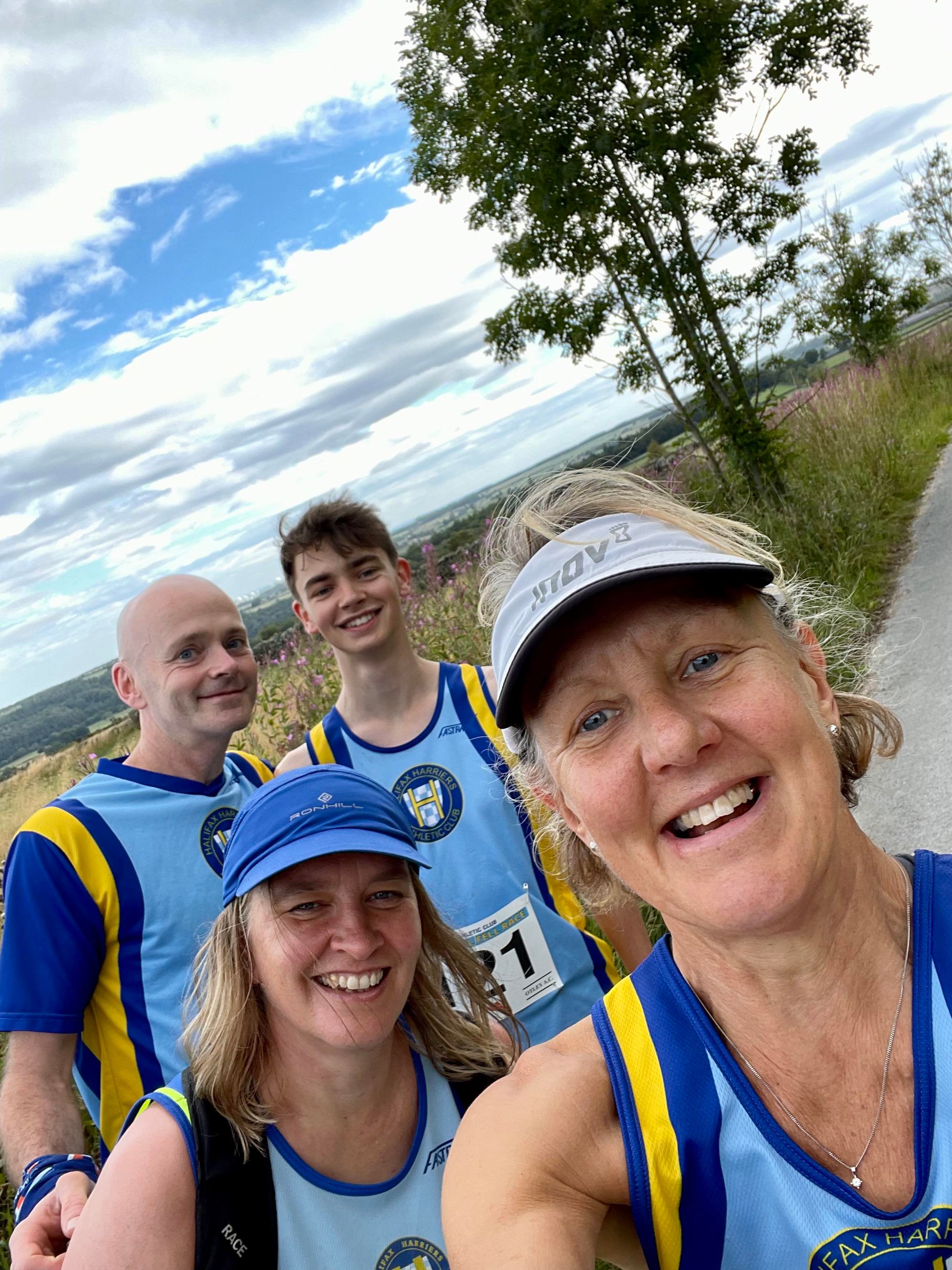 Round Hill Fell Race
Four Halifax Harriers enjoyed a sunny but breezy 8.5 mile tour of Blubberhouses moors at the Round Hill fell race on Sunday. 
The race starts at the pretty village of Timble and follows the Lippersley Ridge to Round Hill before a return across the usually boggy Middleton and Denton moors back to Timble.  The recent dry weather meant that the bogs has dried out somewhat but the heather was spectacular. 
First back for the Harriers was Fred Carver in 25th place in a time of 68:30 a minute ahead of dad Will Carver in 31st in 69:25.  Hazel Berrett was 92nd in 1:26.55 with Kirsty Carver completing the Harriers quartet in 124th place in 2:09:41 and gaining valuable points in the fell challenge.
The next race in the fell championship is the Yorkshireman on 11th September but if you can't wait until then for your next fell 'fix',the Burnsall classic fell race is on 20th August with our own Norland Trail 10k race on 21st August.  (If you can't do either, why not volunteer as a Marshall at Norland? Contact Sue Corney for the details).
Cara Comes Second At Crow Hill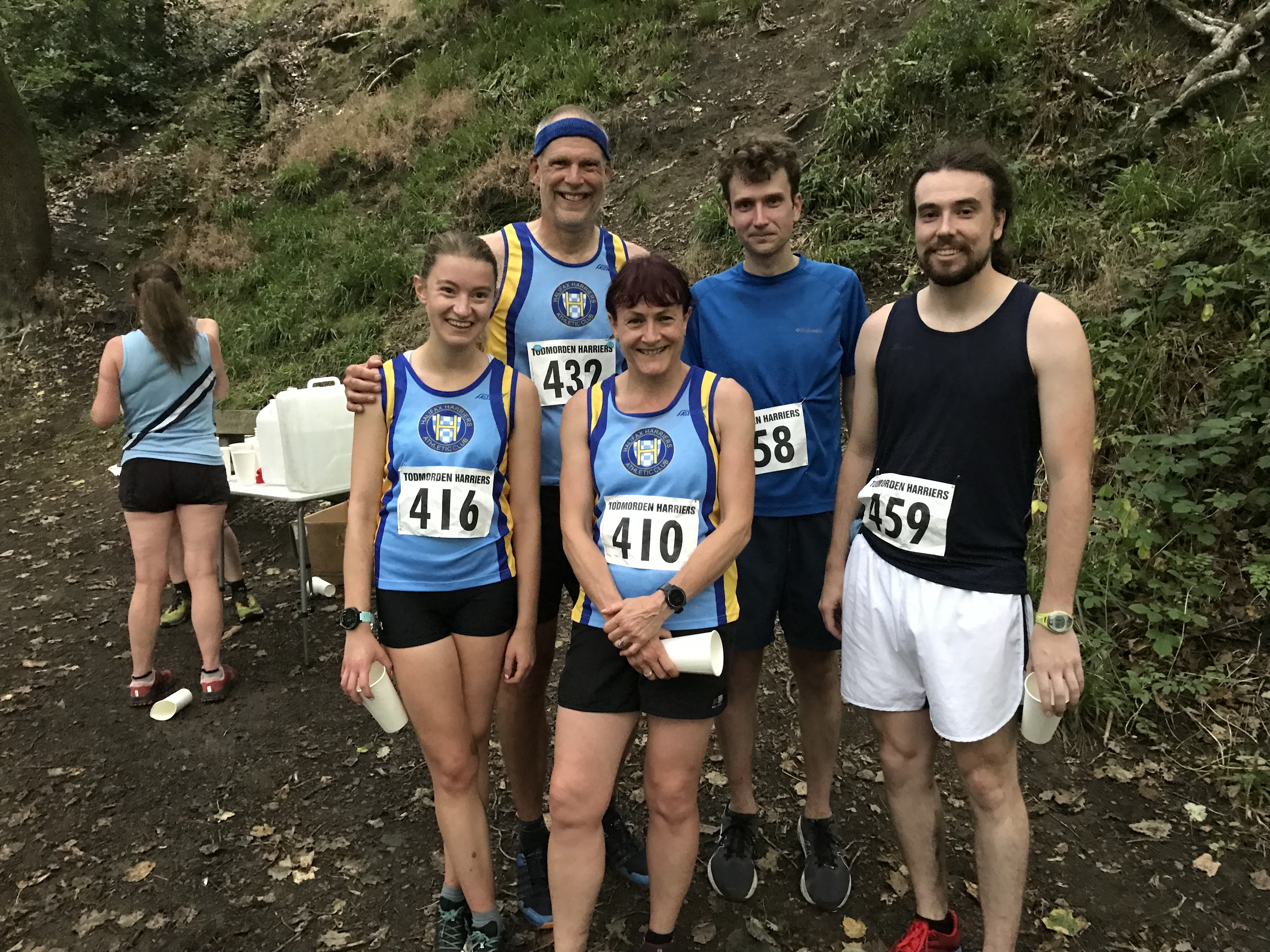 There were seven Harriers amongst the 70 runners in the Crow Hill Reverse Fell Race on Tuesday evening. An excellent turnout for a race that is not in the club's fell league. The roughly 4.5 mile course climbs out of Mytholmroyd to Crow Hill on Midgley Moor with approximately 1,000' of climbing, much of it very steep! There is then a wonderful descent from the Moor, including a beautiful section through Redacre Woods.
Cara Bintcliffe was second placed woman, finishing in 44:07. Jane Hobson was first F50 in 48:49.
Nigel Crossfield led the Harriers' men home, finishing second M50 in 16th place overall in a time of 37:18. Nigel was hotly pursued by clubmate, Dan Mahoney, who was one place behind in 37:26.
Dan's brother, Jack, who along with Dan is visiting from the US, has just joined the club and was running both his first race representing the Harriers and his first fell race. Jack finished in a highly creditable 23rd place, crossing the line in 39:02.
There was also an excellent performance from Ned Hughes, finishing 20th in 38:31 and placing second MU18. Martin Ellis completed the Harriers' line-up, clocking 56:20.
Multiple Age Group Successes At Aintree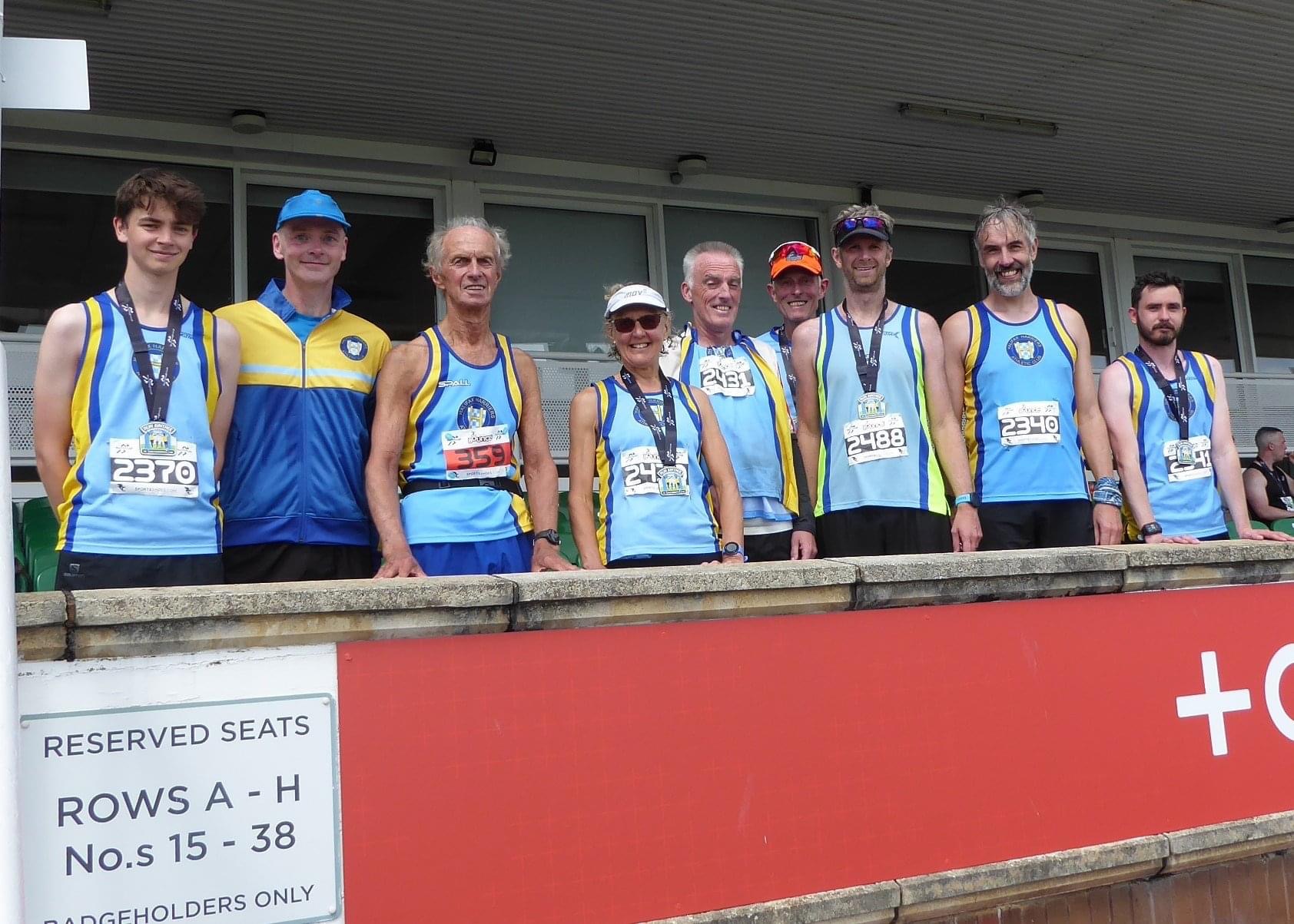 Aintree Half Marathon and 5k
Ten Harriers made the journey to Merseyside on Sunday to compete in the Aintree half marathon. The race, which was the latest in the club's race championship, consisted of four laps around the outside of the world-famous horse racing track. James O'Rourke led the Harriers contingent home, placing third in the M45 category, in a time of 1:28:25 followed closely by Simon Johnson, who was second in the M55s in 1:30:45. There were age group victories for Paul Hopkinson (M60 in 1:46:36), Hazel Berrett (F60 in 1:49:15) and Susan Hall (F70 in 2:30:15). Other Harriers results: Will Carver (1:37:28), Fred Carver (1:38:05), Niall Smith (1:39:49), Paul Bateman (1:43:14) and Kirsty Carver (2:29:24).
Ray Hall was first in the M75 category in the accompanying 5k race, clocking 34:01.
Peak District Ultra
Ryan Barker meanwhile took on the considerable challenge of the 50 mile Peak District ultra-marathon, finishing first in his age group and eighth overall in a time of 9:25:13. The race, which started in Buxton, took in a total ascent of 1,720 metres in the National Park.