Weekend Race Round-up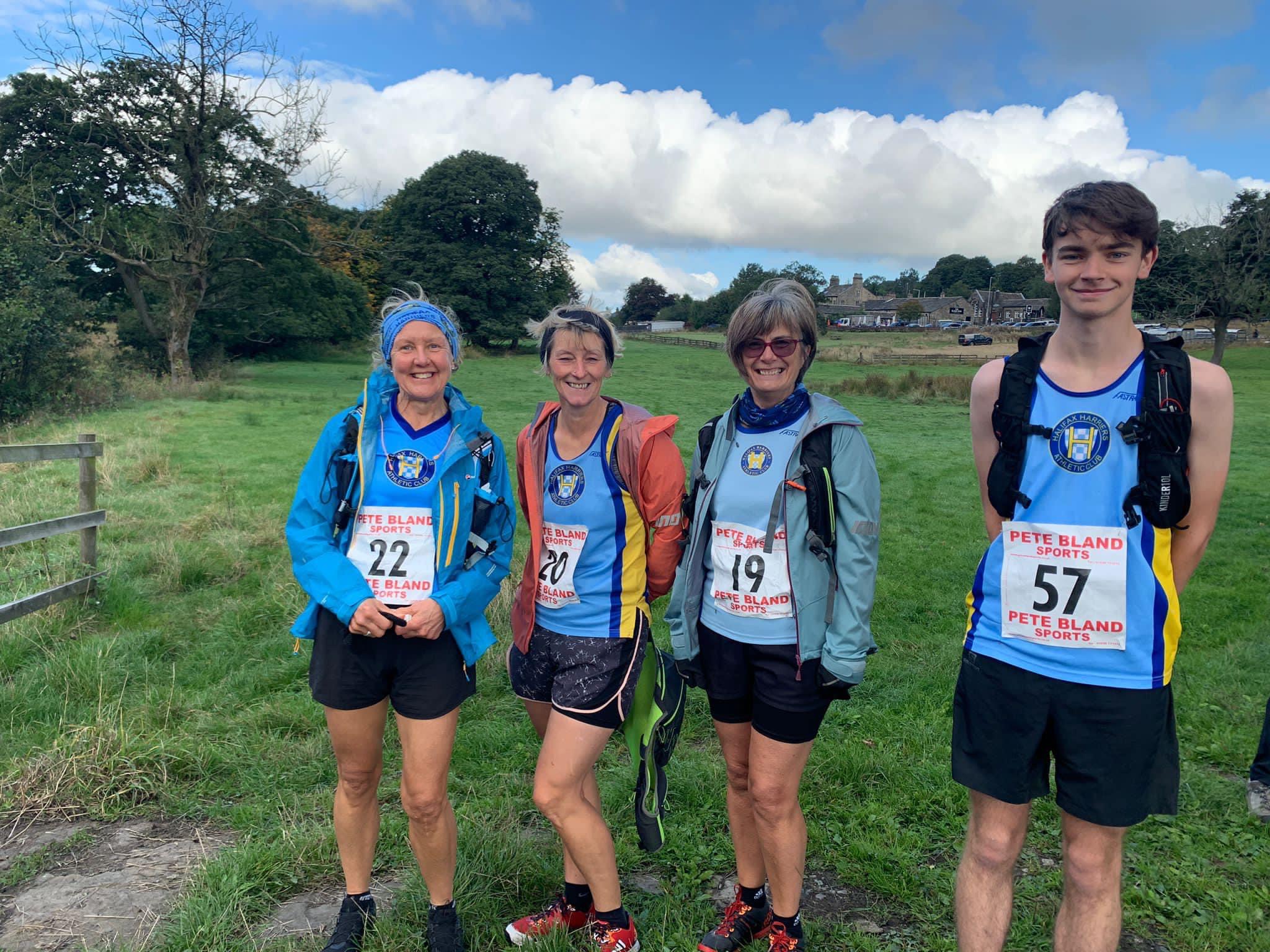 Thieveley Pike Fell Race
Four Harriers took to the hills on Saturday morning to compete in the Thieveley Pike Fell Race. This short (4.3 miles) but demanding race (1,312' of ascent with three climbs) starts in Holme near Burnley. 
Fred Carver and Andrea Ackroyd took maximum points in the latest race in the club's fell league. Fred was first M23, finishing in 30th place in 40:46. Andrea was third F50 in 90th in 52:17. Hazel Berrett clocked 53:27 to take victory in the F60 category. Jenny St Romaine, who picked up an injury, came home in 1:21:23.
Berlin Marathon
Munich-based Harrier, Hanni Maeer, returned to marathon racing at yesterday's Berlin Marathon, crossing the finishing line in 4:14:06.
Greenway 10k
Gareth Burrell and Angela Clarke both took part in Sunday's Greenway 10k; a fast out-and-back course along the tarmaced Spen Valley Greenway from Princess Mary Athletics Stadium. Gareth finished 4th overall in 37:55. Angela was second F50, taking 36th place in 47:32.
Warrington 5k
John Moore took first place in the M50 category at Sunday's 5k event at the Warrington Running Festival. John finished 30th overall in a time of 26:47.
Ilkley and Fleetwood Triathlons
Several Harriers were in triathlon action on Sunday. All had prepared diligently by attending Keith Midgley's 70th birthday party the night before!
Nigel Jamieson, Sharon Cousen, Margaret Deacon and Martin Ellis all competed in the short, but tough, Ilkley Triathlon. 2005 winner, Jonny Brownlee, turned up to draw the raffle and present the prizes. Sadly, there were no Harriers amongst the winners.
Heath Reilly, Geoff Cumber and Sarah Cumber all raced on the Fylde Coast at the Fleetwood Triathlon.
Superb Performances At Northern 6 Stage Relays
As a club, we have often failed to field a single team in the Northern 6 Stage Road Relays, so it was some achievement to put out teams in every category (except U17 Girls) at the Eithad Stadium in Manchester on Sunday.
Not only that, but the teams put in some excellent and highly competitive performances. The Men's A team finished in 20th place and qualified for the Nationals in Birmingham on 8th October. We think that this may be a first for the club. There were superb runs from Tom Hodgson, Max Wharton , Ben Crowther, Harry Johnson , Ewan Wheelwright and Alex Franklin. 
A ladies team consisting of Verity Clements, Ellie Horrocks, Cara Bintcliffe and Katrina Oddy 
finished a very creditable  45th team out of 90 teams.
Not forgetting our Men's B team members Will Smith, LIam Parkin, Adrian Thomas, Ned Hughes and Michael King who performed heroically in a record attendance field.
Simon Johnson said, "So proud to be Team Manager today."
As well as all the full teams, a special mention for Poppy Jowett, Annabelle Aghahowa and Oliver Powell who turned up and ran in incomplete teams. 
Some notable performances: Kitty Harrison-Sergeant ran the 8th fastest leg in the U13 Girls and Sam Keighley ran the joint 6th fastest leg in the U13 Boys. The future looks very bright.
Nick Small commented, "Well done to all the athletes, parents, helpers, team managers and the coaching staff."
Juniors Triumph At Cleckheaton
The last West Yorkshire athletics meeting for this season was held at Cleckheaton with the overall League trophies being awarded.  Jack Fellows won the under 13 boy's trophy and Jack also received the overall Douglas Bedford award.  Three athletes were awarded second place trophies: Chester Gately in the under 15 boys, Eesa Idrees in the under 20 men's category and Kitty Harrison-Sargent in the under 13 girls.  Molly Firth claimed the under 17 women's first place and Maisie Brown took the third-place trophy.
Further success on the day in the championship.  In the under 13 boys Jack Fellows took gold in the 80 metres, shot putt and long jump, Sam Keighley took silvers in the 800 metres and shot putt.  Under 15 Ben Slow took home two bronze medals in the 800 metres and high jump.  In the under 20 men's category Eesa Idrees was awarded gold in the long jump and a bronze in the 100 and 200 metres and James Shaw took silver in the 400 metres.
In the under 13 girls, Kitty Harrison-Sargent took gold in the 800 metres and a bronze in the 80 metres, sister Nia in the under 15 girls was awarded a Silver in the 200 metres and a bronze in the long jump.  Molly Firth in the under 17 women's category taking gold in the 300 metres and silver in the 200 metres.  Maisie Brown was awarded a bronze in the 100 and 300 metres.
Excellent Turnout At Bradford 10k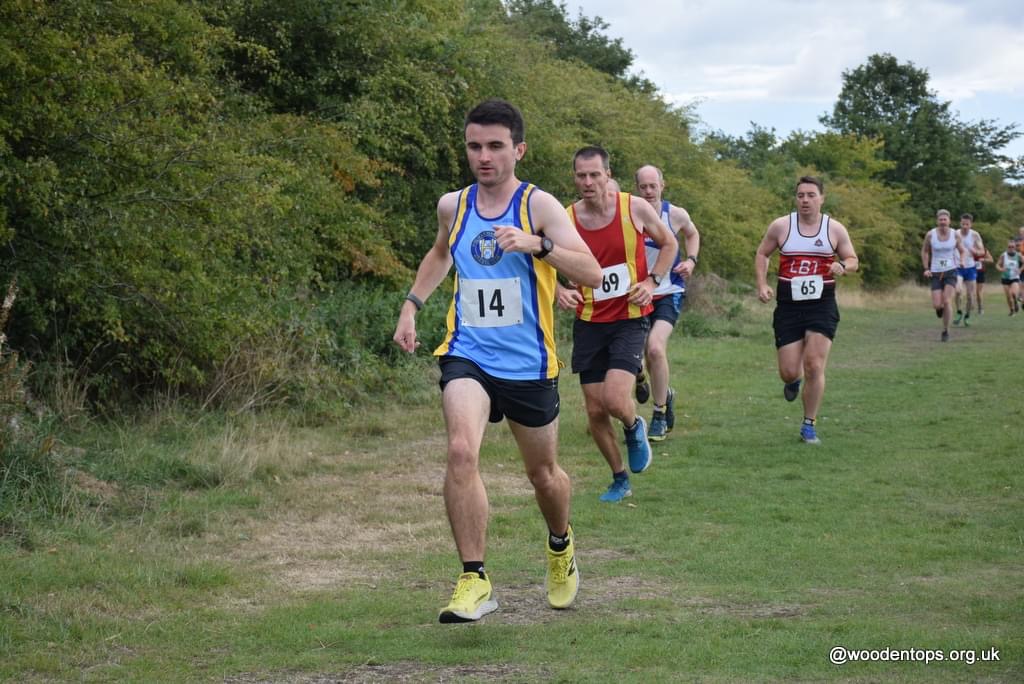 Bradford 10k
Harriers were well represented at today's Bradford 10k with 21 runners competing in the latest event in the club's road race challenge. Ben Crowther was the first home, finishing in seventh place overall in 34:00. Erika Nightingale was the first of the women to finish, winning the F45 age group in 118th place overall, with a time of 42:53. 
Erika was one of four Harriers to take full advantage of the fast, flat course in setting a new 10k personal best. The others were: Will Carver (38:47), Fred Carver (39:17) and Cara Bintcliffe (44:28). 
Rachel Beaumont was second in her age group (F50), clocking 43:54. Susan Hall was second F70 in 1:04:52.
Full Harriers results can be found in the Recent Races tab on the website.
Stainland Trail Race
Three Harriers competed in today's Stainland Trail Race, each achieving success in their respective age category. The race is on a hilly, multi-terrain course of 10k, taking in woods, trails and quiet roads. Gareth Burrell was second M15-39 and third overall, recording a time of 47:29. Mark Hadfield was second MV55 in 23rd place in 55:42. Jane Hobson was third FV50 in 37th overall in 1:00:07.
Success For Harriers In Haworth, Antwerp And Shepley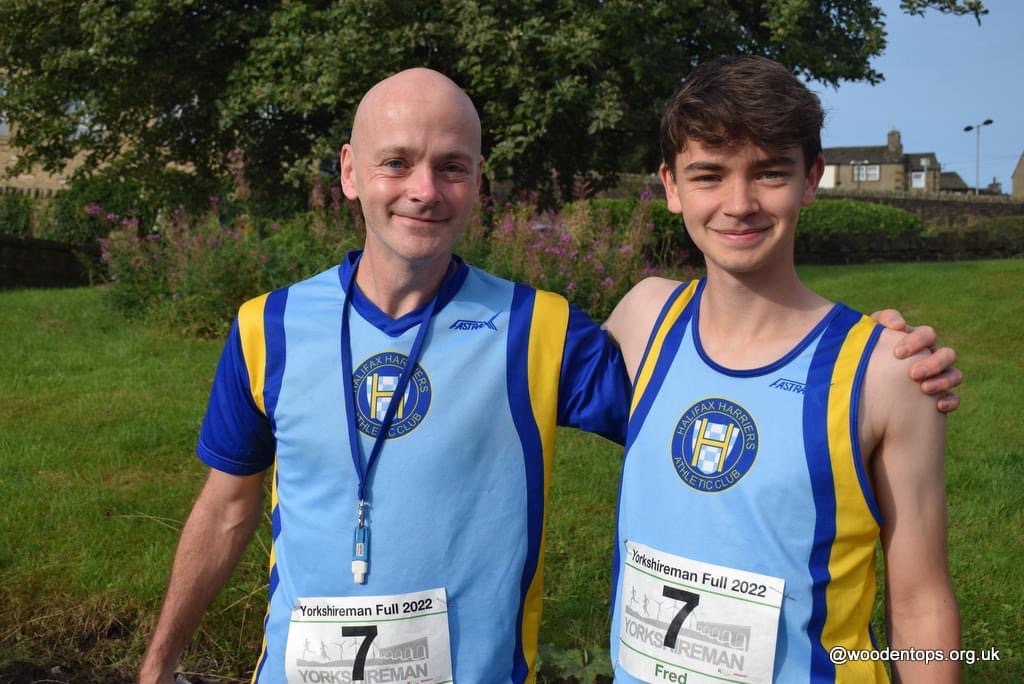 The Yorkshireman
A group of Harriers took to the moors above Haworth and Oxenhope on Sunday to run the popular off-road Yorkshireman events. Father and son team, Will and Fred Carver, won the Full Marathon Pairs race in a time of 4:31:34. Tom Paget (4:56:01) and Sally Shacklock (5:46:20) also ran the marathon distance. Four Harrieres ran the so-called Half Marathon distance (actually nearly 15 miles). Hazel Berrett led the quartet home, taking first place in the FV60 category in a time of 2:31:39. Paul Hopkinson (2:45:57), Andrea Ackroyd (2:49:22) and Martin Ellis (3:12:11) were the other club representatives.
Antwerp Half Marathon
Sarah and Geoff Cumber travelled across the Channel to Belgium to compete in the Antwerp half marathon on Sunday. Both set new club records for their respective age groups for the distance with Sarah also coming first in the F50 category in 1:25:36. Geoff was third in the M70 category, clocking 1:55:21.
Shepley 10k
April Caufield was the first woman to cross the line in the hilly Shepley 10k road race on Sunday, finishing 16th overall in 47:38. Will Stewart finished 14th in 47:21 with Margaret Deacon 62nd in 59:03.
Great North Run
Harriers were also well represented at this year's Great North Run with nine members making the journey north to Newcastle for the world's largest half marathon. Stephen Rainbow was the first to finish in 1:24:32. Joanne Arundale led the four women home in 1:43:04. Other results: Marc Rocheteau (1:48:45), Alex Hogg (1:50:24), Hannah Garnett (1:50:24), David Cooper (1:57:08), Angela Cowton (2:16:10), Craig Barrett (2:42:44), Theresa Booth (2:58:56).
Harriers Take On Skipton Trail Half Marathon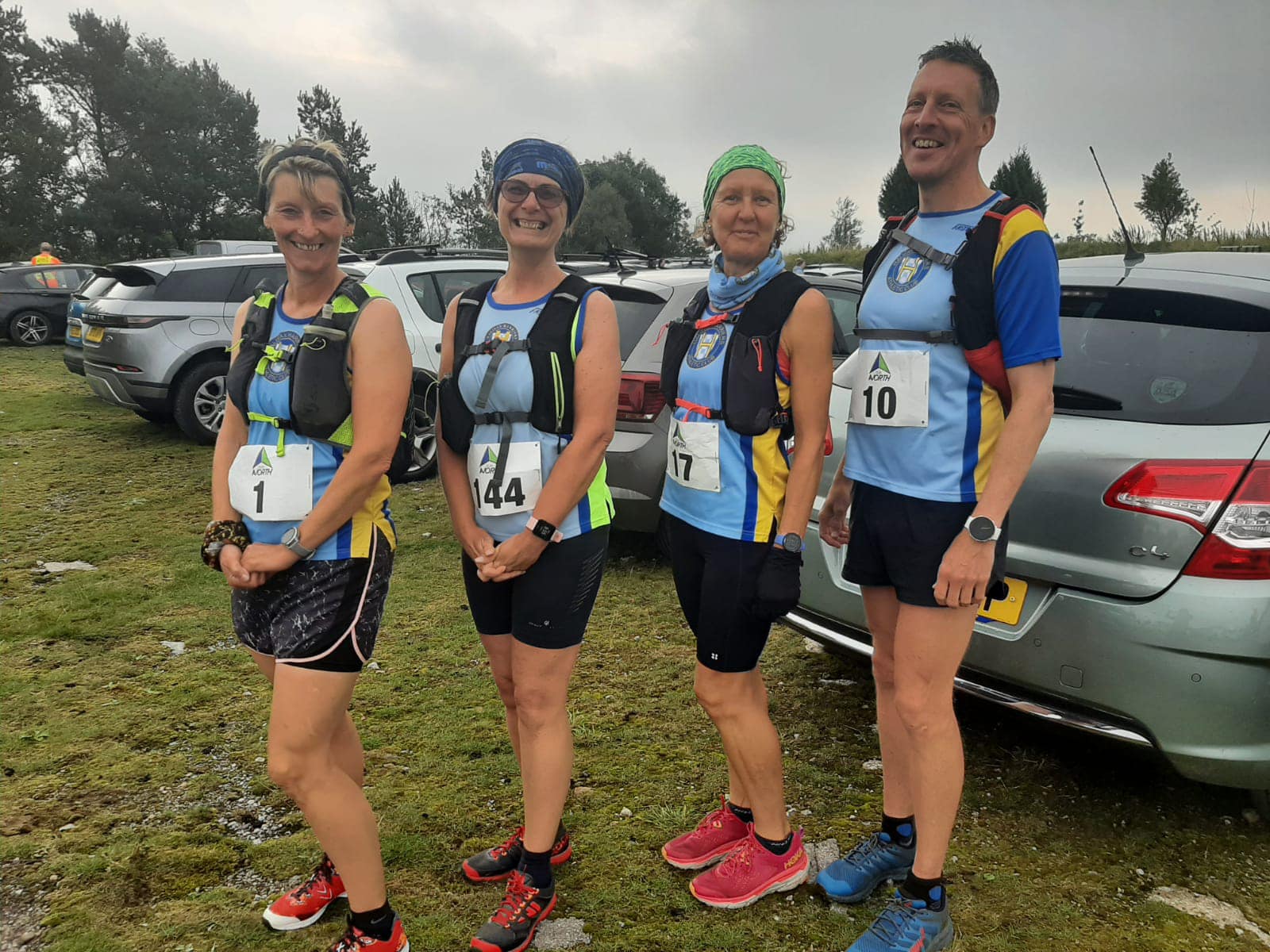 The third of the well organised Due North Trail series took place on Saturday from Skipton.  Last minute course changes meant that the race was actually just under 14 miles.  The route starts at Skyrakes and drops down to the pretty village of Hetton before picking up the Dales High Way and Winterburn back to Sharp Haw. 
First back for the Harriers was Ryan Barker in 2:12:55 (38th position) followed by Hazel Berrett in 2:23:42 (56th) who took 2nd F60.  Andrea Ackroyd finished 71st in 2:33:08 followed by Jenny St Romaine in 3:19:22 (129th).
Will 5th In Heights Ultra Trail Race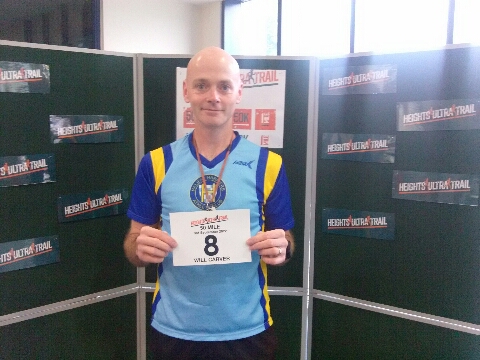 Will Carver ran the  Heights Ultra Trail race on Saturday; 50 miles round and about Marsden Moors and the Colne Valley with around 7000ft of elevation gain. Will finished 5th in a time of 11:22:54. 
Will reports, "I had been in second place up to mile 37 ish, where I started to fade after succumbing to my cold and not being able to keep up my pace or breath properly.  Anyhow, I managed to keep going to the finish and hang on for 5th place."