Annual Dinner And Senior Presentation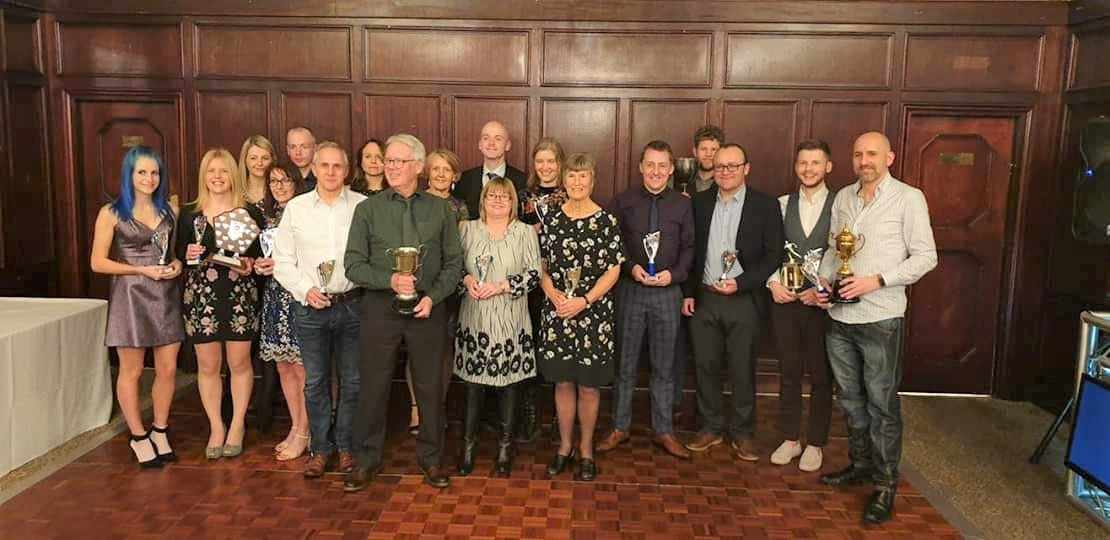 Halifax Harriers Annual Dinner and Senior Awards Presentation was held at the Imperial Crown Hotel in Halifax.  Mark Gaughan, Club Chairman, presented the awards.
The Chairman's Trophy is awarded to a member who has made a significant contribution to the club.  This year it was awarded to Michael Spence who has been a club member for 33 years.  During that time, Michael has competed for the club, served on the Committee, coached on the track and been the ladies captain for the Northern League track and field matches.
The Pearson Trophy for Endeavour was presented to Nigel Taylor.  Nigel ran his first 10k for the club in 2014 in a time of 59 minutes.  He now runs 43 minutes.  He also now competes in all distances from 5k to ultra marathons.
The most improved 10k runner was Ian Giles.
The Burnsall Ladies Cup was won by Sarah Cumber and the Burnsall Male Cup by Will Smith.
The Helen Windsor ladies sprint cup was awarded to Louise Royston.
The winners in the Cross Country Championships were Laura Knowles (female under 20), Ben Crowther (senior men), Katrina Oddy (female veteran), Simon Johnson (male veteran).
In the Fell Challenge the ladies winner was Sarah Sladdin and the male winner Steven Sladdin.
The Road Race Challenge is split into 5 divisions.  Division A winner was Michael King, Division B winner Will Carver, Division C winner Nigel Taylor, Division D winner Sophie Baxter, Division E winner Susan Hall.
Record For Deborah Kirkbride
BRADFORD 10K
Almost 2,500 runners headed to Bradford for the Epilepsy Action 10k on a cool, but dry, day.  The race starts from Centenary Square and has only a few small inclines to slow runners down as it makes its way along Canal Road to the turning point at Shipley and then back again.
Halifax Harriers had a dozen or so runners at the event, with some fine performances.  The ladies were led home by April Caufield who finished as fourth lady in a time of 40:10.  Will Stewart ran a PB of 38:32 to finish in 41st position.  Matthew Stott 43:54 and Rachel McCauley 55:03 also set PB's.
Other runners were Will Carver 39:52, Tom Paget 40:37, Angela Clarke 45:23, Raymond Hall 46:56 (1st M70), Chris Greenwood 49:43, Paul Hopkinson 49:59, Monica Gallagher 59:53, Susan Hall 60:46, Audra Naylor 62:26.
TRIMPELL 20 MILE RACE
The Trimpell 20 miler is a traditional test run for those training for a Spring marathon.  Three runners from Halifax Harriers travelled over into Lancashire to test out their fitness.  Deborah Kirkbride finished in 3:18:44, PB and F55 club record.   David Parrington's time was 3:18:45 (PB) and John Moore finished in 3:38:17.
THIRSK 10 MILE RACE
The ever popular Thirsk 10 mile race saw three Halifax Harriers finishing within minutes of each other.  Tim Pegg was first back in 1:14:20, followed by Nigel Taylor 1:15:56 (PB) and Jonny Lister 1:17:21.
Red Hot Toddy 10k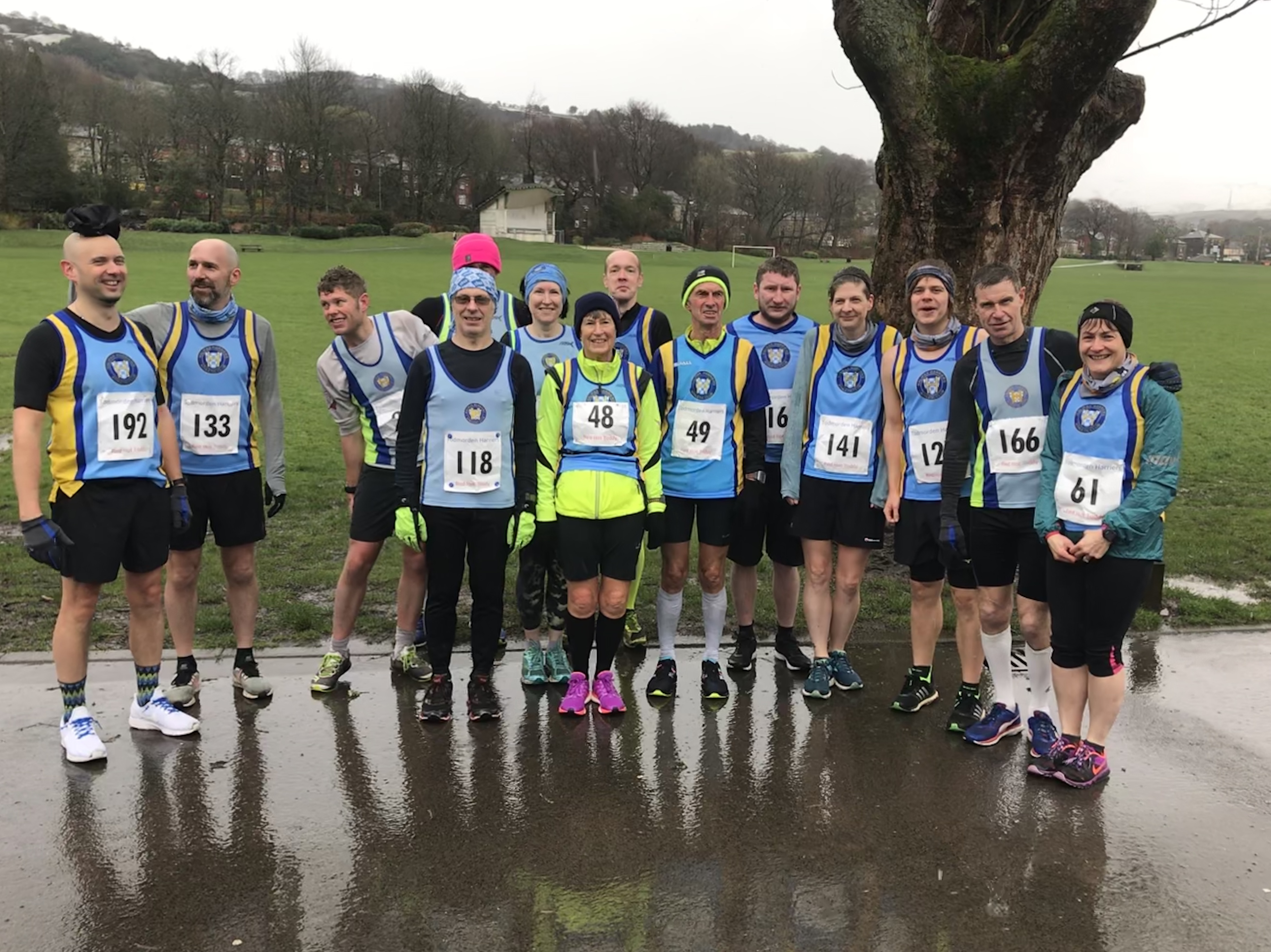 The Red Hot Toddy 10k was the first race in Halifax Harriers Race Challenge for 2019 and they had eighteen runners at the race.  Ben Crowther made a welcome return to the racing scene with a second place finish in this tough race in a time of 37:18.  Halifax Harriers ladies were led home by Helen Ward who was second lady with a time of 47:04.H H     
The Hot Toddy 10k starts with two laps of Centre Vale Park in Todmorden, which this year also included ankle deep flooded sections.  Then it's a steep climb on the third and fourth kilometre before the descent down to Todmorden.  The day was cold with sleet and snow at times.,
Halifax Harriers has a number of age group winners on the day.  Mark Crabtree (2nd M60) 46:03, Robert Hick (3rd M60) 47:50, Marc Rocheteau (2nd M55) 48:58, Raymond Hall (1st M70) 54:04, Susan Hall (1st F65) 69:28.
Other runners for the club were William Stewart 42:36, Will Carver 45:45, Jonny Lister 51:26, Nigel Taylor 51:44, Paul Bunker 54:31, John Moore 54:33, Margaret Deacon 55:05, Jane Hobson 60:28, Kirsty Carver 66:11, Monica Gallagher 66:33, Danny Green 71:22.
Irwell Valley 20 Mile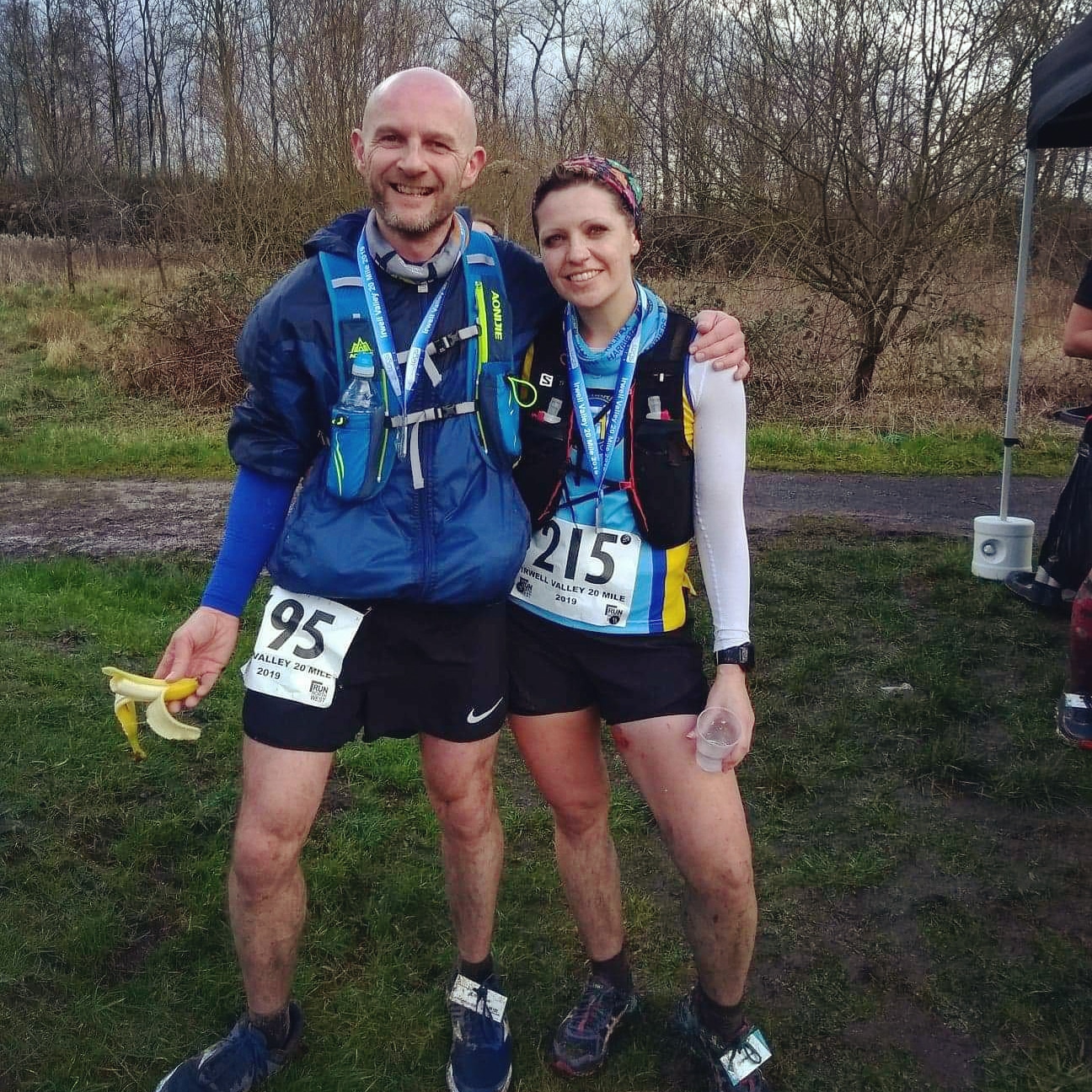 Despite it being a race challenge day over in Todmorden on Sunday, a team of 6 Harriers made the 35 minute journey to Greater Manchester to run the Irwell Valley 20 mile race. 
Upon arriving at the venue, it soon became apparent that the distance was going to be the least of our worries - the rain was beating down, the wind was picking up and the temperature was stuck at a rather chilly 2 degrees. All this considered, it wasn't quite enough to deter a field of almost 400 runners heading to the startline and out to tackle the muddy trails of a rather aptly named Drinkwater Park.
The course began with a short 2 mile loop through open fields and a short stretch of woodland, before leading back to the start and out onto the first of 2, 8 mile circuits. Where the running route follows a trail path, it was very challenging under foot as the heavy rain fall had caused large parts of the course to become a swampy quagmire of mud. The first of the Harriers to fall victim to the conditions was Keith Lemon, who had a crowd of runners in fits of laughter, losing his trainer in a particularly boggy puddle just as he passed the 4 mile mark. Fortunately, he soldiered on (trainer on foot) and proved to be a fantastic source of support for his running partner Hanni Maeer as they completed the 20 miles together. 
As the race progressed, the weather took a turn for the worst and a cruel headwind blew in a rather heavy snowstorm which lasted the best part of an hour. Following this, the rain returned in heavy bursts before a brief bit of respite came in the occasional sunny spell.
It was an incredibly challenging race, but very good training for those running Spring marathons and ultra races and if nothing else, all involved earned a hearty Sunday dinner! First home for the Harriers was Keith Lemon and Hanni Maeer who crossed the finish line together in 3.08:20, followed by Martin Ellis 3.26:03, Wayne Stevens 3.27:57 and Jenny St.Romaine 4.00:00. A special mention has to be given to Andrea Ackroyd who, plagued by injury, battled through to complete 12 miles of the course in a time of 1.49.