Harriers Triumph In The Leeds Rain
Leeds Abbey Dash 10k
Twenty-four Halifax Harriers made the trip to Leeds for the popular Abbey Dash 10k on Sunday morning; the latest race in the club's road race championships. This is usually a flat and fast course but the runners were not helped this year by the atrocious weather conditions. Nonetheless, the first two Harriers home both set new club records for their respective age categories with Ben Crowther (M35) finishing in 33:37 followed very closely by Will Smith (M45) in 33:49. Hazel Berrett also set a new age category club record, lowering her own F60 record to 47:55. Fred Carver ran a personal best of 38:35.
Full Harriers' results are on the website: https://www.halifaxharriers.co.uk/recent-race-results/
Whixley Trail 10k
Two Harriers finished in the top ten in the Whixley Trail 10k in North Yorkshire on Sunday. This multi-terrain course was nearly all off-road across fields, tracks and bridleways around Whixley (between York and Harrogate). Will Stewart came home in sixth place in 40:24. April Caufield was the first woman to finish, just one place behind Will in 41:29.
Castle Carr Fell Races
There were also two Harriers competing in Sunday's Castle Carr fell races, which took runners across the moors above Hebden Bridge and Mytholmroyd and provided a rare opportunity to run through the stunning private estate of Castle Carr. Will Carver completed the tough 15 mile race with 4,000' of total ascent in 3:10:13. Martin Ellis clocked 2:10:24 in the new shorter Half Race.
Green Drive 5 Mile
Katrina Oddy set a new F55 club record at Sunday's Green Drive 5 Mile race in Lytham in Lancashire. Katrina was second in her age catrgory in 34:43, finishing 79th overall in a field of 316 runners.
Harriers' Seventh Annual Trip To Mallorca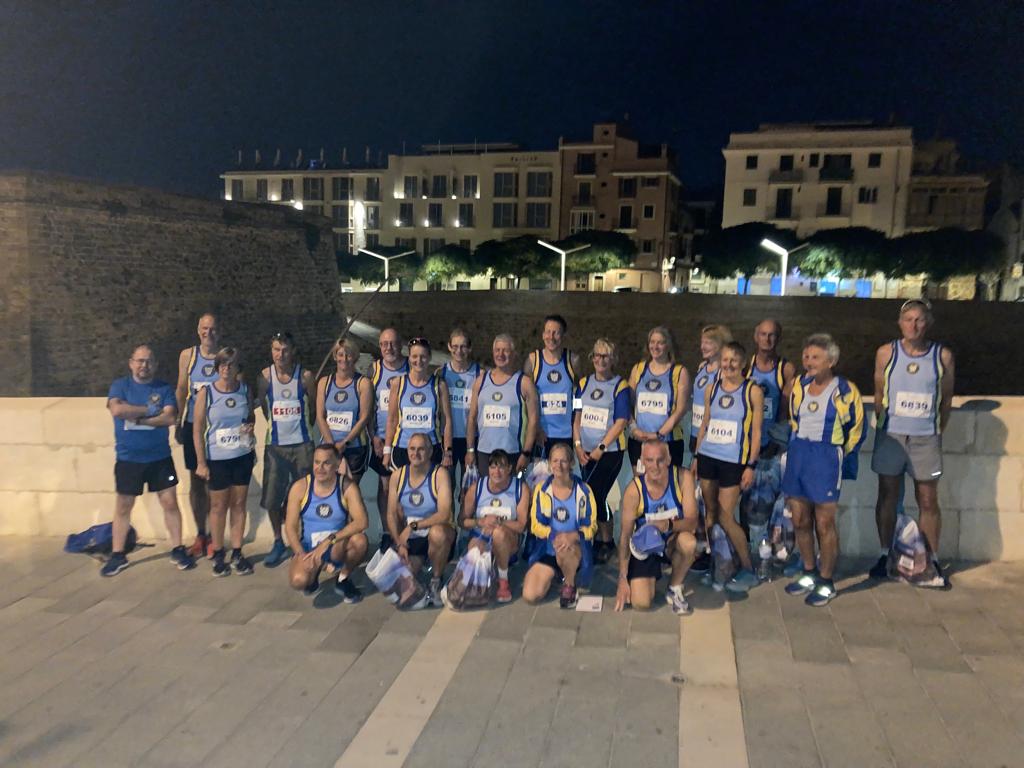 A party of 28 enjoyed the annual club trip to Mallorca. Indeed, several enjoyed it so much that they are still on the beautiful Spanish island! Others have reluctantly returned home.
The centrepiece of the holiday was Sunday's races in the capital of Palma with the races taking place against the stunning backdrop of the Gothic cathedral. The club bus arrived at the venue early with the bleary-eyed runners and their supporters able to enjoy the sun rising over the sea. The warm, sunny conditions necessitate an early start.
The marathon and half marathon courses include an out-and-back section along the coastal road before moving into the twisting and turning streets of the old city. The marathon course consists of two laps.
Ryan Barker was the only Harrier to accept the challenge of the full marathon, recording a time of 3:36:35 in 135th place. Three runners wore club colours in the half marathon. Simon Johnson led the way, finishing in 1:27:48. Simon was second in the M55 category and 45th overall. Mark Crabtree and Martin Ellis clocked times of 1:44:55 and 1:58:22 respectively.
Unusually, the overwhelming majority of Harriers opted for the shortest event. The 10k course along the coast was reduced to 9.5k due to part of the course through the Docks being unavailable this year. Twenty Harriers took part with several treating it more as a recovery run following their marathon and half marathon expoits the week before. 
Craig Empsall led the contingent home, finishing in 113th place in 41:47. Hazel Berrett was next in 44:52, taking second place in the F60 category. Dennis O'Keefe was second M70 in 55:17. Full Harriers results are on the website: https://www.halifaxharriers.co.uk/recent-race-results/
Men's National 6 Stage Road Relays
Sutton Park, Birmingham
After a very successful qualifying campaign at the Northerns at Manchester 2 weeks ago, spirits were high for Halifax's debut in this prestigious event. Standards are very high with many teams fielding international athletes.
The men finished an excellent 48th place of 80 teams from the Midlands,  Southern and Eastern regions. The winners were Aldershot with Leeds 2nd and Cambridge 3rd. We are now hoping to build on today's event and we have several runners on the sidelines who are now challenging for the first team.
In leg order for Halifax (5.8k)
Tom Hodgson 18.11
Max Wharton 18.14
Ben Crowther 19.45
Alex Franklin 20.10
Ewan Wheelwright 18.48
Will Smith 20.21
The action continues at the National XC relays in Mansfield on the 5th November where both the men, ladies and juniors compete for Halifax. 
Pictured in  the photo is Ewan Wheelright (19 years old) who ran outstandingly.
.
Harriers At London And Chester Marathons
Harriers were well represented at both the London and Chester Marathons yesterday. Congratulations to all who ran and very well done!
London Marathon
There were seven in club colours at London where the sun shone on a warm, dry Autumn day. Luckily, the heavy rain that had been forecast for the capital did not materialise.
James O'Rourke led the contingent home, finishing in 3:09:42. Rob Hick also broke the 4 hour barrier, clocking a PB of 3:55:15. Chris Kirkbride finally ended an 11 year wait to run at London, crossing the finishing line in 5:12:38. Other Harriers were: Steve Denniss (4:50:33), Rachel McCauley (5:08:13), Angela Cowton (5:15:19) and Kirsty Carver (5:59:48).
Chester Marathon
Four Harriers competed in the Chester Marathon. Tom Paget was the first to finish in 3:19:18. Hazel Berrett set a new club F60 record to add to her host of other club records, completing in 3:55:43. Paul Hopkinson crossed the line in 4:00:57 with Stef Dickinson finishing in 4:11:08.
Great Scottish Run Half Marathon
Jane Stewart travelled across the border to take on the challenge of the Great Scottish Run Half Marathon in Glasgow yesterday. Jane finished in a time of 2:10:12.
Holme Valley Trail Half Marathon
The club was also represented at Saturday's Holme Valley Trail Half Marathon. This is a hilly course comprising two loops of moorland and forested tracks near Holmfirth. Fred Carver was fifth overall in 1:49:11. Andrea Ackroyd (2:19:25) and Margaret Deacon (2:41:32) were second and third respectively in the F50 age category. Jenny St Romaine won the F55 category in 3:04:38.