Harriers Perform Well At Northern Cross Country Championships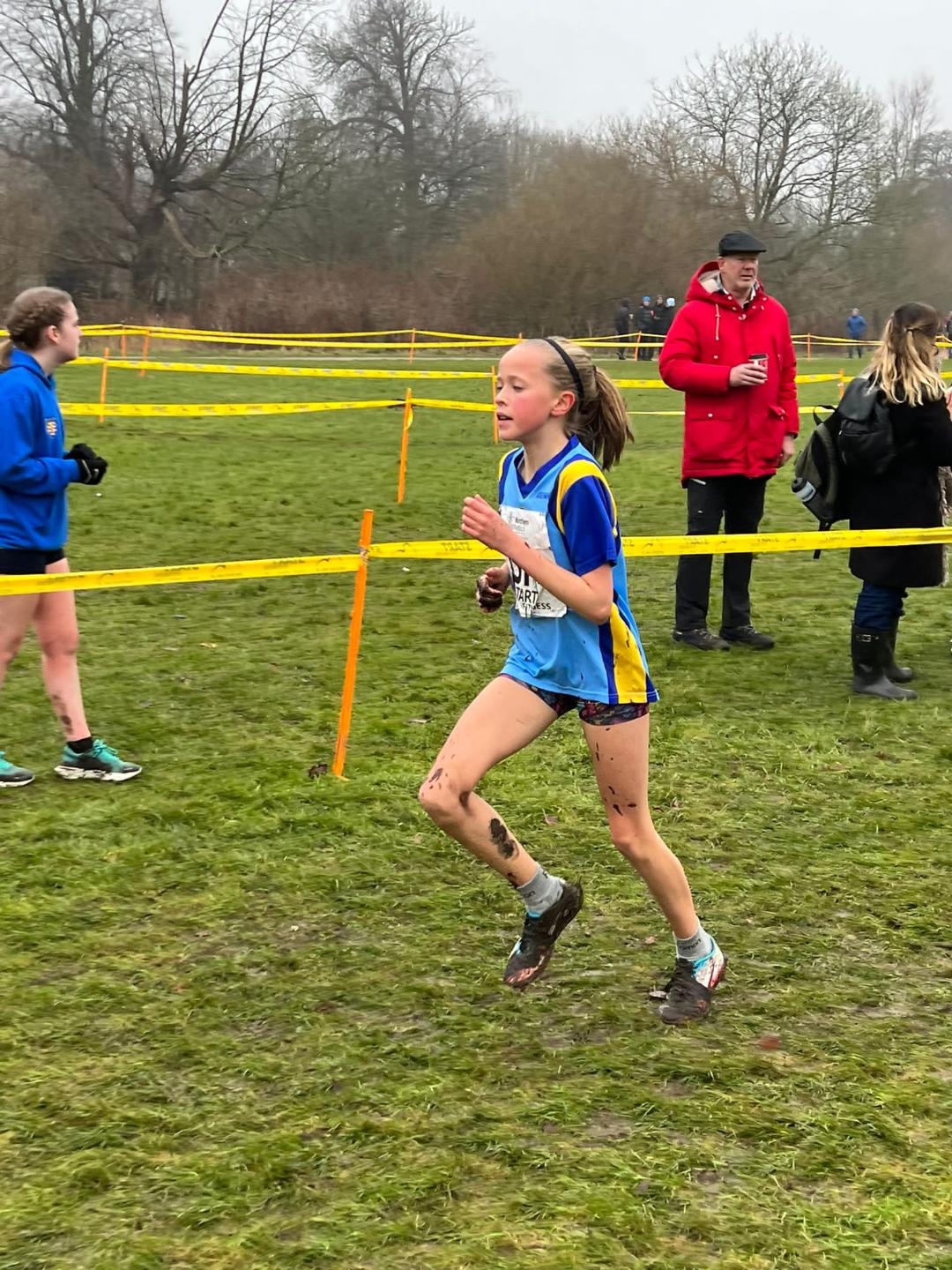 Northern Cross Country Championships
Harriers were represented at Saturday's Northern Cross County Championships in Blackburn. Max Wharton finished in an excellent eighth place in a highly competitive field of nearly 500 runners in the senior men's race. Ryan Barker also competed on the 11.5k course. Ryan had prepared for the race by doing a 5.5 mile run in the morning following a 20 mile run the previous day whilst on the Harriers' Men's Bunk Barn trip in Grassington!
Fifteen young Halifax Harriers also raced at Blackburn in the junior events. Kitty Harrison-Sargent had another excellent run with 8th place in the under 13 girls' race and, along with teammates Alesha Atkinson (39th), Lily Atkinson (60th) and Jessica Myers O'Connell (77th), earned the Harriers' team fourth place.
Seven under 13 boys ran the 3.2k course, led home by Sam Keighley (28th), Joe Stone (31st), Beau Clark (54th) and Tom Wright (72nd), which placed the team 7th overall.  Albert Jones finished 75th, Ralf Jones 100th and James Dix 105th.
In the under 15 categories, Ben Slow finished 47th in the boys' race and in the girls' race Annie Thorp finished 108 over the 4.3k distance. Will Cattermole finished 57th in the under 17 men's race (5.9k) and Jacob Ewart was 87th. 
Meltham 10K
Two Halifax Harriers ran in Sunday's Meltham (Tough) 10k road race. April Caufield took first place in the senior female category, and was fourth woman overall, with a time of 46:33. Cara Bintcliffe was third in the senior female category in 49:10. As the name suggests, this is a hard race run on a course with plenty of gruelling climbs and long fast descents.
Halifax Harriers Celebrate Their 25th Anniversary Bunk Barn Weekend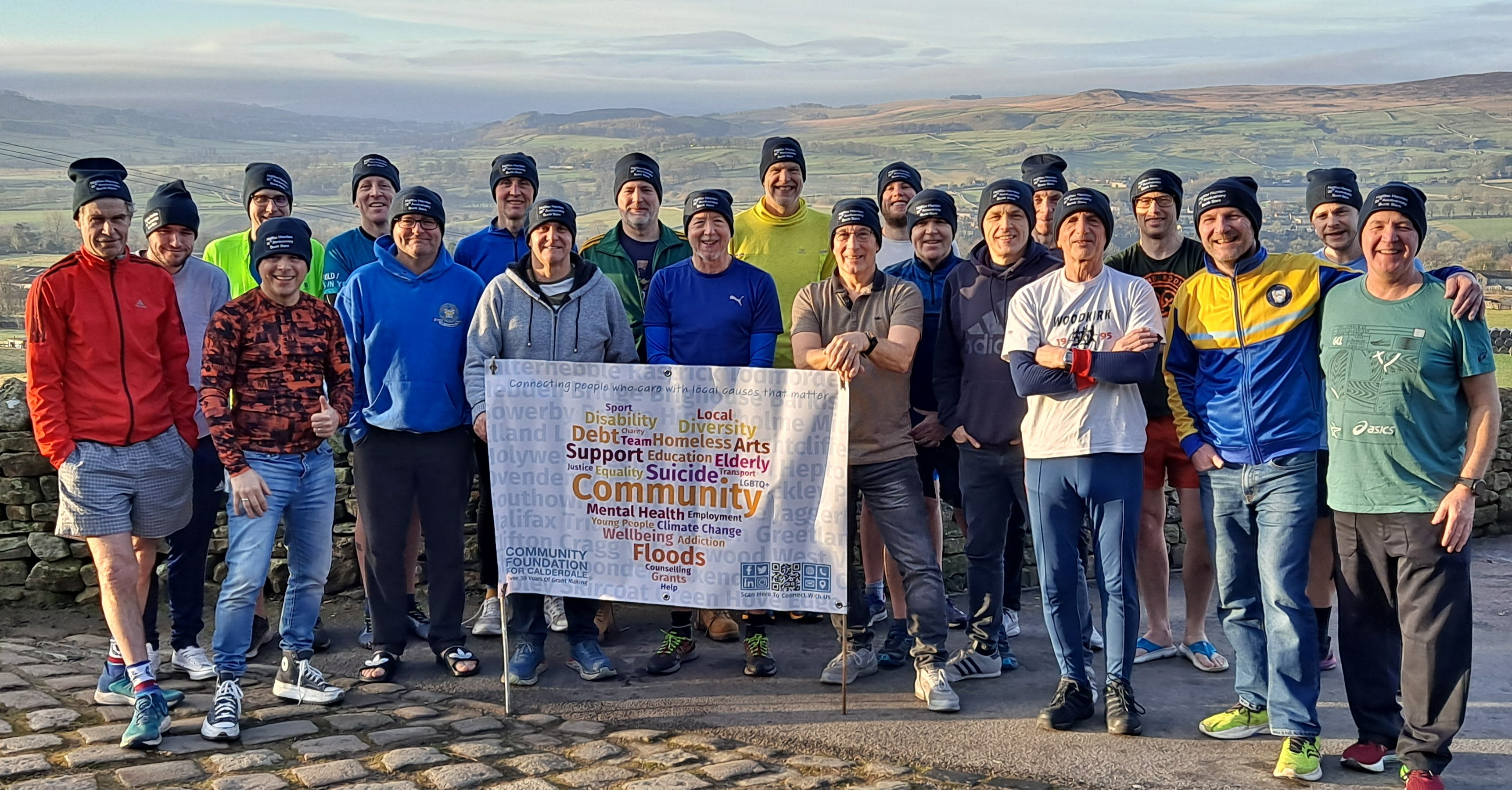 Last weekend 28 members of the Halifax Harriers running club celebrated 25 years of their bunk barn weekend. The senior runners have long been aware, not only of people's physical needs, but also their mental health, well-being and safety. Together with a quest to reduce isolation and a desire to improve community cohesion, 25 years ago, the harriers organised a bunk barn weekend. At this event members travelled to the Yorkshire Dales and spent three days running, walking and cycling together in order to help people get to know each other, to build strong lasting relationships and to encourage new members to further integrate into the club.
This event was so successful that the runners have spent a weekend away, every year since, benefitting many young people over that time. This January they wanted to mark their anniversary with a special celebration, so the group went to Grassington and to mark this milestone event they dressed up in dinner suits for the Friday evening meal and on the Saturday evening wore retro clothes. Those attending the 2023 event were presented with a branded beanie hat to help them remember the outdoor activities they embarked upon to promote fitness, well-being and friendship. The beanie hats were kindly sponsored by The Community Foundation for Calderdale, via their Halifax Courier Fund – established to support physical and emotional well-being.
More images on the Gallery page show the Harriers in dress suits at the Friday evening meal and the group wearing their memento hats, ready to go for a run on the Saturday morning.
Good Weekend For Harriers At Inskip And Heaton Park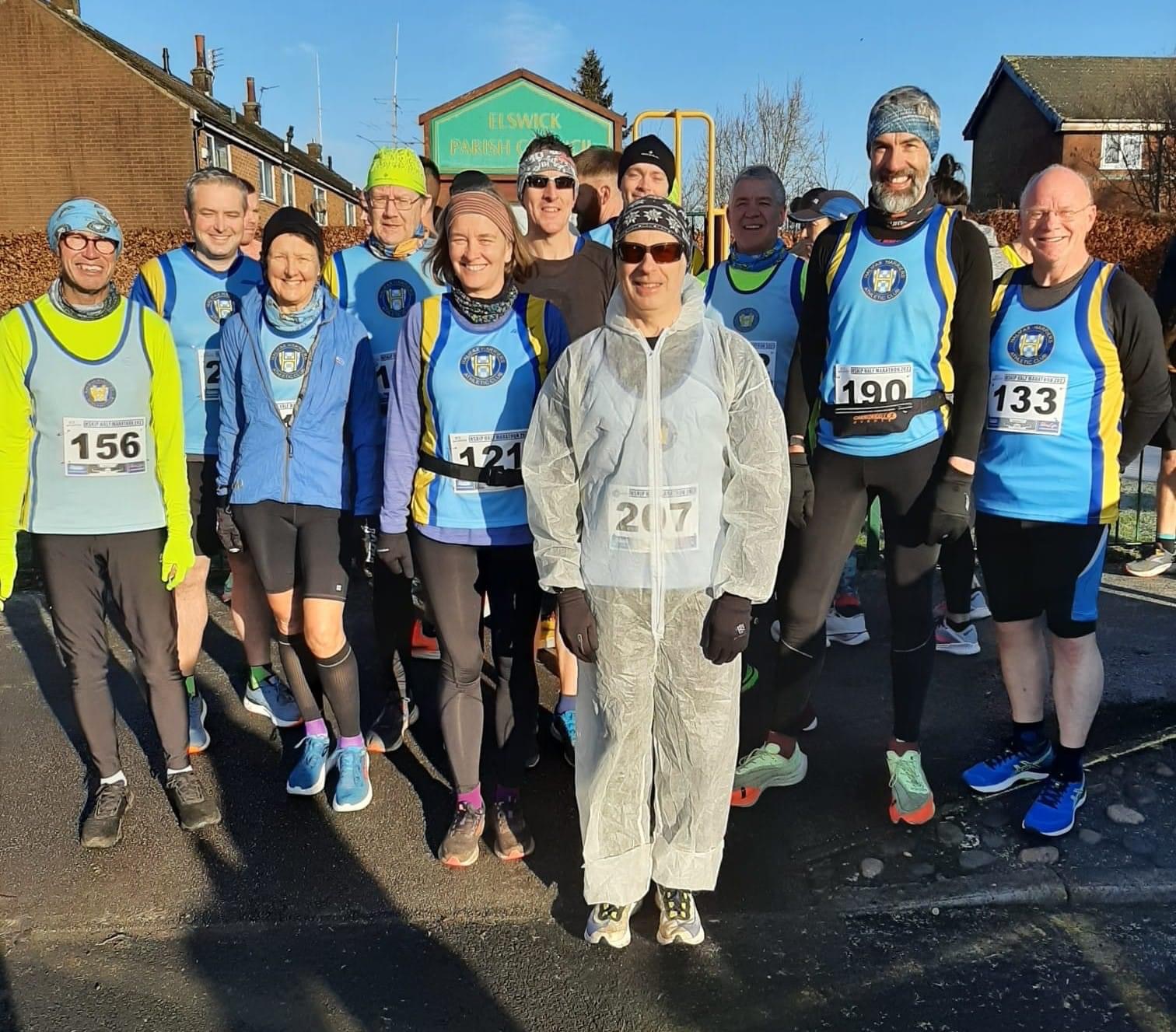 Inskip Half Marathon
Thirteen Halifax Harriers travelled to Lancashire on Saturday morning to compete in the penultimate race in this season's club Road Challenge. The Inskip half marathon took place on a gently undulating loop around country lanes in Wyre and Fylde near Preston. 
James O'Rourke was first home, finishing 13th overall in 1:23:42. Will Carver was next in 21st, setting a new personal best of 1:27:37.  Joanne Arundale was the first of the trio of Harriers women to finish, clocking 1:44:30. Seven Harriers finished amongst the top three for their age group with victories for both Rob Hick (M65) and Hazel Berrett (F60). Hazel's time of 1:48:51 is a new club record for her age category.
Ryan Barker, David Ingle, Marc Rocheteau, Tim Slow, Steve Denniss, David Parrington, Martin Haigh and Kirsty Carver also all ran in Harriers colours. Full results are on the Recent Races section of the website.
Heaton Park 5k/10k
Stef Dickinson and Sue Corney both competed in Sunday's Heaton Park 10k in Greater Manchester. Stef was second FV45 in 49:54 with Sue finishing first FV65 in 58:29. Katie Brook was third female (and first FU17) in the 5k event at the same venue, clocking 25:08. John Moore came home as the first MV50 in 26:25.
 
Will Completes Spine Sprint Again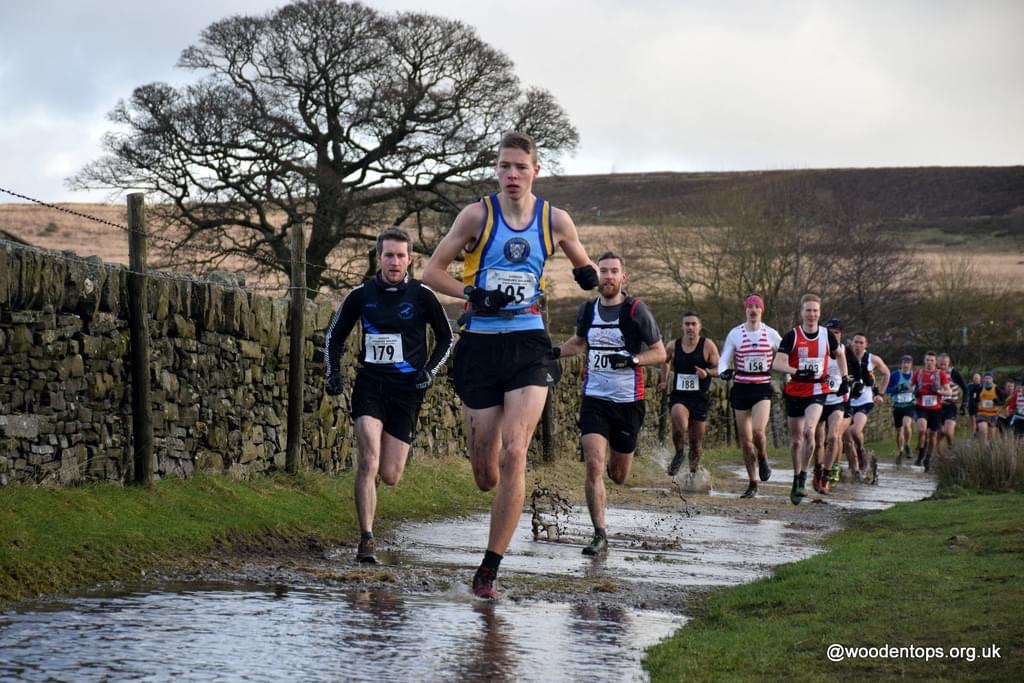 Montane Spine Sprint
A huge round of applause for Will Carver, who (for the second time) ran the Montane Spine Sprint race along the Pennine Way from Edale to Hebden Bridge, finishing just before midnight on Saturday in 11:55:59 (40 minutes faster than last year). That's 46 miles, 8,658 feet of climbing, clambering over Kinder Scout, Bleaklow, Black Hill and all the othe boggy, windswept uplands along the way ... and the second half run in the dark. Congratulations to Will who finished in 16th place.
Valencia 10k
Fantastic effort from three Harriers at the Valencia 10k in Spain on Sunday. Josh Hall-Brown was first home in 32:38. Liam Parkin (35:59) and Matthew Green (40:18) both recorded PBs.
Stanbury Splash
There was a good turnout and some awesome results for Harriers at the tough Stanbury Splash fell races on Sunday. It was great to see so many from our club enjoying the bogfest! In the junior races, Will Cattermole and Jayde McGregor both took their first fell race wins (under 17 boys and girls races). Both Will and Jayde have been working hard this year to improve their strength and endurance, so it's fantastic to see them rewarded. Will's gun to tape front running performance was highly impressive. Jayde's run with just one shoe was also quite an achievement! Casey George competed in the Under 11s race, finishing in 9:54.
In the 6.8 miles senior race (with 1,200' of ascent), Ned Hughes was second U21 in 12th overall in 55:21.  Ned took maximum points in the latest, and penultimate, race in the club's Fell League for 2022/23. Lee Cattermole (1:04:36), James O'Rourke (1:06:26) and Martin Ellis (1:31:58) also scored points in the men's section.
Andrea Ackroyd took the full ten points in the women's section, finishing in 1:18:18. Jane Hobson was next in 1:23:28. Jane was hotly pursued by Stef Dickinson, who fnished just ten seconds behind on her fell racing debut.
Photo of Ned Highes at the Stanbury Splash.
Medals For Youngsters At Yorkshire Xc Championships
Halifax Harriers were represented by eighteen young athletes at the Yorkshire Cross Country Championships at Lightwater Valley in Ripon on 7th January.  In the under-13 girls' race Kitty Harrison Sargent won the bronze medal, and along with teammates Alesha and Lily Atkinson (who finished 14th and 22nd respectively), earned the girls a well-deserved silver team medal.  The under-13 boys were awarded a team bronze, with Sam Keighley 10th, Joe Stone 11th and Beau Clark 24th. The under-13 boys B team of Tom Wright,  Albert and Ralf Jones finished in 7th position.
In a tough field the under-15 boys' team finished 5th, Ben Slow 22nd, Chester Gately 23rd and Eli Cattermole 28th. 
Excellent Turnout At The Giant's Tooth Fell Race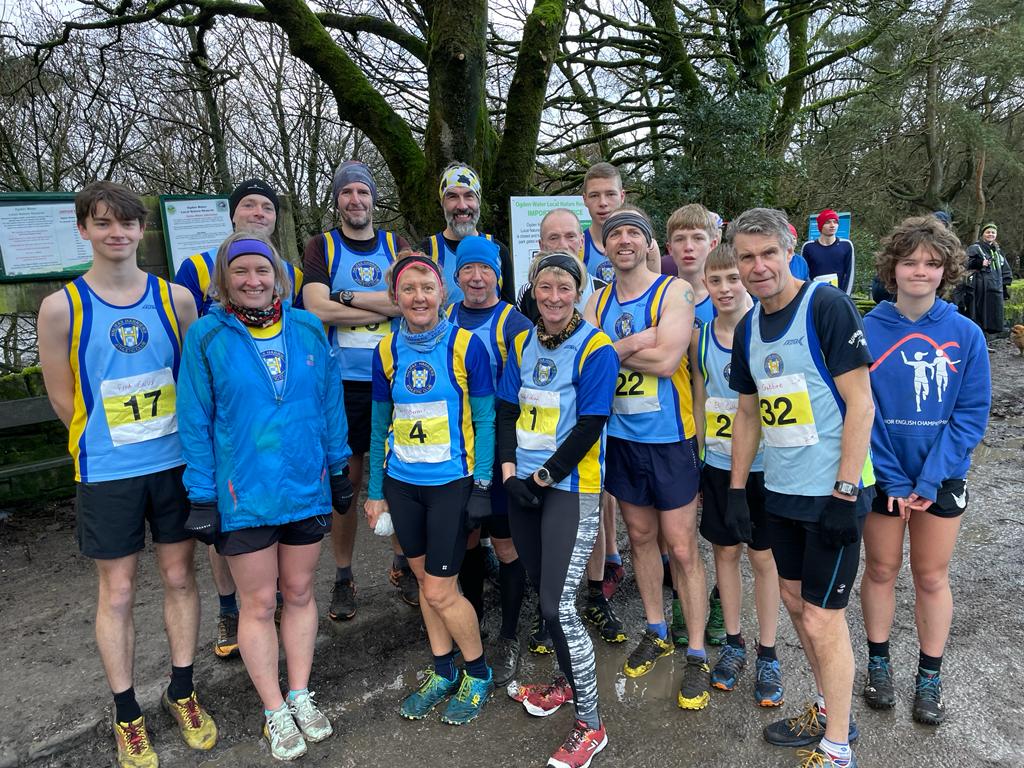 Halifax Harriers had a good turnout, making up more than 20% of the field, at the Giant's Tooth Fell Race on 1st January to start 2023. The short course of just under three miles, with over 400' ascent, charges from the car park at Ogden down to the reservoir and up to the Giant's Tooth. Then across the bogs, dropping back down to the reservoir before the last climb to the finish. Short, fast and brutal with plenty of mud to contend with this year!
Ned Hughes was the first home of the 15 Harriers in third place overall in 19:36 closely followed by junior Will Cattermole in fifth place (19:52) whose slight navigation error towards the end cost him second place. Brother Eli was eighth in 20:20 just ahead of Fred Carver in ninth place in 20:38.
There was another tussle between Lee Cattermole in 19th place in 21:49 followed by Will Carver in 20th (21:56) with Tom Paget and James O'Rourke in 21st (22:28) and 22nd (22:53) respectively, both having completed the New Year's Day Parkrun earlier.
Simon Gelsthorpe took first MV60 in 23:49 with Phil Grimes second MV60 (24:10) and Mark Crabtree third MV60 in 24:30. Junior Jayde McGregor was next home in 24:54 and finished a very impressive sixth lady overall.  Hazel Berrett was first FV60 in 27:44 just pipping Andrea Ackroyd who got first FV50 (28:04). Kirsty Carver finished in 35:46, a day after achieving her 100th Parkrun.