Harriers Busy Out Racing Both On And Off Road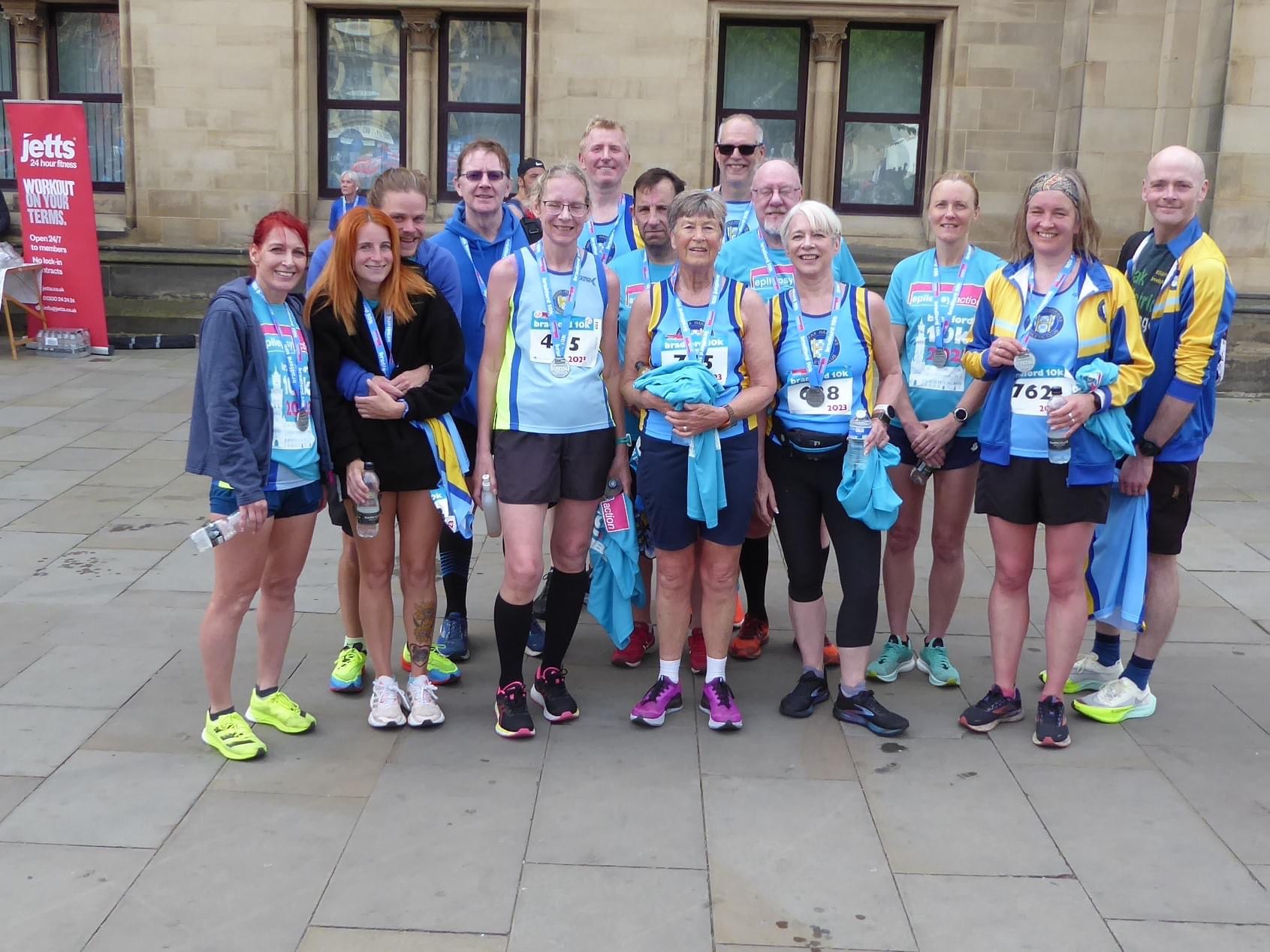 Plenty of Harriers have been out racing over the past few days. Here is a summary:
Bradford 10k
Harriers were well represented at Sunday's Bradford 10k with 31 runners amongst the almost 1,000 strong field. The race was the latest counter in the club's road race championships. Liam Parkin was the first Harrier home in 17th place in 35:58. Aaron Bergin (36:47) and Will Stewart (37:57) also made the top 30. There were age group successes for Rachael Beaumont (2nd F50), Susan Hall (2nd F70), James O'Rourke (3rd M45) and Rob Hick (3rd M65). Eight Harriers also took advantage of the mainly flat course and good running conditions to set personal best times; Matthew Green (39:10), Harris Faulkner (42:46), Howard Coney (43:57), David Parrington (48:14), Jack Melia (49:34), Angela Cowton (56:56), Lucia Cattermole (1:09:14) and Heidi Coney (1:18:13).
Edinburgh 10k and Half Marathon
Two Harriers were in action in Scotland's capital city over the weekend. On Saturday, Stephen Rainbow finished 20th in the Edinburgh 10k in 40:07 and was second in the M40 age category. The course went up and around Arthur's Seat. Stephen reported that, "Conditions were tough on the day as the weather was hot and sunny, but there was also a strong headwind for the exposed parts of the course. Conditions definitely impacted the field compared to previous years." Jane Stewart set a PB of 2:09:12 in Sunday's Edinburgh half marathon.
Wuther Heights Wander
Three members continued their progress from the club's couch to 5k programme, competing in Saturday's Wuther Heights Wander Trail race on the hills and trails above Haworth. Mel Sutcliffe (1:06:03), Clare Fountain (1:08:41) and Gemma Weatherby (1:08:41) all completed the demanding 5.2 mile course, taking in 670' of ascent. Clare commented, "We started at 11:30 and it was beautiful scenery in the sunshine but, wow, I was hot by the end. Across the moors, up and down stony sections with a bit of road and them up, up, up around Bronte falls, round by the reservoir and into Haworth through the churchyard to finish in the car park where we started." Group 1 leaders, Jude and Jenny, cycled out to support the runners, which was much appreciated. The duo also cycled to Bradford on Sunday to cheer on their clubmates as did Mark Crabtree. Many thanks to all three for their support.
Hebden Bridge Fell Race
Nine Harriers took part in last Thursday evening's That's So Hebden Bridge Fell Race. Starting on the canal side in Hebden, runners make their way up a series of steep climbs to the Stoodley Pike Monument before running across the moors and descending through woods. Fred Carver completed the 6.5 mile course with over 1,100' of ascent in 51:13, placing ninth overall and was first male under 23. Next came the three Wills; Cattermole (52:59), Carver (55:18) and Stewart (55:54). All finished in the top 20 as did Lee Cattermole (56:13). April Caufield was close behind, placing fourth woman in 59:13. Chris Standish, Kirsty Carver and Martin Ellis also competed for the Harriers.
April commented, "Do you ever fancy entering a fell race spontaneously to crawl up a steep heather-clad hillside, run through bogs, trip over tussocks and tree roots? Well tonight this road runner made a rare appearance on the fells and loved every second." 
Excellent Turnout At The Leeds Marathon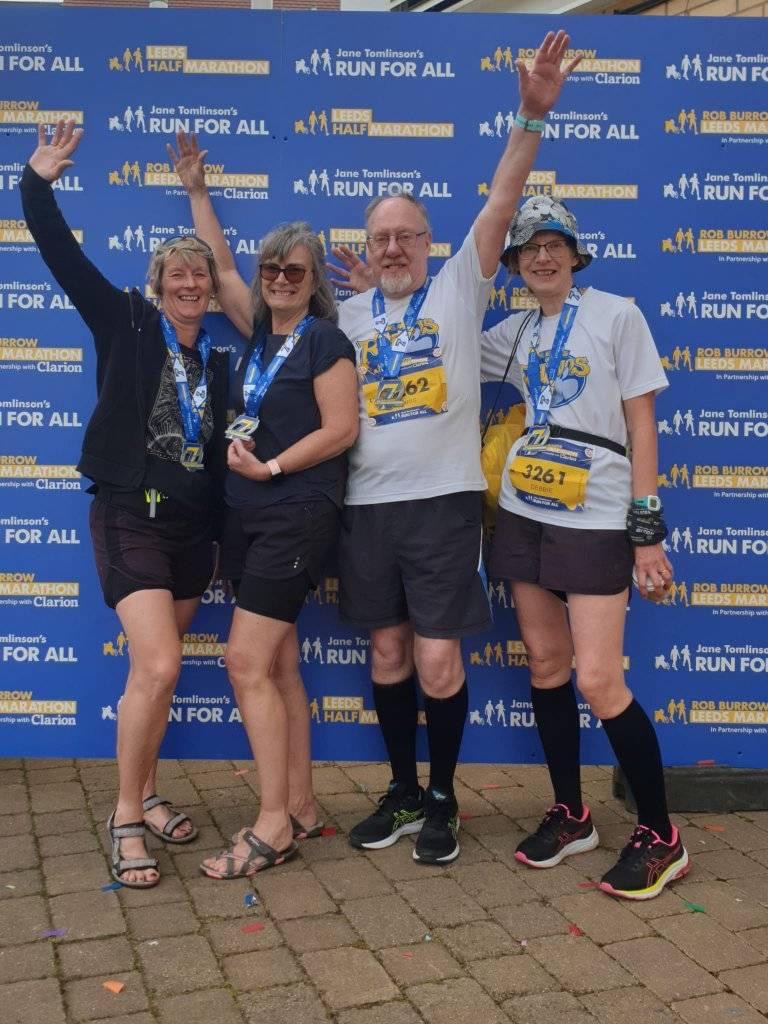 Sixteen Harriers ran in the first Rob Burrow Leeds Marathon on Sunday. Conditions were hot and humid but runners were boosted by a brilliant atmosphere. Ryan Barker was the first to finish, completing the tough undulating course in 3:09:37 in 113th place. Will Carver was next in a personal best time of 3:14:16. Will, an experienced off-road ultra-distance runner, was running his first road marathon for four years. Carl Dawson (3:34:58) and Marc Rocheteau (3:59:05) also broke the four hour barrier. Four Harriers were taking part in their first road marathons; Ellen Limebear, Jack Melia, Tim Slow and Jenny St Romaine. Full results are in Recent Races. Congratulations to all our runners!

Two Harriers competed in the Leeds half marathon on the same day. Stephen Rainbow finished 41st in 1:27:49 with Angela Cowton clocking 2:17:31.

Rachel Standish was 14th in Sunday's Ravenscar 10k on the east coast between Scarborough and Whitby. Rachel completed the challenging off-course route in 56:54.

Angela Clarke ran the 36th Jack Bloor Fell Race on Ilkley Moor last Tuesday, finishing the hilly 8.4k course in 1:05:23.
 
Yorkshire Championships 13th And 14th May 2023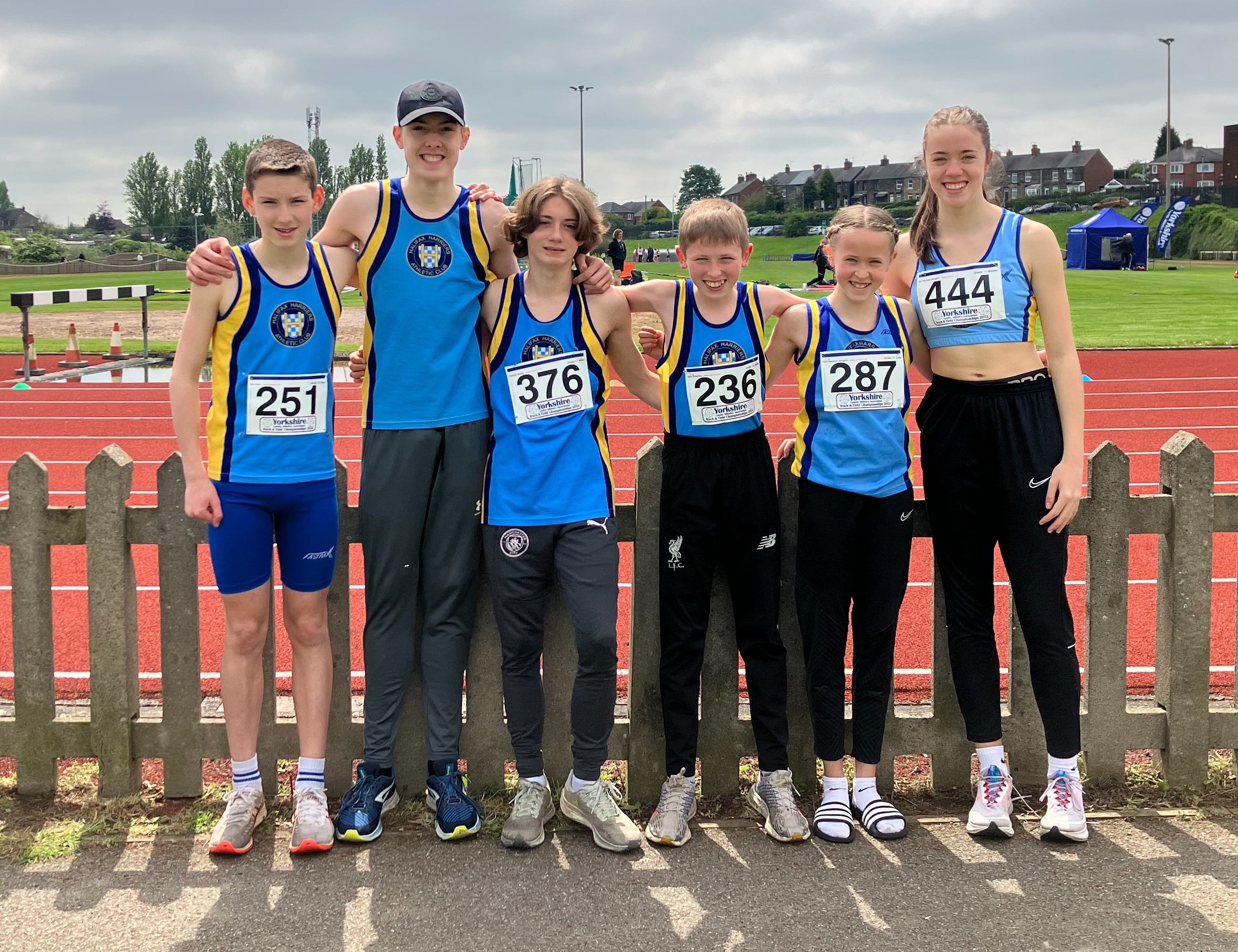 Seven athletes represented the Harriers at the Yorkshire Championship in Cudworth, near Barnsley at the weekend.  In the under-17 women, Nia Harrison Sargent was a silver medalist in the 300 metres with a personal best (PB) time of 41.11 and achieved a bronze medal in the 800 metres.  Not to be outdone, sister Kitty in the under-15 girls also clinched a silver medal in the 300 metres (42.01) and a bronze in the 800 metres (2.16) achieving PBs in both events.
In the under-15 boys, Ben Slow clocked a time of 2:09 (PB) in the 800 metres and an excellent 4th place and Sam Keighley ran in the under-15 boys 3000 metres, breaking the club record thanks to a PB of 10:10.
Chester Gately for the under-17 men ran the 800 metres (2.07) and in the 1500 metres came home in 5th  place with a time of 4:19.03 (PB).  In the under-20 men's category, Jacob Ewart ran the 800 metres (2.09) and in the 400 metres finished 5th in a time just shy of his PB in 53.9.  Maisie Brown also ran the 400 metres in the under-20 women's category with a 6th place finish and another PB time of 62.94.
photo, left to right, Ben Slow, Jacob Ewart, Chester Gately, Sam Keighley, Kitty Harrison-Sargent, Nia Harrison Sargent
Bluebell Trail 10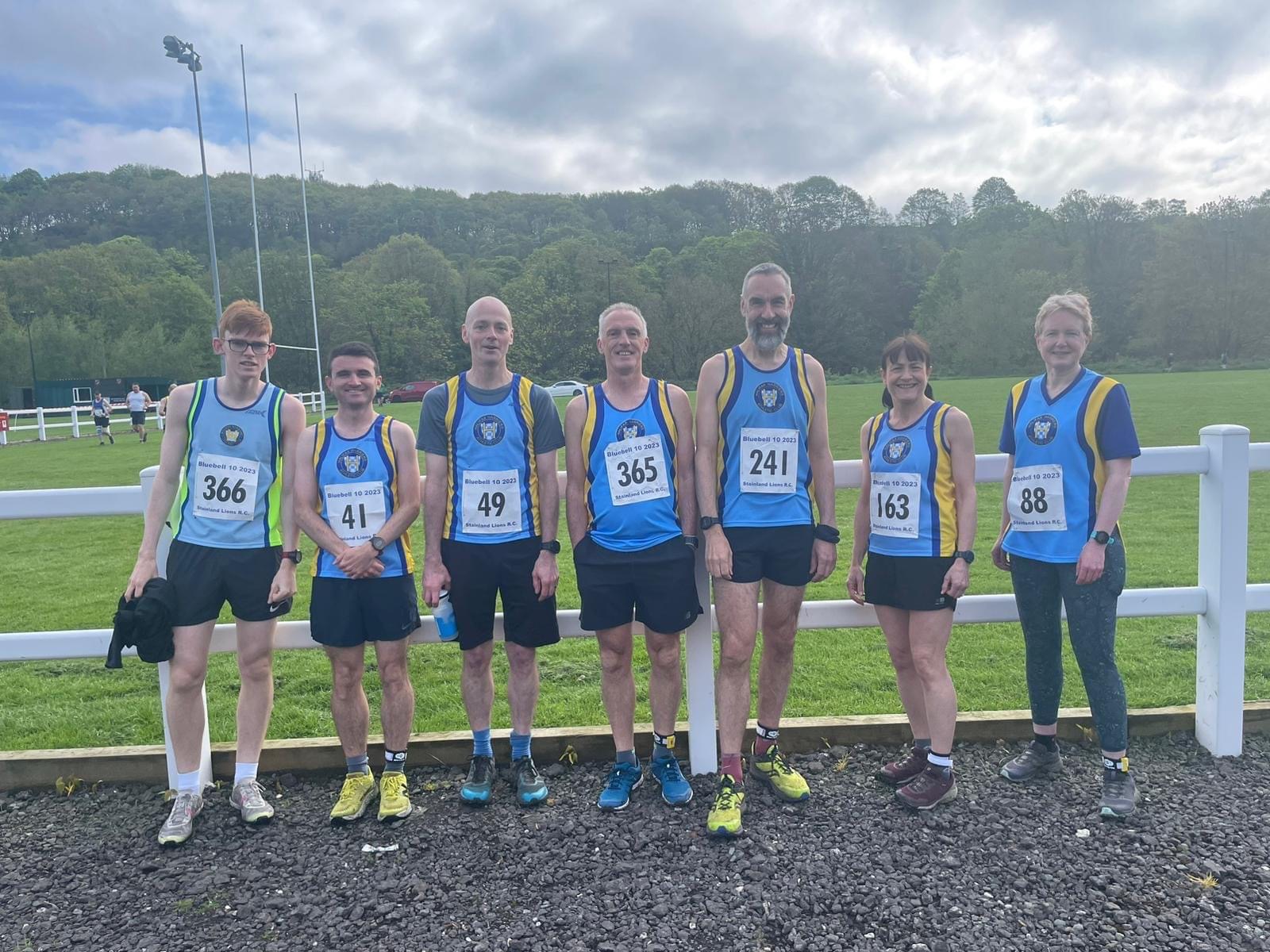 Seven Harriers ran in Sunday's Bluebell Trail Race, organised by Stainland Lions and setting off from West Vale. Harry Johnson had a magnificent race, finishing the hilly 10.3 mile multi-terrain course in second place in 1:11:36. Gareth Burrell was next, coming nineteenth in 1:24:32. Jane Hobson was the first of our two ladies, clocking 1:48:11 in third place in the FV50 category. Other Harriers were; Simon Johnson (1:28:34), Will Carver (1:28:47), James O'Rourke (1:29:07) and Stef Dickinson (1:48:42).
Jane reported, "The weather was warm and sunny, but parts of the course were really muddy and very slippery underfoot due to rain on the preceding day, especially in Elland Woods. It was certainly not boring! There were a few slips and falls. The river crossing was highly refreshing and great fun. Some describe the race as brutal, but it's still my favourite! The marshals and organisation were great as usual."
Great Showing By The Juniors At Cleckheaton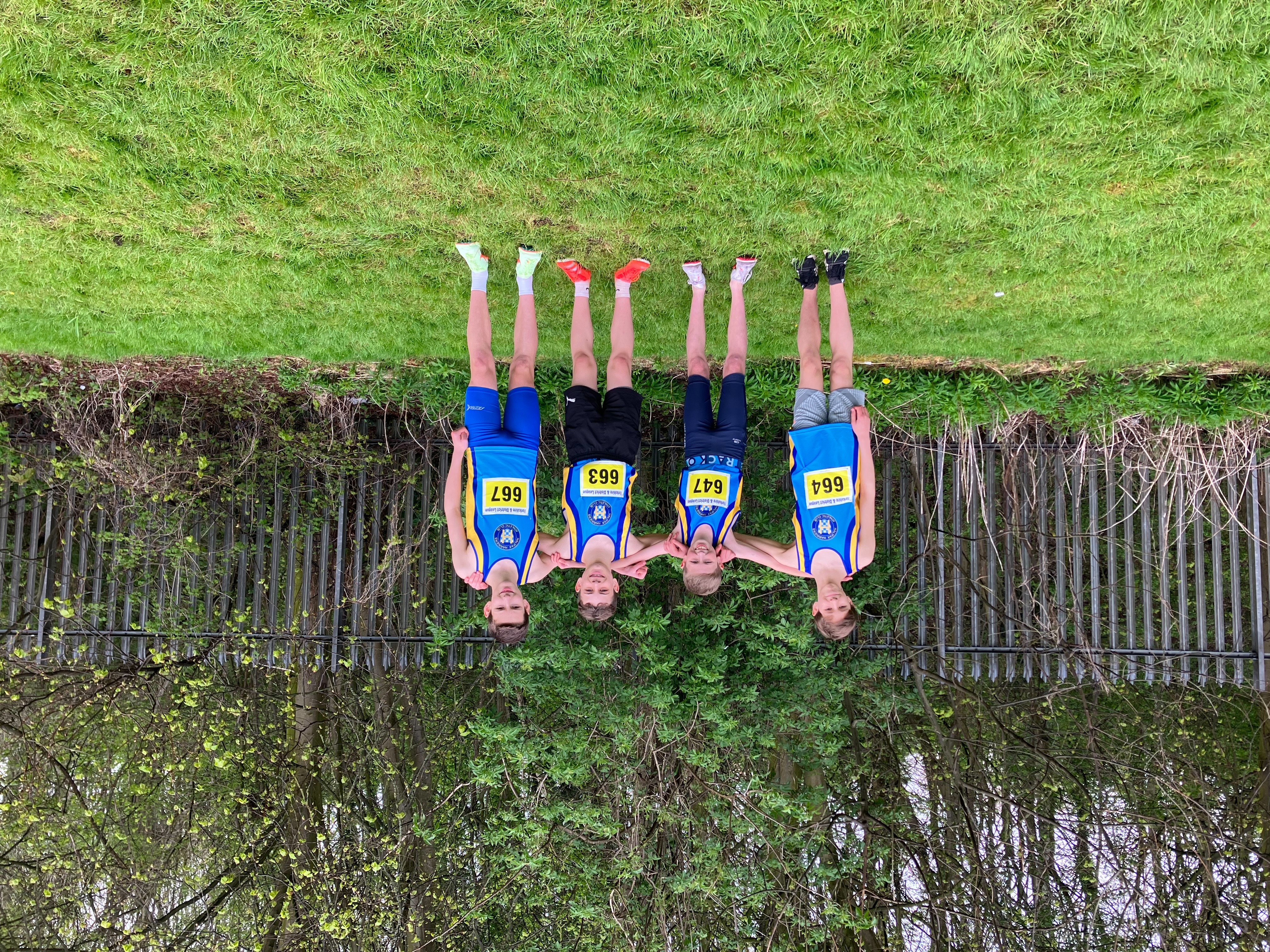 Nineteen young Halifax Harriers athletes participated in this season's first Yorkshire Development League meeting at Cleckheaton.
The 800 metres provided a flurry of personal bests (pbs).  In the boys under 15 race, Ben Slow, 2nd place in a pb time of 2.12, ably supported by Sam Keighley in 3rd place.  A pb of 2.47 and 2nd place for Abbie Brown in the under 15 girls. Connie Wood 1st in the under 13 girls (pb 2.51), Paige Richardson 3rd place and James Dix a 2nd place and pb for the under 13 boys.  The under 17 women saw another 1st place for Nia Harrison with a time of 2.17.
The 1500 metres saw two 1st places for Ralf Jones in the under 15 boys and Annie Thorp in the under 17 girls and Faye Skilbeck 3rd in the under 15 girls race.  Alesha Atkinson with a time of 4.13 was 2nd in the 1200 metres.
There were also successes in the sprints and field events with a number of first, second and third places.
The under 13 girls 4 by 100 metres relay team was another 1st place (team; Paige Richardson, Connie Wood, Lily and Alesha Atkinson).
The final event was the under 15 boys 4 x300 metre relay with the boys bringing home the baton in 1st position in a time of 3.05.  (Team: Adam Barber, Sam Keighley, Ollie Powell and Ben Slow).
Harriers Enjoy Track Success
Harriers have seen a few track runners competing in early season competitions:
In last weekend's Doncaster Spring Open, an injured Lou Royston and Maisie Brown competed in a combined age race 400m. Lou finishing 2nd in 61.09s (2nd Senior), and Maisie having stepped up this season from 300m into the u20s, came 5th in 64.69s (2nd under 20); and Rob Mac in combined age range races 200m and 400m, finishing 6th in 200m in 27.2s (2nd V55), and 3rd in 400m in 61.4s (1st V55)
Rob raced again in a windy Sheffield/ Northern Masters Open on Wednesday evening winning his 400m in 61.35s
Having recently joined Harriers and this training group, Lasantha Chandimal (Chandi) has declared he is returning to track running and 400m (after 10 years away). Last Sunday, he opted to run the Cragg Challenge John Jones 1 Mile Dash, winning the downhill race in 4min32secs.
Weekly Race Round-up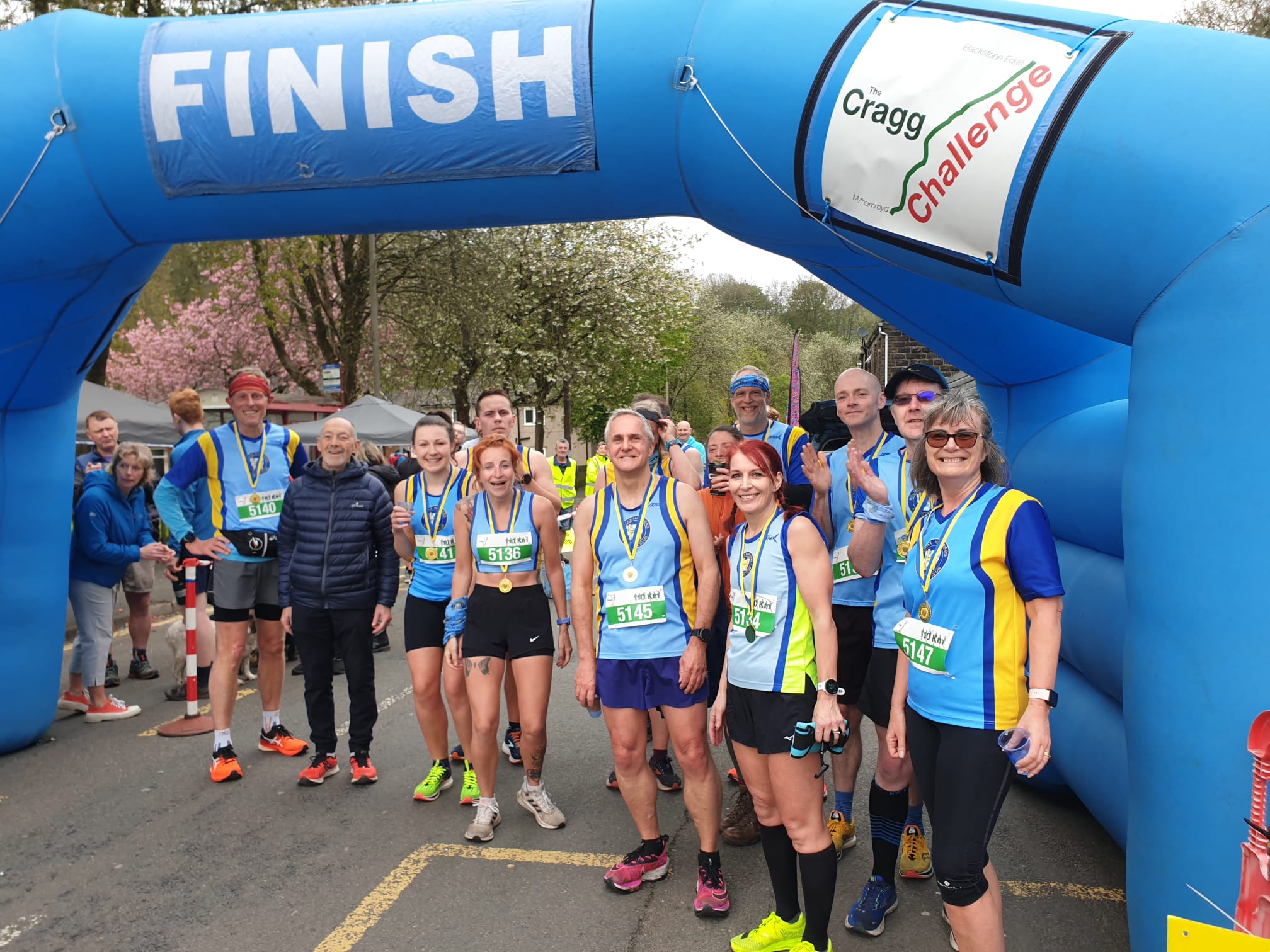 Sixteen Halifax Harriers raced in Sunday's Cragg Challenge 10k on Cragg Road in Mytholmroyd. The road was closed to traffic for the event. There were seven Harriers amongst the top ten finishers in the latest race in the club road championships. Niall Smith was the first to complete the up and down course, winning the race in 39:14. Will Stewart was close behind coming third in 39:44. April Caufield was second female in fifth overall in 44:28 with Rachael Beaumont third female in ninth in 46:37. Other Harriers were; Will Carver (45:42), David Ingle (45:53), Harris Faulkner (46:17), Tabitha Howe (47:44), Nigel Rigg (51:30), David Parrington (51:55), Paul Hopkinson (52:38), Andrea Ackroyd (53:48), Martin Ellis (54:01), John Moore (56:21), Jenny St Romaine (57:38), Kirsty Carver (58:43).
Junior club member, Beau Clark, put in an outstanding performance in the 5k race, finishing in fifth place in 20:58.
Sarah and Geoff Cumber both ran in the one mile downhill race. Sarah came second overall in 5:16. Geoff clocked 6:59.
Three Harriers participated in Saturday's Calderdale Way Ultra event. Ryan Barker completed the gruelling 50 mile route with 8,500' of ascent in third place in 9 hours 36 minutes. Clubmate, Will Carver, finished in 10 hours 56 minutes. Sally Shacklock clocked 7 hours 13 minutes in the 30 mile race. (Unofficial times.)
Also on Saturday, Tom Paget ran in the 68th annual Three Peaks Fell Race in the Yorkshire Dales. Tom completed the 23.3 mile course, climbing nearly 5,300' over Pen-y-Ghent, Ingleborough and Whernside, in 5:24:25.
Photo of Harriers at the Cragg Challenge