Josh Triumphs In Blackpool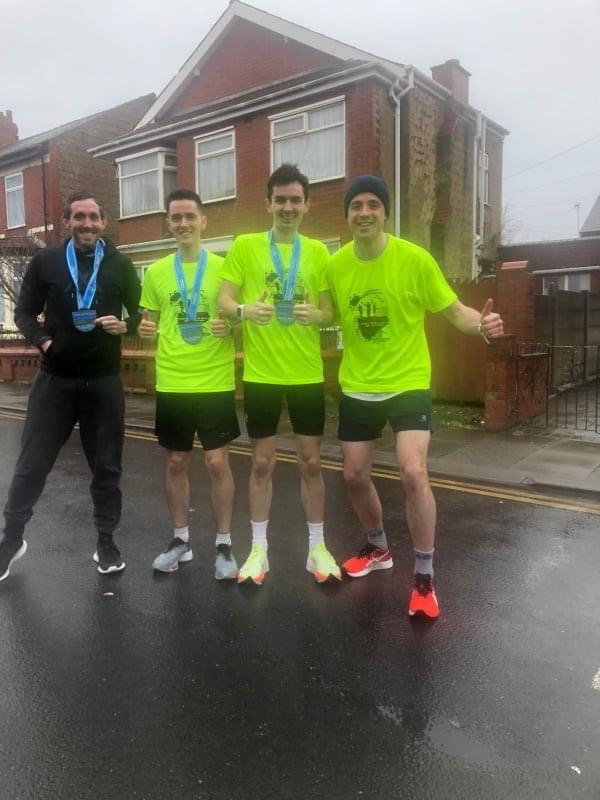 Halifax Harrier, Josh Hall-Brown, put in a superb run in appalling weather to win the popular Great North West Half Marathon on Sunday. Josh posted a great time of 1:17:34 to take victory on the Blackpool coast. Fellow club member, Tom Needham, finished seventh in 1:22:59.
Snowy Flower Scar Finishes Fell Race League Season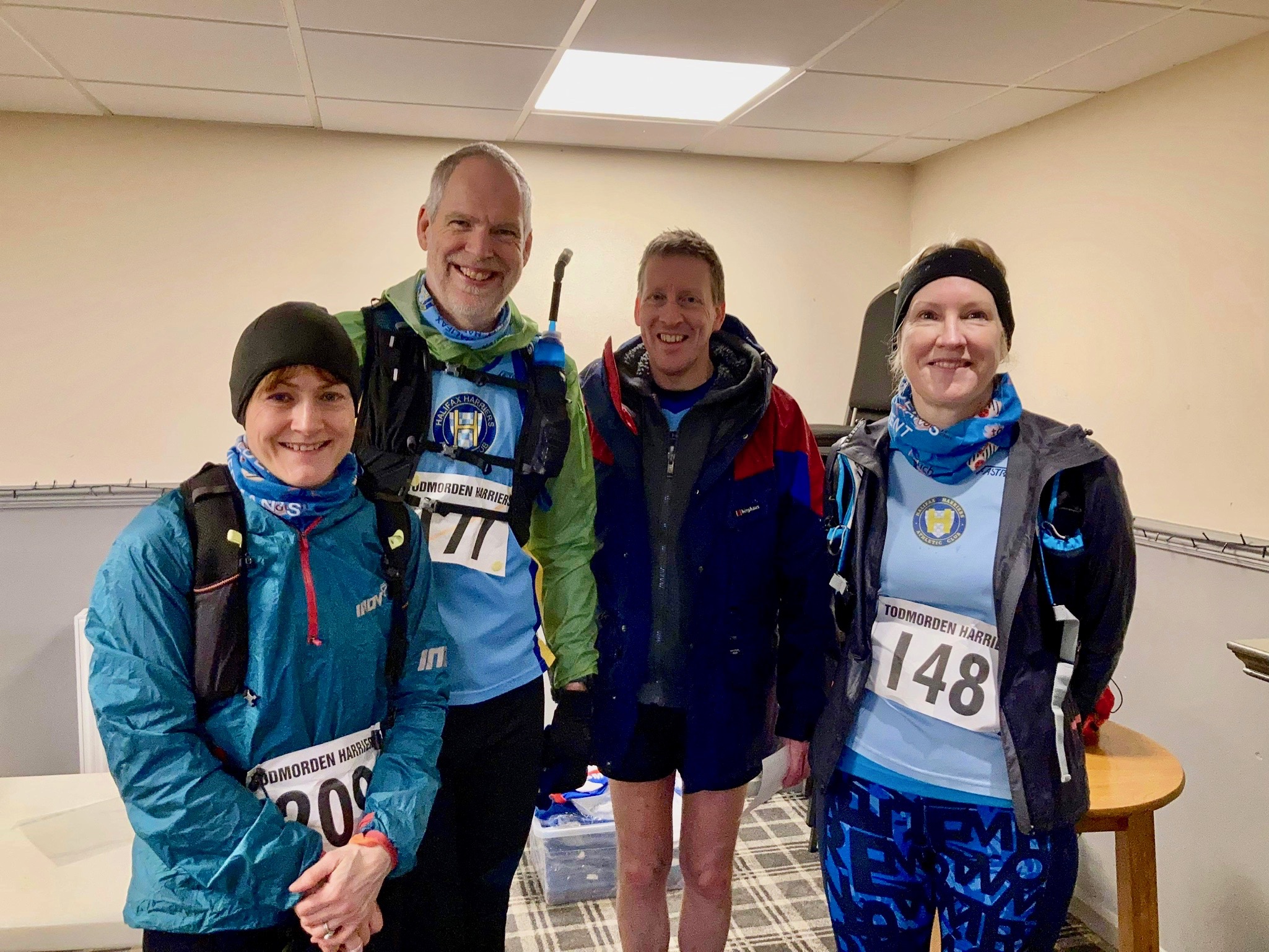 Five intrepid Harriers braved atrocious weather conditions on Saturday to take part in the Flower Scar Fell Race. The nearly 8 mile race begins and ends in Centre Vale Park in Todmorden, taking in a total of almost 2,000' of ascent. The course features a number of steep climbs, rough moors and paths, which were all covered in several inches of fresh, and falling, snow. There were reports of numerous falls on the slippery and frequently boggy terrain. Ryan Barker led the Harriers' contingent home in a time of 1:23:13 in 67th place followed by Michael King in 1:28:27 in 99th position. Jane Hobson was the first placed lady in 1:51:19 and was third in her age group (F50). Martin Ellis (1:59:11) and Margaret Deacon (2:01:19) completed the quintet.
This was the last race in the club's Fell Race League for the 2021/22 season. The results did not affect the final placings with both Will Carver and Jane Hobson confirmed as the season's champions. Many congratulations to both. (Details of the final standings can be found on the Fell Running section under the Disciplines tab on the website.)
The first race in the 2022/23 season will be the Ian Roberts Memorial race from Marsden Cricket Club on Sunday 20th March.
Ladies Prosper At Liversedge Half Marathon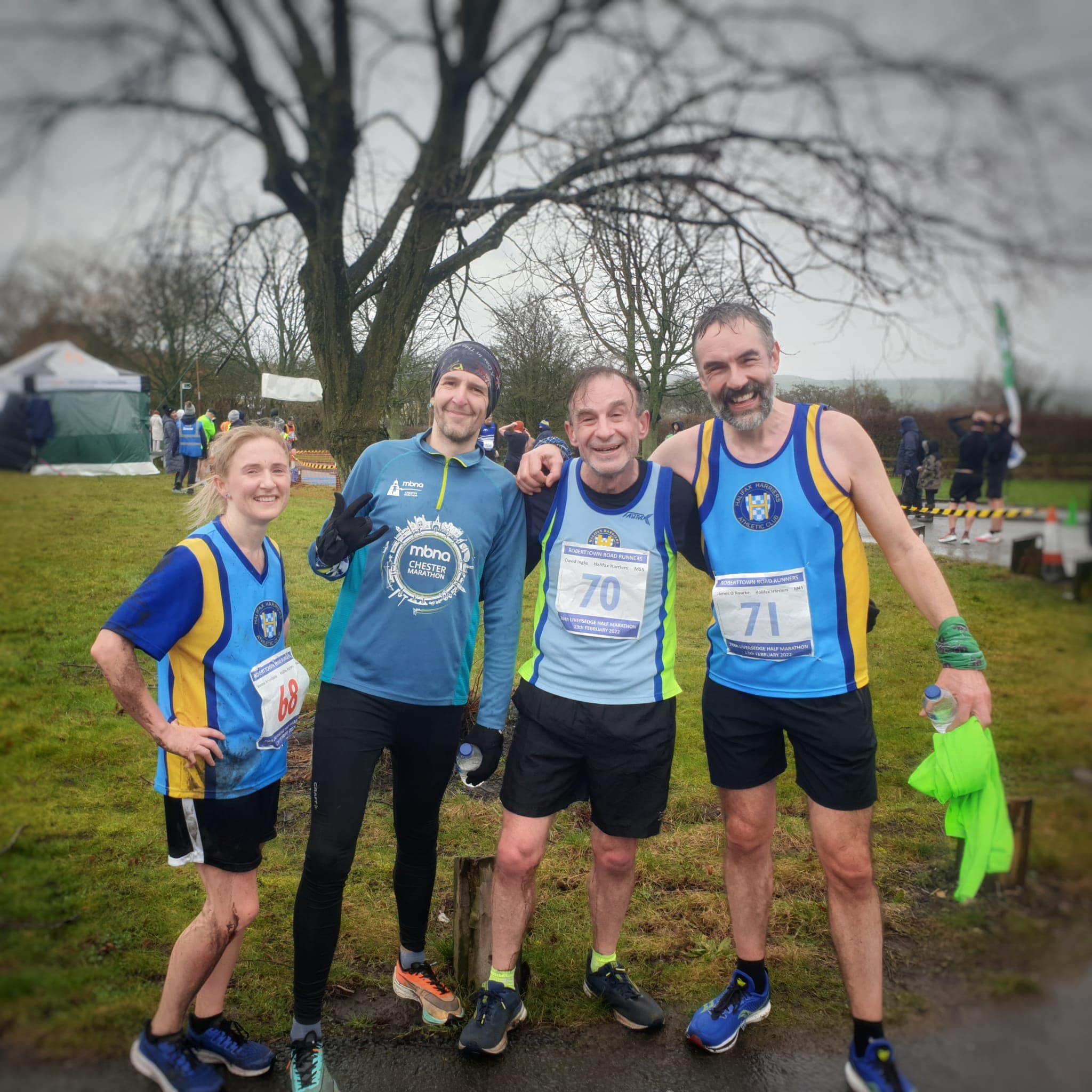 Eight Halifax Harriers participated in Sunday's Liversedge half marathon; a popular local road race held on hilly terrain. The race has a reputation for taking place in appalling weather conditions and this year was no exception. One runner reported it as, "hilly, hard, cold and wet!" The ladies fared especially well with Joanne Arundale finishing first in her age group (F40) in 51st place overall in a time of 1:35:26. Hazel Berrett was also first in her age category (F60) in a new club record time of 1:49:11. Tom Paget was the first Harrier home in 21st place in 1:29:58. Other Harriers were: James O'Rourke (1:33:37), David Ingle (1:38:42), Wayne Stevens (1:53:25), Paul Hopkinson (1:55:34) and Margaret Deacon (2:05:15).
Two Harriers took part in the Settle road half marathon in the Yorkshire Dales in very wet and windy conditions. Andrea Ackroyd and Jenny St Romaine completed the hilly course, totalling over 1,000' of ascent, in 2:05:38 and 2:27:44 respectively.
Notice Of Extraordinary General Meeting
Notice of Extraordinary General Meeting on Monday 21st February 2022
As many of you will be aware, Raymond Hall has had to officially resign from his positions of Treasurer, Membership Secretary and Press Officer as well as his other many and varied jobs at the club, due to ill health.
As per the Club Constitution I am calling an Extraordinary General Meeting so we can re-assign Raymond's roles. We cannot function as a club without the mandatory Officer roles that England Athletics specify. These mandatory roles are Chairman, Treasurer, Membership Secretary and Club Secretary. Mark Gaughan will continue in his role as Chairman but we need adult members to put themselves forward for the other mandatory Officer roles (I am Club Secretary but I am looking to step down from this role and put myself forward for one of the other Officer roles). If you wish to put your name forward for any of these Officer roles, please email me at kirkrhino@aol.com and copy in Mark Gaughan at mark.gaughan@btinternet.com
There are also many tasks other than these Officer roles that we need volunteers for. If you are interested in taking on any of these, please let me know. The club cannot function without volunteers. 
The Extraordinary General Meeting will be held by Zoom on Monday 21st February at 7pm. Please try and attend the Meeting even if you do not wish to stand for a role as the appointment of the positions may need to be voted on. I will send out the Zoom link on the afternoon of the 21st February. 
Regards,
Chris Kirkbride - Club Secretary
Harriers Finish Race Season In Style At Dewsbury 10k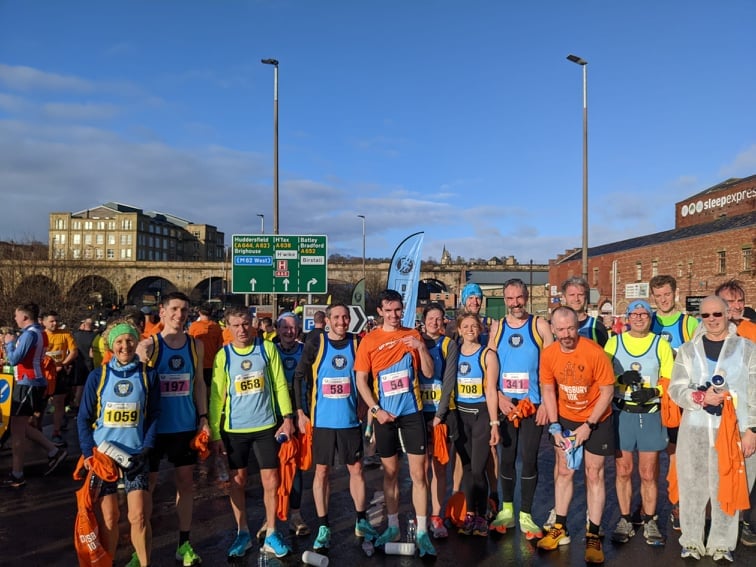 There was a tremendous turnout for the last race in the Halifax Harriers Race Challenge for 2021/22 with 36 members competing in Sunday's Dewsbury 10k. On a fast, flat course, and with the rain holding off for the race, 11 Harriers set personal best (PB) times. Josh Hall-Brown was the first Harrier to finish in 15th place in a new PB of 32:43. Alice Vick led the ladies home in 41:58, just ahead of Helen Ward (42:02). Rob Hick was first overall in his age group (M65) in 44:40 and Susan Hall was second in the F70 category in 1:06:03. Hazel Berrett set a club record for her age group (F60) with a time of 48:32.
Other Harriers results: Thomas Needham (34:18), Kieran Manchester (34:54), Tom Paget (37:43), James O'Rourke (39:47), Eli Dawson (39:49), Michael King (39:59), Paul Bateman (40:36), Will Carver (41:33), David Ingle (42:46), Rach Beaumont (42:57), Stephen Rainbow (44:28), Alex Hogg (45:05), Mark Crabtree (46:43), Hannah Garnett (47.14), Adam Lewis (47:33), Marc Rocheteau (47:43), Paul Hopkinson (47:44), Stef Dickinson (49:03), Tim Slow (50:22), Rachel McCauley (51:01), Emily King (51:27), Sam Layfield (51:30), Jenny St Romaine (56:26), Debbie Kirkbride (57:42), Chris Kirkbride (58:53), Kirsty Carver (59:50), John Moore (1:01:06), Jude Bray (1:03:24), Rebecca Palmer (1:12:12).
Will Carver warmed up for Dewsbury by competing in the 30th Wadsworth Trog on Saturday. This is a classic local fell race, organised by Calder Valley Fell Runners, over 19.3 miles with more than 3,600' of ascent. Will finished this gruelling race held in atrocious conditions in 107th place in a time of 4:00:12.
Three Club Records At Alsager 5 Mile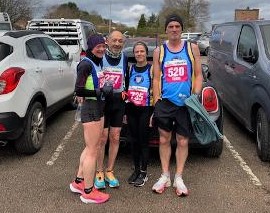 ''There was just a small bunch of Harriers who ran the Alsager 5 mile, near Stoke.  The course is 1 lap and virtually flat. The conditions weren't bad at all considering the terrible forecast. 
Simon Johnson managed to gain a new v55 club record by easily clocking an impressive 30.21. (He even walked a bit!)
Katrina Oddy came 4th in the v55 category with 35.02 which was also a club record.
The Cumbers came away with some Stoke pottery after winning their respective age categories.
Geoff managed 39.03 and a new v75 club record.
Sarah Cumber finished in a time of 32.01. ''