Scorching Day At Burnsall Sports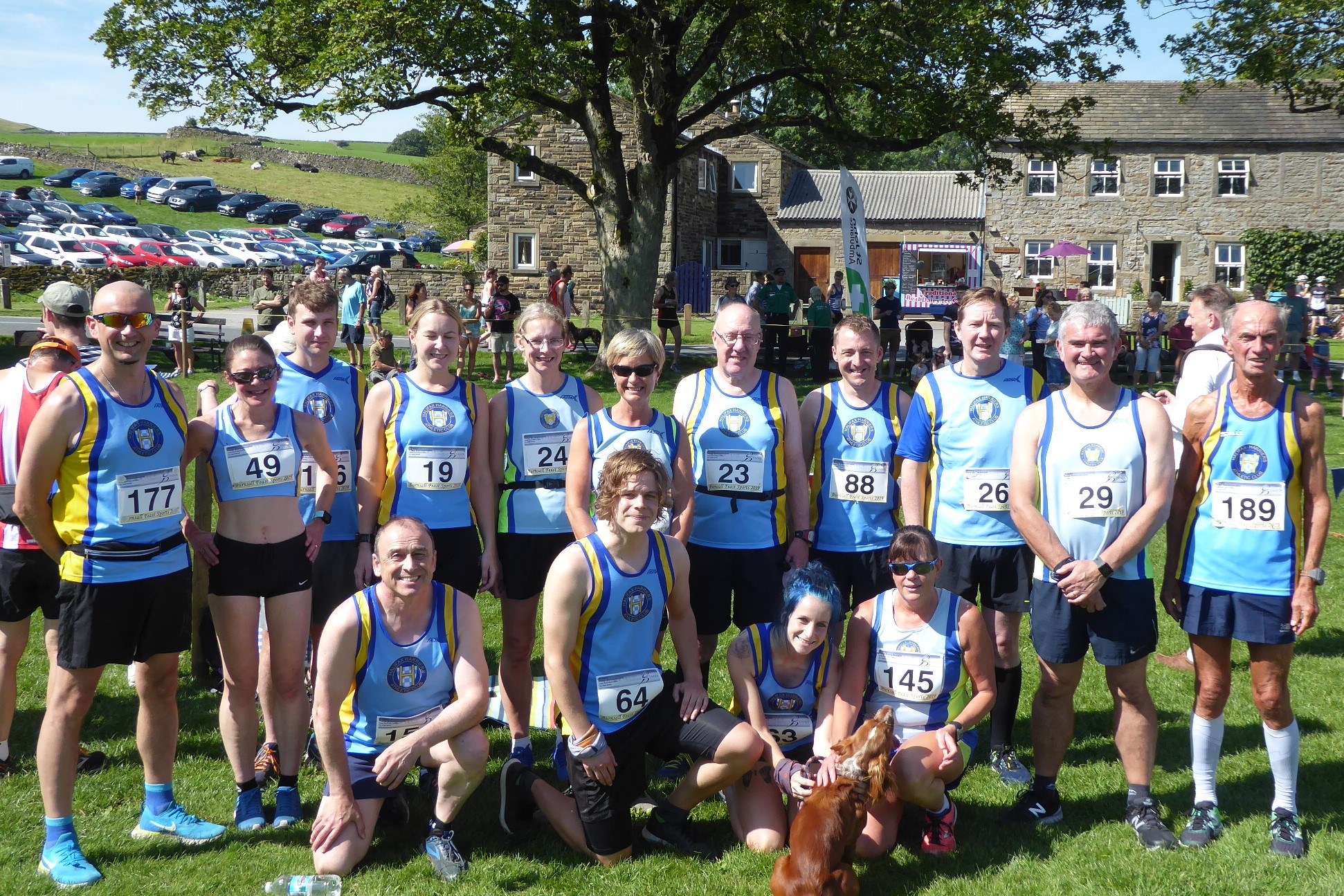 Halifax Harriers had a hot day out at the Burnsall Feast Sports Day.  With temperatures hovering around 25 degrees C, it was a tough day for running the 10 mile road race and the fell races.  Burnsall Feast has been held since Elizabethan times around the village green.
Halifax Harriers had 28 runners in the field of 156 in the 10 mile race.  The race starts from the village green and then it is a sharp right turn over the hump backed bridge as the route leaves the village.  Then follows one of the many hills on the route as it passes through Grassington and Linton before the fast last mile descent back into Burnsall.
Sarah Cumber showed her class by leaving all the men from Halifax Harriers behind as she finished as second lady in 1:06:48 (1st F40).
Three men from the club had a tussle all the way round and finished within a few seconds of each other with Michael King on 1:08:46, Ryan Barker 1:08:50 (3rd M40) and Mark Crabtree 1:08:57 (2nd M60).
There were age group prizes for Jenny Hopkinson 1:20:31 (1st F50), Rachael Beaumont 1:21:37 (2nd F50), Raymond Hall 1:23:17 (1st M70) and Geraldine Roby 1:33:47 (1st F60).
The 10 mile race was followed by the junior and senior fell races with some fine performances by the junior members of Halifax Harriers.  Sam Keighley was second U11 boy, with brother Harry Keighley first U15.  In the U18 boys race, Harry Johnson was second and his brother James third.  In the senior Burnsall Classic Fell Race, Simon Johnson finished in 21:57, Michael King 22:23, Ryan Barker 26:13, Stephen Fitz-Costa 28:07, Daniel Mahoney 28:25.
Other runners in the 10 mile race were Adrian Thomas 1:09:45, Sunny Curwen 1:12:21, Daniel Mahoney 1:14:30, Will Stewart 1:14:53, Helen Ward 1:15:43, Jonny Lister 1:17:55, April Caulfield 1:18:10, Paul Hopkinson 1:23:35, Ian Giles 1:25:24, Sharon Cousen 1:33:38, Samantha Layfield 1:36:19, Rachel McCauley 1:37:35, Nigel Rigg 1:39:07, David Parrington 1:40:50, Richard Corney 1:41:32, Deborah Kirkbride 1:41:57, James Kirkpatrick 1:42:34, Christopher Kirkbride 1:47:25, Jenny St Romaine 1:48:21, Chris Burrell 1:53:04.
Northern Championships At Wavertree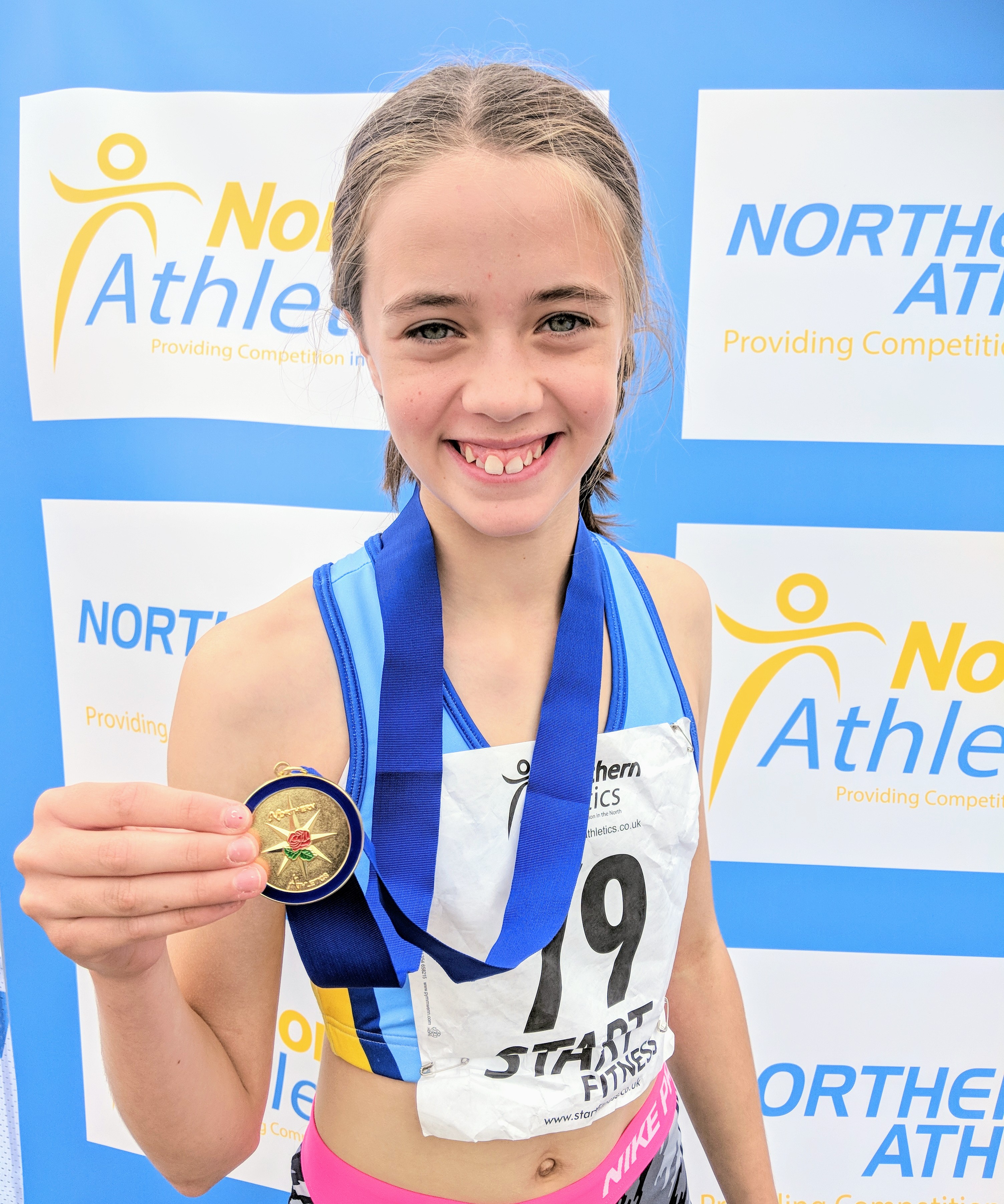 Superb performances from Junior Harriers competing in the Northern Championships over at Wavertree Stadium at the weekend.
Joe McDonald                   U17 400m (55.11)
Joshua Carter                    U15 800m (2:07.09)
Elise Horner                       U15 800m (2:27.39)
Molly Firth                         U15 Triple Jump (PB 9.74) & 800m (2:29.45)
Niamh Woodhouse          U15 Discus (30.15) & Hammer (28.56)
Niamh Rouse                    U15 Hammer (32.21)
Kai Daley                          U13 100m (PB 13.37) & Long Jump (4.62)
Nia Harrison Sargent       U13 800m  (2:22.85)       
With medals for Molly Firth Silver in the U15 Triple Jump, Kai Daley Silver U13 Long Jump and Nia Harrison Sargent Gold in the U13 800m.
Tour Of Norland Trail Race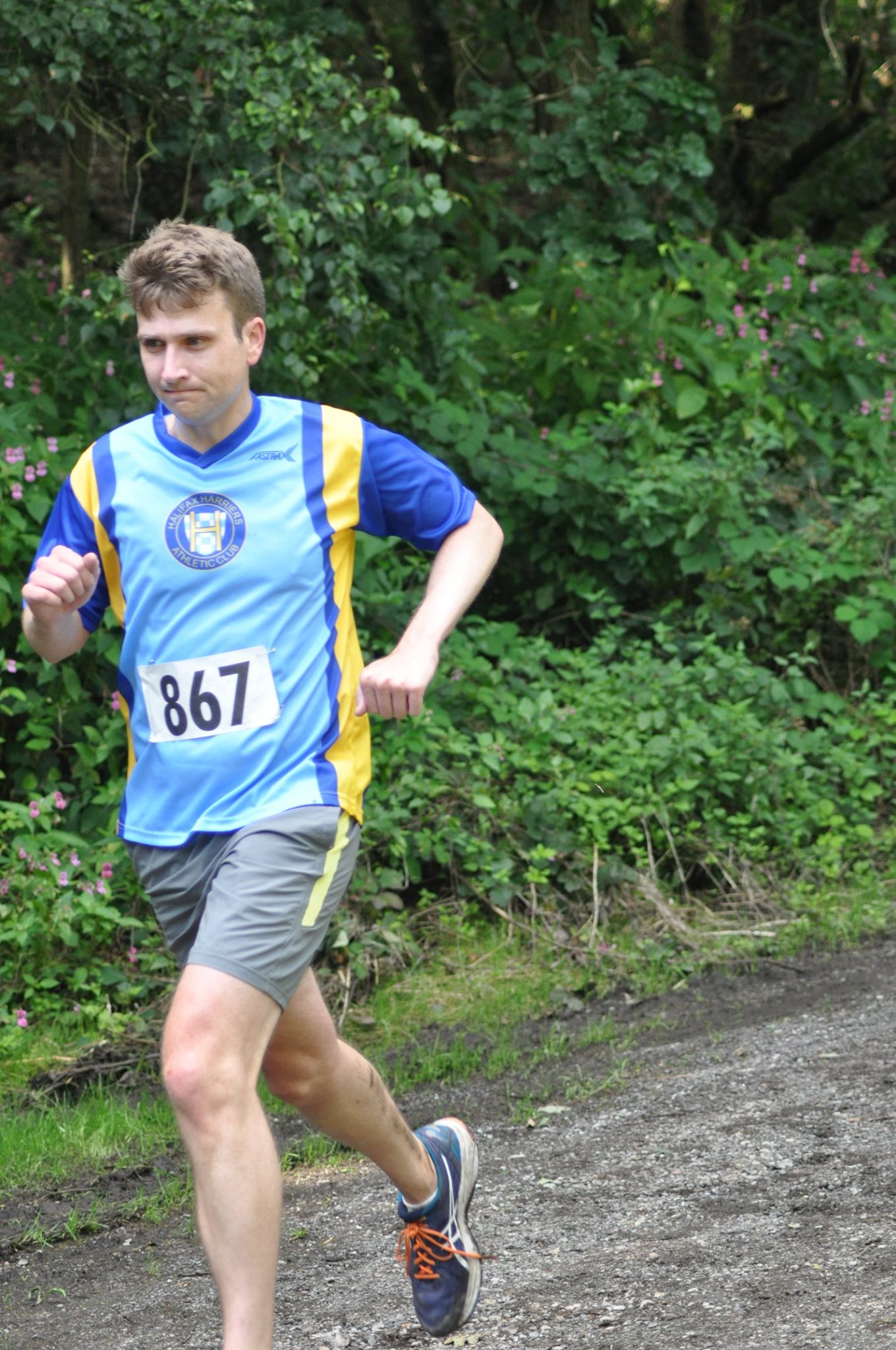 70 runners entered the race which was run in ideal conditions this year.
The photo is of new member Daniel Mahoney who only arrived from Chicago yesterday and joined Halifax Harriers late last night.
It was a little bit windy but thankfully not too hot for the runners.
The winning time was 39.16 from Graham Anderson from Cambridge & Coleridge so he had come quite a way! He was followed by Dom Leckie from Todmorden Harriers in a time of 40.54, and 3rd man home was Adam Storer ,who was unattached, in a time of 41.05.
The first lady back was Annabel Mason from Lancaster and Morecambe in a time of 44.52, followed by Annabel Ralph from Blackburn Harriers in a time of 45.55 and 3rd lady was Pauline May from Todmorden Harriers in a time of 47.55
LV40 was Louise Pottinger of Stainland Lions in a time of 66.30, LV50 was Rachel Beaumont of Halifax Harriers in 49.20, LV55 was Kath Hoyer of FRA in 55.30, LV60 was Julia Cook from Chippenham Harriers in 74.11.
MV40 was Darren Earnshaw of CVFR in 46.33, MV45 was David Fort of Clayton Le Moors in 44.36, MV50 was Ed Gamble from Cheshire Hillbilles in 43.46, MV55 was Frank Nightingale from Red Rose in 46.12, MV60 was Mark Crabtree from Halifax Harriers in 45.33, MV65 was Peter Butterworth from Clayton Le Moors in 51.42 and MV70 was Chris Johnson from East Cheshire Harriers in 68.10
There wasn't a female team but the men's team was won by Halifax Harriers – Michael King (5th), Mark Crabtree (13th) and Daniel Mahoney (22nd).