Hall-brown Wins At Leeds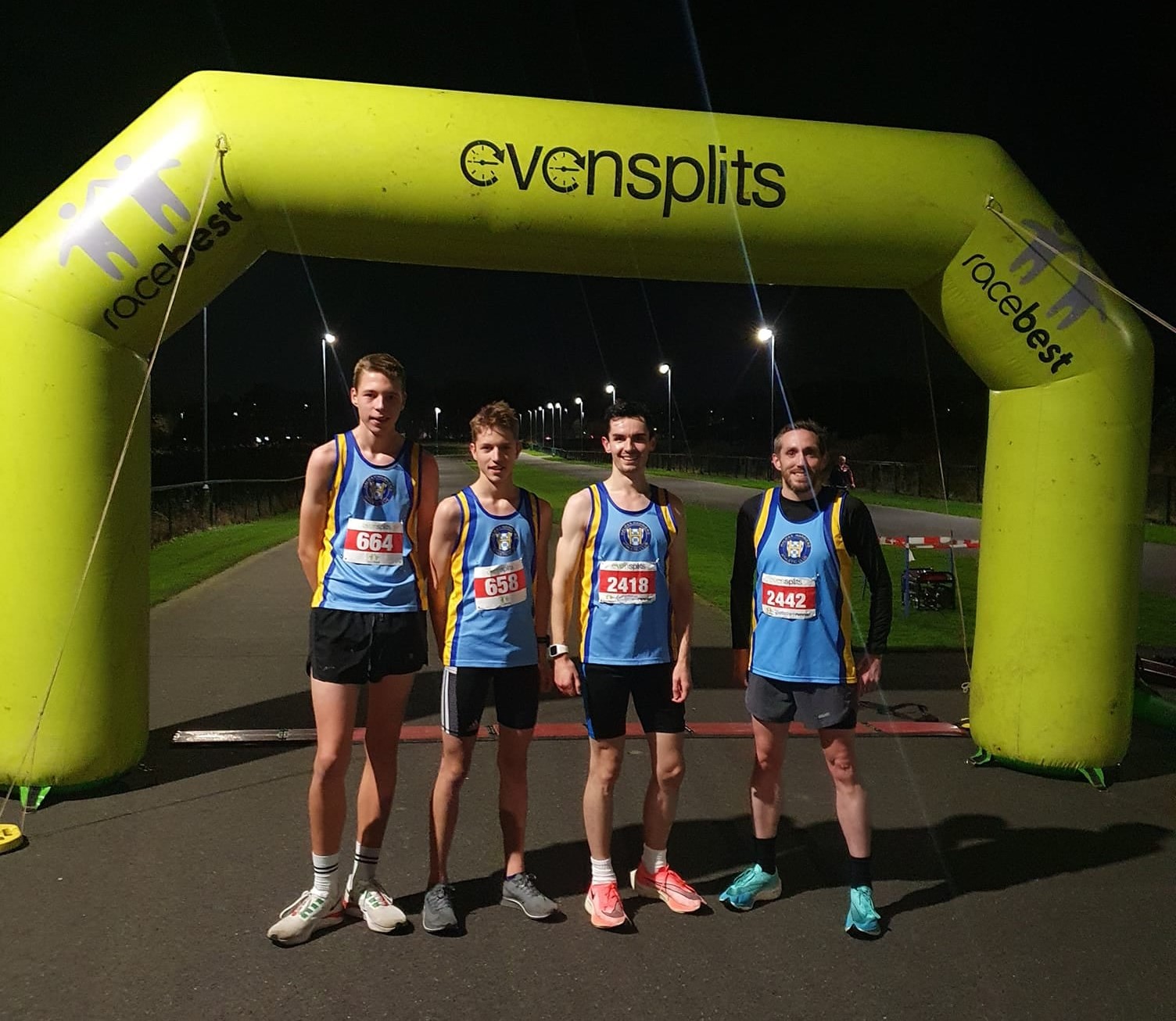 Josh Hall-Brown of Halifax Harriers was the race winner at the Even Splits 5k held at the Brownlee Centre, Leeds.  He, along with the next three runners for the Club, all set PB's.  Hall-Brown ran 15:37, Alex Franklin (6th) 16:39, Thomas Needham (9th) 17:12 and Ned Hughes (12th) 17:22.  John Moore finished in 28:18.
Four members of Halifax Harriers travelled to Spain for the Benidorm 10k and half marathon.  Simon Johnson was first back in the 10k in 37:48, Craig Empsall ran 43:33 and Mark Crabtree 50:02.  In the half marathon, Ryan Barker finished in 1:27:12.
Sarah Cumber of Halifax Harriers was 2nd F50 at the Hatfield 5 mile race finishing in 31:48 and setting a new club record for that age group.
Tadcaster 10 Mile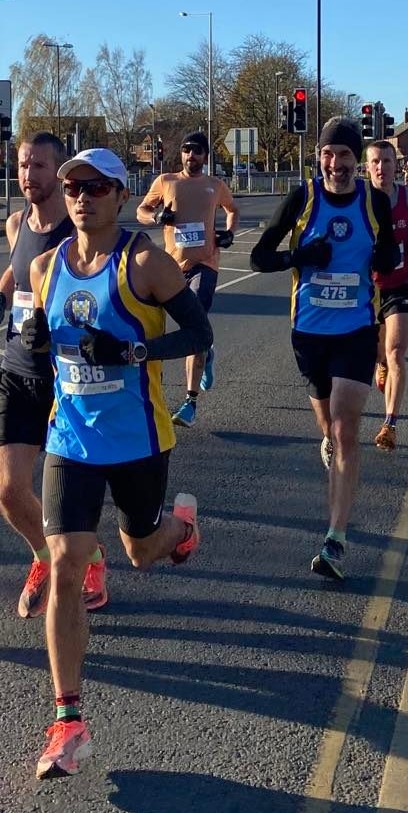 Halifax Harriers had 20 runners at the Tadcaster 10 mile race.  The route comprises of one small lap of two miles round the town centre, followed by a large lap on undulating country roads.  The day was sunny but with a cold breeze into runners faces for the first five miles.
Two new members of the Club showed their potential in posting good times.  Erawan Wanithanont ran 63:38 (PB) and Joanne Arundale 69:28 (PB) and 2nd F35.
The first three men back for the Club were Niall Smith 62:59, Erawan Wanithanont and James O'Rourke 64:00 (PB).  The first three ladies were Alice Vick 69:25 (PB), Joanne Arundale and April Caufield 70:07.
Other runners for the Club were Will Carver 68:28 (PB), William Stewart 70:06, Paul Bateman 70:15, Erika Nightingale 73:22 (PB) and 3rd F45, Robert Hick 73:55, Paul Hopkinson 77:38, Stephanie Dickinson 79:17 (PB), Marc Rocheteau 80:26, Nigel Taylor 81:48, Raymond Hall 82:34 (2nd M75), David Parrington 90:08, John Moore 99:18, Kirsty Carver 1:43:08, Susan Hall 1:50:24 (2nd F70).
Harriers In The Prizes At Soyland Moor Fell Race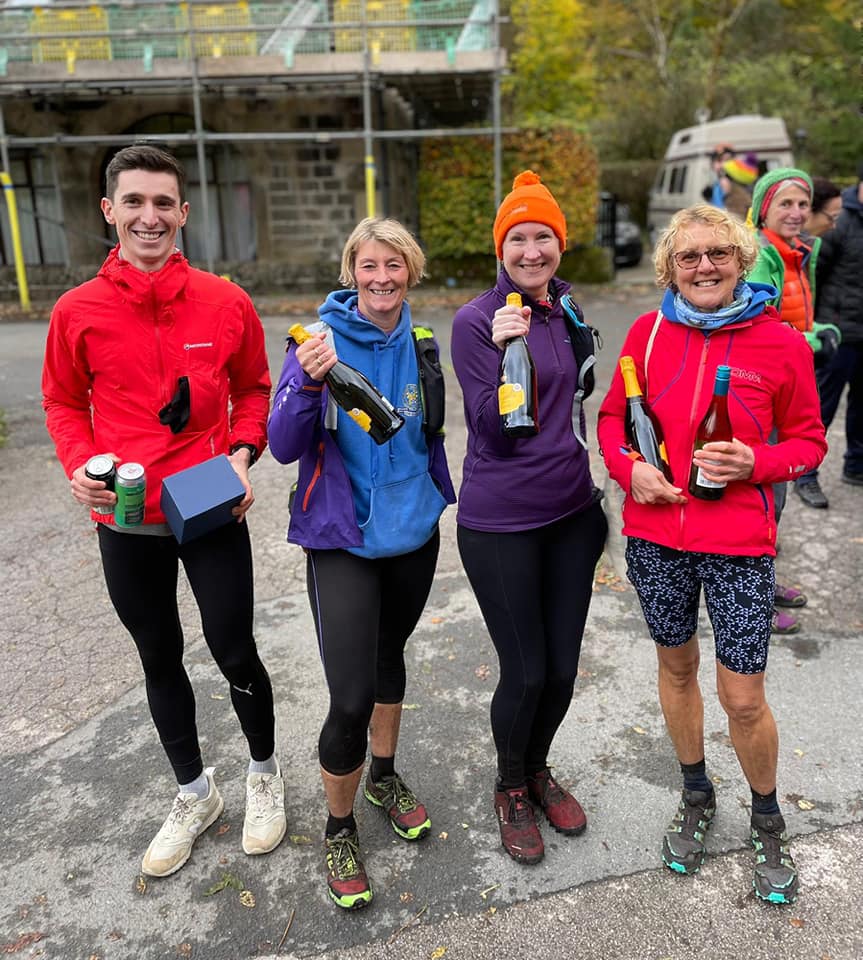 Five Halifax Harriers competed in the inaugural Soyland Moor Fell Race on Sunday.  A boggy race of 13.5 miles with 1300 feet of climbing from Cragg Vale, visiting Stoodley Pike before heading along the Pennine Way to North Warland and Light Hazzles reservoirs then the final pull to Great Manshead Hill and into back to Cragg Vale.
First back for the Harriers and in 2nd place overall was Kieran Manchester (1:37:52), improving on his recent good form.  First lady back and 3rd F50 was Andrea Ackroyd (2:26:16), followed by 1st F60 Hazel Berrett (2:31:16) and Margaret Deacon (2:48:08) making a fine performance by the ladies to claim first team prize.  Will Carver had another fine run and finished in 20th place overall in 1:56:41.
In other races this weekend, Thomas Needham was first finisher in the Sowerby Snails Flat Caps 10k with April Caufield and Helen Ward second and third ladies respectively. Jane Hobson was 1st F50 and Sue Corney 2nd F60. Other runners were Will Stewart, Joanne Arundale, Richard Corney and Rachel McCauley. In the Guy Fawkes 10 Mile race at Ripley Castle, Ian Whitehouse was 3rd M50. Nigel Taylor and Chris Burrell also ran.