John Keighley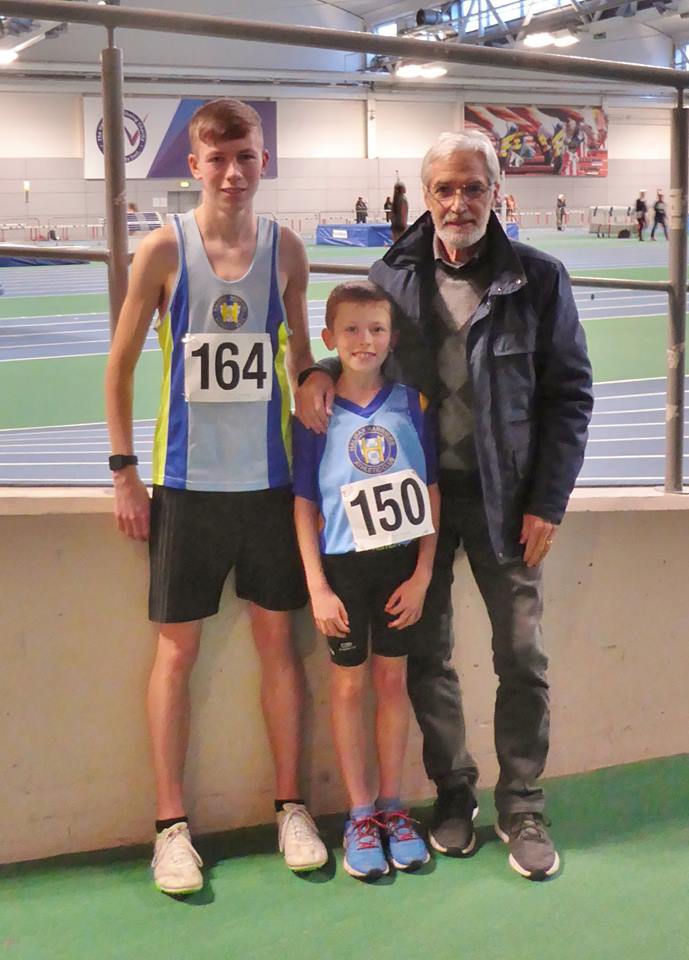 As many of you will by now know, John Keighley passed away last Wednesday. John, like a lot of us, became involved with Halifax Harriers by virtue of bringing a child along to train. In his case it was his son Stuart in 1982. After joining himself, John got involved with volunteering his services, to Halifax Harriers... taking over from Helen Windsor as Club Secretary, and also to local athletics leagues. John was an avid supporter of the club as a spectator and a good athlete in his own right, memorably running the Burnsall double of the fell race and 10 mile road race. He also competed in the Calderdale Way Relay ... notably running leg 3 with Stuart in 1986.
For 3 decades John was a vitally important member of the team that organise the Calderdale Way Relay, applying his considerable administrative skills to producing the race results. This is the biggest fell race in the calendar with 1200 runners over 6 legs with cut off times and mass starts, so it is an incredibly challenging job to get the results ready for the presentation just two hours after the first runners finish. But, year in, year out, he would disappear into his "office" and perform some sort of witchcraft to make it happen ... much to the relief of a succession of race directors. When he was forced to give up the role through illness last year, he made sure that he passed on his wisdom to Sue corney and coached her to a successful delivery of the results on the day. We've since decided that it's actually too big of a job for mere mortals and have switched to chip timing.
For the last year, through his illness, John was even more enthusiastic as a spectator than ever, watching grandsons Harry and Sam at their various track and field, cross country and park run events. Sam's park run exploits seem to have brought particular joy. This new generation of Keighleys and their enthusiasm for running in a Halifax Harriers vest are a fitting legacy for a man that, those of us had the pleasure to know, will miss very much indeed.
The family invite you to celebrate John's life at Park Wood Crematorium on Monday 3rd June, 11.15 a.m. No black ... preferably Halifax Harriers kit or colours to be worn, it's what John wanted.
Johnson Family All Win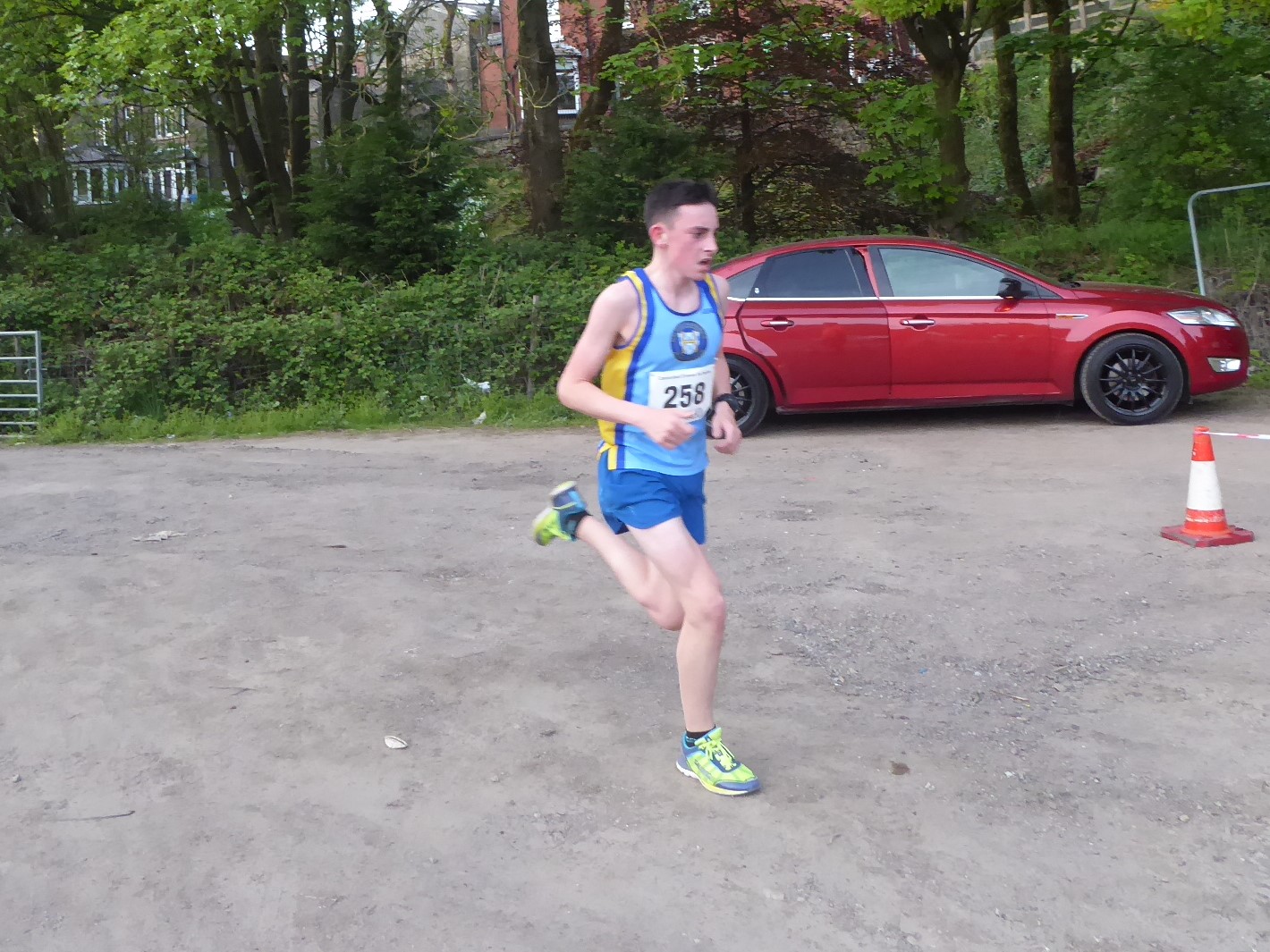 Halifax Harriers were well supported at the Hollingworth Lake 5k, run in excellent conditions.  The race starts above the lake at Littleborough Rugby Club.  The first kilometre is slightly downhill before a lap of Hollingworth Lake on roads and dirt paths.  The final 800m is an easy climb back up to the finish.
The Johnson family all took home the prizes for best in their age groups.  The youngest member of the family, James, was first U16 in 18:16, just behind his father Simon, first M50 in 18:04, whilst older brother, Harry, was first U23 in 17:23 and fifth finisher in the race.
Ben Crowther continued his return to form with an excellent second place in the race in 16:26, not far behind the race winner Tom Collinge of Queensbury.  Halifax Harriers ladies were led home by Helen Ward 20:19 who was third lady.
There were also age group winners in U23 ladies by Laura Knowles 21:57, Mark Crabtree M60 in 19:44 and Raymond Hall M70 in 22:48.
In the team events, Halifax Harriers had the first and third men's team and the ladies were second team.
Other runners Michael King 19:02, Will Carver 19:32, Marc Rocheteau 20:40, Jonny Lister 21:35, Nigel Taylor 21:40, Angela Clarke 21:40, Robert Hick 22:13, John Moore 23:32, Margaret Deacon 23:47, Martin Ellis 24:18, Heather Rajandran 26:06, Rachel McCauley 26:36, Danny Green 26:47, Kirsty Carver 27:50, Monica Gallagher 27:54, Deborah Kirkbride 27:56, Nicola Hinchliffe 27:59, Christopher Kirkbride 28:08, Richard Tomlinson 28:13, , Harry Bland 29:11, Audra Naylor 30:21.
++++++++++++++++
On the same night Rob MacDonald was competing on the track at Burnley, where he set PB's in both the 400m and 800m in 62.2 and 2:33
Glorious Weather For Leeds Half Marathon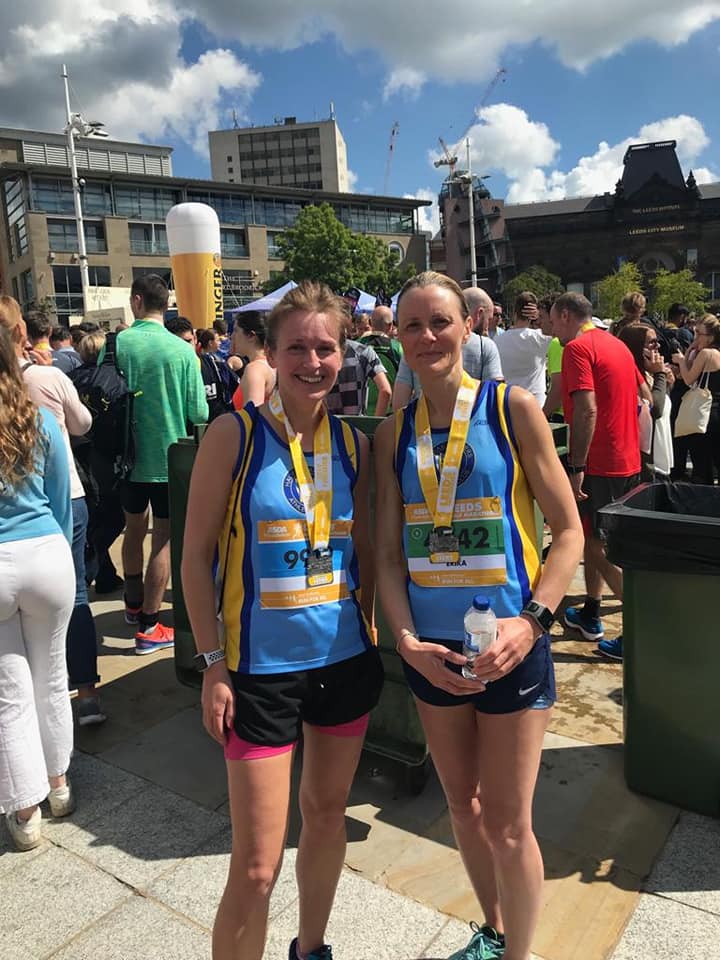 Thousands of runners enjoyed the route in good running conditions, there are a few inclines but nothing too severe.  There was an outstanding performance by Halifax Harriers Johanna Sutcliffe to finish as fourth lady and first F40 in a PB of 1:26:06.  There was a close finish between Sophie Kelly and Angela Clarke in 1:42:04 and 1:42:18 respectively.
Other runners were Erika Nightingale 1:44:36, Jaswinder Sandhu, 1:53:00, Ian Giles 1:55:26, Hanni Maeer 1:56:44, John Moore 1:59:40.
Half Set Pb's At North Lincs Half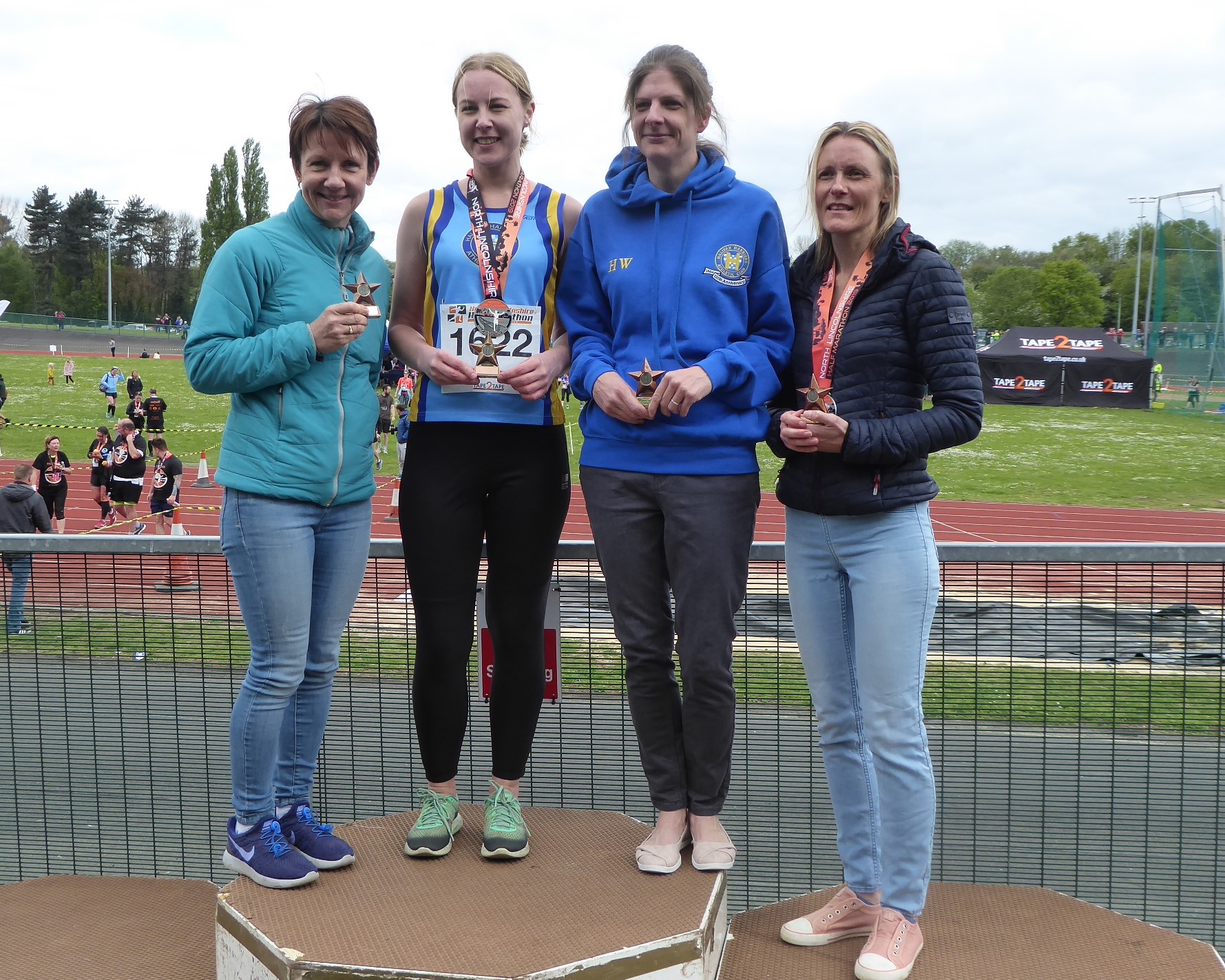 Halifax Harriers had a very successful day at the North Lincs Half Marathon with almost half of the team setting PB's on the day.  The race was part of the Club's Race Challenge.  With cool conditions and little wind, some excellent times were achieved on this flat course which starts a short walk from race headquarters at Quibell Park Stadium, Scunthorpe.  The race is run on closed road and passes through quiet countryside and along the side of the River Trent.
The ladies team of Helen Ward, Jenny Hopkinson, Erika Nightingale and Rachel McCauley took the second team prize.
Last year there were few PB's as the race was run under record high temperatures, but this year with excellent conditions PB's were set by Will Stewart 1:24:45, James O'Rourke 1:26:24, Will Carver 1:29:22, Helen Ward 1:35:04, Robert Hick 1:37:02, Jonny Lister 1:38:52, Rachel McCauley 1:51:48, Deborah Kirkbride 1:56:24 and Kirsty Carver 2:06:20.
Mark Crabtree was third M60 in 1:29:38 and Raymond Hall was second M70 in 1:39:46.
Other runners were Ryan Barker 1:26:54, Marc Rocheteau 1:37:46, Paul Hopkinson 1:43:53, Jenny Hopkinson 1:44:02, Erika Nightingale 1:44:04, David Parrington 1:53:42, John Moore 1:59:07, Jenny St Romaine 2:08:58, Susan Hall 2:11:21 and Martin Haigh 2:11:33.