Harriers Ladies Lead The Way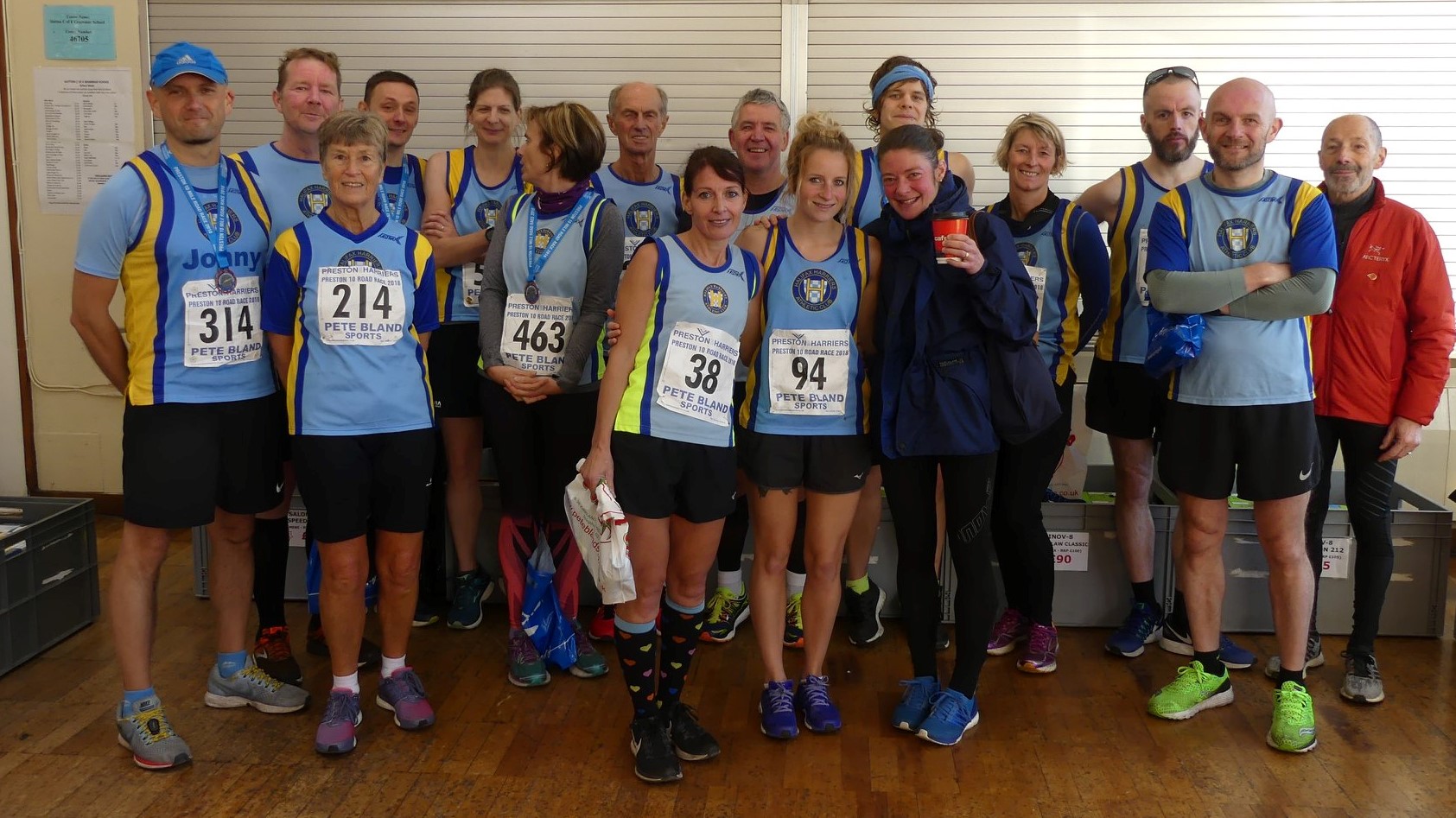 At the Preston 10 mile road race from Hutton near Preston, the Halifax Harriers ladies won the team prize.  The three ladies were led home by Sarah Cumber (3rd lady and 1st F45) in a time of 1:03:48.  Next lady back was April Caufield (5th lady) who set a PB of 1:05:48 by three minutes.  Rachael Beaumont completed the team in a time of 1:11:57.
Halifax Harriers had 22 runners at the race which comprises of two laps, starting and finishing at Hutton Grammar School.  The course is mildly undulating on quiet roads and a dual carriageway.
With good conditions, there were many PB's set by club members.  Possibly the most outstanding run was by David Parrington who improved his time from last year by nine minutes to finish in 1:24:19.
First man back for the club was Michael King 1:03:31, followed by Will Stewart 1:05:08 (PB) and James O'Rourke, also in a PB of 1:05:59.  Raymond Hall was 1st M70 in 1:15:01 with Susan Hall 3rd F65 in 1:37:31.
Other runners were – Helen Ward 1:12:27 (PB), Robert Hick 1:14:15, Jonny Lister 1:16:51 (PB), Wayne Stevens 1:16:54 (PB), Angela Clarke 1:16:55 (PB), Sean Morland 1:18:02 (PB), Keith Lemon 1:18:12, John Moore 1:23:46 (PB), Paul Bunker 1:24:20, Andrea Ackroyd 1:29:49, Deborah Kirkbride 1:31:21, Jenny St Romaine 1:36:39, Martin Haigh 1:42:41.
Habergham Breaks 32 Minute Barrier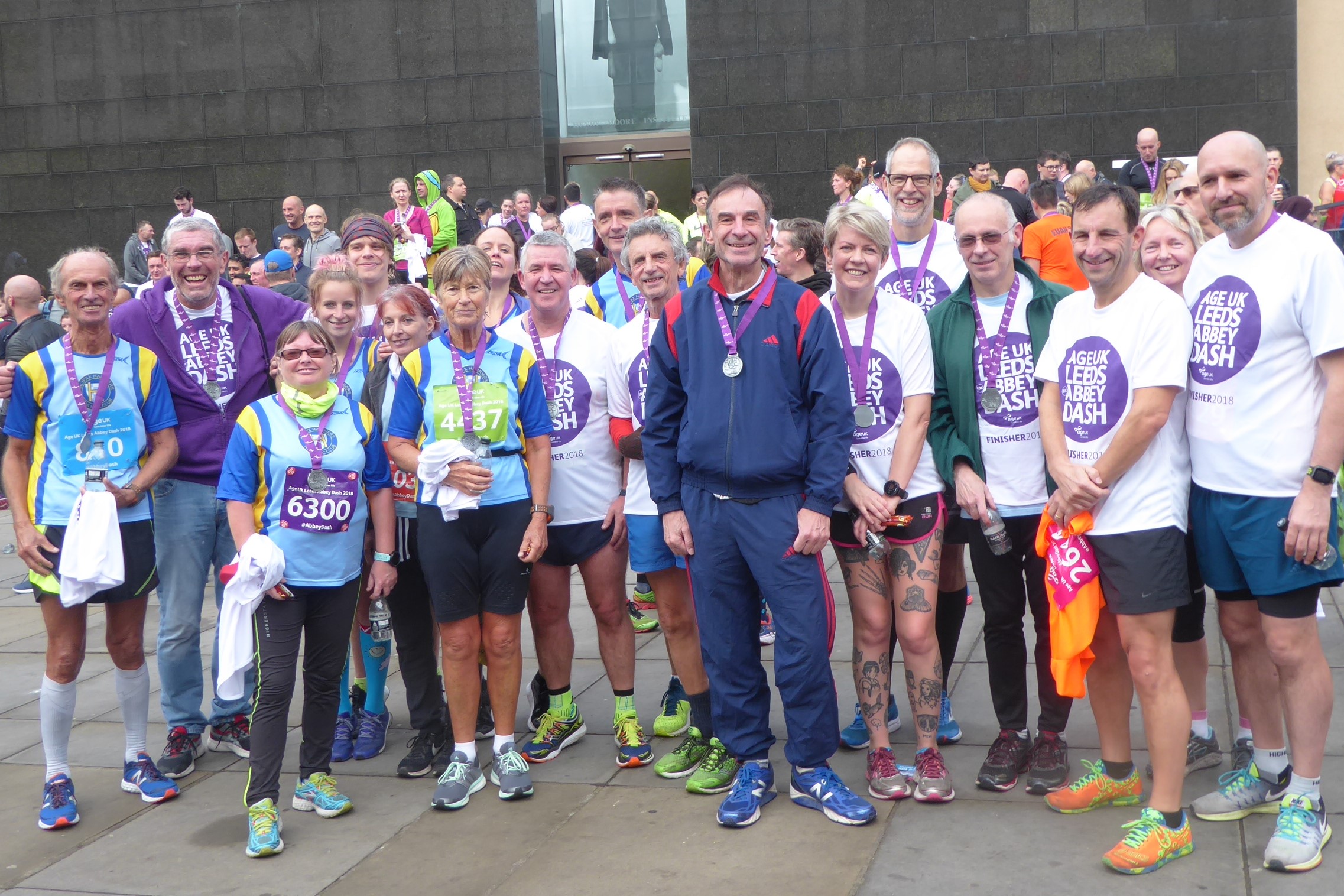 James Habergham, representing Halifax Harriers, broke the 32 minute barrier at the Leeds Abbey Dash.  Habergham's time of 31:49 also broke the club record which had stood since 2012 and was previously held by Ben Crowther in 32:19.
As in previous years, Halifax Harriers had a large contingent of 39 at the race, which was part of their Club Race Championships.  The conditions for the Abbey Dash were almost perfect, with just a slight headwind on the return from Kirkstall Abbey.  This year the runners were set off in waves which improved running conditions for the 8,000 runners on their way to the finish on the Headrow in front of Leeds Town Hall.
The first three men back for Halifax Harriers were James Habergham, Watson Peel 36:55 and Niall Smith 38:12.  The first three ladies back were April Caufield 39:37, Rachael Beaumont 44:09 and Angela Clarke 46:38.
Robert Hick had an excellent run to finish 3rd M60 in 43:06 and Raymond Hall was also third in the M70 age group in 46:40.
Other runners for the club were – Michael King 39:00, Andrew Wiggins 39:19, James O'Rourke 39:22 (PB), Will Stewart 39:38, David Ingle 39:51, Stephen Rainbow 40:27, Will Carver 40:36 (PB), Rob MacDonald 41:40 (PB), Marc Rocheteau 43:49, Nigel Taylor 44:46, Tim Pegg 44:53 (PB), Simon Lea 45:35 (PB), Wayne Stevens 46:20, Paul Hopkinson 47:18, Ian Giles 47:59 (PB), Sophie Baxter 48:53 (PB), Samantha Layfield 49:21, John Moore 49:53, Nigel Corns 50:06, Margaret Deacon 51:16, David Parrington 51:38, Martin Ellis 51:44, Dennis O'Keefe 52:43, Martin Haigh 56:43, Monica Gallagher 58:27, Susan Hall 60:03, Audra Naylor 61:44, Kirsty Carver 61:49, Susan Pegg 69:55 (PB), Jennifer Hopkinson 75:10.