Double For Halifax Harriers Teams
At the Littleborough 10k, run in very wet conditions, both Halifax Harriers ladies and men's teams were clear winners. 
The ladies had the first three female finishers in the race and were led home by Johanna Sutcliffe 39:28, followed by April Caufield 41:53, just in front of Helen Ward 41:57.  All three ladies also winning age group prizes. 
In the men's category, Halifax Harriers had runners finish in 5th, 6th and 7th positions with Niall Smith in 37:05, junior runner James Johnson 38:03 and Michael King 38:24. 
The race started in Littleborough with a steady climb over the first couple of kilometres up to Hollingworth Lake.  Then it was two laps of the lake, partly on dirt paths with many deep puddles across the course.  The final kilometre was a welcome steady descent to the finish.
There were age group wins for Simon Johnson (M50) 38:47, James O'Rourke (M45) 41:36, Mark Crabtree (M60) 41:46, Raymond Hall (M70) 49:06.
Other runners for the club were – Will Stewart 40:42, Will Carver 41:36 (3rd M40), Fred Carver 44:20, Marc Rocheteau 44:36, Robert Hick 45:16 (2nd M60), Jessica Dixon 46:36 (3rd FSen), Ian Giles 46:58, Nigel Rigg 46:59, Samantha Layfield 51:21, Nigel Taylor 51:54, Paul Greenslade 51:58, David Parrington 52:39, Rachel McCauley 55:53, Christopher Kirkbride 58:44, Kirsty Carver 59:03, Deborah Kirkbride 59:15, Monica Gallagher 1:01:20, Susan Hall 1:04:14 (2nd F70).
Will Carver Wins Ultra In Peak District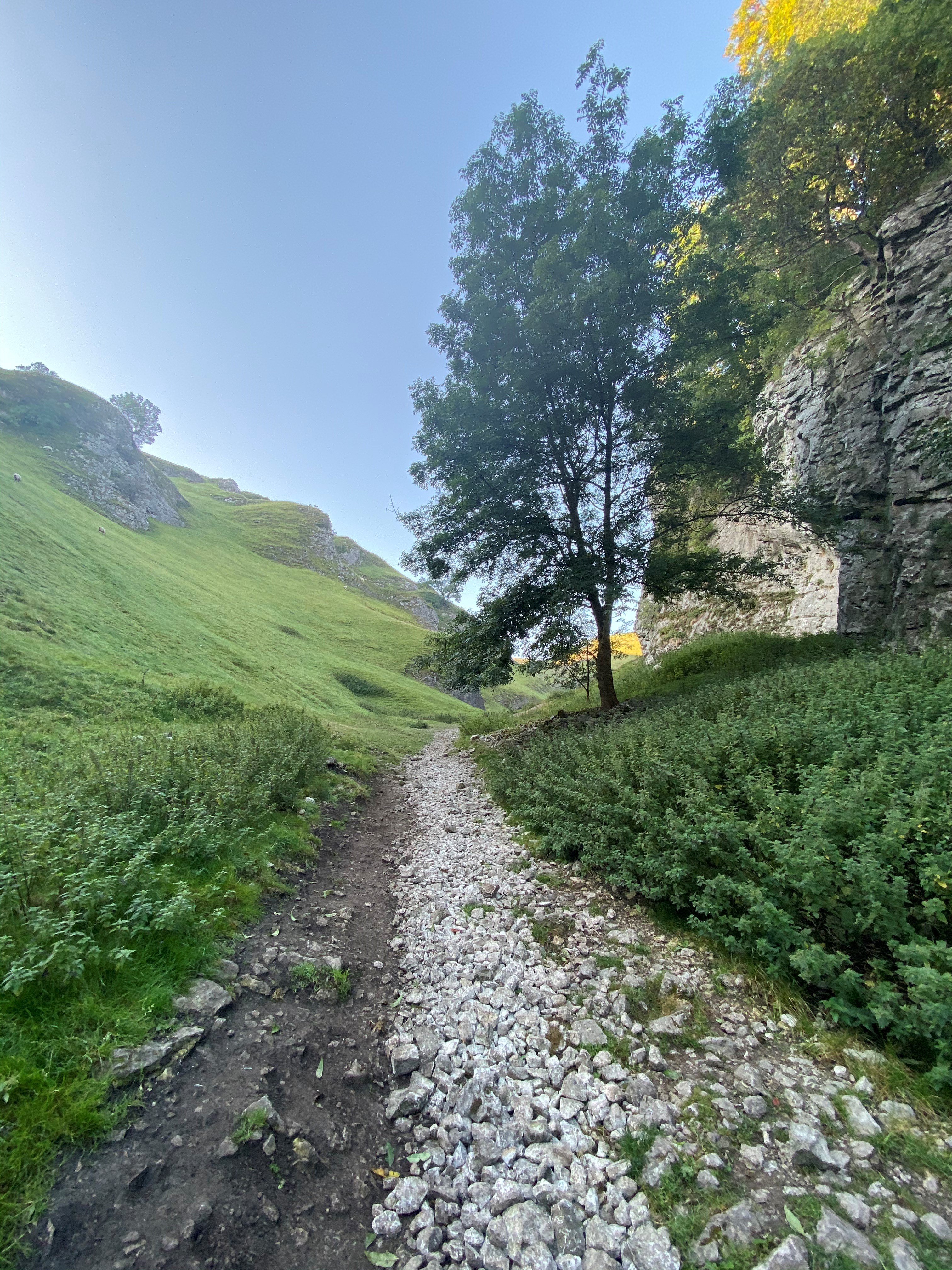 The Peak District Challenge is an annual event that takes place in Hathersage, Derbyshire every year.  It is organised by Wilderness Development and supports multiple charities including SALVE international who work to reduce the number of children living on the streets of Uganda through education and care.
Walkers and runners can take on a 10km, 25km, 50km, 75km or 100km route, where they need to navigate to check points and arrive before generous cut off times. 
 Will Carver took on the Bronze Challenge on Saturday 21st September, 31 miles or 50km, more than I have run before.  Bronze challengers set off at 07:30 am morning on a bright dewy day, which quickly warmed up.   
The Bronze Challenge has a total ascent of 1200m and at its highest point reaches 464m.  It is a 50km circular route taking in the valleys of the dark peak, and the scenic trails of the southern peak district.
Along the route were many walkers and runners completing the 75km, Silver or 100km Gold challenge, these competitors had set off on the previous evening and were now well into their challenge.
The weather was fantastic and the navigation of the route all went well. He was able to keep going at a steady pace and motivated himself with a thought of getting a time under 6 hours.  He finished in first place in a time of 5 hours 53 minutes and 3 seconds.  This was enough to beat the previous course record which was set in 2017!   He was pleased to have completed the event in a record time!
Hall's Win At Hull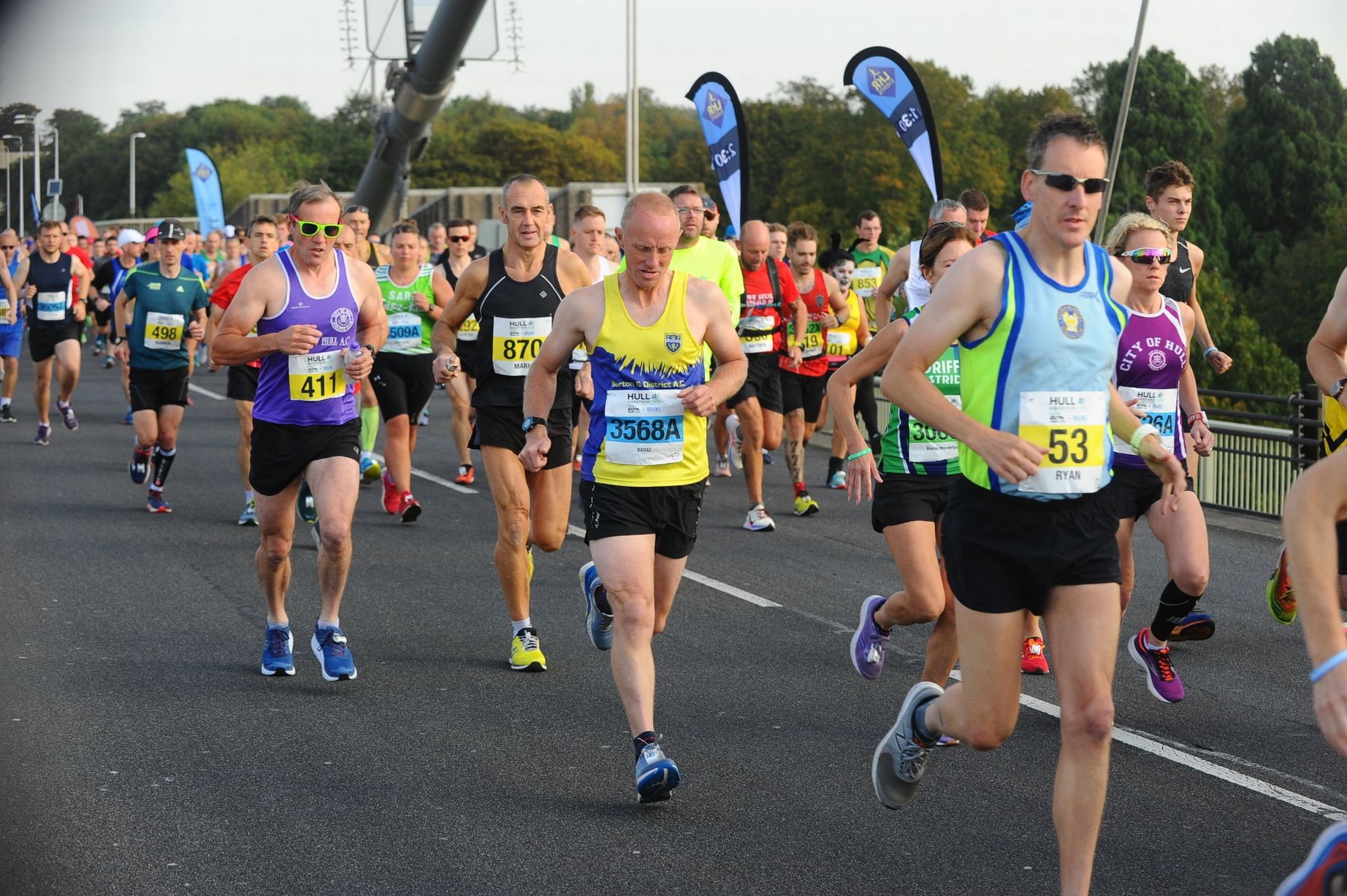 HALL'S WIN AT HULL
Both Raymond and Susan Hall, representing Halifax Harriers, were winners of the Vets 70 category at the Hull Marathon.  As well as taking the prizes in the main race, they were both crowned Yorkshire Vets Marathon Champions.  Raymond finished in 3:57:51, whilst Susan's time of 5:02:56 was also a club record, improving her own club record set only two weeks ago in Estonia by almost 20 minutes.
Ryan Barker, however, was the first Halifax Harrier back in 18th place with a time of 3:05:17 (3rd M45).
For the first time ever, the Humber Bridge was closed on one carriageway for an athletics race.  The race started on the north end tower with the runners crossing the suspension bridge to the south end before returning past the start end on through Hessle and Hull city centre to the finish at East Park with the last two miles inside the park.
10k RACES IN SCOTLAND
Halifax Harriers had runners up north running 10k's with some success.  Saturday saw Will Stewart and April Caufield running the HamilTEN 10k, where Stewart ran 37:58, whilst Caufield was 2nd senior female in 39:48.  Sunday was their second 10k of the weekend, the Strathclyde 10k.  This time Will Stewart ran 40:34 and April Caufield was first lady in 42:11. They were joined by Jane Stewart 55:27 (1st F60) for this race.
UTTERLEY BUTTERLEY FELL RACE
Halifax Harriers had three runners at the race.  Michael King put in a fine performance to finish in 4th position, whilst Hazel Berrett was 68th and Jane Hobson 72nd.
PEAK DISTRICT 50K CHALLENGE
Halifax Harriers Will Carver had a great run to win the Bronze 50k Challenge in 5:53:03, breaking the existing record by an hour.
The Bronze Challenge has a total ascent of 1200m and at its highest point reaches 464m.  It is a 50k circular route taking in the valleys of the Dark Peak and the scenic trails of the Southern Peak District.
Northern Road Relays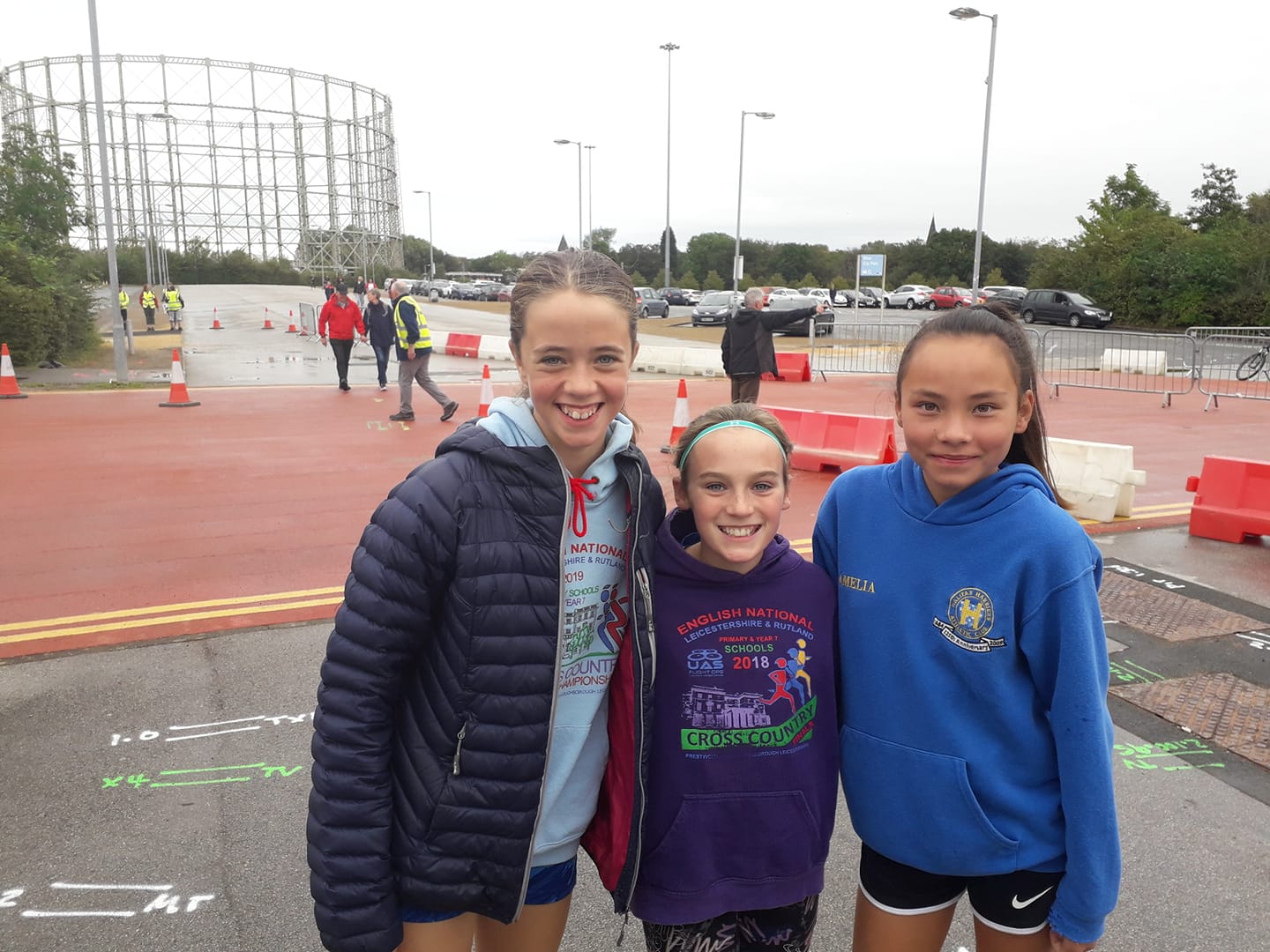 This year's relays were held around the Etihad Stadium home of premiership Manchester City.
Halifax had 3 teams entered and they put in some solid performances. Team of the day were the u13 girls who came a marvellous 23rd place after Nia Harrison-Sargent gave them a fabulous start with a time of 13.15 for the 3.1k circuit. Nia was backed up by Amelia Hammond on leg 2  16.26 in 21st place and Lillia Mazurke brought the girls home in 23rd place 15.38. 
In the U17 men James Johnson led the team in 22nd place on leg 1 12.38 for the 3.7k circuit followed by Joe Macdonald in 15.44 34th place. Joe was seriously hampered by the officials at the start of his leg as the officials hadn't realised James had already come in, this cost Joe 50 secs. Ewan Wheelwright clawed back a few places 12.56 and finished 30th.
The Senior men's team of 6 came a very creditable 67th place beating over 40 teams with an outstanding 2nd leg from Max Burgin who ran 22.01 for the 4.1 mile circuit. Other times were,
Will Smith 24.14
Max Burgin 22.01
Charlie Spencer 23.56
Michael King 24.07
Rob  MacDonald 27.07
Simon Johnson 24.39
Races Near And Far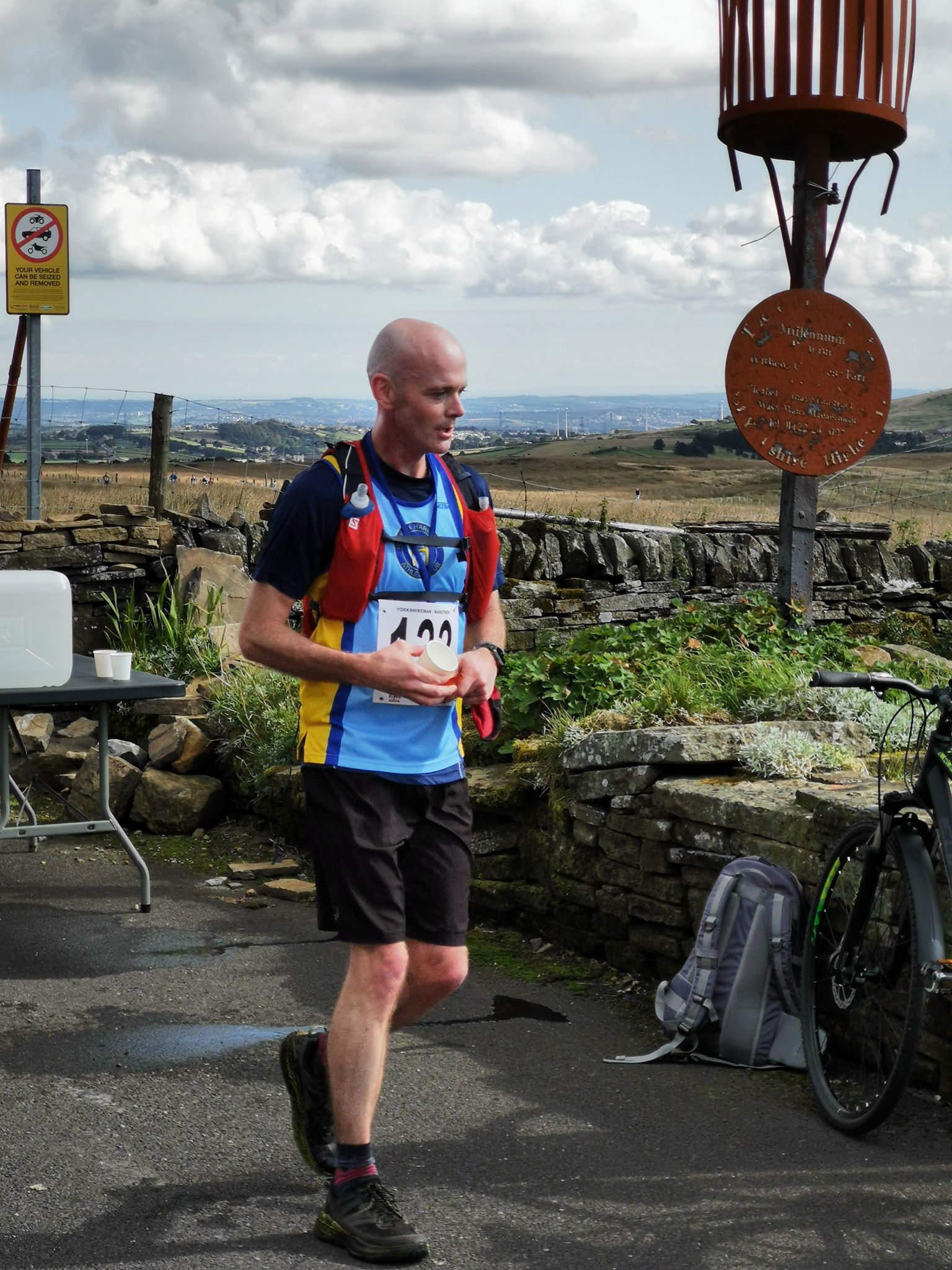 Halifax Harriers had runners out in force at the weekend, both locally and far afield.
At the Yorkshireman Marathon, Will Carver finished in 4:08:25, Fiona Murphy had an excellent run to take first F60 prize in 7:17:07 with Sharon Cousen just behind in 7:17:16.  Thirteen members ran the half marathon with category wins for Mark Crabtree (1st M60) 1:58:31 and Rachael Beaumont (1st F50) 2:13:33.  Simon Gelsthorpe was third M60 in 2:12:49.  Other runners in the half were David Nutton 2:20:45, Judith Cole 2:31:19, Jonathan Wood 2:32:31, Hazel Berrett 2:37:48, Clare Newton 2:40:37, Andrea Ackroyd 2:42:25, Martin Ellis 2:45:08, Margaret Deacon 2:53:58, Jenny St Romaine 3:13:23, Jude Baines 3:21:34.
The Great North Run is always popular with Halifax Harriers members even though the crowds can make fast times hard to come by.  First back for the club was Marc Rocheteau 1:39:30 followed by Tim Pegg 1:52:53, Jazz Sandhu 1:56:08, David Cooper 1:57:54, John Moore 1:59:43, Chris Burrell 2:19:01, Theresa Booth 3:03:24, Susan Pegg 3:23:56.
Ryan Barker took on the challenge of running the Medoc Marathon in France which involves wine tasting at regular intervals along the course.  Running times are of no significance, it's all about the experience.  However, he did complete the distance in 4:24:23.
The most travelled Halifax Harrier was Susan Hall who went to the beautiful capital of Estonia, Tallinn, for the marathon.  Her time of 5:21:30 (third F70) was a club record for the F70 category.  The course twists and turns through the town and even runs through the middle of the zoo.
Back on home soil, April Caulfield was back to winning ways at the Bawtry Forest 11k race with a time of 46:04, whilst Will Stewart ran 44:01.