Successful Trip To Cleethorpes For Last Yadal Meeting
Another successful trip to Cleethorpes for the under 17s with many top 3 placings.
Ben Slow won the U15 Javelin (19.59 metres), 800 metres (2.24), and the high jump (1 metre 35).  Beau Clark had a hard-fought win in the under 13, 800 metres (2.52), Hurdles (17.90), and the high jump (0.95 metres). Under 17 Joe Ball again won the 200 metres (25.20) and 100 metres (12.70).  Sam Keighley won the 1500 metres and broke his club record (4.51.1) and also a win in the 150 metres.
Another win in the U15 1500 metres for Eli Cattermole in a time of 5.02 and a win in the 200 metres (30.40) and brother Will (under 17) clocking a time of 10.52 in the 3000 metres and another first place. Bahsem Idrees, first time competing in YADAL won the under 13, 80 metres in a time of 12.20.
Under 13 Alesha Atkinson won the 800 metres (2.55) and the shot putt (4.69 metres), and sister Lily a win in the 1200 metres (4.21).  Under 15 girls, 800 metres Faye Skilbeck a 2nd place (2.35) and Abbie Brown 5th (2.56) and 300 metres a further 2nd for Faye (48.20) and Abbie 4th (53.30).
The final race saw the final win of the day for the under 13 boys on the 4 by 100 metre relay, Tom Wright, Bahsem Idres, Beau Clark, and Sam Keighley.
Harriers Brave The Heat At The Ingleborough Mountain Race
Ingleborough Mountain Race
Whilst most people were trying to stay cool and in the shade on Saturday, a few brave Harriers ventured to Ingleton for the classic Ingleborough Mountain Race. The 7 mile, 2,000 foot climb race is part of the Ingleton Gala and starts in the village before heading up the footpath to the summit of Ingleborough before returning back to the village.
First back for the Harriers in 4th position overall was Tom Hodgson in 52:35. First back for the Harriers ladies and 16th lady overall was Cara Bintcliffe in 1:16:42 followed by Hazel Berrett in 1:18:54 and placed 3rd F60.
Jane Hobson (1:26.01) had another sound run along with Paul Hopkinson (1:29:43) both collecting good points to put them in the lead in the Fell Championship. Emily King (1:43:43), Jenny St Romaine (1:52:45) and Jude Baines all had excellent performances in the sweltering conditions.
The next race in the club's Fell Challenge is Round Hill near Otley on 7th August. Details can be found on the FRA website.
Widdop Fell Race
Three Harriers took on the Widdop Fell Race last Wednesday evening. This stunningly beautiful race started at the Pack Horse Inn in Widdop, taking on a classic high moorland route of just over 7 miles with a total ascent of 1,200'. Terrain is very difficult in places with a few tussocks and chest high bracken thrown in!
Tom Hodgson finished sixth overall in 56:16. Martin Ellis (1:41:26) and Jenny St Romaine (1:54:27) also represented the club.
 
Summer Handicap 2022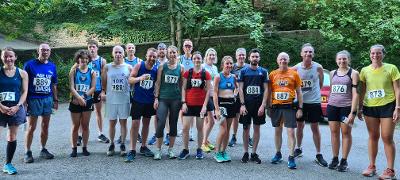 On what was a rather warm and muggy night for running 20 members ran the 10k route along the canal to Sowerby Bridge and back. First home and winning the trophy for 2022 was Steve Denniss crossing the line in 57 minutes 33 seconds (53.33), in 2nd place was Paul Hopkinson 59.14 (53.14) closely followed by Ian Giles in 3rd 59.23 (55.23).
More Success For The Juniors
West Yorkshire League - Wednesday 6th July 
At the West Yorkshire Track and Field meeting on Wednesday, under 13 Jack Fellows registered a personal best and broke the championship record for the 150 metres in a highly impressive time of 20.01.
Other standout performances were by Eesa Idrees, who won both the discus and 100 metres in the under 20 men's category.  Chester Gately, won the 1,500 metres in the under 15 boys in a time of 4:42.  Kitty Harrison Sargent won both the 150 metres and the 800 metres in the under 15 girls.  Many other athletes are also representing the club and earning valuable points for the team.
Yorkshire and District League - Sunday 3rd July
Sixteen under 17s attended last Sunday's Yorkshire and District Athletes league meeting with many of the young athletes taking a top three placing in Division One.
Jack Fellows in the under 13 boys, won the 75 metre hurdles, 150 metres and high jump with a clearance of 1 metre 30.  There was another trio of first places for Kitty Harrison-Sargent in the under 13 girls in the high jump, 150 metres and a personal best of 2:25 in the 800 metres.  
Molly Thomson, under 13, won the 1,200 metres in 4 minutes 46 seconds.  Chester Gately, under 15s, continued his recent successes with first-place finishes in the 200 metres and 800 metres, as well as a second-place finish in the long jump.  
Faye Skilbeck had three second places in the under 15 girls' 800m, 200m and shot putt. Abbie Brown took third place in the under 15 girls' 300 metres with a personal best of 51:50.
The 1,500 metres saw victories for Eli Cattermole in the under 15s in a time of 5:04 and  Sam Keighley in the under 13s in 4:55. Will Cattermole took second place in the under 17s in 4:45.
Albert Jones finished second in the under 13s 800m and 75m hurdles, and was third in the long jump, while his brother, Ralf, finished third in the under 13s shot putt.
In the under 17s men, Joe Ball was first in the 200 metres, clocking a time of 25.30, and second in the 100 metres in 12.40. 
In the under 17s, Molly Firth won the 300 metres, with Maisie Brown finishing a close second; Maisie also finished second in the 100 metres.  Annabelle Aghahowa registered a personal best in the under 13 girls' long jump and took fourth place too.
The final success of the day was in the under 13 boys' 4 by 100 metres relay, with Jack Fellows, Beau Clark, Albert Jones, and Sam Keighley taking first place with a time of 61.80.
Halifax Harriers Dominate The Helen Windsor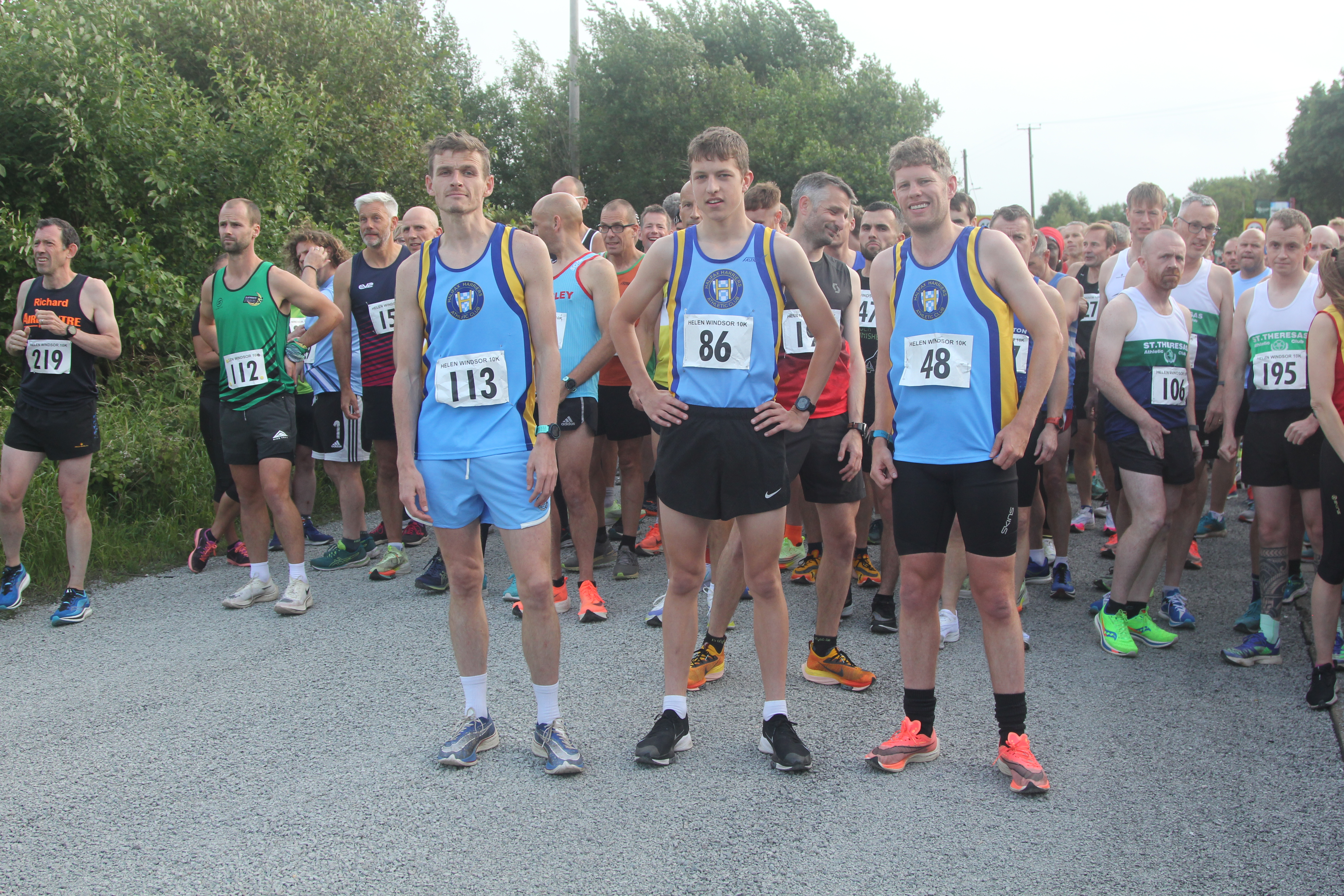 Just the headlines for now. Tom Hodgson wins the Helen Windsor in record time (33.09) with Ben Crowther 3rd and Alex Franklin 4th, taking the Open team prize. Alex also 1st junior, Will Cattermole 2nd, finishing 26th overall at just 15 years old. Helen Ward first Halifax lady home 6th (2nd F40) and Cara Bintclliffe 8th. Jayde McGregor 1st F U20 at 15yo and 12th overall. Loads of other fab results. Results https://timemyrace.co.uk/helen-windsor-10k-results/
Summer Handicap 2022
Reminder
Summer 10k handicap - Tuesday 12th July at 6.45pm.
It's free to enter so be at Spring Hall for 6.30pm to collect number and handicap.
If you know you're going to be doing it please email Nigel Rigg nrigg@hotmail.com your most recent 10k time or your honest estimate! 
There will be a trophy for the winner and refreshments for all entrants.