Silver For Rob At European Championships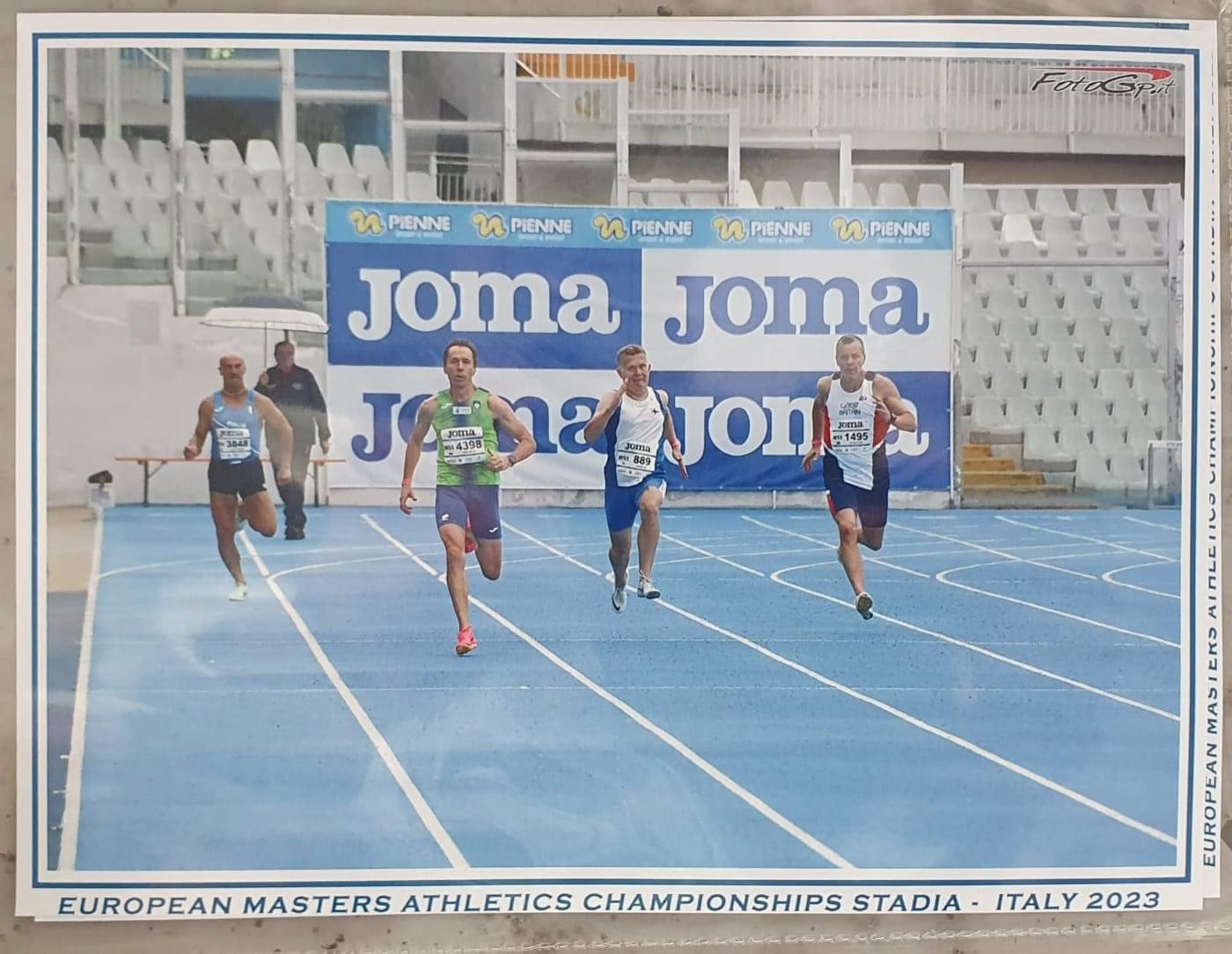 European Masters - Italy
Rob Macdonald has continued to gain International experience on the track, as a V55, representing GB at the Masters European Championships in Pescara, Italy at 200m, 400m and 4x 100m relay, where he became a European Championships silver medalist
Rob right of pic 
Gold For Hazel In Madeira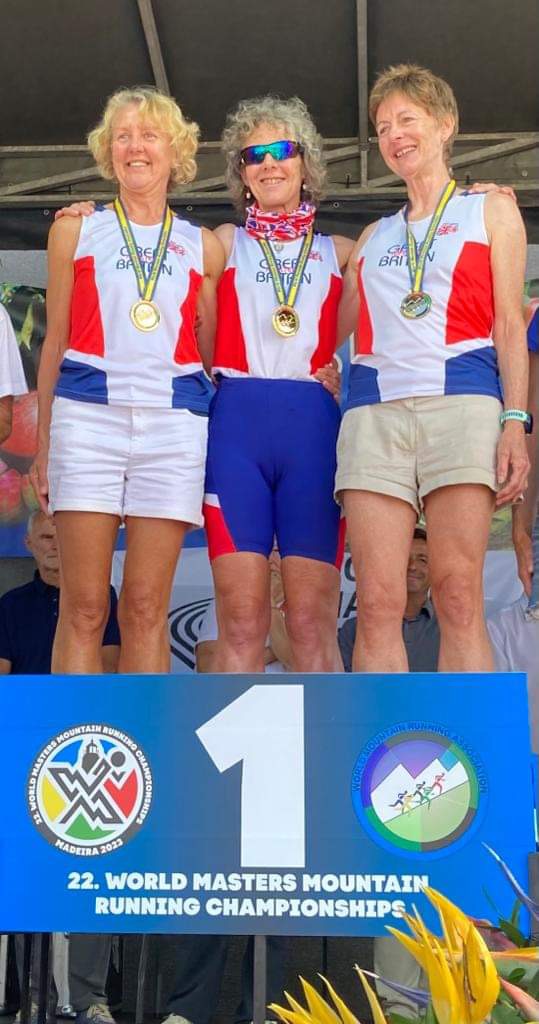 World Masters Mountain Running Championships in Portugal
Hazel Berrett travelled to Calheta in Madeira this week to compete in the 22nd World Mountain Running Championships Uphill Race.  The 5.6 miles (9.2k) course started in Ponta do Pargo and climbed 2,630' (800m) continuously to the summit at Pico da Fonta do Bispo on a mixture of steep forest tracks and rocky trails. 
Hazel competed in the Women's 55-79 year age group and finished 34th overall in 1:19:16, securing the World Championship Gold medal for the Great Britain Women's 60 team.  Italy and the USA were the other teams to make up the top three. The medals were presented at an official ceremony after the race.
Hazel said, "I was not sure until race day whether I would be able to compete as I had been injured a couple of weeks earlier.  It was a fantastic experience and I enjoyed being part of the GB team.  To stand on the podium and hear the national anthem and come home with a World Championship gold medal is something I didn't expect.  I felt very proud to be part of the team there."
First And Second For April And Verity At Stainland Trail Race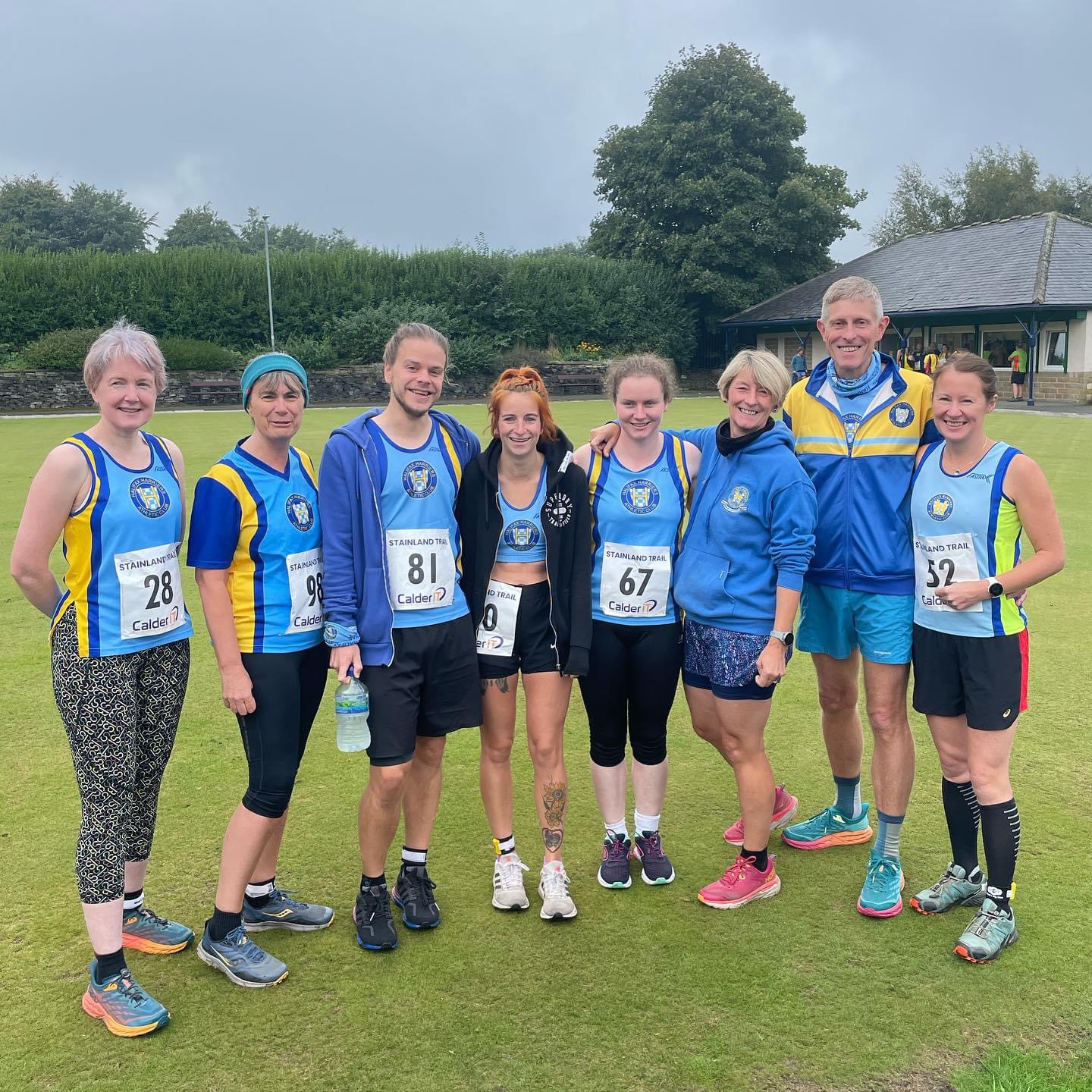 Newlyweds Will and April Stewart led home the nine-strong contingent of Harriers at Sunday's Stainland Trail 10k. Bragging rights went to April on this occasion, finishing 11th overall in 52:35, one place ahead of Will who clocked 52:55. April was the race's first female finisher with clubmate, Verity Clements, in second place in 55:07.
There were also age group victories for Rachel Standish (FV40 in 1:04:09) and Stef Dickinson (FV45 in 1:04:38). Other Harriers: Amy Radford (57:55), Paul Hopkinson (1:05:42), Andrea Ackroyd (1:08:26), Jenny St Romaine (1:26:07).
The multi-terrain course incorporates 1,100' of total ascent and takes place on trails through woods and rural roads and tracks around Stainland Dean. Stef commented, "That's one of the nicest races I've done in a while."
Busy Weekend For Harriers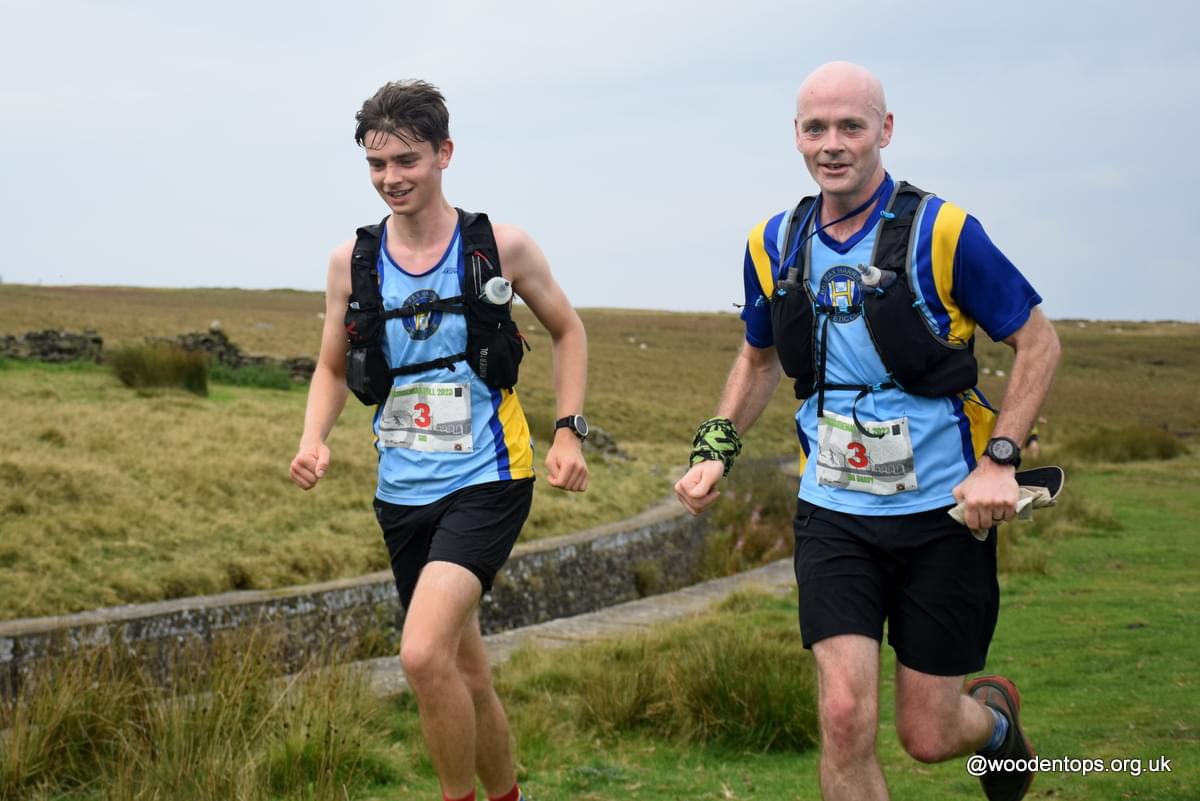 Great North Run
Eight Harriers made the journey to the North East to be amongst the nearly 60,000 runners at Sunday's 42nd Great North Run; the world's largest half marathon. Stephen Rainbow had a superb race, finishing in the top 500 in 1:26:24. Next was Laura Knowles, who was the first of our female contingent, clocking 1:46:29. Other Harriers were: Stef Dickinson (1:51:43), David Cooper (2:03:05), Wayne Stevens (2:10:19), Jane Stewart (2:19:51), Craig Shaw (2:26:28), Angela Cowton (2:28:05).
Vale of York Half Marathon
Eight Harriers competed in Sunday's Vale of York Half Marathon; the latest event in the club's Road Championships. There were almost 800 runners in total on the flat, fast course held on scenic closed roads between York and Selby. David Ingle was the first Harrier home in 1:41:27. Bryony Baron was close behind in 1:42:40. Other Harriers were: Rob Hick (1:44:17), Paul Hopkinson (1:52:48), Lee Jackson (1:59:57), David Parrington (2:09:47), Kirsty Carver (2:25:59), John Moore (2:36:06).
The Yorkshireman
A quartet of Harriers ventured off-road on Sunday to race on the hills around Haworth and Oxenhope in the popular Yorkshireman fell races. Father and son team, Will and Fred Carver (see photo), raced to victory in the Pairs category over the arduous full marathon course of 26.2 miles with over 3,000' of ascent in a time of 4:26:25 (see photo). Tom Paget and new member, Emma Elmerhebi, ran in the 'half marathon' distance race of 14.7 miles with 1,750' of climbing, finishing in 2:32:25 and 3:20:38 respectively.
Lost Shepherd Fell Race
Also on Sunday, Kieran Manchester competed in the Lost Shepherd Fell Race, which took place on the moors above Mytholmroyd and Hebden Bridge and included two visits to Stoodley Pike. Kieran completed the nearly 15 mile course with 2,700' of total ascent in 2:10:32, finishing in fourth place.