Ryan Triumphs At Kielder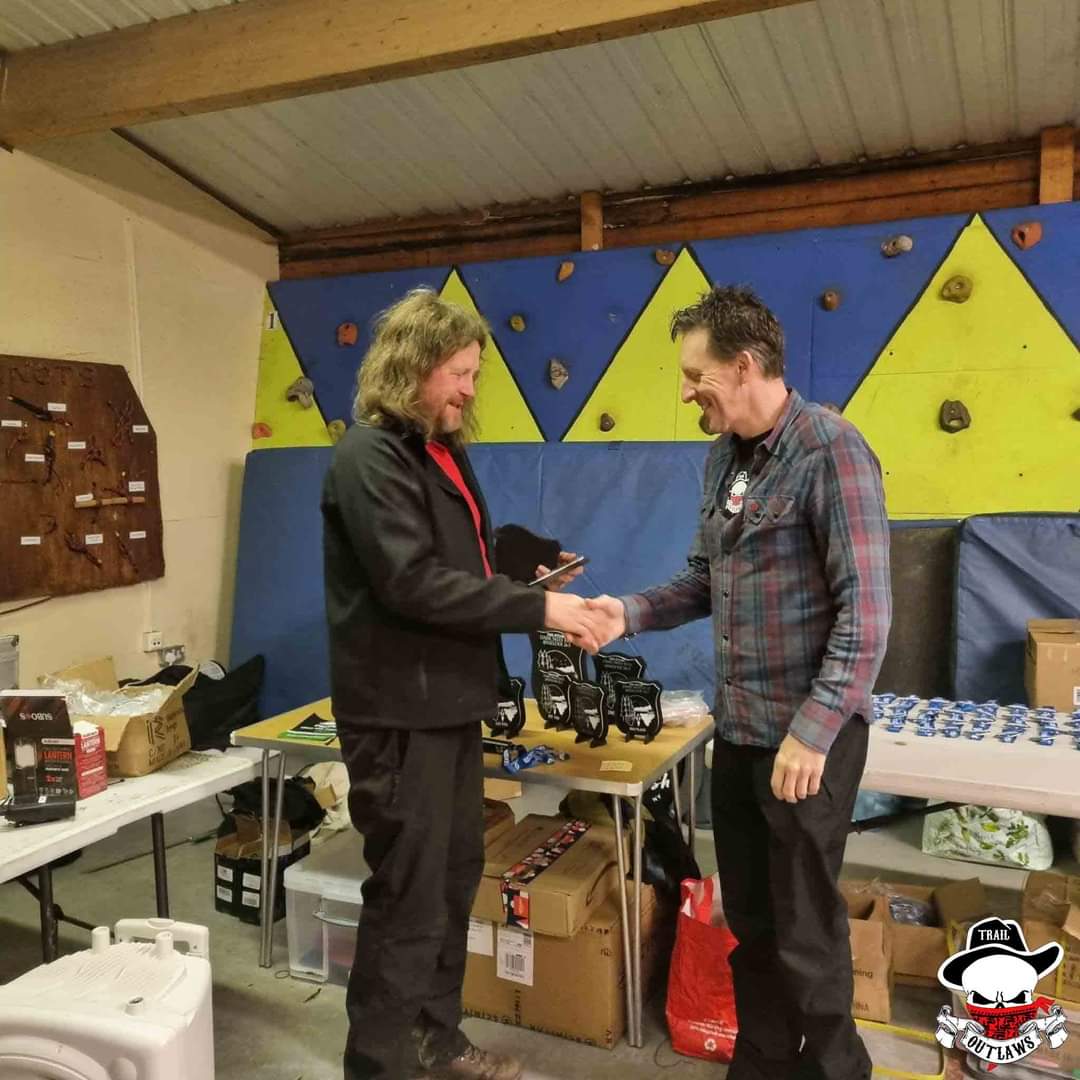 Halifax Harrier Ryan Barker had a successful running weekend in the 'Dark Skies' race series over the weekend of 17 to 19 March, bringing back 5 trophies.  The Dark skies races, organised by Trail Outlaws, are a night race series consisting of 3 races over 3 nights, taking place at Kielder water and forest part, one of the largest protected 'dark sky reserves', famous for astronomy.
Ryan took part in the 'Silver' challenge- a 10-mile race on Friday night and 26.5 mile race on Saturday night.  All races take place on trails around and through Kielder forest, close to the reservoir.  With recent heavy rain the course was slippery and challenging in places as well as requiring headtorches to keep safely on course.
In the 10 mile race Ryan started badly, following a small group of leaders the wrong way into marshland, off the main path, but managed to track back and regain a reasonable position when entering the 'Bull Crag' peninsula loop of the race.  On the return section, Ryan pushed ahead of a larger group of runners up a long incline to move into 4th place and onto the flatter lakeside track, through Leaplish Waterside park and back to the start finish location at Hawkhirst.  Ryan finished 4th overall and won 'Vet50' age category, beating the V50 course record. Time 1hr 17:48.
On Saturday night the 26.5mile 'marathon' began earlier, allowing a fast start using almost an hour  of remaining daylight, as racers took on a full circuit around the reservoir, beginning on the flatter lakeside paths towards Kielder castle.  Ryan settled in a group of 3, with another 3 leaders well ahead, in the early stages.  The race became more challenging on the opposite side of the reservoir, with undulating tracks sweeping around dramatic inlets.  Although the night sky was spectacular it made navigation difficult, especially through the deeper forest areas.
Ryan and Derwent Valley runner, Jonathon Parker, pushed on past runners into 2nd and 3rd position, with Parker strong enough to edge ahead to try to challenge the leader (Stephen Shanks, Victoria Park Harriers) in the tricky section to Kielder Dam.
From the Dam, Ryan consolidated position, with a consistent pace to hold off some fast finishers from behind, completing the course using the same waterside finale as Friday's 10 mile race.
Ryan finished in 3rd place and won Vet 50 age category in 3hrs 27:45. And won the overall 'silver' race- the lowest time for both races, by over a minute, (also picking up another trophy for vet 50 age group, again)
There are additional gold and platinum challenges, which include a 14-mile race on Sunday night- so that may be a challenge for 2024!
https://www.trailoutlaws.com/event_results/dark-skies-kielder-silver-results-2023.php#
Harriers Take On Challenging Races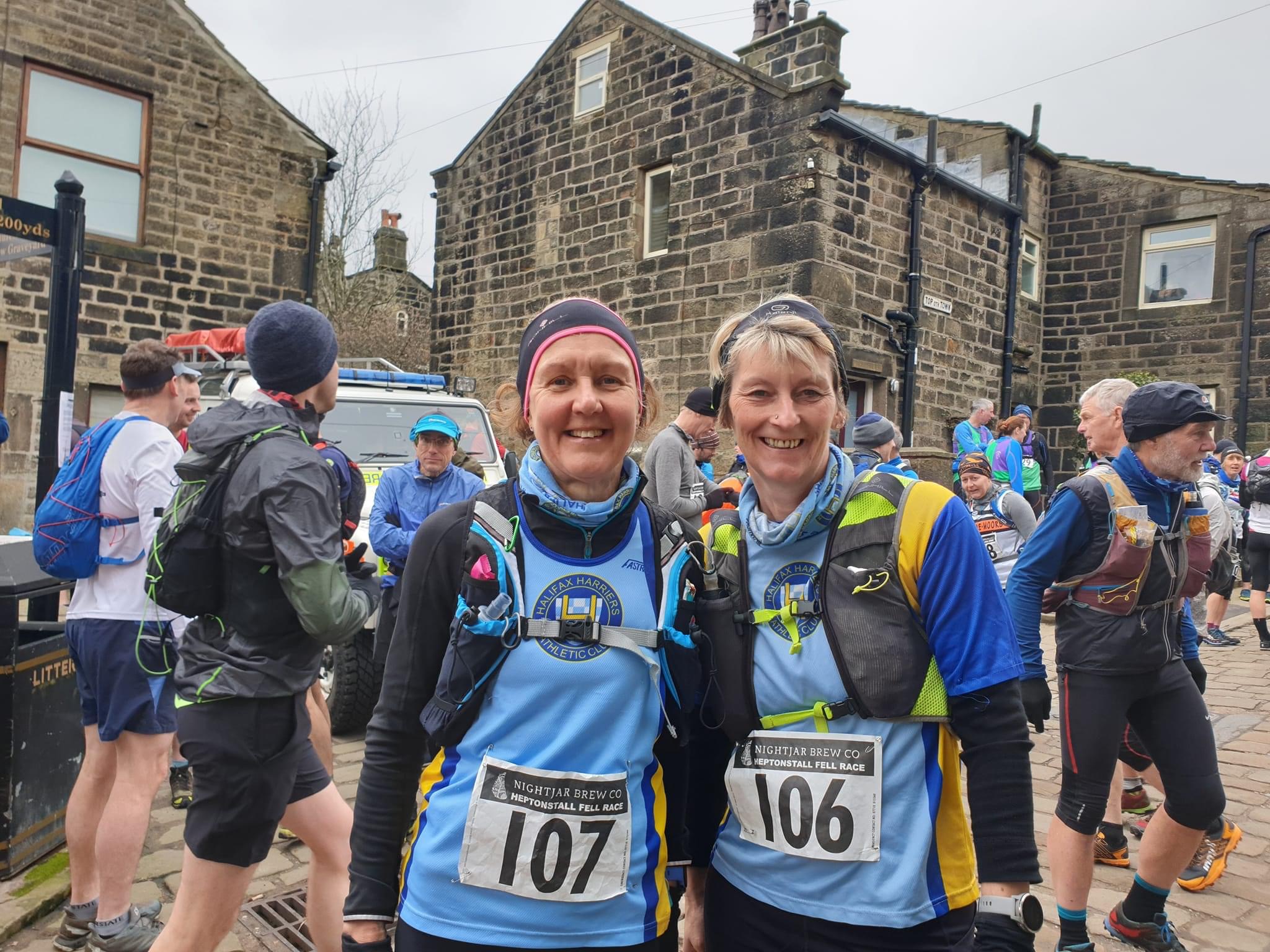 Will Carver completed Sunday's famously tough Edale Skyline Fell Race in the Peak District in a time of 4:12:06. The race is held on an unmarked course covering high and exposed terrain around Kinder Scout and Mam Tor. Will was 124th out of 202 finishers. Seventeen runners failed to finish, highlighting the difficulty of the 21 mile route with over 4,500' of climbing. 
Hazel Berrett and Andrea Ackroyd took part in the Heptonstall Fell Race on Sunday. This race takes in a mixture of steep-sided wooded valleys, upland pasture and pathless moorland around Heptonstall. Hazel and Andrea ran together, completing the 15.4 mile course with 3,170' of total ascent in 3 hours 13 minutes, primarily treating the event as a training run for their upcoming marathons. Hazel still finished second in her age group. There was plenty of mud, bogs and hills with a killer final mile. Both runners enjoyed the race immensely, vowing to never do it again! We will see!!
On the road, Jenny St Romaine finished the Sheffield Half Marathon in 2:15:29. This challenging course starts with an almost continuous climb for five miles whilst affording the distraction of magnificent views of the Peak District. This, also, was mainly a training run for Jenny ahead of the Rob Burrows Marathon in Leeds in mid May.
Harriers Annual Dinner & Senior Presentation Night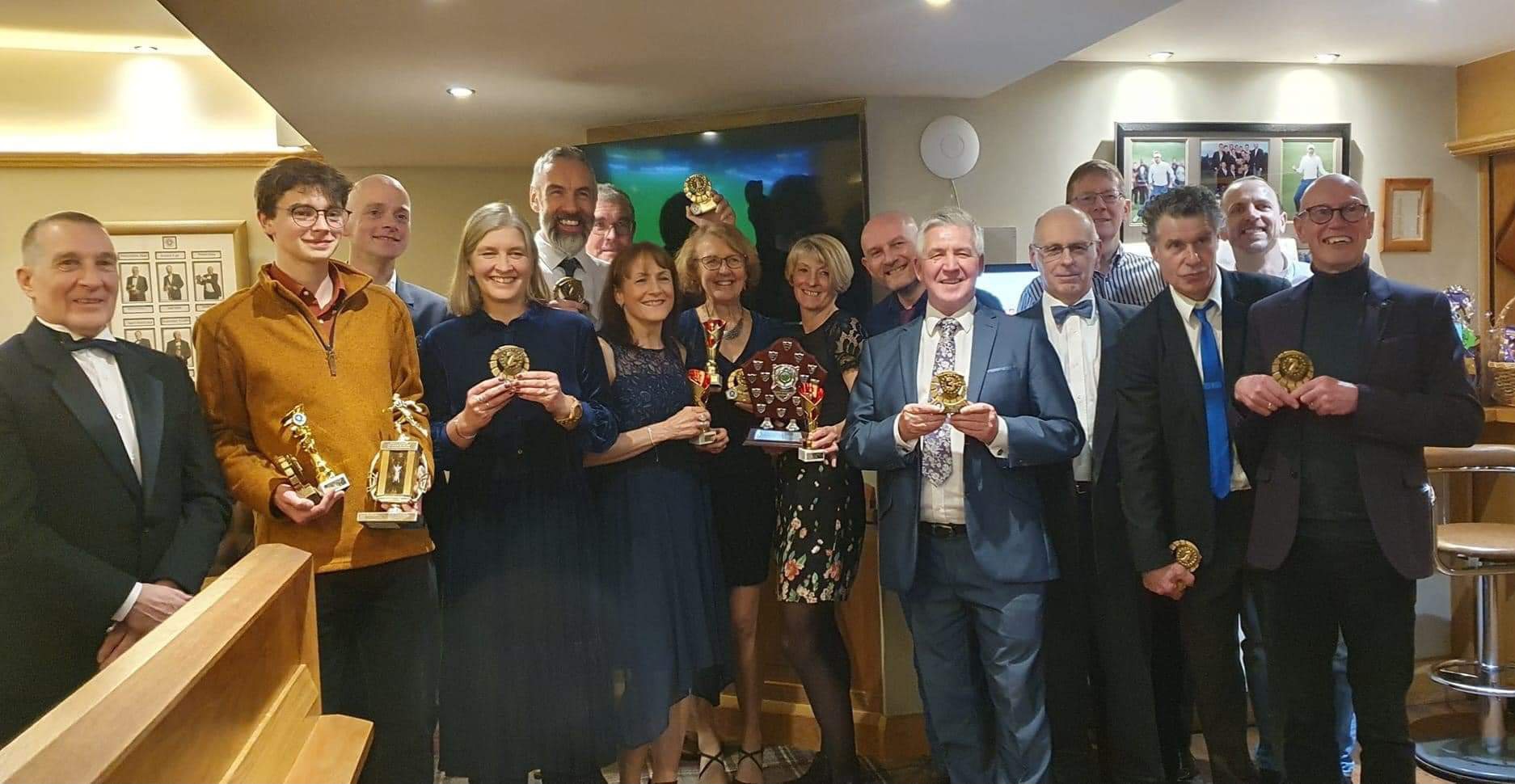 The Harriers Annual Dinner and Senior Presentation Night was held at the Queensbury Golf Club. Everyone enjoyed the three course meal which was prepared and served by the staff of The Bottomley's Arms in Shelf. There was a great atmosphere and good company to celebrate the successes of our road and fell runners. 
Congratulations to all the prize winners with special mention to Keith Lemon who was awarded the Pearson Trophy for Endeavour and Susan Hall who was given Life Membership for all her work for the Harriers over many years. 
Thanks go to President Keith Midgley for presenting the prizes, Martin Haigh for taking the photos, Ryan Barker for organising the trophies, Angela Cowton for tying the bows on the chairs and Chris and Debbie Kirkbride for everything else. 
More photos can be found on the Gallery page of the Harriers website. 
Halifax Harriers - photo gallery
Halifax Harriers Foodbank Run To Sainsbury's – Helping The Local Community.

Halifax Harriers took part in a Food Bank Run on Tuesday evening. Setting off from Spring Hall, they ran to Sainsbury's as part of their normal weekly training runs where they stopped off to donate food to the Ebenezer Food Bank and the RSPCA.
The Food Bank Run is a new nationwide campaign gaining pace in 2023, created off the back of a run started several years ago by Fareham Running Club in Hampshire. There have been more than 500 pledges to support the Food Bank Run throughout the country this year.
Winter is the hardest time for food banks, when people's bills kick in. With rising household heating and fuel costs making it almost impossible for families to make ends meet. The club felt that we had to do something, and decided to take part in this initiative.
In all over 20 runners took part and between us we managed to hand over almost 2 trolleys worth of goods to the Ebenezer representative who was there to receive it.
Halifax Harriers Battle The Heat Wave In The 'oldest Half Marathon In The World'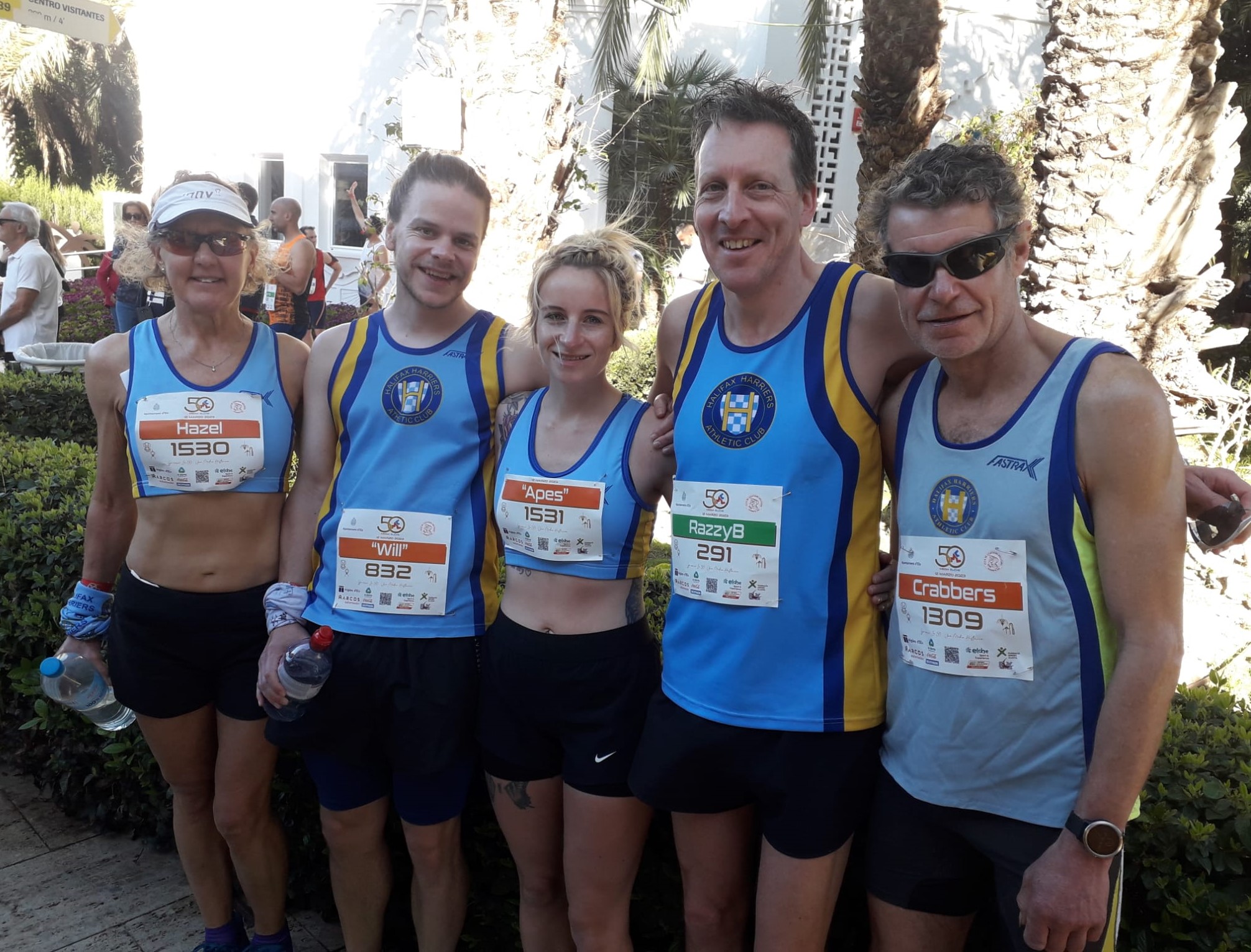 Six Halifax Harriers headed to Elche in Spain to take part in the 'Oldest half marathon in the world' – the 'Elche Media Maraton,' close to Alicante, on 12 March.
Harriers Hazel Berrett, Mark Crabtree, Simon Johnson, Ryan Barker, Will Stewart and April Caufield faced challenges just being able to travel out of Calderdale, due to severe weather, with heavy snow before departure from Manchester.
In Elche, the opposite was true, with unusually high temperatures and strong winds making the 50th anniversary of the race extremely tough.  Around 3,200 runners from 30 different countries started the race through celebrations with confetti and fireworks, into the streets and parks of the historic city (a UNESCO World heritage site.)
Johnson, Barker and Berrett were using the race as a training platform for spring marathons and hoping for a strong performance.
Soaring temperatures above 30 degrees affected performances, and at around 7km Berrett had to retire from the race with breathing difficulties.  With a strong first 5km Barker then also suffered through the heat, and his pace slowed through the event (1hr 32:17.)  Stewart paced the race well, with a slower start but strong finish to overtake Barker, through the picturesque gardens south of the city, at around 18km to complete the 21km course in 1hr 30:37.
Caufield ran a strong race, moving through competition to finish as 16th female with a fantastic time of 1hr38:22.  Although she was affected by heat exhaustion, having pushed hard during the race, and collapsed after the finish line, needing some recovery time to cool down and recuperate.
Crabtree, despite struggling with injuries achieved 1hr 50:42 to finish as 19th in his age group.  Unfortunately, Johnson suffered a shin injury days before the race and was unable to start the run.
Despite the difficulties, a great time was had celebrating the 50th event, spending time in the historic city and famous palm groves of Elche, before relaxing on the Costa Blanca.
However, this exciting edition of the race did end on a sad note.  It was marred by the tragic death of a 21 year old Spanish competitor who collapsed after the race.  Despite receiving immediate medical attention the young runner passed away in hospital.  Our thoughts are with their family and friends.
Ian Roberts Memorial Fell Race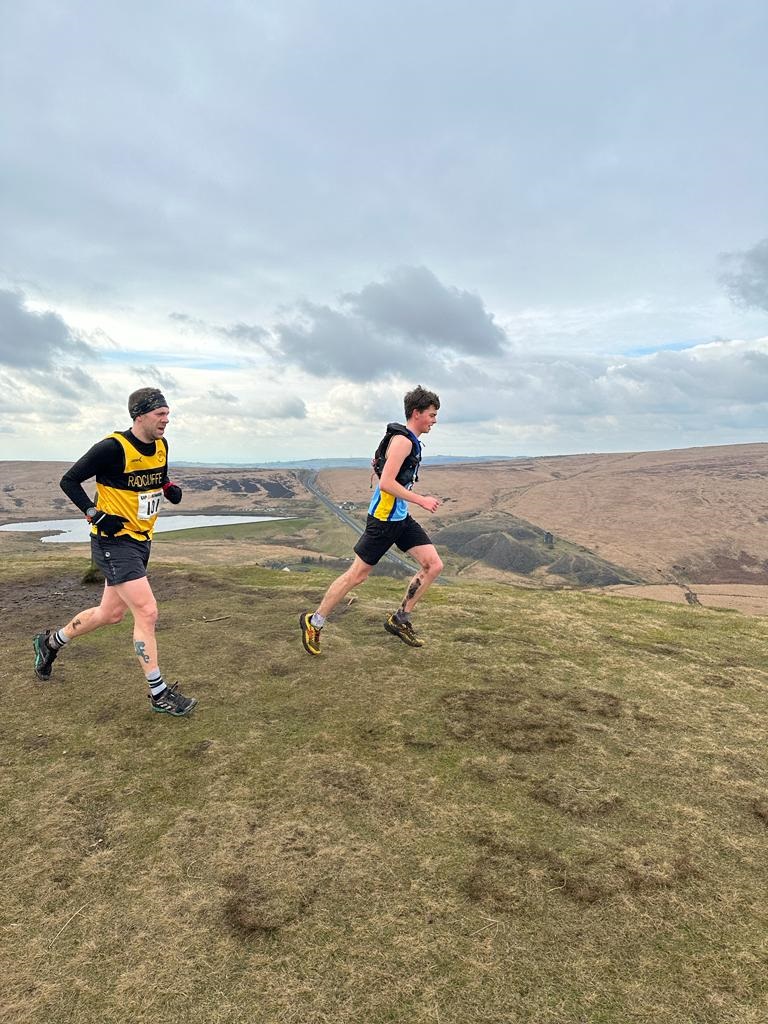 Fred Carver came 23rd out of 132 runners. He he was second MU23 in a time of 0:56:17.
I was 74th in 1:10:16 and first female Harrier back. Stef Dickinson ran in a time of 1:18:41 and was 104th. 
We were the only three Harriers that ran. 
It was good running weather, cool but not really cold and not windy. Pule Hill was a challenge and all but the winner of the race walked up it!