Will Smith Finishes Third At The Stanbury Splash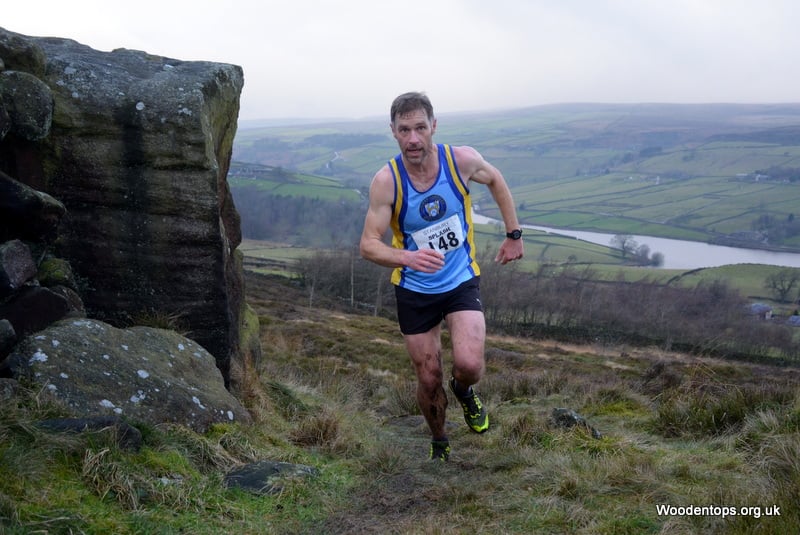 A great Halifax Harriers day out on the fells at the Stanbury Splash in Brontë country. The Harriers hill specialist, Will Smith came third in the senior race and first in his age category, in a time of 50 minutes 18 seconds, with Tom Hodgson not too far behind in 13th place in a time of 53:07. Other Harriers finishers were Ryan Barker (1hr 03mins 25 secs), Mark Crabtree (1:12:33), Jane Hobson, (1:19:41), Hazel Berrett -2nd F60 (1:20:50), Andrea Ackroyd (1:21:09), Paul Hopkinson (1:29:47), Margaret Deacon (1:33:02).
In the junior races Jayde McGregor was 2nd U17 girl, sister Casey was 3rd U11 girl and Will Cattermole was 3rd U17 boy.
Cold And Sunny Inskip Half Marathon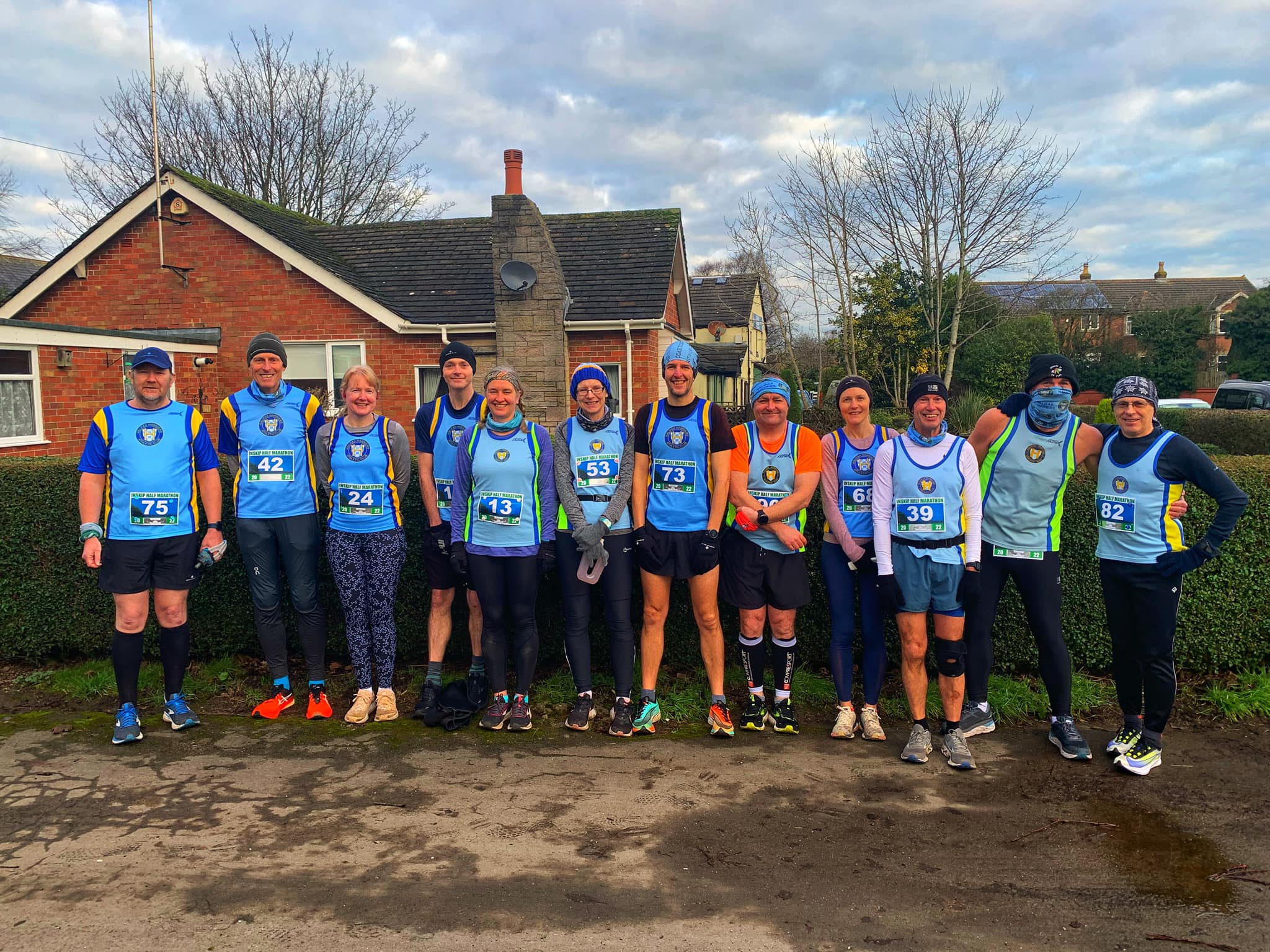 The Halifax Harriers had a trip over to Inskip near Preston for a sunny but very cold half marathon in the Harriers Road League. The Harriers had 12 runners out of a total field of 91 on the scenic country roads. First Harrier home was Tom Paget in 15th place with a Personal Best time of 1hr 24 mins 15 seconds. Erika Nightingale also set a half marathon PB and finished 3rd lady and 1st in her age group in a time of 1hr 36min 56 seconds. Robert Hick was 1st M65 (1:40:23), Stef Dickinson 2nd F45 (1:45:18) and Debbie Kirkbride 2nd F60 (2:09:42). Other finishers were Will Carver (1:30:39), Paul Hopkinson (1:44:29), Marc Rocheteau (1:45:03), Wayne Stevens (1:47:17), David Parrington (2:03:50), John Moore (2:04:05) and Kirsty Carver (2:31:07)
Brass Monkey Half Marathon
The only Harrier at this years Brass Monkey Half Marathon was Jonny Lister in a time of 1:43:24.  
Giant's Tooth Fell Race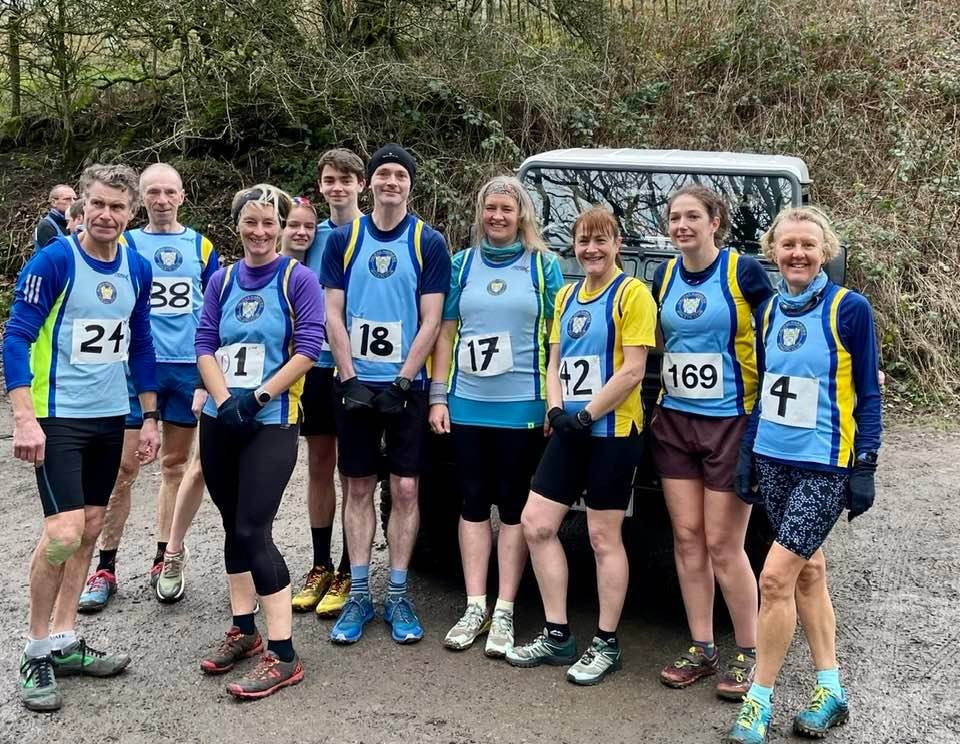 The annual Giant's Tooth Fell Race on New Year's Day attracted a sell out field of 80 runners.  The race starts on a path above Ogden Water.  The runners then descend along woodland paths down to Ogden Water before a challenging climb to the Giant's Tooth.  They then drop back down to the far end of the reservoir and then run along the reservoir bank until the last climb back up to the path and finish.
Halifax Harriers were well represented, with Fred Carver first back in 14th place, followed less than a minute behind by his dad Will in 23rd.  Phil Grimes finished in 30th place (1st M60), Mark Crabtree 48th, Andrea Ackroyd 53rd (3rd F50), Hazel Berrett 55th (1st F60), Jane Hobson 60th, Dennis O'Keefe 62nd, Sally Shacklock 65th and Kirsty Carver 71st.
RIBBLE VALLEY 10K
The Ribble Valley 10k is run on a fast course with only a slight incline into the finish. As always, the standard is high with some of the best runners in the North of England in attendance.  Halifax Harriers Vets Ladies were the winning team led home by Sarah Cumber in 39:36 (1st F50), Katrina Oddy was next lady for the club in 44:10 (2nd F55) and Stefanie Dickinson ran 50:08.
Ryan Barker was first male back for Halifax Harriers in 38:35. Geoff Cumber made a welcome return on his comeback with a time of 49:58.