Orchan Rocks Fell Race
Will Carver and Jane Hobson competed in the Orchan Rocks Fell Race in Todmorden on Tuesday evening; the second race in this season's club fell league. Last season's male and female champions were the only Harriers to take part, therefore picking up maximum points. Both are setting the early pace in this year's competition. Will finished in 20th place and Jane was 56th in times of 28:49 and 34:23 respectively.
Jane reports: "It was a short race, about 5.4km. The start was straight up hill, initially on tarmac that quickly turned into a track through woods and then into fields. Eventually we came out into a farmyard and turned right and flattened out onto moorland for a while. There was another uphill before descending back down to the farmyard, continuing downhill all the way to the finish. There was only a little bit of mud, at the top in the marshy grass, and the weather was perfect, sunny with a light wind."
The next race in the fell league is Coiners next Monday (2nd May) at 1pm. Registration is at Mytholmroyd Community Centre and the entry fee is £8 (£6 for FRA members). The race is 10.8km (6.7m) long with 295m (968') ascent.
Plenty Of Chocolate For Harriers At Bunny Run Race 2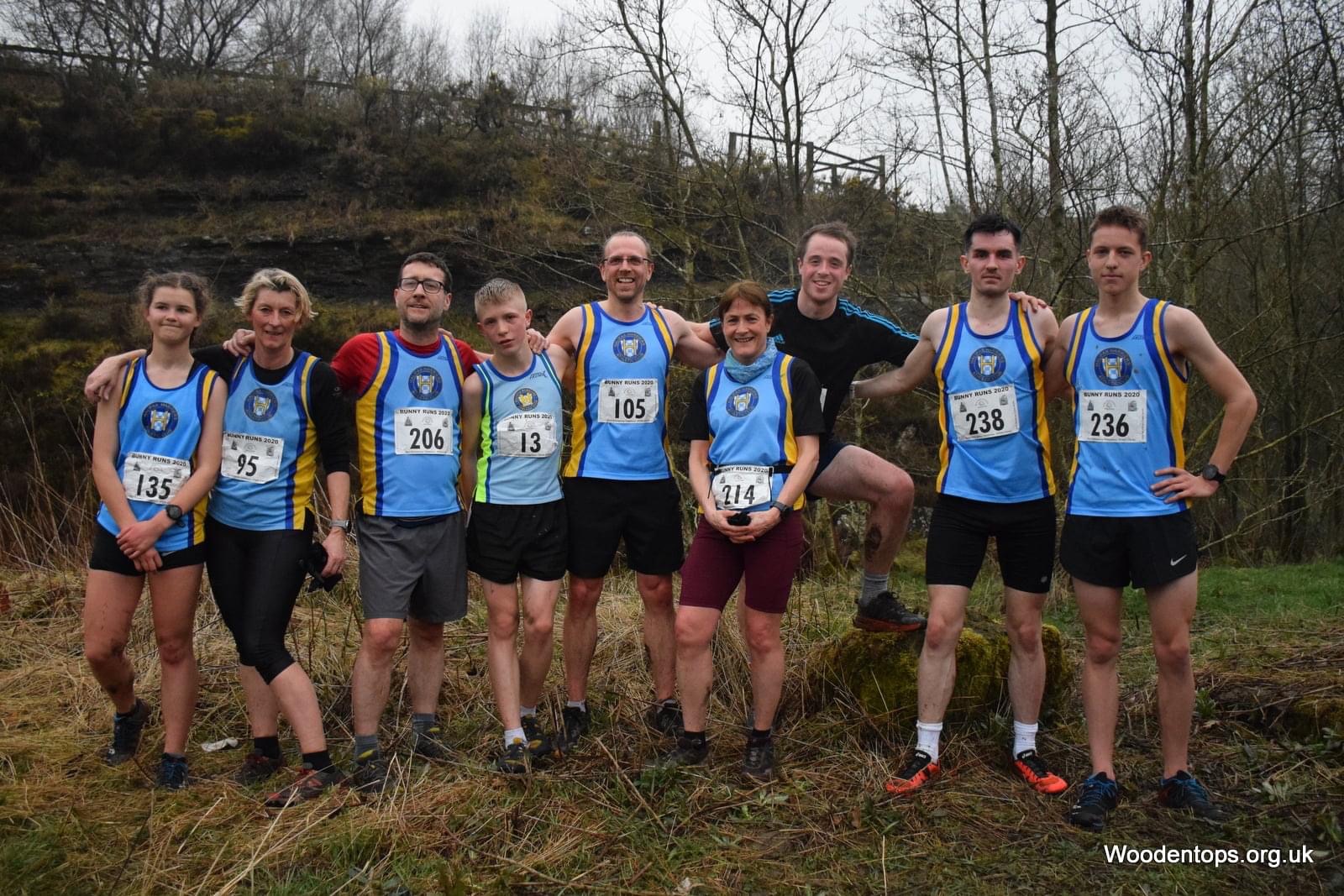 Another great fun night out on Tuesday at Bunny Run 2 in Haworth with an excellent turnout of a dozen Halifax Harriers. Joshua Hall-Brown overcame his, shall we say "adventurous" footwear choice (spikes!!) to finish 8th in 17:09, just sprinting past Alex Franklin in the closing metres, which was a bit harsh as Alex had run very well and shown Josh the way round. Will Cattermole improved significantly on last week's run to finish 20th and 3rd U17 Boy in 18:39, just behind Liam Parkin, who had a great run on his fell racing debut (despite wearing Josh's hopeless Hokas).
Nigel Crossfield had another stormer in 41st, picking up the 2nd MV50 prize along the way in 20:25. Lee Cattermole didn't manage to win the family battle, but did finish in 48th (20:57), having slid his way around in less than ideal footwear (there's a theme here). Jayde McGregor wasn't far behind in 54th (21:29), picking up a deserved Easter egg for being 3rd U17 girl, to add to the one she won last week.
Jane Hobson led the senior ladies home in 24:52, also winning an Easter Egg for placing third in the FV50 category. Nigel Jamieson was close behind in 25:47. Andrea Ackroyd (26:06), Martin Ellis (28:08) and Jenny St Romaine (33:02) rounded off a really heartwarming show from Team Halifax.  
Bunny Run 3 is next Tuesday with the Bunny Relays the following Tuesday. The Relays are a mad dash around the 1.5 mile large Bunny Run loop and will be a fun alternative to Tuesday night road/track sessions if anyone fancies it.
Brighton Running Festival
On a beautiful sunny morning three Harriers ran in the fun seaside city of Brighton.
The marathon and 10k both start in beautiful Preston Park nearby and finish on the glorious promenade, though they take quite different routes.
Tom Paget gained a personal best in the marathon with a time of 3.14.20 Credit to Tom!
The Cumbers ran the 10k and were curious to find the course had been changed this year to a much hillier version! 
Geoff still managed to win the V75 age category in a time of 48.29 and even beat the V70 and V65 categories.
Sarah Louise Cumber was 2nd in the V50 category in 39.37. Note: the first V50 lady ran 37.07, which is amazing and shows anything is possible!
Ice creams were high on the agenda that afternoon.