April And Alice Race To Victory At Keighley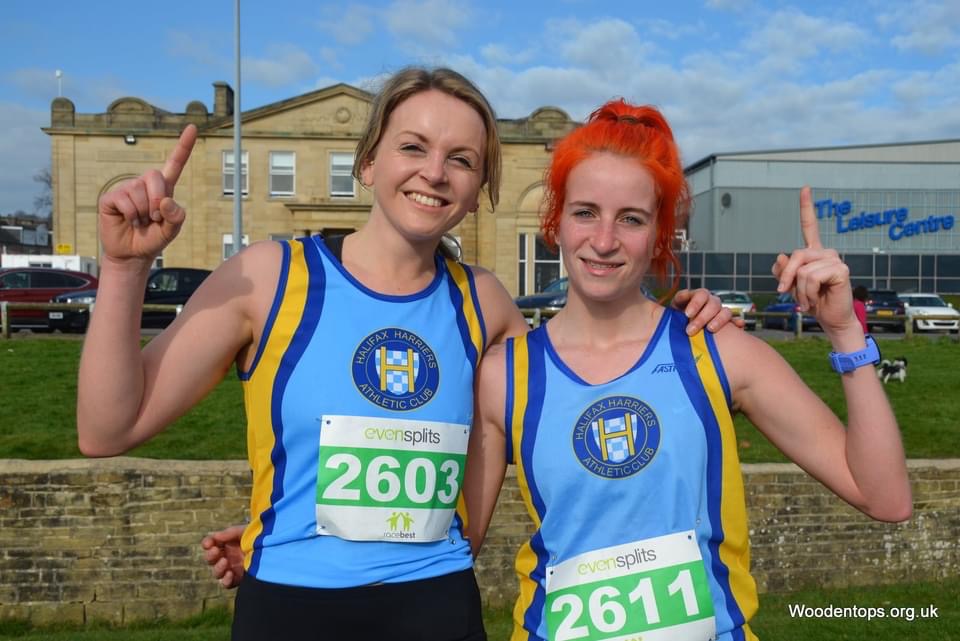 Harriers had a very successful journey to Keighley on Sunday with victories in both the Sue Ryder Manorlands Hospice 10k and 5k women's races. April Caufield came home first in the 10k in 41:21 whilst Alice Vick took first place in the 5k in 20:32.
Fourteen Harriers ran in the 5k, which was the first race in the club's 2022/23 road championships. A decent turnout despite an early start on the morning the clocks had gone forward and the logistics of parking due to the point-to-point race route. The course took in a lot of twists and turns and went through a few parks. There were a number of inclines but the route was mainly downhill. 
Will Carver finished third overall in 19:03, pursued by James O'Rourke in fourth in 19:44. Margaret Deacon took first place in the FV50 category in 24:34. Other Harriers were; Ben Slow (20:36), Steve Fitz-Costa (22:58), Marc Rocheteau (22:58), Stef Dickinson (23:36), Tim Slow (23:49), John Moore (25:13), Jenny St Romaine (27:48), Jude Baines (28:19), Kirsty Carver (29:30) and Rebecca Palmer (30:37).
The 10k route was circular with a total ascent of 400'. Gareth Burrell was the first Harrier home, clocking 39:01. Eli Dawson and Will Stewart also represented the club, completing in 40:16 and 40:47 respectively. 
Raymond Given Honorary Life Membership At Annual Dinner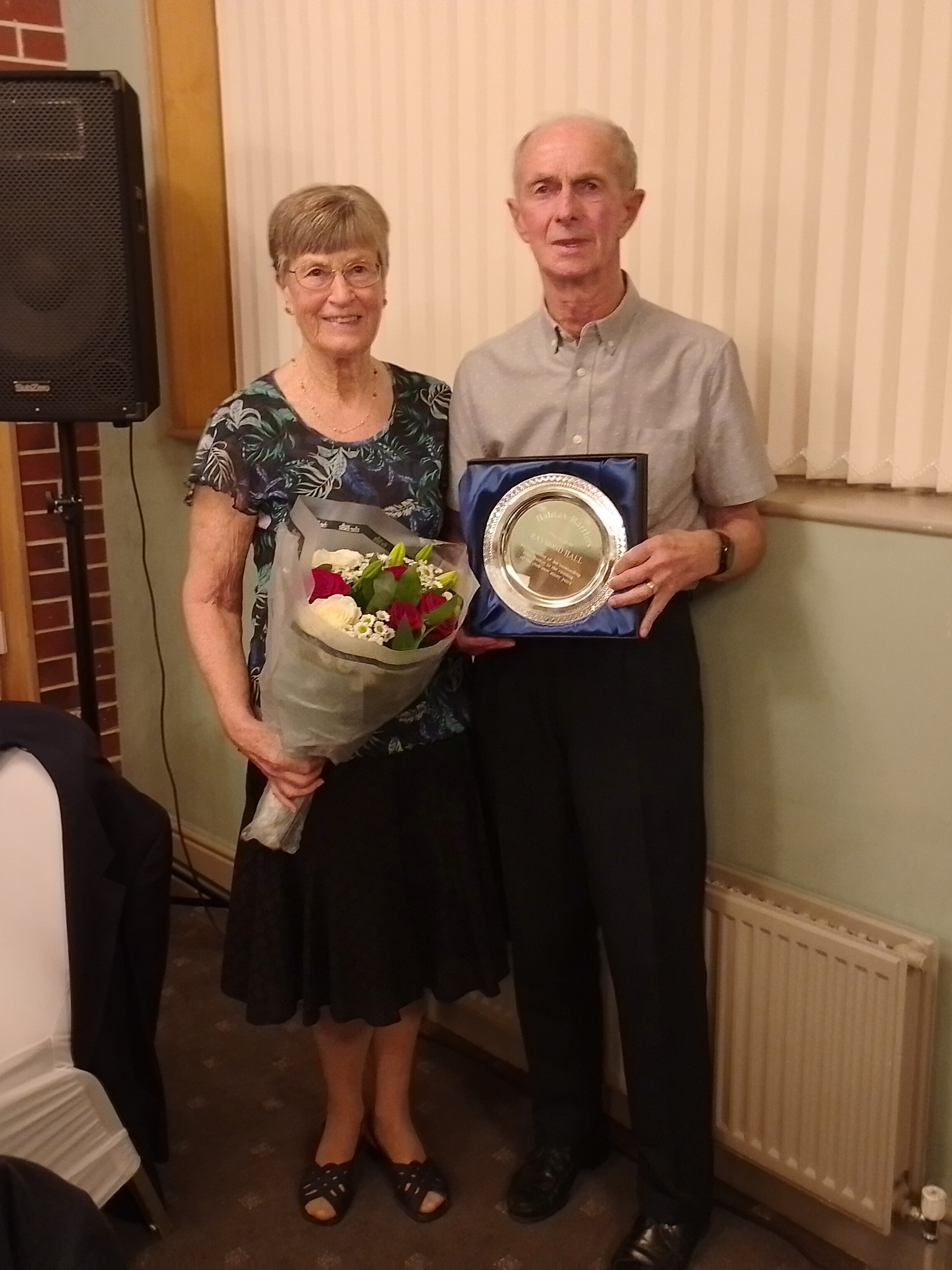 At the Harriers Annual Dinner on Friday night, Raymond Hall was presented with an inscribed silver salver and honorary life membership in recognition of his many years of outstanding service to the club. 
The Dinner was held at Queensbury Golf club and everyone enjoyed the three course meal, which was followed by the presentation of the senior prizes by Mark Gaughan. The awards included the Road Race Leagues, Fell Leagues and Cross Country awards. 
The Chairman's Trophy is awarded to a member who has made a significant contribution to the club.  This year it was awarded to Helen Keighley, who unfortunately was not present to collect it. 
The Pearson Trophy for Endeavour was presented to Kirsty Carver for her running with a smile attitude.
The most improved 10k runner was Erika Nightingale.
The winners in the Cross Country Championships were Verity Clements (female under 20), Michael Gaughan (senior men), Bethan Davies (senior female), Katrina Oddy (female veteran) Stephen Fitz-Costa (male veteran).
In the Fell Challenge the ladies winner was Jane Hobson and the male winner Will Carver.
The Road Race Challenge is split into 5 divisions.  Division A winner was Niall Smith, Division B winner Stephen Fitz-Costa, Division C winner Paul Hopkinson, Division D winner Stefanie Dickinson, Division E winner Kirsty Carver.
Fell League Season Starts With Ian Roberts Memorial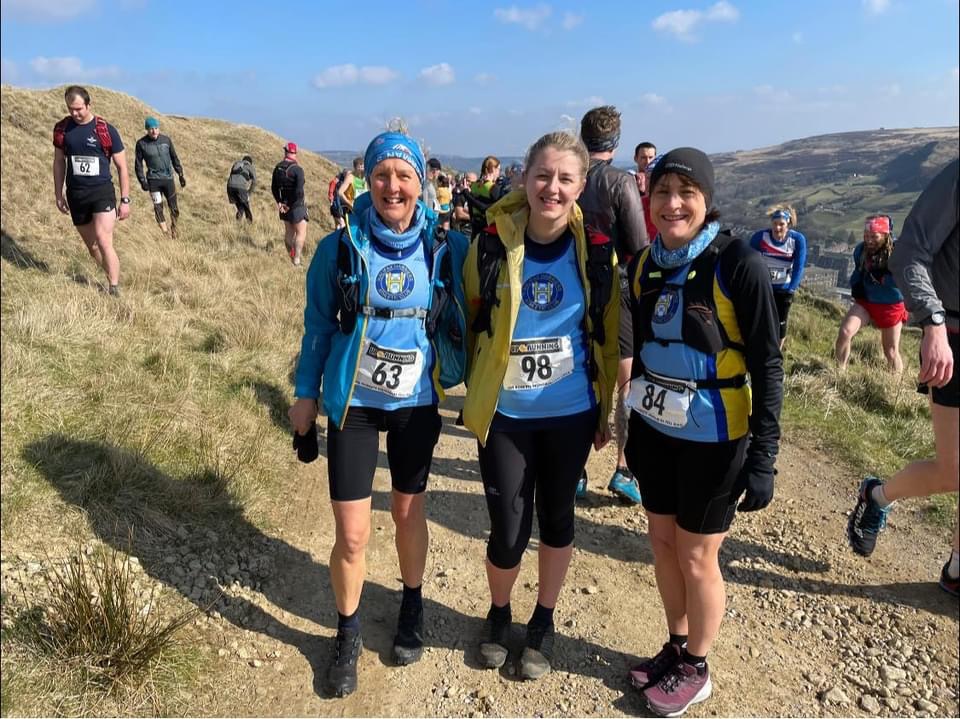 Three Harriers competed in the Ian Roberts Memorial fell race on Sunday; the first event in the club's 2022/23 fell league. The route starts above Marsden, covering 6.4 miles and taking in a total ascent of 850'. It was sunny but with a cold wind, which didn't feel so bad once the runners got started. The route has a bit of everything. The ground was soft and quite level on the tops so that runners could enjoy the views without having to watch their feet. However, the final couple of miles had some steep, boggy, rocky downhills and the grassy tussocks were a nightmare to navigate. The climb up Pule Hill was a challenge, but that's what fell running is about! Jane Hobson led the trio home, finishing in 75th place in a time of 74:17 followed by Hazel Berrett (90th in 77:13) and Sam Layfield - making her fell racing debut - in 96th in 81:11.
Also on Sunday, Will Carver took on the highly demanding Heptonstall Fell Race. The route is over much of the best of the local landscape around Heptonstall and the Upper Calder Valley, covering 15.4 miles and more than 3,000' of climbing. Will finished in 2:34:01 in 95th place in a very strong field.
The next race in the fell league is Orchan Rocks in Todmorden on the evening of Tuesday 26th April.
Debbie Sets Club F60 Record At Trimpell 20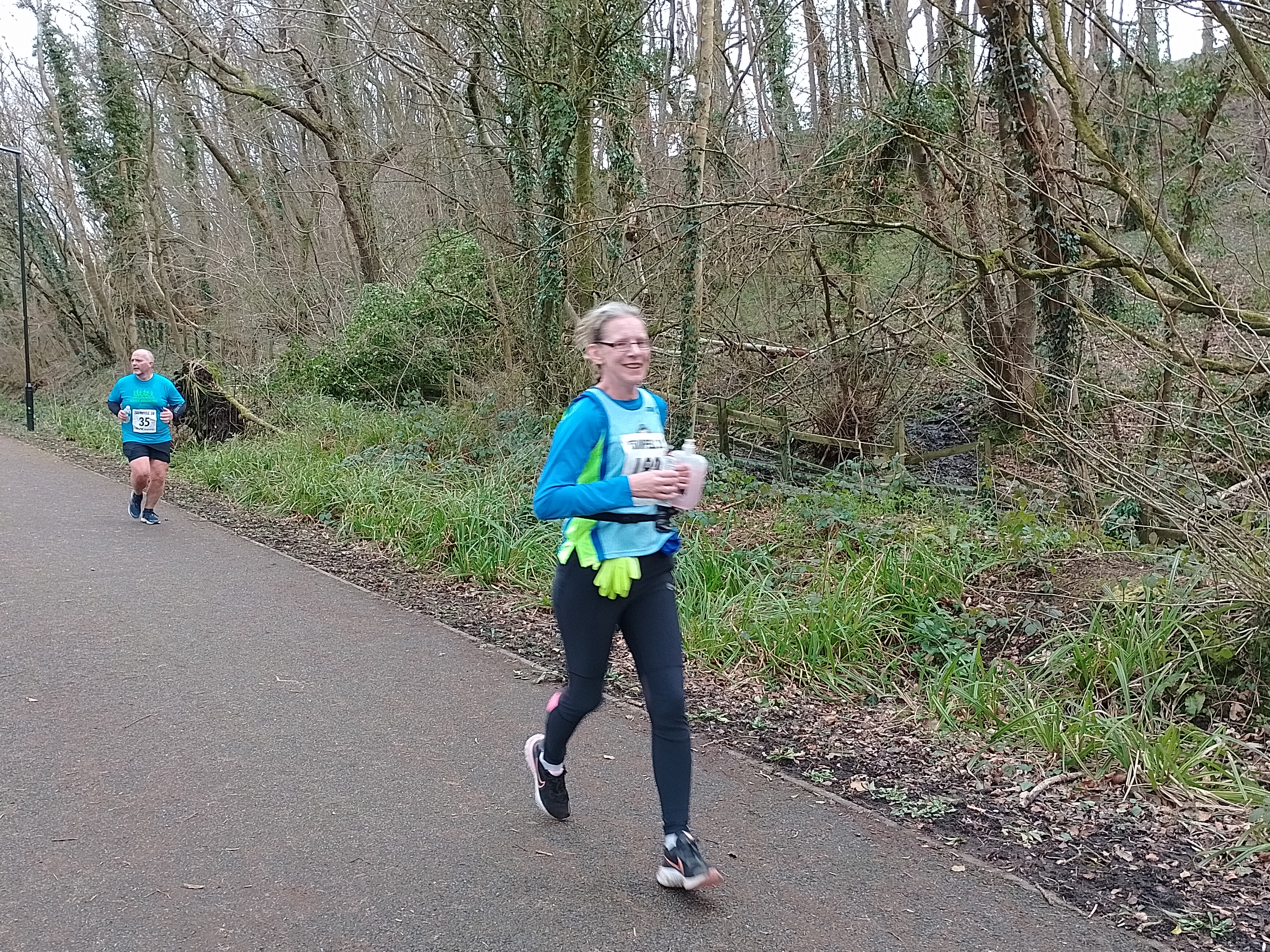 Four Harriers ran the scenic and flat 20 mile race at Trimpell. This race is traditionally a warm up race for the Spring Marathon season. The conditions for the race were near perfect except for the occasional gust of wind, which always seemed to be into the 303 runners faces. Debbie Kirkbride set a new F60 Club Record in a time of 3:27:19. James O'Rourke was the first Harriers finisher in 2:20:53, Tom Paget was next in 2:22:23 (PB) and Paul Hopkinson finished in 2:54:31. It was also good to see eight runners from our neighbours, the Sowerby Snails, at the race. 
Club Records Tumble At Podium Races
Tom Hodgson ran a 5K personal best and club record of 14:41 at the Podium Races in Barrowford in Lancashire on Saturday evening. Will Smith set a new club record for the M45 category of 15:53. Ben Crowther (16:15) and Harry Johnson (18:09) also ran for the Harriers.
Will Carver continued his impressive ultra trail running exploits, completing Saturday's Haworth Hobble in 5:46:09, finishing in 70th place. This long-standing and popular 31.7 mile race takes in 4,400' of total ascent over a remote route in wonderful countryside across the moors around Haworth, Todmorden and Hebden Bridge. Elsewhere on Saturday, John Moore recorded 53:04 in the scenic Tatton 10k in Cheshire.
Richard and Sue Corney both competed in Sunday's hilly Red Hot Toddy 10k in Todmorden. Sue was first in her age category (F65) in 58:58 whilst Richard was second in his category (M55) in 51:16.  Also on Sunday, Angela Clarke completed the tough Spen 20, a traditional spring marathon warm-up race, in 2:58:28, coming home in second place in the F45 category.
Beautiful Dentdale Race In Jim Kirkpatrick's Memory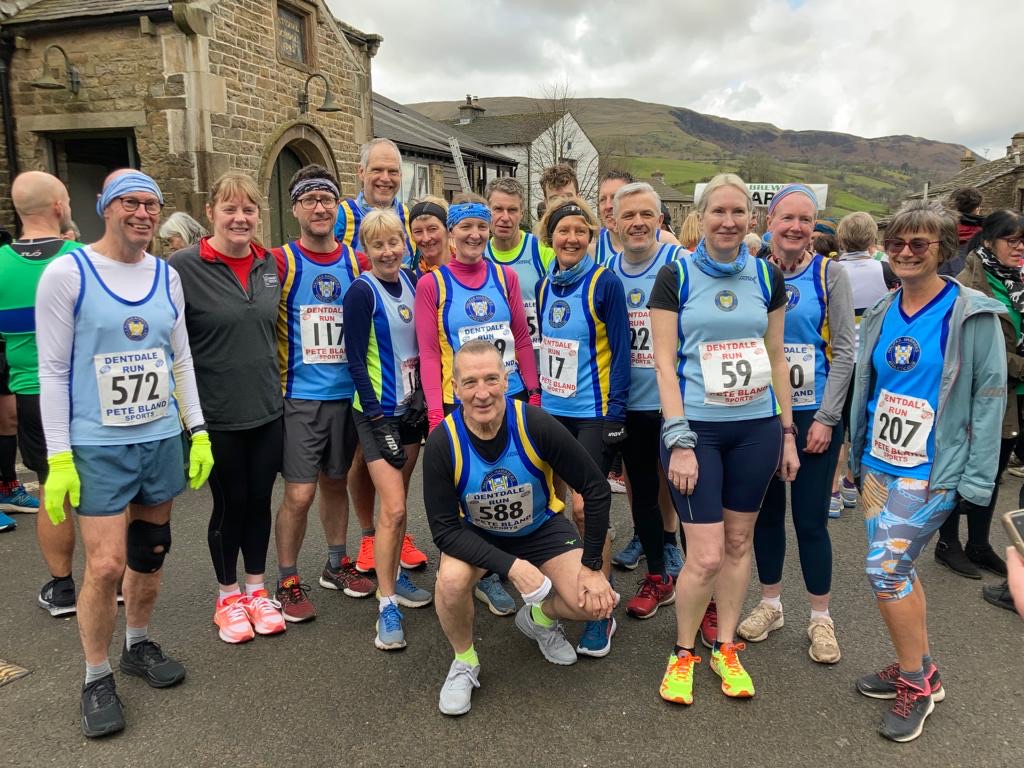 Eighteen runners and four supporters travelled to Dent in the north west corner of the Yorkshire Dales on Saturday to participate in the Dentdale Race in memory of good friend and club mate, Jim Kirkpatrick. This was one of Jim's favourite races and it was easy to see why. The route was on minor roads and was spectacular with beautiful scenery, although there may have been a hill or two too many for some runners' liking! It was very well organised and friendly with funds going to support the local primary school. There was a choice of route with ten Harriers opting for the longer 14.2 mile race and eight running the shorter 7.5 mile race. A number of Harriers were racing for the first time for a long while. The two routes were the same for the first seven miles with all 310 entrants setting off together. Weather conditions were good and it stayed dry.
Dan Mahoney - Jim's nephew, who was visiting from Chicago - was fittingly the first Harrier home in the long race, finishing in 12th place in 1:37:06. Ryan Barker, who picked up an injury early on, stoically continued and was 40th in 1:52:06. Erika Nightingale was the first of the five ladies, clocking 1:56:56 in 58th position. Hazel Berrett (1:59:45) was first in her age group (F60). Other Harriers were; Nigel Jamieson (2:07:01), David Broadley (2:08:11), Andrea Ackroyd (2:10:53), Margaret Deacon (2:12:17), Fiona Murphy (2:18:45) and Martin Ellis (2:24:38).
Harriers had great success in the shorter, but still challenging, race. Rob Hick was 16th overall and first in his age category (M65) in 1:01:33. Mark Crabtree was second in his age group (M60) in 20th position in 1:04:23 followed by Steph Dickinson in 25th, who was also second in her category (F45) in 1:06:08. Keith Midgley (M65) and Sharon Cousen (F50) were both third in their age groups, in 1:13:16 and 1:18:12 respectively. Other Harriers were; Dennis O'Keefe (1:15:08), Michelle Broadley (1:19:18) and Jenny St Romaine (1:19:18).
A contingent of 16 stopped at the Craven Arms near Settle on the way home for a meal.
Josh And Sarah Set New Club Records At Trafford 10k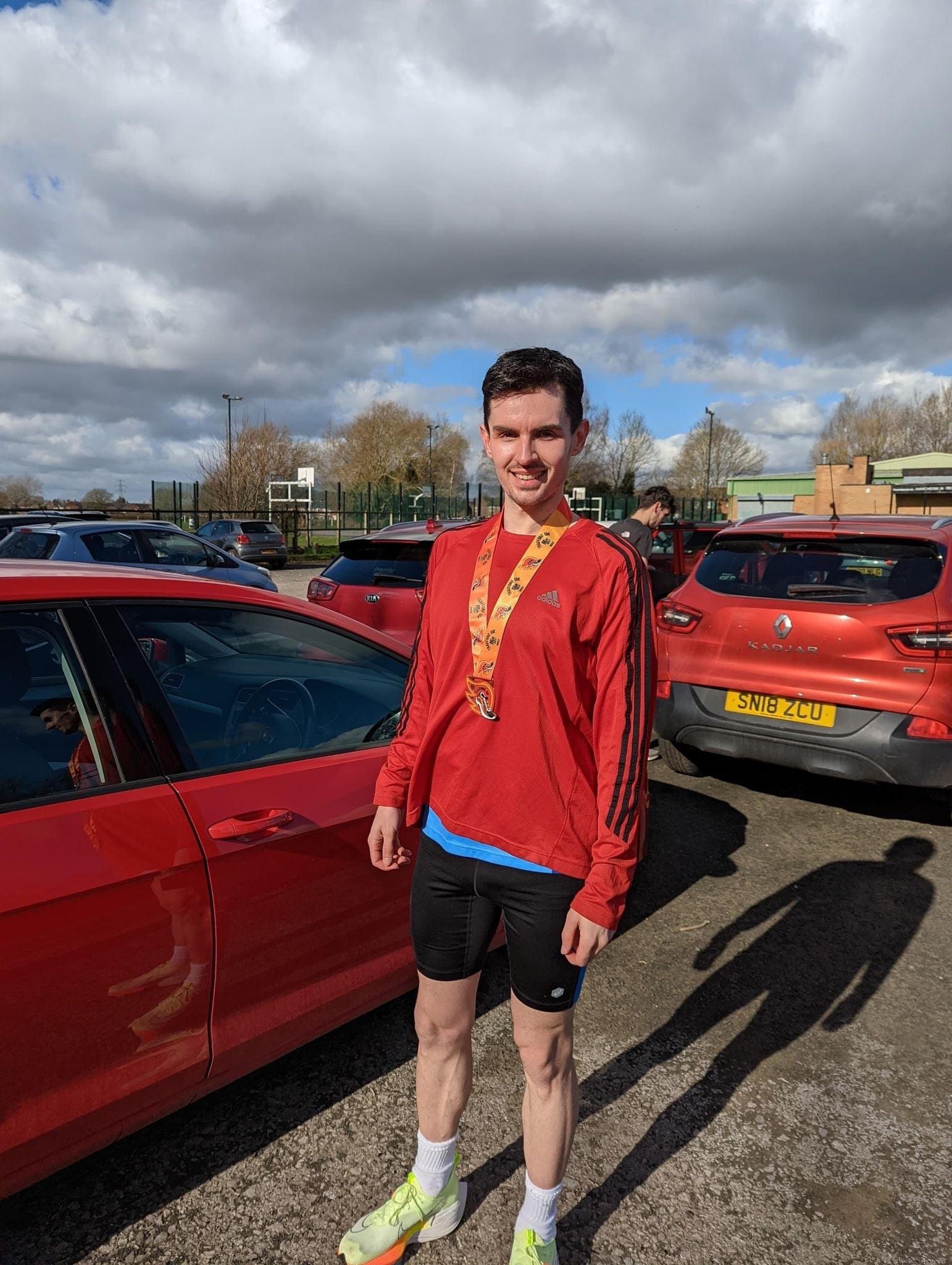 Josh Hall-Brown, continued his excellent recent form, following up his victory in the Great North West half marathon a fortnight earlier, with a personal best and club record time of 31:47 at the Trafford 10k in Manchester on Sunday. Sarah Cumber was second in her age category (F50) in 39:01, lowering her own club record. Geoff Cumber clocked 48:29 to come home first in the M75 category.
Elsewhere on Sunday, Joanne Arundale was second lady and fifth overall in the Oulton Park 16 mile race in Cheshire. Joanne was also first in her age group (F40), finishing in 1:55:04. Marc Rocheteau competed in the Cambridge half marathon, recording a time of 1:45:13. Also, John Moore finished 17th in the Rother Valley 5k in 25:43.
Nigel Jamieson took on the 42 mile Welcome Way ultra-marathon on Saturday, completing it in 10:17:10. This trail race starts in Otley and largely follows the Welcome Way, taking in Otley Chevin and Baildon Moors, with a total climb of 6,000'.
The club was also represented at the Ilkley Moor Fell Race on Sunday. Ned Hughes raced in the senior race over the 5 mile course with a cumulative 1,300' of ascent, finishing in 53rd place in 48:38. Five juniors also competed with James Neil taking third place in the Under 11s. Casey George was also in the Under 11s race. Will Cattermole and Jayde McGregor ran in the Under 17s and Eli Cattermole was sixth in the Under 15s.
Harriers At The National Cross Country Championships
Four seniors and five juniors represented Harriers at the English Cross Country National Championships on Saturday. The event took place at Parliament Hill Fields in London; a testing course at a venue that many regard as the home of cross country. 
The event consisted of ten races with a total of almost 8,000 runners taking part. Three Harriers ran in the senior men's race over a 12k course. Ryan Barker was first home in 1:01:41 followed by Michael Gaughan (1:03:19) and Steve Fitz-Costa (1:14:33). Bethan Davies represented the club in the senior women's 8k event, finishing in a time of 47:03.
Five juniors participated across the various age group races. Nia Harrison-Sargent completed the Under 15 Girls' race in 19:49 whilst Kitty Harrison-Sargent ran the Under 13 Girls' event in 14:03. Sam Keighley (13:43), Ben Slow (14:42) and Thomas Wright (17:03) all ran in the Under 13 Boys' race.