Coley Canter Trail Race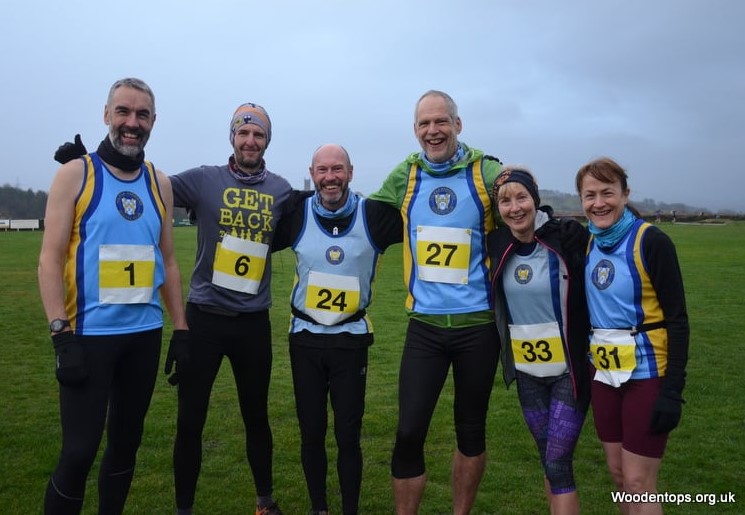 Halifax Harriers were well represented at the fifth running of the Coley Canter Trail Race on 28th December. The multi-terrain race, starting and finishing at the Northowram Sports and Activity Club, is organised by Northowram Pumas. The route is nearly 8 miles long with around 800' of ascent. Conditions this year fully justified the race's reputation for lots of mud!
First Harrier home in 9th place was Tom Paget in 1:03:11. Jane Hobson was the first lady to finish with a time of 1:25:36 in 65th place. Rob Hick (M65) and Fiona Murphy (F60) were both first in their age categories in times of 1:17:17 and 1:29:24 respectively. Other Harriers to compete were: James O'Rourke (1:07:24), Sally Shacklock(1:26:51) and Martin Ellis (1:29:04).
Christmas Handicap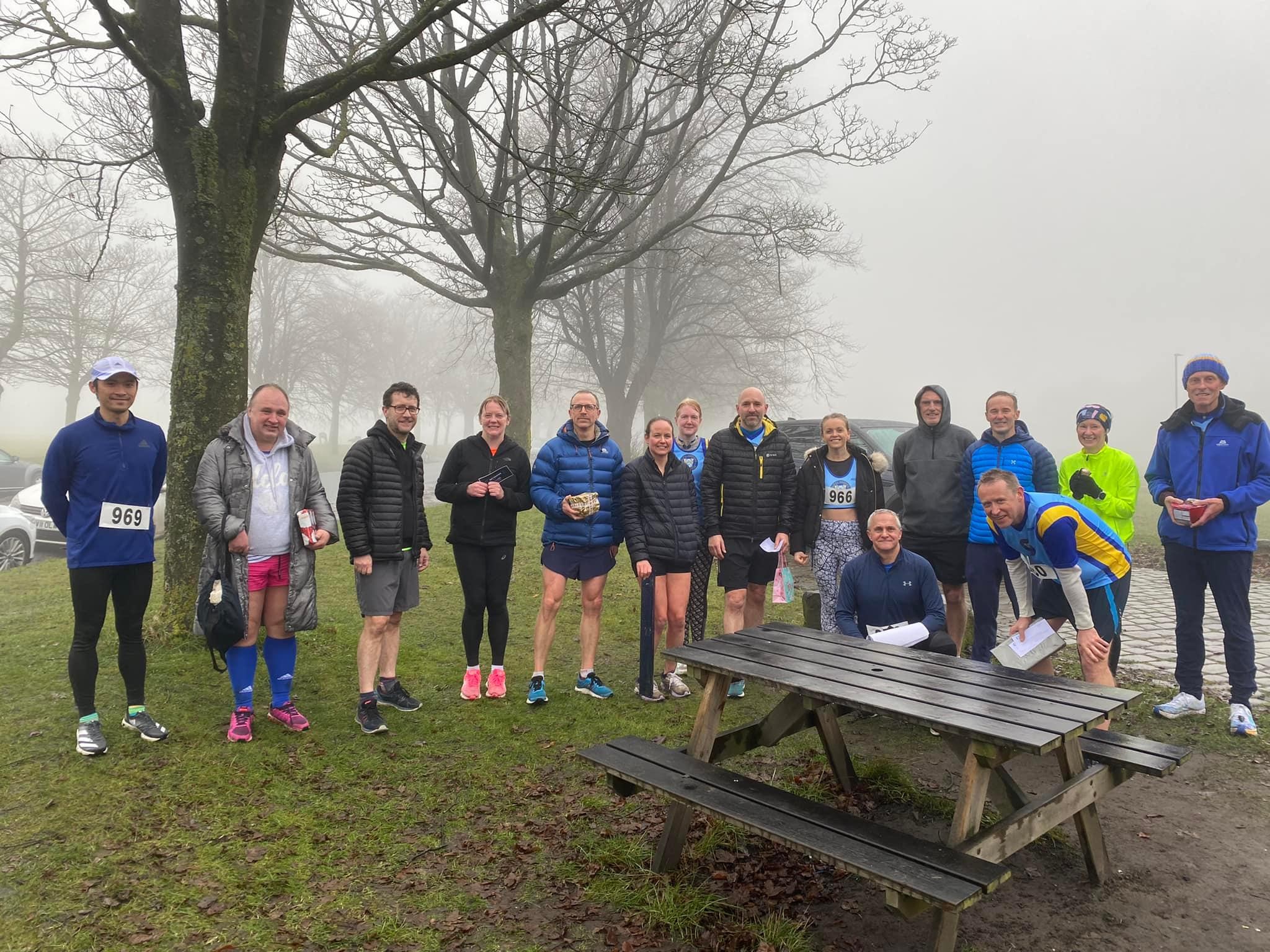 The return of the Christmas handicap was met with cold foggy conditions but this didn't deter the return of the faithful as well as some new faces too, which was good to see. The most noticeable absentee was John Greenwood who after running every handicap for the last 35 years finally missed one. We hope you're getting back to fitness, John and can join us next year.
The new men's champion is Lee Cattermole who whizzed round the 5.8 mile course in 40 minutes and 50 seconds which was the third fastest time of the day but with a favourable handicap Lee crossed the finish line first and took first choice of the prizes.
The ladies champion went to Alice Vick and who ran an impressive 41.38 and finished 4th overall.
The full results from today as well as the updated spreadsheet that shows all results since 1985 will be on the website shortly. See how you compare with other runners from the past!
A Great Showing For Halifax Harriers At The Stoop Fell Race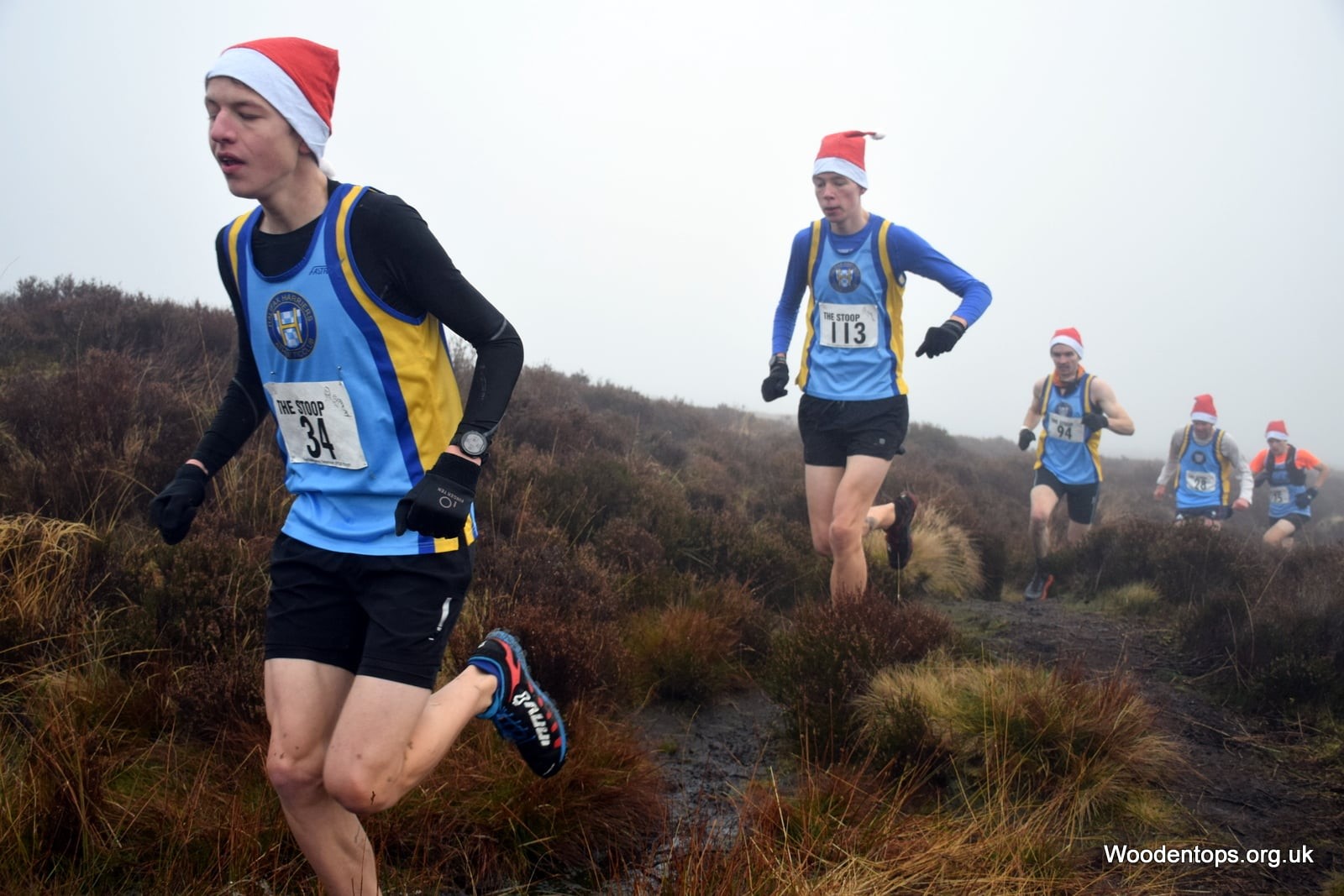 A great showing for Halifax Harriers at the Stoop Fell Race
Halifax Harriers men's team came out top at the Stoop Fell Race, which is run over 4.9 miles and has 700ft of climbing. This popular pre-Christmas race, first held in 1990, is always a competitive affair, even though wearing a santa hat is mandatory.
Conditions at the start on Penistone Hill, Haworth were cold and foggy but the runners would crest Oxenhope Stoop in glorious sunshine, thanks to a temperature inversion. The descent back to Penistone Hill is always extremely boggy and slippery, challenging even the most capable of fell descenders.
 Halifax Harriers winning team were led home by Ben Crowther in 5th place, with Joshua Hall-Brown 8th and talented 16 year old Alex Franklin 10th being the crucial last team counter, mixing it with established fell stars. Ned Hughes (also just 16) came 15th, Will Carver 62nd and Martin Ellis 146th. Halifax Harriers ladies were Jane Hobson 134th, Andrea Ackroyd 145th and Kirsty Carver 165th.
In the U9 girls race (0.6km) Casey George was 8th and in the U15 boys race (1.6km) Will Cattermole was 3rd, Jayde McGregor was 6th U15 girl.
Mytholmroyd Fell Race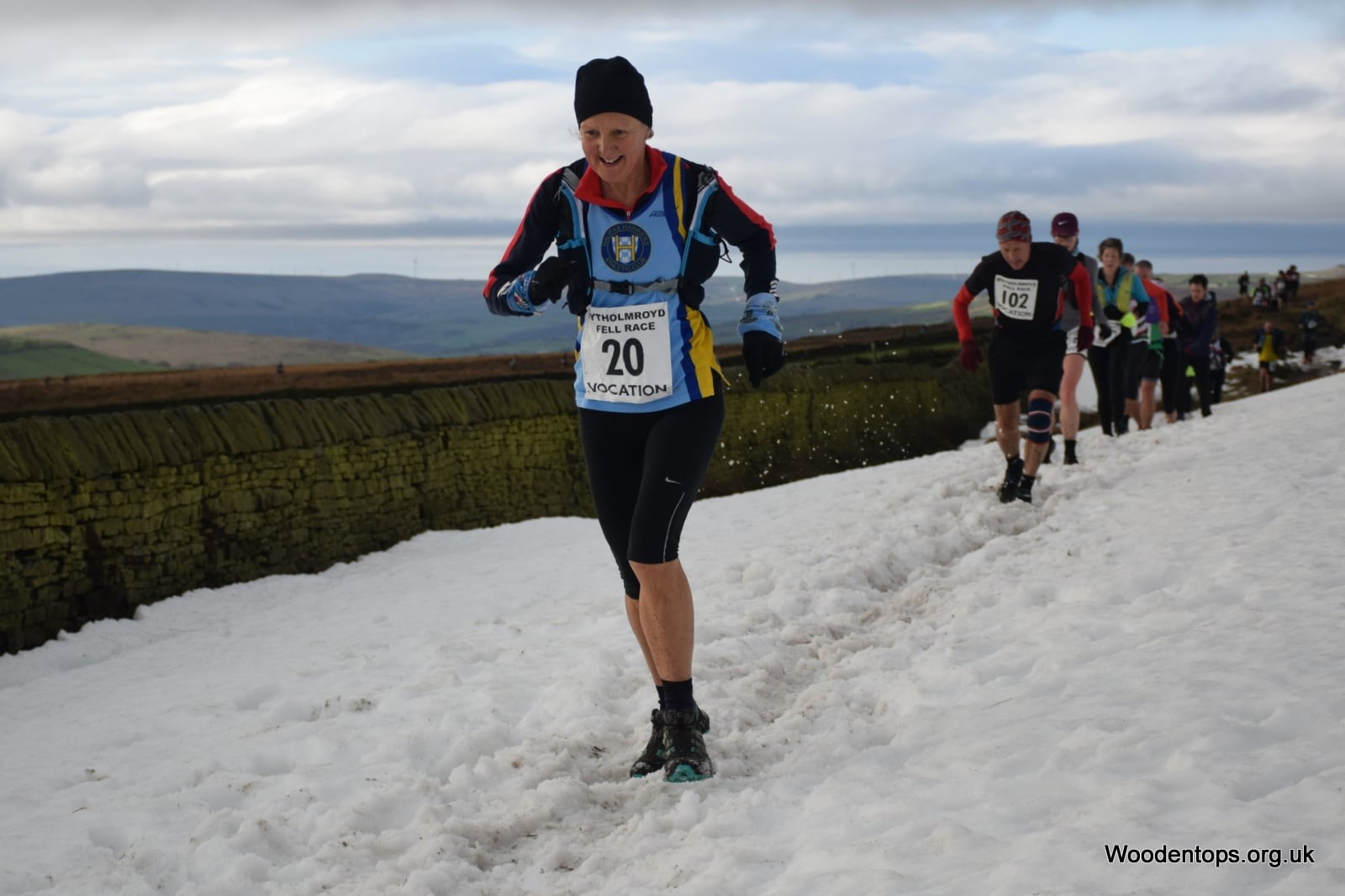 Three Halifax Harriers were amongst the 171 finishers at this year's Mytholmroyd Fell Race, which is part of the club's Fell League. The six mile course includes over 1,600' of ascent with two steep climbs onto Midgley Moor. The weather was cold but dry. Conditions underfoot were very muddy in places and included some patches of snow. Will Carver was the first Harrier home in 42nd place overall in a time of 1:03:57. Hazel Berrett was First F60 in 1:22:43. Martin Ellis finished in 1:30:23. Race sponsors, Vocation Brewery, provided very welcome refreshments at the end for all runners!
Erawan Leads The Way At Myerscough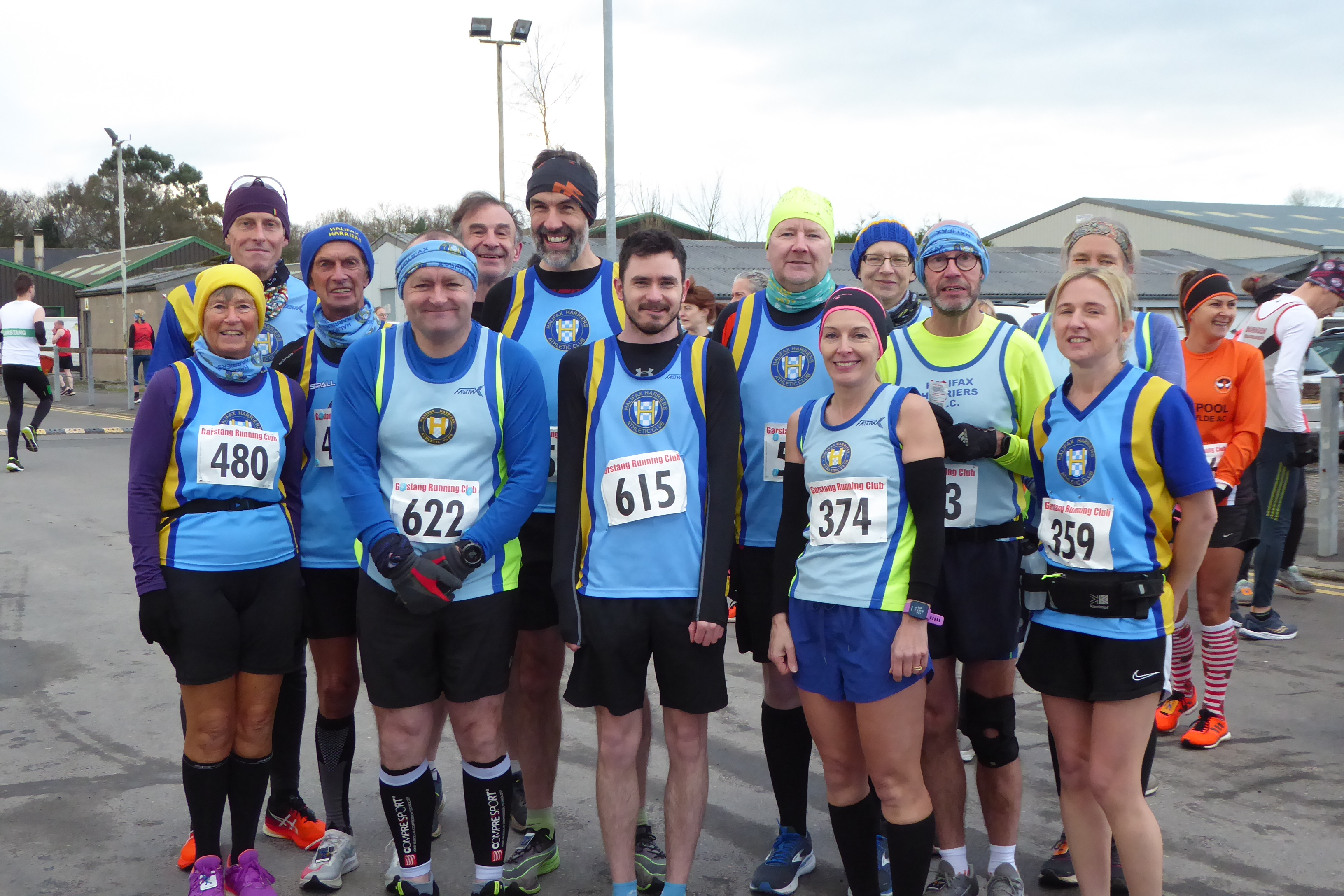 Erawan Wanithanont was first finisher for Halifax Harriers at the Myerscough 10 mile race at Bilsborrow near Garstang.  He finished in 18th position in a PB of 63:14 and 1st M40.  Joanne Arundale was third lady and first F35 in 69:53.
The race starts with a mile loop round the grounds of Myerscough College and then it is out on mainly quiet country roads to Inskip before returning the same way.  The conditions for the runners were reasonable to say the time of year, with a mixture of sun and cloud and temperatures in the range of 4 to 7 degrees.
The results for Halifax Harriers runners were Niall Smith 63:39, James O'Rourke 65:02, David Ingle 72:04, Rachael Beaumont 73:19 (1st F50), Robert Hick 74:59 (3rd M65), Paul Hopkinson 78:21, Stefanie Dickinson 78:42 (3rd F45), Wayne Stevens 80:22, David Parrington 89:39, John Moore 90:50, Deborah Kirkbride 1:40:00, Kirsty Carver 1:45:28, Susan Hall 1:50:01 (1st F70).