Sunny Beats The Wet In Wales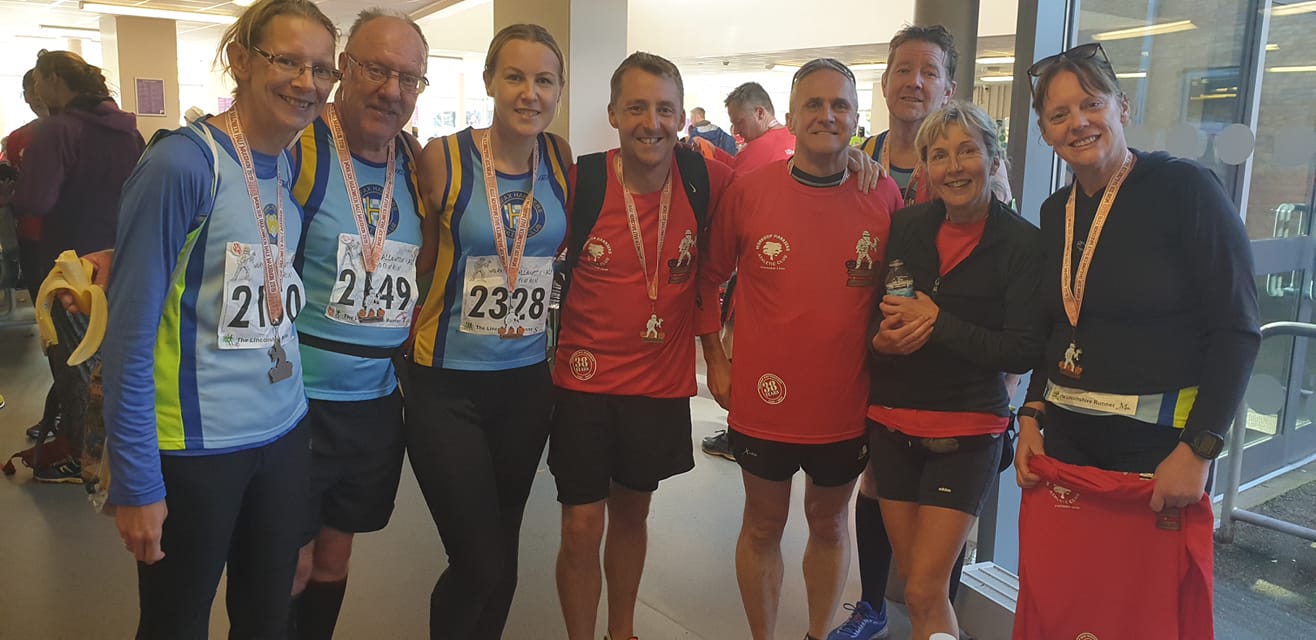 Sunny Curwen was the first finisher for Halifax Harriers on a wet Saturday at the Snowdon Marathon.  After persistent heavy rain on the previous day, it was just light rain that greeted the runners on this challenging course with over 800m of climbing, which included the highest hill at 22 miles, followed by a steep descent on water logged dirt roads.  Sunny finished in a PB of 3:38:13. Jude Cole also set a PB of 4:05:34 whilst Geoff Cumber was the M70 winner in 4:17:23 and Jane Curwen ran 5:57:22.
Come Sunday, the weather was lovely for the runners at the Worksop Half Marathon.  The course is described as undulating through pleasant countryside and attracted 2,400 runners.  Halifax Harriers had the race as part of the club competition which is a mixture of road races from 5k to half marathons.  First back for the club, in 17th position, was Niall Smith who was delighted to get a PB of 1:20:59.  The first lady back for Halifax Harriers was Sharon Cousen 1:47:02.  Ian Giles had very good run and was rewarded with a PB of 1:47:44.  Susan Hall was first F70 in 2:17:58. Other runners for the club were Andrew Wiggins 1:30:01, James O'Rourke 1:33:27, Will Carver 1:34:54, Marc Rocheteau 1:38:33, Paul Hopkinson 1:44:48, Nigel Rigg 1:49:34, Nigel Taylor 1:51:40, Rachel McCauley 1:57:50, Stephanie Dickenson 1:57:57, Fiona Murphy 1:58:39, Deborah Kirkbride 2:02:48, David Parrington 2:04:48, Christopher Kirkbride 2:14:21, Kirsty Carver 2:26:30.
As always, the Leeds Abbey Dash attracted thousands of runners for this fast out and back course.  Halifax Harriers had ten runners at the 10k event.  First to finish for the club was Stephen Fitz-Costa in a PB of 42:22. The next four back were within seconds of each other.  The fastest time of the quartet was from Tim Pegg 43:21 (PB), followed by Emma Vincent 43:49, Harry Brackenridge 44:00 and Angela Clarke 44:14 (PB).  Erika Nightingale ran 48:32 (PB), John Moore 49:32, Monica Gallagher 58:02 and both Teresa Booth and Susan Pegg 1:04:31 (PB's).  In the Junior Dash, Foley Marshall was 15th in 8:59 and Rhys Nightingale 51st in 10:19.
The Bronte Way Fell Race had four runners from Halifax Harriers.  First back was Andrea Ackroyd 1:27:20, followed by Martin Ellis 1:29:36, Jane Hobson 1:32:01 and Jenny St Romaine 1:50:16.
Juniors Win A Host Of Medals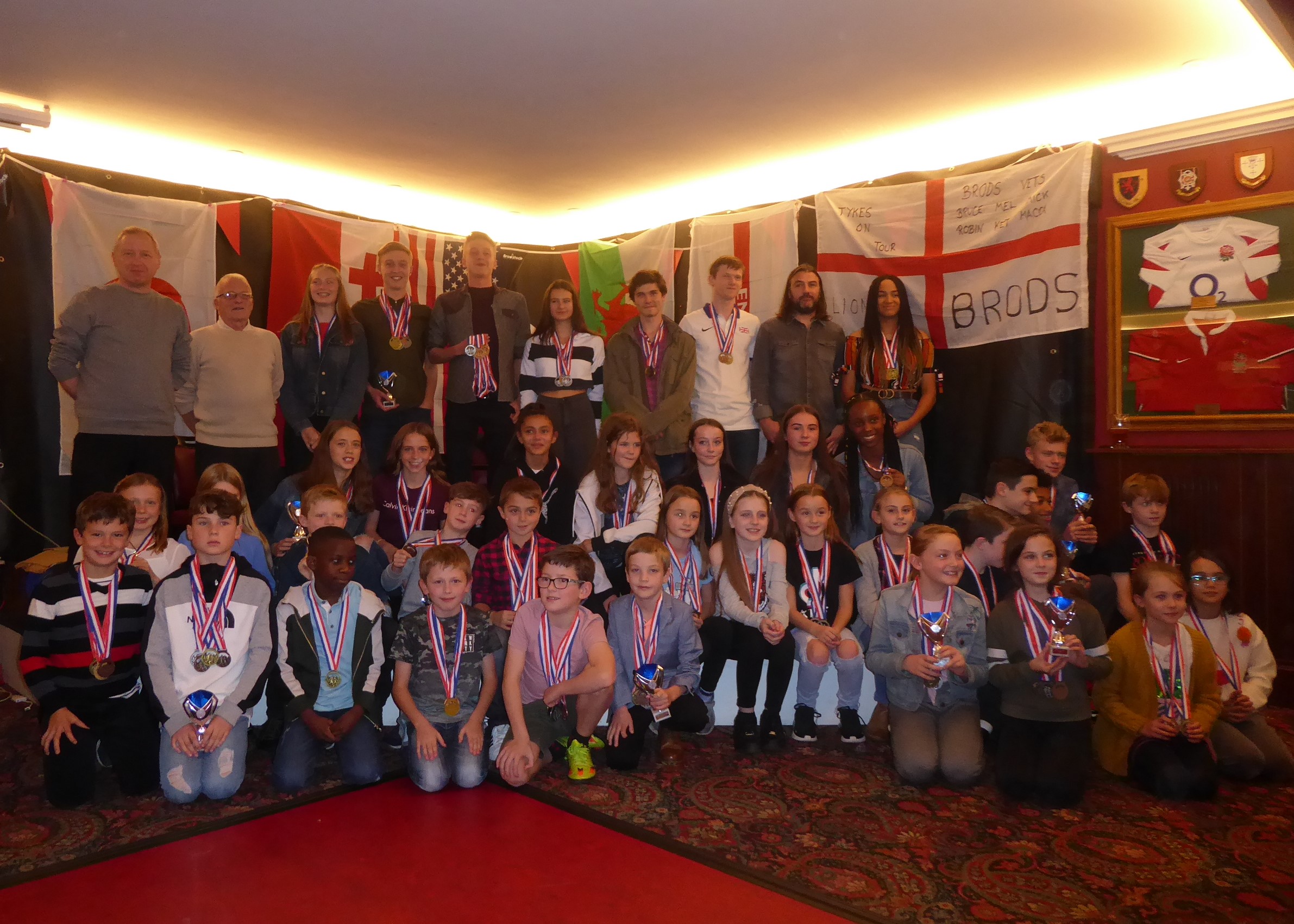 Halifax Harriers held their Annual Awards Presentation night where over one hundred athletes and parents celebrated the success of junior members at the club's Track and Field Competition held earlier in the year.
The awards were presented by Max Burgin who has gone through the ranks of the club to become one of the country's top 800m runners.  Max hold the World Record for both the 15 year old and 17 year old 800m and has run the qualifying time for next year's Olympics.
The junior members competed in races from 60m to 3000m as well as javelin, shot put and long jump. 
In the eight year old girls category, Francesca Egerton was the overall champion with twin sisters Alesha and Lily Atkinson in joint second place.  The eight year old boys had joint winners Arlan Wiggins and Fionntan Bunker both on 50 points, with Thomas Sanderson just behind on 49 points.
The under 11 girls also had joint winners with Thea McNulty and Eva Engwell both on 55 points, with Jessica Sanderson in third.  In the under 11 boys, Josh Cooke was the champion with Ben Slow second and Sam Keighley third.
The under 13 girls had a clear winner with Nia Harrison-Sargeant taking gold in all her four events.  Jayde McGregor was second and Olivia Ackroyd third.  Kai Daley was the under 13 boys champion with Freddie Bentley second and Oliver Norris third.
The under 15 girls had joint winners Amelia Brown and Heleanor MacDonald both on 70 points, with Niamh Woodhouse third.  The boys under 15 champion was Ben Border, with Harley Spears second and Alex Franklin third.
Tegan Hamilton-Adams was the under 17 girls champion, with Verity Clements second and Jess McConnell third.  In the under 17 boys competition, with 53 points, was Joseph Shaw.  He just pipped his twin brother James for the trophy who was in joint second place with James Johnson, both on 50 points.
Northern Cross Country At Graves Park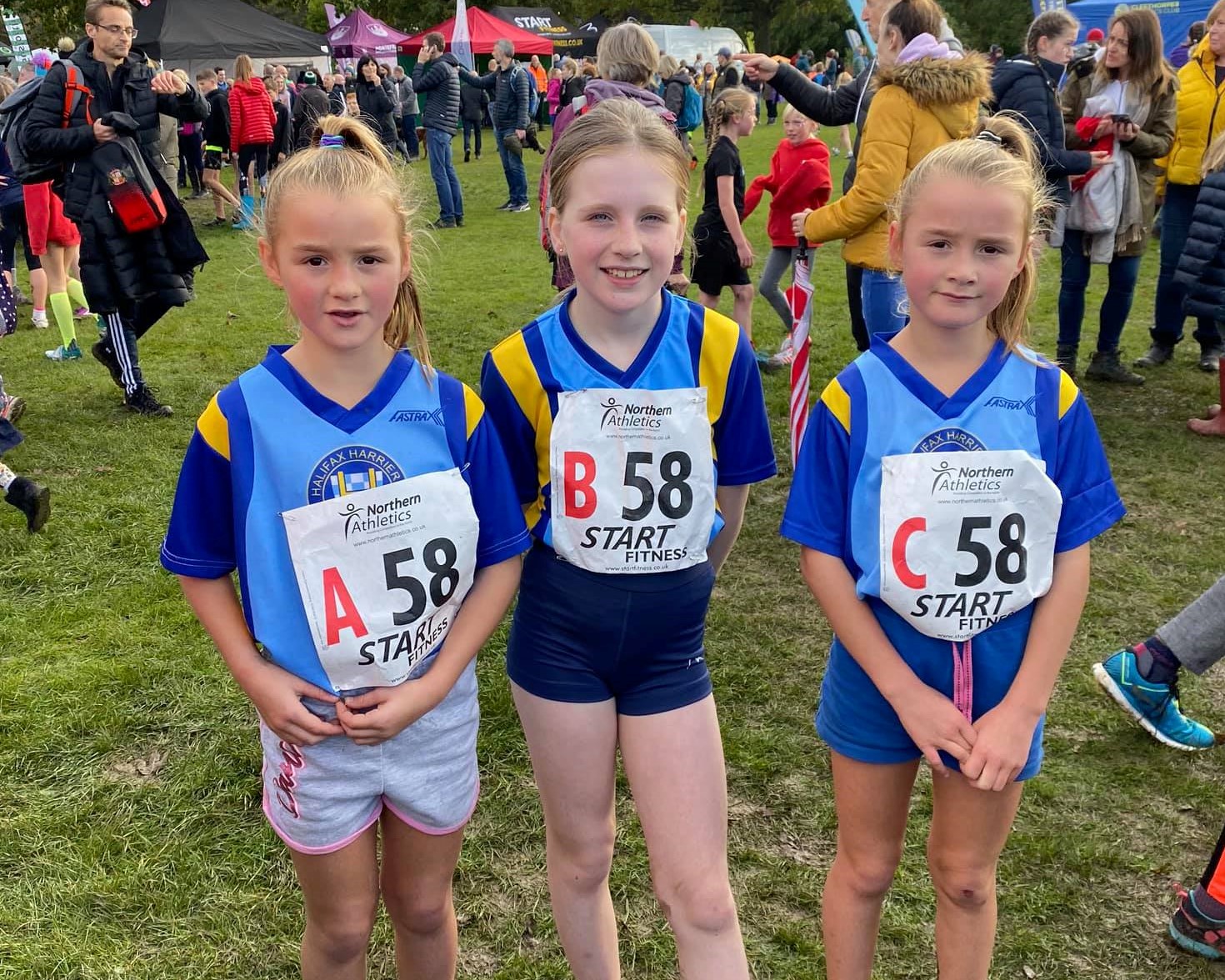 U11 Boys and Girls lead the Harriers Challenge at Graves Park
On a day that started with major delays on the M1 with people from all areas of the North of England arriving late, Halifax Harriers youngsters proved that delays had no effects on their performances on a sticky and undulating course. The U11 age group was the stand out highlight of the day.
In the U11 Girls Alesha Atkinson kicked off the relays running 6:05, followed by Ashleigh Dixon in 6:28 and as twins do, twin sister Lily Atkinson also ran a remarkable 6:05 to bring the team home in 14th place in the North of England. 
Not to be outshone the U11 boys finished a fantastic 6th team place with Eli Cattermole running 5:26 the quickest in the team ahead of Sam Keighley 5:30 and Joseph Stone brought the team hone in 6th running 5:41.
Nia Harrison-Sargent continued her remarkable progress as an U13 as she came in 1st place on leg one in a very tight finish. Nia ran the quickest time of the day in her age group, one to watch for the future.
Standout performance in the Senior Men and Ladies races was the Men's A team who finished 20th with new recruit Jorge Thomas running a fast 11:19 for 2 miles on leg two. Jorge took over from Will Smith leg one 11:58, Michael King continued his commitment to the relay squad running 12:49 on leg three and Harry Keighley (U20) running 13:44 on the last leg.
There were many other Harrier teams competing but too many to mention but a special thankyou to Samantha Layfield who stepped in at the final hour to complete a ladies B team. Thank you to Simon Clarke for his massive help too on the day. 
Great Run By Sarah At Great South Run
Halifax Harriers Sarah Cumber had a great run at the Great South 10 mile Run.  Her time of 1:01:56 was a club record for the F45 category and ranked her fourth in the UK.  At the same race, husband Geoff Cumber was first M70 in a time of 1:16:12, whilst Heath Reilly ran 1:25:07.
Nearer to home at the Yorkshire 10 mile race, Halifax Harriers has four runners out on the course.  First back for the club was Matthew Stott 1:12:03 (PB), followed by Sophie Kelly 1:18:53 (PB), Paul Greenslade 1:23:15 and John Moore 1:26:15.
Halifax Harriers had four runners at the Yorkshire Marathon.  The first finisher for the club was Will Carver 3:17:57 (PB), whilst Angela Clarke had an excellent run to set a PB of 3:35:35.  Paul Hopkinson ran 3:44:21 and Kirsty Carver 5:51:23.
At the Green Drive Five in Lytham St Annes, Susan Hall was second F70 in a club record of 48:00.
Halifax Harriers Return To Majorca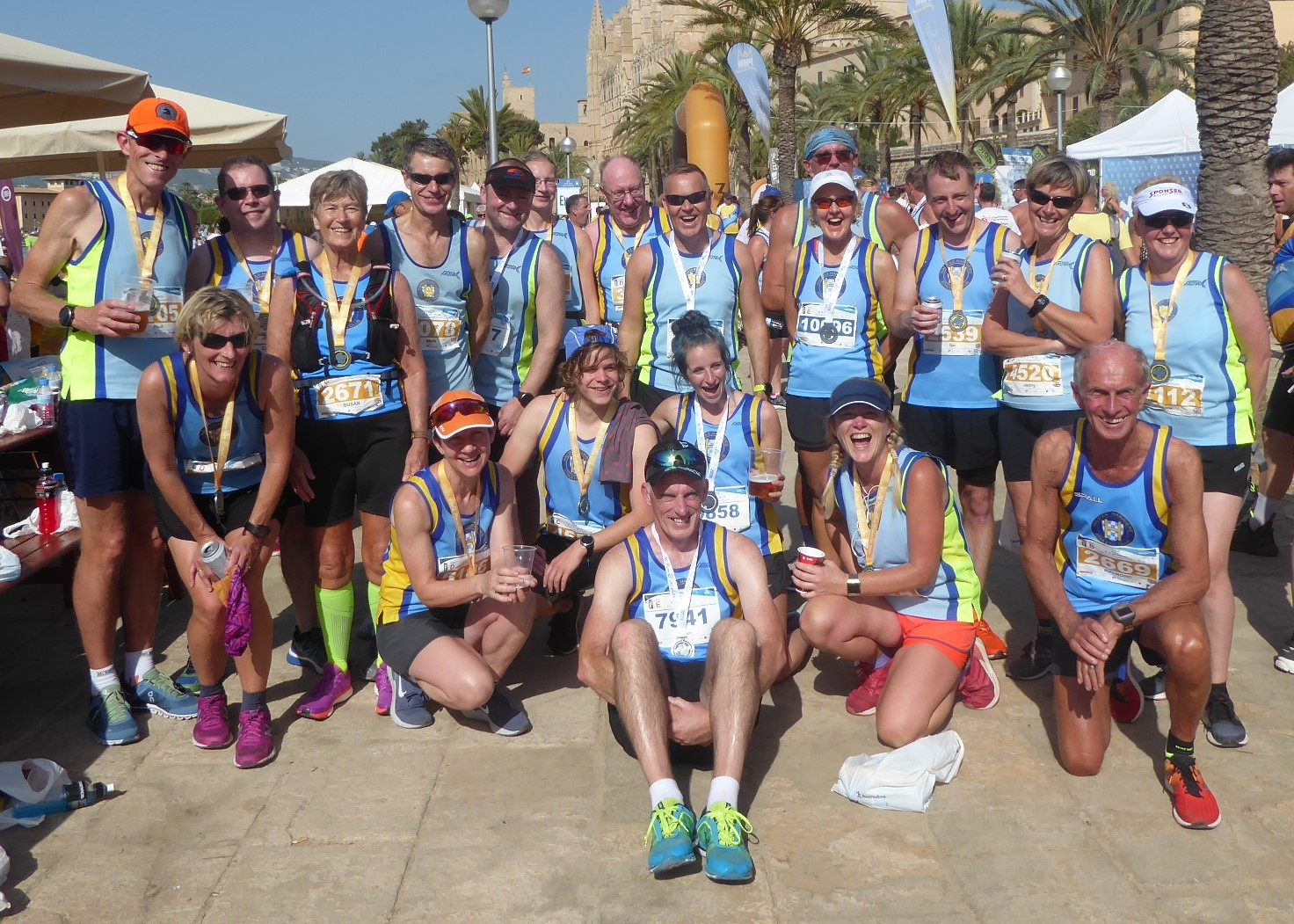 For the fifth consecutive year, Halifax Harriers had their annual club trip to Majorca.  Once again, they had warm and sunny weather for the half marathon and 10k runs.  These are one of the few races undertaken by club members intent on having a good time in the warm weather rather than worrying about setting PB's.  This does not stop runners trying their best, but, with the warm conditions and the nature of the course, times are less important than enjoying the day.
The 10k and half marathon both follow the same 6 miles from the start in front of the magnificent cathedral.  The route follows the seafront for the first 3 miles, passing the harbour full of expensive boats, before returning back to the start for the 10k runners.  The half marathon then follows a twisting, undulating route along narrow alleyways in the old town where there are spectators around each corner.
In the half marathon, which attracted 3,500 runners, Halifax Harriers were led home by Will Stewart for the second year in 1:38:34.  The first lady finisher for Halifax Harriers was Jennifer Hopkinson in 1:54:03 and Susan Hall was first F70 in a time of 2:30:05.
Other runners for the club in the half marathon were Paul Hopkinson 1:56:33, Ian Giles 1:59:09, Deborah Kirkbride 2:10:54, Daniel Ryan 2:13:40, Andrea Ackroyd 2:14:38, Mark Crabtree 2:14:38, Christopher Kirkbride 2:18:07, Jane Dacre 2:20:02, Jenny St Romaine 2:22:22, Jude Baines 2:44:02.
In the 10k, Halifax Harriers had 6 runners.  Once again, first back was Simon Johnson 41:53 and the first lady for the club was April Caufield 44:35 in a field of 2,700 runners.  Other runners for the club in the 10k were Craig Empsall 47:37, Wayne Stevens 50:52, Hazel Berrett 55:07, John Moore 56:34.
Johanna Comes Second At Chester Marathon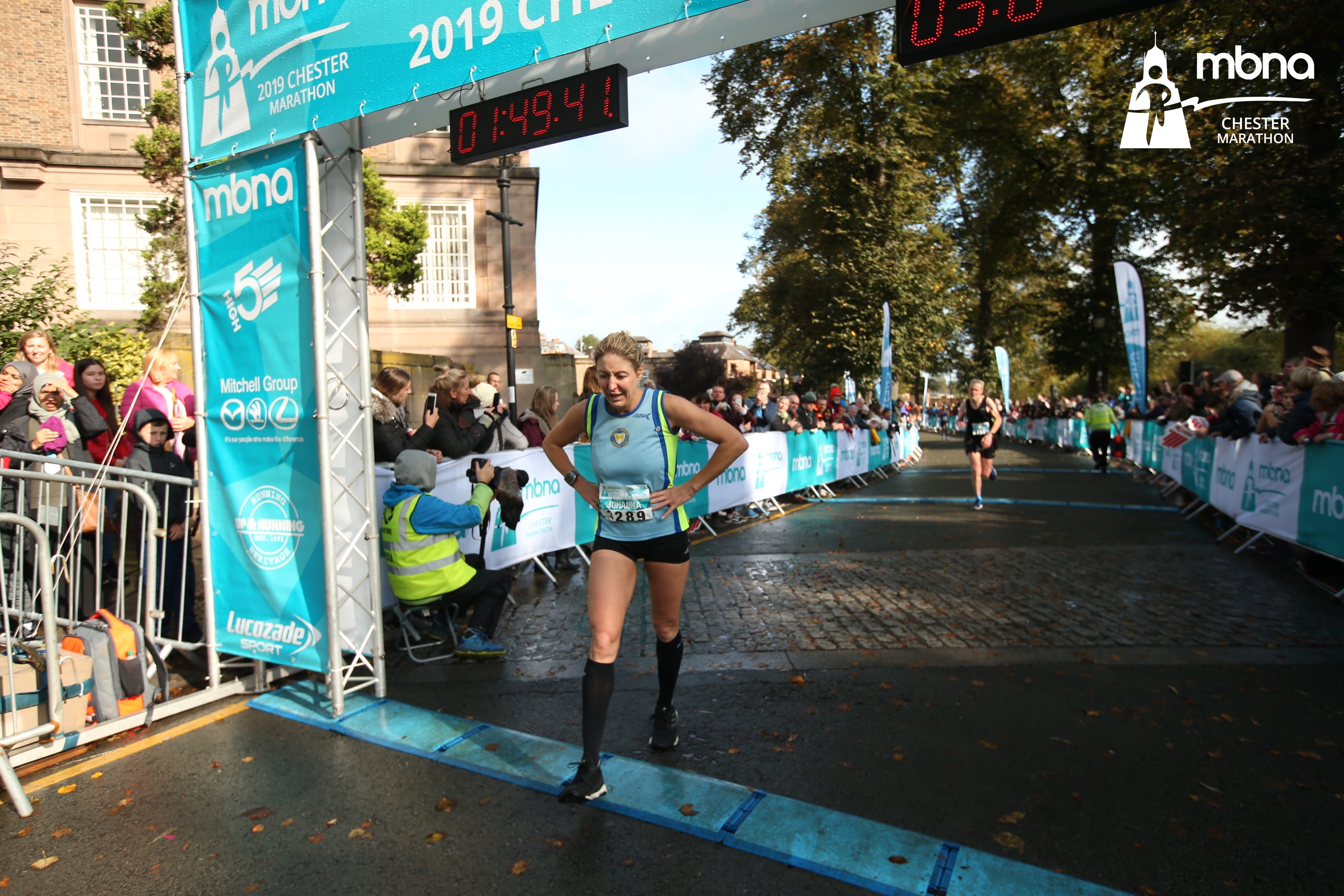 Halifax Harriers Johanna Sutcliffe had an excellent run at the Chester Marathon where she was second lady in a PB of 3:04:38. Also running for the club was David Parrington 4:25:34.
At the Shrewsbury Half Marathon, Fiona Murphy just failed to break the two hour barrier with a time of 2:00:10 for third F60, which was a club record.
Halifax Harriers had two runners at the new Hopton Trail 10k.  April Caufield was first lady in 47:39, with Will Stewart just in front of April in a time of 46:39.