Halifax Harriers Success At The Very Wet Bradford City Runs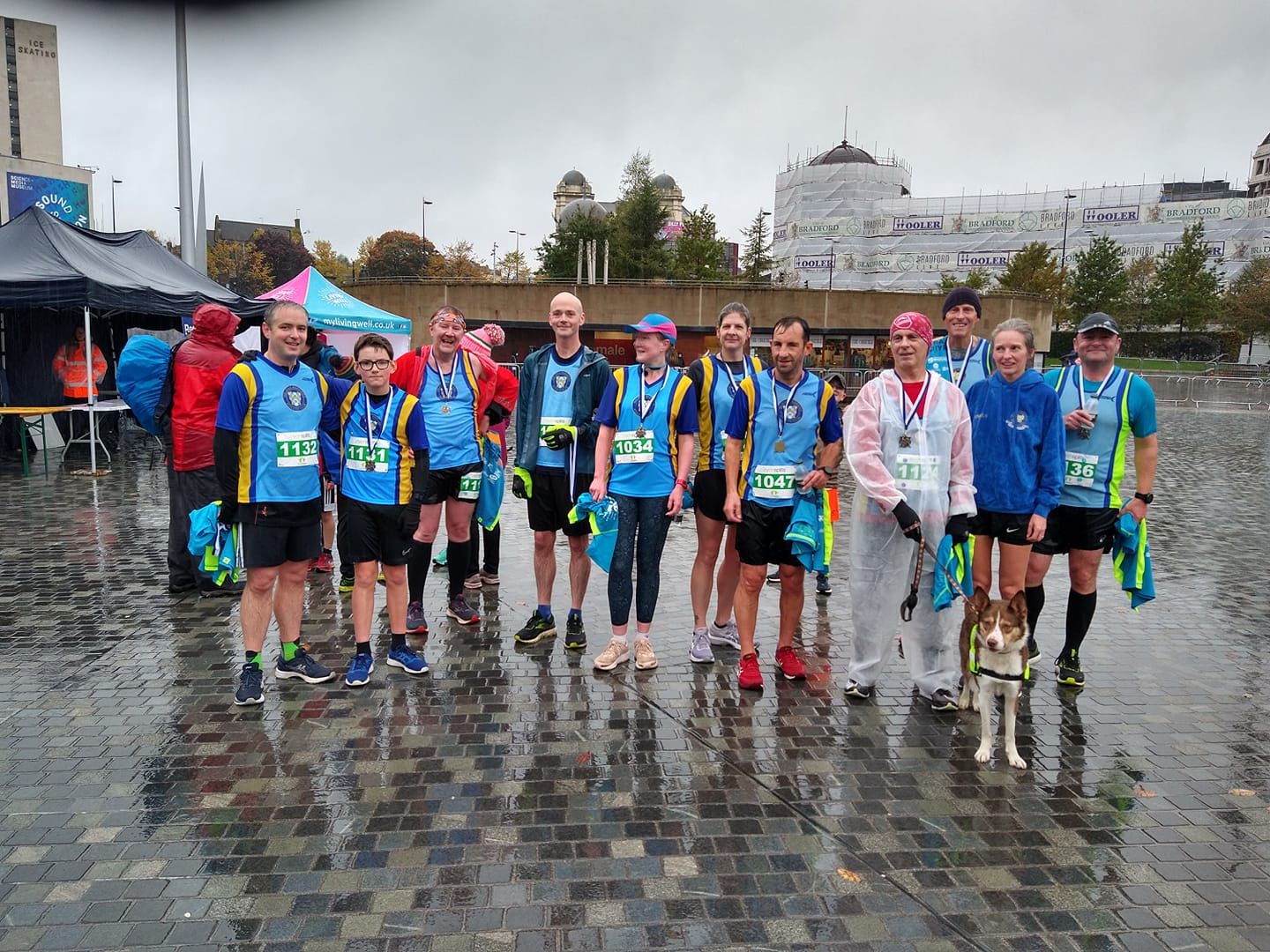 Halifax Harriers had great success at the Bradford City Runs on Sunday 31st October. Bradford City Runs is a festival of running with a unique format; one 5K loop starting at Ciry Park then up past the University, The Broadway shopping centre and Little Germany to create 3 adult race distances; 5k, 10k and a half marathon and a kids one mile fun run. The number of entrants was around 350 for the three senior races, down by over a half from the last time it was run in 2019. The non-stop torrential rain must have put some runners off and it was impossible to avoid the rivers of rain running down the streets.
The first three Harriers in the 5k race were Ben Crowther who won the race in a time of 17:28, Niall Smith was 5th (3rd MSen) and Danny Baxter 6th (1st MU20). The first Harriers three ladies back were Helen Ward (1st F35), Angela Clarke (2nd F45) and Stefanie Dickinson (F45 3rd)
Other runners for the club were James O'Rourke (1st M45), Will Carver (2nd M40), Stephen Fitz-Costa (1st M55), Wayne Stevens (3rd M50), Paul Hopkinson (1st M60), Marc Rocheteau (M55 2nd), Ben Slow (MJun), Tim Slow, Katie Brook (2nd FJun). David Parrington, Jane Stewart (1st F60), John Moore, Kirsty Carver, Chris Kirkbride (2nd M60), and Deborah Kirkbride (3rd F60). 
In the Half-Marathon Will Stewart finished third overall (1st MSen), April Caufield was the first female finisher (1st FSen) and Joanne Arundale was 2nd female finisher (F35 1st).
Harriers Well Represented At Off-road Races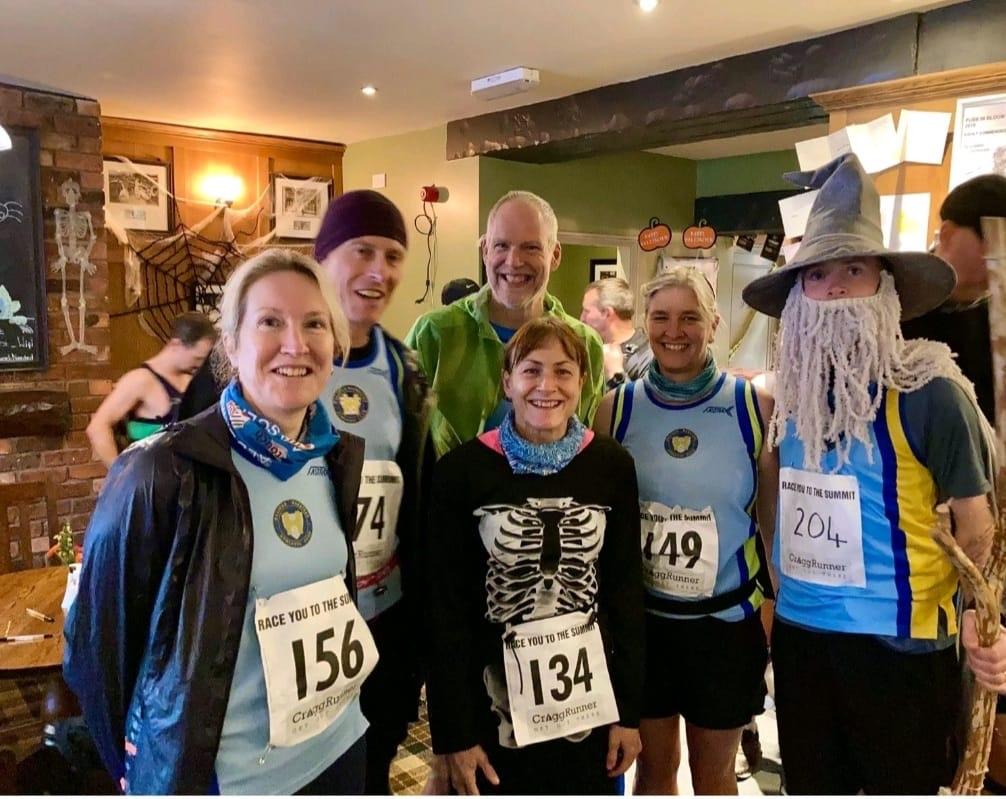 Race You to the Summit Fell Race
Eight Halifax Harriers competed in Saturday's Race You to The Summit fell race. It is a long established race of over 4.5 miles and nearly 1,000' of climbing that begins at The Summit pub near Littleborough. The course climbs over the moors to the White House pub at Blackstone Edge before heading back down to the start. The early morning rain cleared just before the race start and it remained dry. Kieran Manchester was the first Harrier home in third place overall in a time of 30:39, less than a minute behind the race winner. Jane Hobson was the first Harriers lady back in sixth in the ladies race in 44:39. Other Harriers were Will Carver (39:36), Simon Gelsthorpe (40:54), Paul Hopkinson (48:35), Martin Ellis (52:39), Margaret Deacon (53:36) and Kirsty Carver (59:06).
Apperley Bridge Canter
Four Halifax Harriers participated in the Apperley Bridge Canter, a challenging race of around 10k on a mix of woodland tracks, paths and roads in a rural part of the Aire Valley. The runners enjoyed a great route in glorious sunshine. Sally Shacklock was the first Harrier home in 58:30. Other Harriers were Andrea Ackroyd (59:57), Jenny St Romaine (66:47) and David Parrington (69:01).
Joshua Leeds Harriers Home At Abbey Dash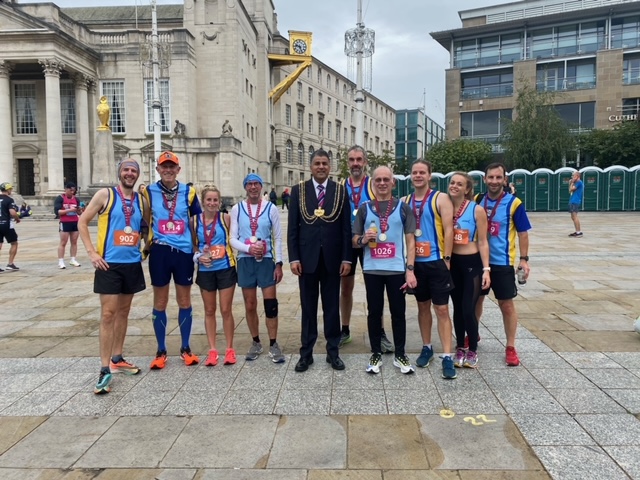 Joshua Hall-Brown was first back for Halifax Harriers at the Leeds Abbey Dash 10k in 33:01 (PB).  The entry this year was well down on previous years with only 2,700 completing the course.  The race started and finished on the Headrow in front of Leeds Town Hall.  Improvements to the route eliminated some of the turns through the shopping centre on the way out and the runners had a slight incline on the way to the turn point at Kirkstall Abbey.
The first three men back for Halifax Harriers were Joshua Hall-Brown, Nial Smith 37:59 and Tom Paget 38:01 (PB).  The first three ladies back for the club were April Caufield 40:09, Alice Vick 41:58 (PB) and Rachael Beaumont 44:09.
Other runners for the club were James O'Rourke 38:23 (PB), William Stewart 39:34, Stephen Fitz-Costa 43:58, Angela Clarke 44:16 (PB), Erika Nightingale 44:53 (PB), Robert Hick 45:20, Nigel Taylor 46:16, Paul Hopkinson 46:21, Marc Rocheteau 46:55, Stefanie Dickinson 47:29 (PB), Tim Slow 48:42 (PB), David Parrington 54:38, Angela Cowton 58:07 (PB), Kirsty Carver 59:51, Deborah Kirkbride 59:59, Christopher Kirkbride 63:07, Susan Hall 65:04 (3rd F70), Monica Gallagher 65:19.