It's Good To Be Back Racing Again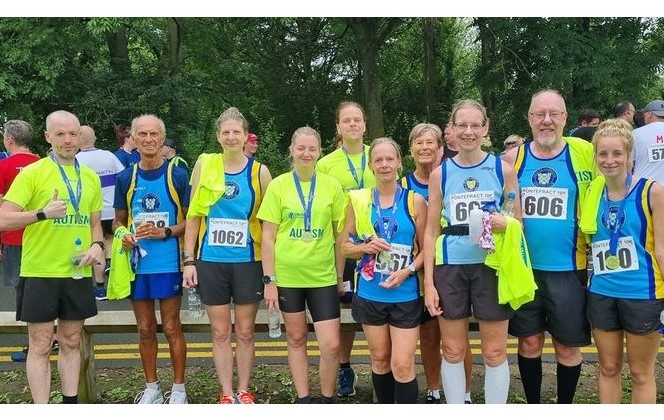 Damp, but still conditions, saw 19 members of Halifax Harriers take the short journey to Pontefract for the 10k, which is run on an undulating course from Pontefract Race Course.  Early morning rain cleared just before the start for the 800 or so runners, making the conditions good for running.
First back for the club was Nial Smith 37:42 in eighteenth position overall.  Three other men went under 40 minutes – Will Stewart 39:17, Michael King 39:26 and James O'Rourke 39:33.
The first lady finisher for the club was April Caufield 40:56 followed by Helen Ward 42:44 and Samantha Layfield 51:26. Jane Stewart 55:22 was first F60 with Deborah Kirkbride third F60 in 57:40. Susan Hall was second F70 in 62:05.
Other runners for the club were Ryan Barker 40:04, Stephen Fitz-Costa 45:35, Wayne Stevens 48:30, Nigel Taylor 48:34, Marc Rocheteau 48:38, Raymond Hall 50:50 (third M70), John Moore 55:43, Christopher Kirkbride 57:35, Emily King 58:57.
CLUB RECORD AND FASTEST IN UK 2021
Sarah Cumber had an outstanding run at the Riverside 10 mile race at Lancaster where she broke the race ladies record for the distance in a time of 66:48 which was also a club F50 record and the fastest time by a female V50 runner in the UK this year. Also running was Jonny Lister who finished in 71:02.
Wharfedale Trail Half Marathon And Stocks Lane Stinger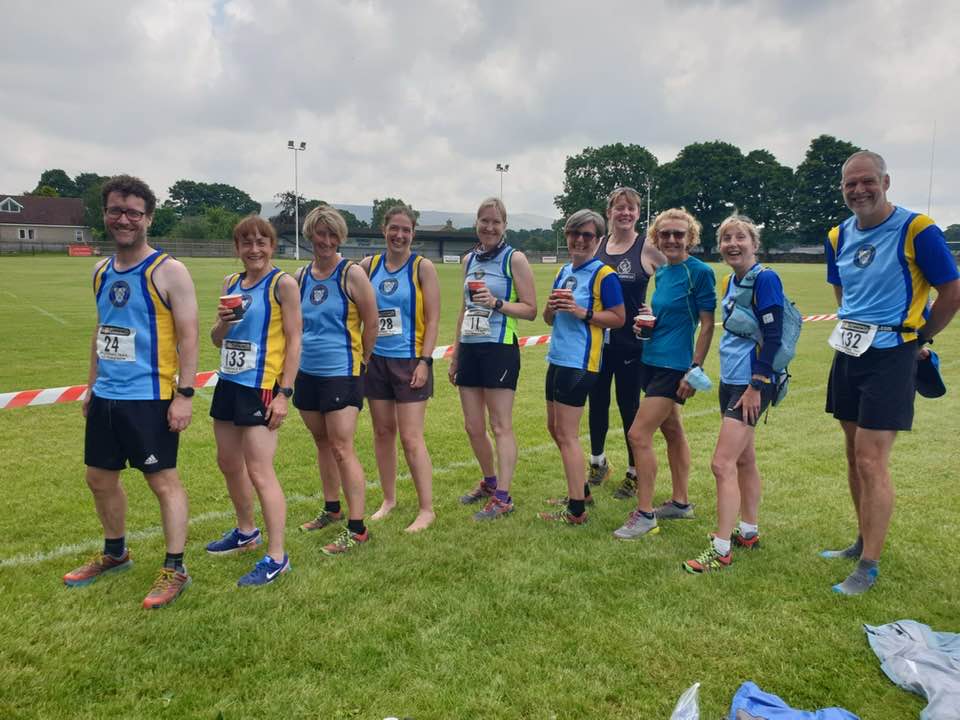 Ten Halifax Harriers competed in Saturday's Wharfedale Trail Half Marathon. The 13.2 mile race is on a tough but very scenic course in the Yorkshire Dales. There are a number of challenging climbs with the ascent totalling over 2,000'. There were some excellent performances by Harriers ladies. Hazel Berrett was first Harrier home and was second in her category (F55) in a fine time of 2:12:31. Jane Hobson followed and was third in the F50 category in 2:17:30, continuing her excellent recent off-road performances. Fiona Murphy was first F60 in 2:30:58. Other Harriers to run were Nigel Jamieson, Margaret Deacon, Andrea Ackroyd, Sally Shacklock, Martin Ellis, Sharon Cousen and Jenny St Romaine.
Four Harriers ran in the Stocks Lane Stinger on Sunday. The route  is approximately 6.5 miles long on mixed terrain and, as befits the race name, concludes with a gruelling 1.25 mile climb out of Luddenden up Stocks Lane to Mount Tabor, with an average gradient of 11% and a maximum of over 17%. A cooling light rain during the race was gratefully received by the competitors! Harriers ladies again excelled. Alice Vick was the second lady to finish in 11th position overall in 52:46. Rachel Beaumont picked up two prizes - 3rd lady and first female over 50 - with a time of 53:16. Completing the Harriers line-up, Margaret Deacon (64:47) and Martin Ellis (67:07) were both third in their age categories.
West Yorkshire Track And Field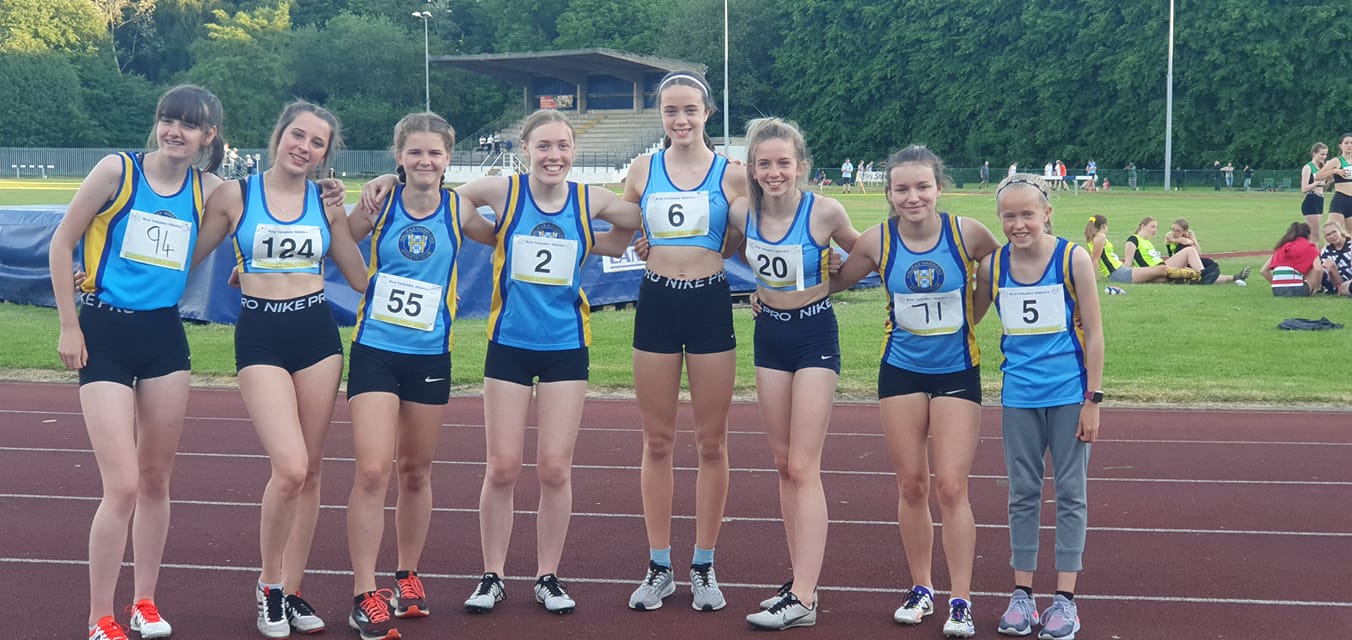 It was another fantastic night of great performances by the young stars of Halifax Harriers at Cleckheaton. Molly Firth continued her dominance of the U17 Girls division with another winning 800m and a 200m PB of 26.1, closely followed by Elise Horner with a new PB of 27.41. Jayde McGregor overcame tired legs from her effort in the English Fell Championships and scored a massive PB in the GU15 800m, winning her heat in 2.24.17. Maisie Brown is getting back to her best level with a 28.68 GU15 200m. Nia Harrison Sargent clocked a 200m PB of 27.3. Poppy Jowett won the GU11 75m and Kitty Harrison-Sargent narrowly missed out on a PB in the 80m, finishing 4th. Maisie Gilligan got herself a new PB in th GU17 200m of 29.17, Paige Hardcastle clocking 29.1. Louise Royston won the Senior Women's 200m in 26.81 and, as usual, Claire Ryan turned up and put in a good points winning performance (as a F vet 40).
Sam Keighley won the U13 800m with a (big) new PB of 2.29.24. He was ably supported by Ben Slow and Beau Clark who both worked hard to set benchmark times for themselves. Ben then won the high jump with a leap of 1.25m. In the U13 Boys Albert Jones scored well, finishing 4th in the 600m and 3rd in the Long jump. Euan Logue, Alfie Brook and Elliot Clark all worked hard for points in the U15 division, with Euan posting a huge 800m PB of 2.23.8. and Elliott leaping to second in the Long Jump with 4.5 m. Eesa Idrees represented well in the U17s, winning the discus and coming 3rd in the 200m. And in the U20 division, Ben Combes ran a decent 200m, finishing 2nd in 24.93. All in all, a superb effort from all our athletes. Thank you for your efforts and well done.