Hanni Claims Bronze And Sam Bags A Pb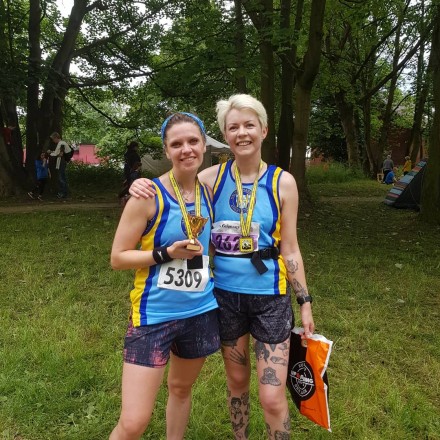 The Summer Canal Canter is organised by It's Grim Up North Running and offers runners the choice of several distances ranging from 5k through to Ultra. As the name suggests, the route is along a stretch of canal towpath starting at Kirkstall and heading out and back towards Saltaire depending on the distance of each race.
The Halifax Harriers were represented by 2 female runners who had both opted for the half marathon distance - Sam Sugden, who was using the race to kick start her autumn marathon training and Hanni Maeer, who just fancied getting out of the house on a pleasant Sunday morning. The half marathon route took runners out to Rodley, before turning back to the start and out for a further 3.5miles to Leeds city centre and back to the start again. Hanni started strong, closely tailing the leading 3 ladies to the first turning point where she overtook a Horsforth Harrier to take the 3rd place position. At the half way point she had extended the distance to about half a mile and was hanging on to the 2nd lady who was just ahead. A strong first 10 miles did however take it out of her and she couldn't quite catch the leading 2, however she'd well and truly shaken off the other women in the field and crossed the line in 1.47 as 3rd lady by a considerable distance.
Sam also ran a fantastic race and earned a new PB of 1.55 - a great start to her marathon campaign.
Will Wins In Record Time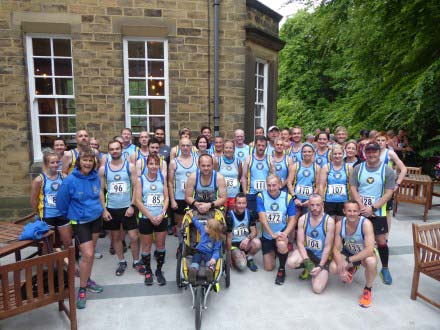 The Joe Percy 10k attracted a record field of 434 runners to the undulating course.  For the second year running, Will Smith of Halifax Harriers won the race in a new club record of 34:12, beating his own record by 22 seconds. Halifax Harriers ladies were led home by Helen Glover 40:05, who was 2nd lady in the race. Halifax Harriers men's team were crowned champions again this year, with the ladies team coming 2nd in the female category.
Age group winners for the club were Ryan Barker 37:21 (M45), Simon Johnson 37:39 (M50), Mark Crabtree 41:11 (M55), Geoff Cumber 46:11 (M70), Laura Knowles 46:45 (FU18).
Other runners for the club were: Michael Gaughan 36:37, Michael King 38:47, Niall Smith 38:59, Ian Whitehouse 39:55, Adrian Thomas 40:07, Harry Johnson 40:30, Charlie Spencer 40:30, Andrew Wiggins 40:49, Paul Berry 40:53, April Caufield 41:09, Johanna Sutcliffe 41:34, Matt Kay 41:48, Mark Knowles 41:51, Liam Spencer 42:15, Will Stewart 42:45, Rob MacDonald 43:56, Mark Gaughan 44:01, John Whitlow 44:11, Marc Rocheteau 44:12, David Nutton 44:29, Rachael Beaumont 44:49, Nigel Rigg 45:21, Robert Hick 45:41, Paul Hopkinson 48:27, Wayne Stevens 48:22, Peter Matthews 48:25, Nigel Taylor 48:36, Hanni Maeer 48:40, Jennifer Hopkinson 50:06, Margaret Deacon 51:23, John Moore 51:38, Chris Greenwood 51:43, Nigel Corns 51:38, Paul Bunker 51:37, Jazz Sandhu 51:52, Samantha Layfield 52:16, Sally Shacklock 52:00, Sam Wright 53:47, David Parrington 54:49, Jude Baines 56:13, Dave Cooper 56:13, Sarah Langan 57:02, Jenny St Romaine 58:48, Keith Midgley 60:50.
Firsts Galore Art The Brighouse Park Run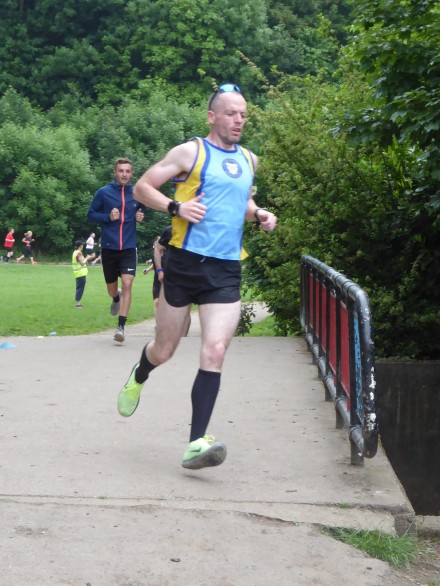 The Brighouse Park Run is a free to enter 5k held every Saturday morning at Wellholme Park, Brighouse. Last Saturday Halifax Harriers had 24 members using it as one of their Club Championship races.
The first male finisher was Halifax Harriers Simon Johnson in 17:42, setting a M50 age group record.  Second male finisher was Halifax Harriers Michael King in 18:04, closely followed in third place by Halifax Harriers Harry Johnson in 18:10 (1st MJ15/17).
The first female finisher was Halifax Harriers Johanna Sutcliffe in 19:25, setting a F40 age group record.
Other first place age group finishers for Halifax Harriers were James O'Rourke 19:13 (M40), James Johnson 20:01 (MJ11/14), Rachael Beaumont 21:00 (F45), Susan Hall 29:22 (F65).
Northern League Track Meeting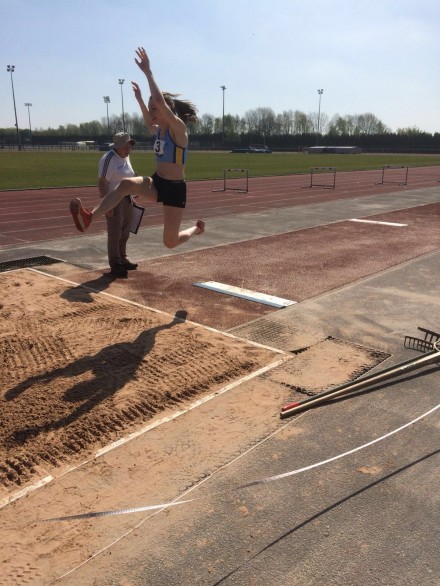 Halifax Harriers senior men and women covered a round trip of 140 miles to complete at the Northern League match in Crewe at the Cumberland Athletic Arena. The day's outing proved successful with a 2nd place against the other 6 teams in the League.
James Habergham led the field in a storming 5000m race to finish 1st in 16:01.  He also ran a tactical 800m to finish 1st in 2:01.
In the 1500m, Joe Crossfield returned to good form with a win in 4:14.  He was backed up by Michael Gaughan who was 1st in the 'B' race in 4:29.
Talented U/23 Harry Mallinson ran a good 2nd place in the 'A' 400m race in 51.2, backed up by Paul Willis 3rd place.  Willis also competed over the 100m and 400m hurdles, both in 2nd places.
In the women's field section, throwers Jessica Hirst and Megan Ascough excelled.  In the hammer, they both had season best throws – Hirst 'A' 40.89m and Ascough 'B' 40.00m.  In the discus, Hirst 'A' 33.59m and Ascough 'B' 23.02m.  In the shot, Ascough 9.60 (PB) and Hirst 8.66m.
Lorna Gill was 1st in the triple jump 10.72m and 2nd in the long jump 5.16m.  On the track, Gill was 1st in the 100m in 12.7.
Yorkshire Champion, Louise Royston, recorded PB's in both the 200m 25.7 and 400m 56.4.  Also in the 400m, U/20 Lucy Mills had a successful debut for the seniors with 1st in the 'B' race 60.7.  Claire Ryan V35 ran the 800m 'A' in 2:50 and was 1st in the 400m and 100m hurdles.  Kelly Willis ran a PB in the 200m 29.9.
Sarah Cumber V45 showed how versatile an athlete she is by her 2nd close fought 10:42 in the 3000m following her 3rd V45 at the London Marathon.
To round off a good day for Halifax Harriers, both the men's and women's relay teams were 1st in the 4 x 100m and 4 x 400m.