Vitality London 10k
Bank Holiday Monday saw some of Great Britain's finest athletes compete in the Vitality London 10k round the streets of London on closed roads.  The race starts in the Mall with runners going through Admiralty Arch to Trafalgar Square then all the way to St Paul's Cathedral and then back along the Strand, past Downing Street to the finish line in front of Buckingham Palace.  The race organisation was excellent and all the needs of the runners were well catered for.
The race was won by Mo Farah in 29:44 and the ladies winner was Steph Twell in 32:34.
Halifax Harriers had been invited to send a men's and ladies team to the race. Conditions on the day were on the warm side.
First to finish for Halifax Harriers was 16 year old Harry Johnson in 37:36 and the first lady to finish for the club was Johanna Sutcliffe in 40:19.
Other Halifax Harriers runners were:-  Michael King 38:00, Simon Johnson 38:07, Mark Crabtree 40:42, David Ingle 40:52, Marc Rocheteau 44:11, Peter Matthews 47:05, Hanni Maeer 48:45, Wayne Stevens 48:58, Samantha Layfield 49:48.
Small Team Big Performances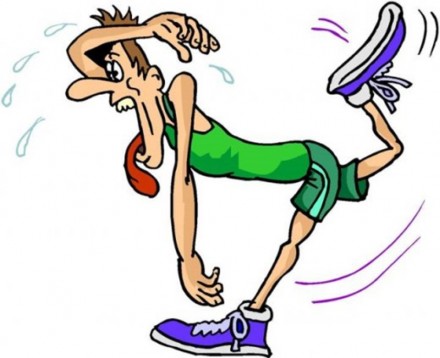 Halifax Harriers sent a small team to the first match of the season in Division 4W of the Northern Athletics league due to work and other commitments and even one athlete stuck in heavy traffic and unable to make the meeting, next time Lucy. Altogether we had 4 women and 3 men who all performed very well to gain good points.
Men
In the sprints Harry Mallinson came 3rd in 100m A race and 1st in 400m A race. Harry Keighley finished 5th in the 200m A race, 2nd in the 400m B race and 2nd in the 800m A race, Harry posted these results with excellent times in amongst studying for his exams so a great debut when he has higher priorities.
In the field Mark Gaughan and Paul Sutcliffe threw all shapes and sizes to keep the total ticking along. Mark also out sprinted his rival to take maximum points in the 3000m steeple chase. Unfortunately due to there only being 3 fit men we could not put any relay teams out.
Women
In the sprints Lorna Gill won the 100m and Louise Royston won the 200m and 400m A races in quick times assisted by Kelly Willis with a great 3rd place in a strong 200m B race. Hannah Roby also kept up the winning mentality with victory in the 800m.
In the field Lorna continued her brilliant contribution winning the long and triple jump. Louise, Kelly and Hannah also kept the points score moving by filling places in the javelin and shot putt.
The women really shined in the relays taking both, to win both relays with the same team shows how well they performed on the day.
Overall Halifax finished a creditable 5th out of 7 teams and we fully expect that once we can get more teams out we should be able to move up the table and challenge for promotion.
Macclesfield                                273 points
Horwich and Chorley                   263 points
Altrincham                                   261.5 points
Crewe and Nantwich                   239 points
Halifax                                          216 points
Oldham and Royton                     196 points
Wrexham                                     195 points
Max Strikes Again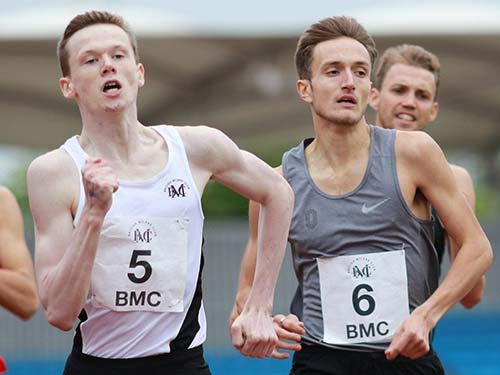 Max Burgin lit up the first BMC Grand Prix of the season with a stunning 1:47.50 800m win.
Racing at Manchester's Sportcity, the 15-year-old from Halifax Harriers was content to sit in the pack before edging out Spencer Thomas (1:47.76) in the home straight. His time was a British under-17 record and a world age best mark for the distance.
The previous UK under-17 record had been 1:48.24 set by Sean Molloy in 2012, while Burgin's best ahead of the race had been his 1:49.42 from last summer.
Halifax Harriers Ladies Shine
The North Lincolnshire half marathon was run in baking hot conditions.  The organisers did a fine job by providing extra water stations and excellent first aid around the course.
The race started a short walk from race headquarters at Quibell Park Stadium, Scunthorpe.  The runners covered the half marathon on flat country roads and, under normal conditions, this is a PB course, but, on the day, it was just a question of getting round as safely as possible to finish on the running track.
One of the few runners from Halifax Harriers who did set a PB was Michael King, who was first back for the club in 1:26:01.  Other PB's were set by Will Carver 1:33:51, David Parrington 2:00:34 and Kirsty Carver 2:28:25.
However, it was the Halifax Harriers ladies who brought home the prizes.  The ladies team of April Caufield, Rachael Beaumont, Hazel Berrett and Hanni Maeer were third team.  Hazel Berrett was 1st F55, Rachael Beaumont 2nd F45 and Susan Hall 3rd F65.
Other Halifax Harriers runners times were:  James O'Rourke 1:29:46, Niall Smith 1:32:15, April Caufield 1:34:14, Will Stewart 1:34:40, John Whitlow 1:36:17, Rachael Beaumont 1:38:29, Paul Hopkinson 1:44:59, Nigel Rigg 1:46:25, Keith Lemon 1:47:47, Hazel Berrett 1:48:07, Daniel Ryan 1:52:45, Hanni Maeer 1:53:41, Sophie Baxter 1:57:01, John Moore 1:59:05, Jane Hobson 2:08:06, Susan Hall 2:18:57.