Marathons Of Extremes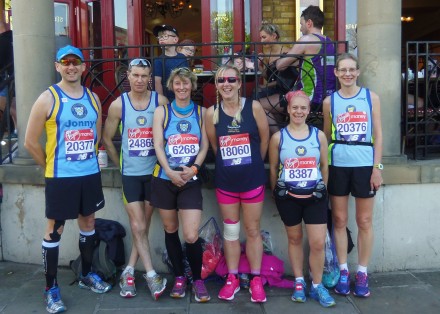 Whilst runners in the London Marathon had to contend with record high temperatures, those at the Blackpool Marathon had cool, wet and windy conditions.
Halifax Harriers had thirteen runners in London, with many finding the going tough with results well down on their predicted times.  Sarah Cumber however performed well, finishing as 3rd F45 and 50th lady in the race in a time of 3:02:27.
Other runners for the club were: Andy Wiggins 3:22:03, Peter Clegg 3:22:59, Mark Crabtree 3:25:54, David Ingle 4:05:32, Jonny Lister 4:21:36, Andrea Ackroyd 4:25:40, Jim Goldsmith 4:27:27, Jaswinder Sandhu 4:32:10, Jude Baines 5:21:15, David Cooper 5:21:15, Sue Radcliffe 5:28:00, Deborah Kirkbride 5:31:05, Kimberley Shedden 5:33:10.
The Blackpool Festival of Running started on Saturday in sunny and still conditions for the 10k race in which April Caufield was 2nd lady in 41:27 with Will Stewart just behind in 42:25. 
On Sunday the weather changed to rain and wind for the half and full marathon.  In the half marathon, April this time was 3rd lady in 1:31:25, with Will this time finishing just in front of her in 1:29:42.
Halifax Harriers had three runners in the full marathon which was two laps of the half marathon course.  Steve Sladdin was just outside his PB with a time of 3:14:10 while Sarah Sladdin ran 4:07:09.  David Parrington had an excellent run to improve his best time for the marathon by almost one hour with a time of 4:28:49.
Great Turnout At Bradford 10k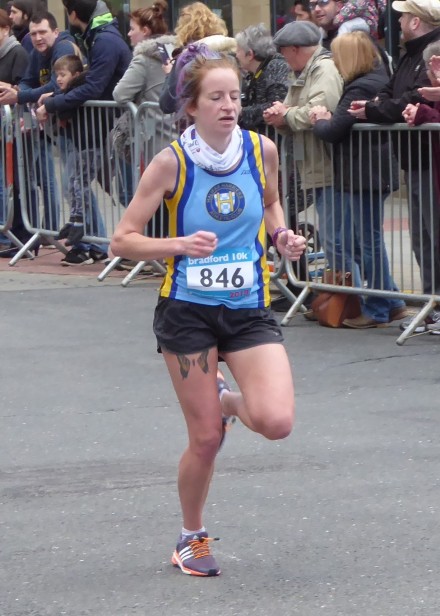 The Bradford 10k which was postponed in March due to heavy snow finally took place last weekend.  The weather was kind to the 2,500 entrants with light winds and partial sun.
The race starts and finishes in Centenary Square, Bradford.  The course is mainly flat apart from a small hill just before the 4km point and a small incline as the route reaches the 5k point on the approach to Shipley.
With such good conditions many PB's were set by Halifax Harriers runners.  Michael Gaughan was first back for the club in 7th position in a PB of 34:44.  Four other men broke the 40 minute barrier with Michael King continuing to rapidly improve.  His time of 37:24 was also a PB.  Third back for Halifax Harriers was Matt Kay 38:41, with new recruit Tom Paget running 39:36, just pipping James O'Rourke 39:39.
Once again, Halifax Harriers ladies were led home by April Caufield, who was 3rd lady in a time of 39:28.  Rachael Beaumont had another good run in 42:55, just missing a new PB.  Hazel Berrett was 2nd F50 lady in 45:50.
Other runners for the club were:  Will Carver 41:02, Will Stewart 42:34, David Nutton 43:15, Mark Gaughan 43:25, Robert Hick 44:50, Nigel Rigg 45:49, Keith Lemon 45:49, Daniel Ryan 46:16, Nigel Taylor 46:40, Angela Clarke 47:02, Sally Shacklock 47:34, Nigel Corns 48:07, Paul Bunker 48:18, Chris Greenwood 48:21, Margaret Deacon 48:38, Kezia Mulhall 48:44, John Moore 49:21, David Parrington 50:20, Sophie Baxter 50:26, Samantha Layfield 51:07, Jenny St Romaine 56:03, Kirsty Carver 58:32, Susan Hall 59:50, Monica Gallagher 1:00:02, Audra Naylor 1:02:08, Penny Saville 1:03:47.
Junior Awards Presentation Night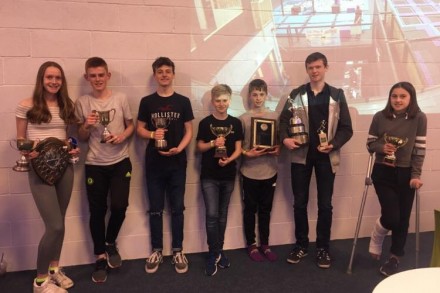 55 junior athletes from Halifax Harriers attended the Awards Presentation at the Airtime, Halifax.  Club Chairman, Mark Gaughan, presented the awards to athletes who had competed with distinction at cross country and in track and field events over the last 12 months.
The cross country winners were Rebecca Riley, Leo Riches, Oliver Gill, Emma Mitchell-Fowler, James Duffy, Iris Palmer, Ewan Wheelwright, Isabel Castelow, Charlie Spencer, Harry Johnson.
Special awards for the outstanding junior female and male athletes went to Isabel Castelow and Max Burgin.
Isabel Castelow also won the Lister Horsfall Challenge Cup and Max Burgin the Middle Distance Trophy.
The Sean Pugh Trophy was awarded to Luke Webb.
The Maurice Harrop Trophy was awarded to Max Burgin for setting a World Record for a 15 year old athlete at 800m.
Harriers At Blackpool Race Weekend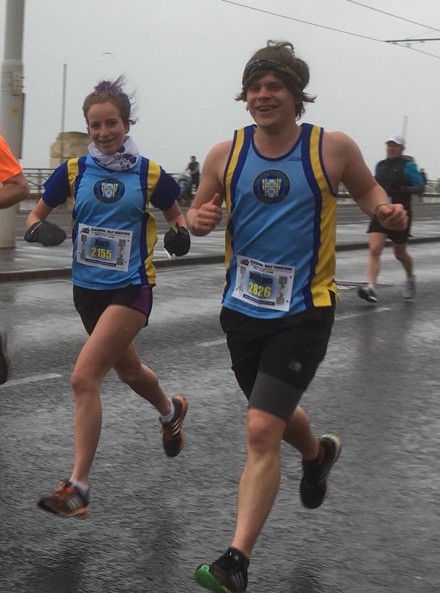 A handful of Harriers travelled to the west coast at the weekend for the Blackpool Festival of running. The sun brought out crowds of spectators on Saturday morning, as the 10k kicked off the racing weekend. The heat was welcomed on the start line, after months of cramming in like sardines to shield from the Beast from the East. 
After the race kicked off, the heat began to rise and the notorious seafront breeze didn't make much of an appearance on the flat coastal course. Despite the unexpected high temperatures, April Caufield was the first Harrier and 2nd lady back with a time of 41:27. Will Stewart closely followed, coming in at 42:25; both looking particularly sunburnt and exhausted. 5k and 2k races also took place during the afternoon. 
On Sunday, the slate was clean, a new day brought fresh opportunities for one to beat the other. It was the day of the half and full marathons; a 13.1 mile lap taking in the sights of Blackpool. In contrast to the day before, the weather was grey, wet and windy. 
Against expectation, form, some would say the will of the gods, it is Will who is able to utter the phrase 'you're only as good as your last race' for the forthcoming week! He finished the half marathon well within his goal of sub-1:30. Despite running an ultra just a month ago, he crossed the line in 1:29:42, turning the tables by beating teammate April by over 90 seconds. April was the 3rd lady to finish in 1:31:25. 
Sarah and Steve Sladdin continued to battle through the rain and headwinds to complete lap 2 of the full marathon. Both finished with incredible times, considering they were both injured too! Steve crossed the finish line in obvious discomfort at 3:14, leaving teammates marvelling at the possible performance Steve could accomplish in a road marathon when fully fit. Sarah was cheered in by teammates after 4:07, looking incredibly fresh and elated with her unexpected time. David Parrington set a PB by almost one hour when finishing in 4:28. Well done everyone - who needs London?! 
Overgate 10k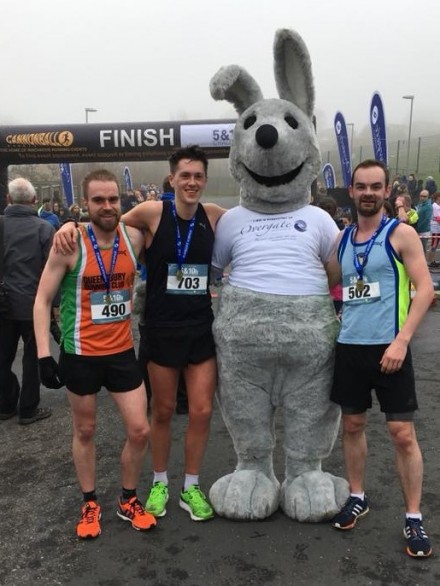 Harriers race well in tough Overgate 10k & 5K
It was a very misty morning on Sunday 15th April, with lots of athletes preparing themselves for a very challenging 10k & 5K run course that starts and finishes at Trinity High School, Halifax.
372 runners made their way from the school to the start line of the 10k, which is approximately half a mile away. Many thankyous were given by the organisers and Overgate at the start as this is one of their larger fundraising events of the year.
When the starter horn sounded a group of lead runners soon established a gap from the field, and with over 600ft of climbing in the first 2.5 miles this steep climb really tested all the runners.
At the half way point Joe Sagar from Spenborough and Tom Collinge from Queensbury had established a good gap away from Mikie Gaughan of Halifax Harriers who was in third place at that time. But once over the top of the hill Mikie Gaughan really speeded up, catching the two in front with every step, he passed Tom Collinge with just short of two miles to go and was closing on the leader fast, but had left himself just too much to do and was unable to catch the leader before the finish.
Mikie Gaughan finished in second place with a great time, especially on this testing course of 36:00. Five other Harriers also ran well on this tough course, Will Stewart finished 31st in 44:53, David Nutton 45th in 46:26, Nigel Taylor 99th in 52:12, Sophie Baxter 114th in 53:26 and Chris Burrell 227th in 1:01:22.
There were also two juniors competing in the 5k race which had a field of 106, Foley Marshall finished an incredible 3rd place in a great time of 21:50 and Katie Brook ran very well to finish 24th in 27:26.
Well done to all the Harriers that ran and all those helping organise and marshal the event!
Flat Cap 10k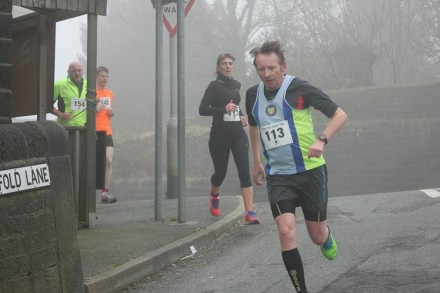 On a foggy Sunday morning the first Flat Caps 10 km race took place in Sowerby Bridge. 155 runners lined up to test themselves on this challenging course. To say this was a hilly course would be an understatement as the climb was over 1000 ft. To make matters worse, as the runners climbed higher it got harder to see the competitors in front due to the increasingly foggy conditions.
Only a small group of Harriers ran the course due to the event being organised on the same day as the more established Overgate 10k, but despite this, the Harriers put on a dominant performance. The fastest Harrier on the day, Adam Breaks, was the first Harrier to finish in 2nd place with a time of 40:54, despite only recently returning to competitive running. The next Harrier to finish was Michael King who was placed 4th with a time of 42:06. The 3rd Harrier was Andrew Wiggins who placed 8th with a time of 44:30.
The always dominant April Caufield led the way for the ladies to finish the first female with a sprint finish and time of 45:47. Rachael Beaumont finished not far behind in 3rd fastest female position with a time of 48:17.
Richard Corney finished with a respectable time of 53:32 and Judith Cole finished with great time of 53:53 for this difficult race. A great performance by all and I'm sure only the start of what is to come for the season ahead. Well done to everyone who participated.
Hanni Runs Rome Marathon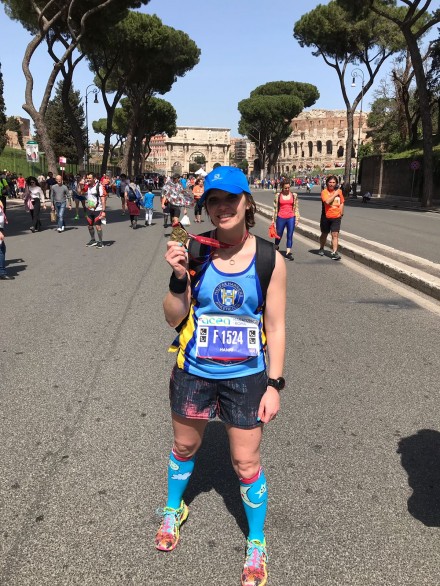 The 2018 Maratona di Roma attracted over 15000 athletes from around the world and given the sensational sights that the course offers, it's not difficult to see why the race has grown so much in popularity in its 24 year history. 
The race starts at Via dei fori Imperiali overlooking the magnificent backdrop of the Coloseum, and then wends its way through the city past famous landmarks such as St. Peter's Square, the Vatican and the Trevi Fountain to name but a few. The course is relatively flat, with a couple of steady inclines just as the route branches away from the river and out to the northern part of the city.
Conditions were challenging, with over 18 miles of the course being on cobbled roads and temperatures soaring to 27 degrees only 2 hours after the starting pistol had sounded - a far cry from the snowy, sub-zero training all of the Halifax Harriers' Spring Marathoners have endured this year.
Hanni Maeer had high hopes of a more comfortable run, but had to accept that the heat would take its toll on her usual pace. Coming in at 4.23:55 was not quite the gladitorial performance she was hoping for, but it was a wonderful sight seeing adventure and experience all the same. Who knows, maybe a return to the ancient city will be on the cards again next year and there'll be a handful more Harriers to share the experience with.