The Sun Shines On Halifax Harriers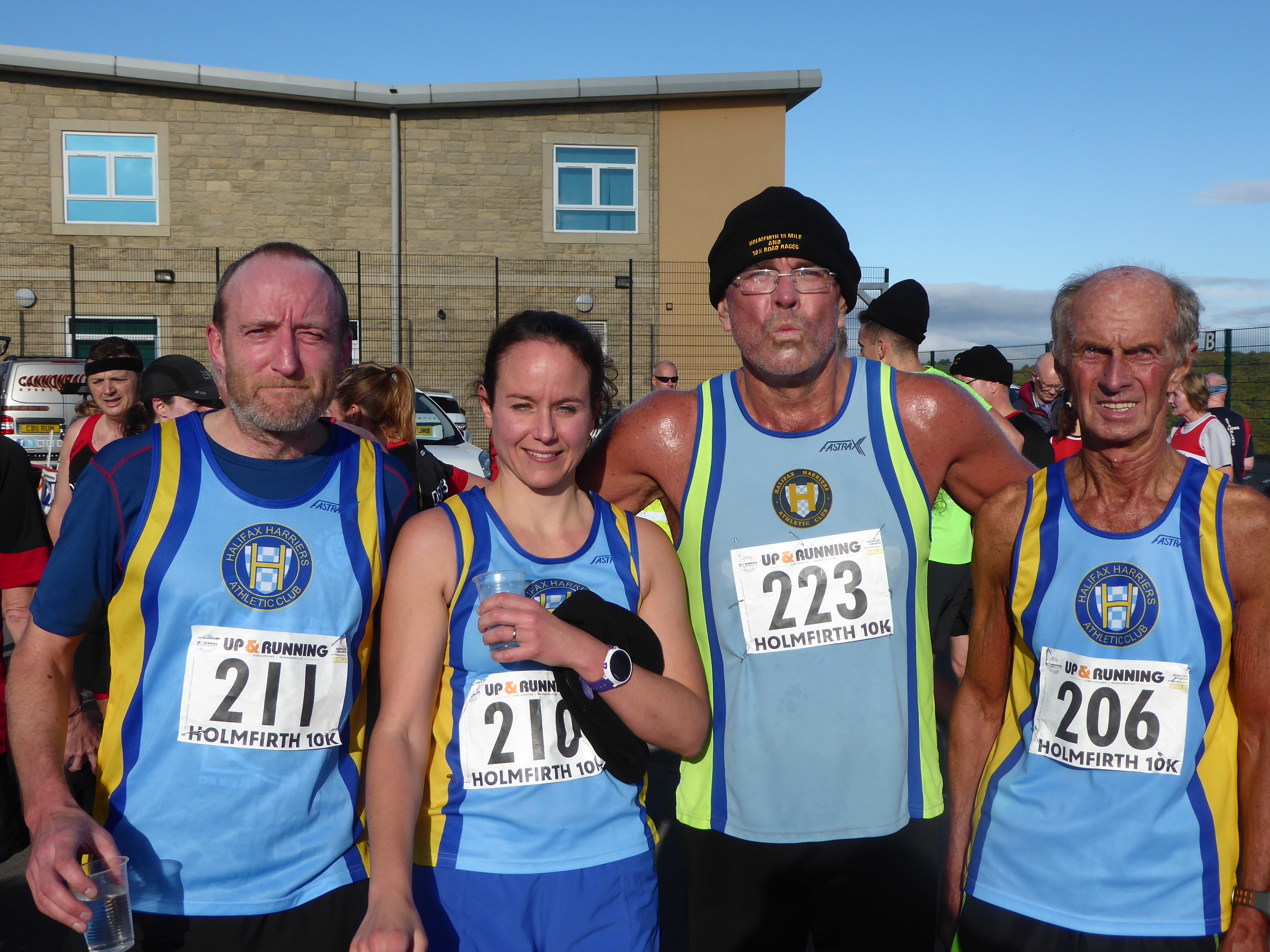 Lovely Autumn sun provided ideal conditions for Halifax Harriers, both at Holmfirth and at the Great South Run in Portsmouth. 
Down on the south coast, four members took part in the Great South Run 10 mile race.  Sarah Cumber started in the ladies elite field and was up against the top runners in the UK.  Sarah initially set off with the eventual winners, but quickly realised that the pace was far too fast for her and then ran at her own pace finishing in 13th place in 1:04:32.  Nigel Rigg ran 1:19:20 closely followed by Geoff Cumber 1;19:29 (2nd M70).  Heath Reilly ran 1:29:28.
At Holmfirth the lovely weather provided excellent conditions for the runners in the 15 mile and 10k races.  Both courses start with a fast downhill section, but have a nasty short climb in the centre of Holmfirth.  The 15 mile race is two laps of 7.5 miles, whilst the 10k covers most of the 15 mile route.
In the 15 mile race, April Caufield was first back for Halifax Harriers in 19th place and 3rd lady in 1:47:32, closely followed by Will Stewart 1:48:36.  Margaret Deacon ran 2:17:08 and Martin Ellis 2:23:13.
The 10k saw Tim Baxter first back for Halifax Harriers in 44:27 (2nd M45).  Raymond Hall ran 47:20 (1st M70), Sophie Baxter 50:54 (3rd F40) and John Moore 50:25.
Halifax Harriers Return To Majorca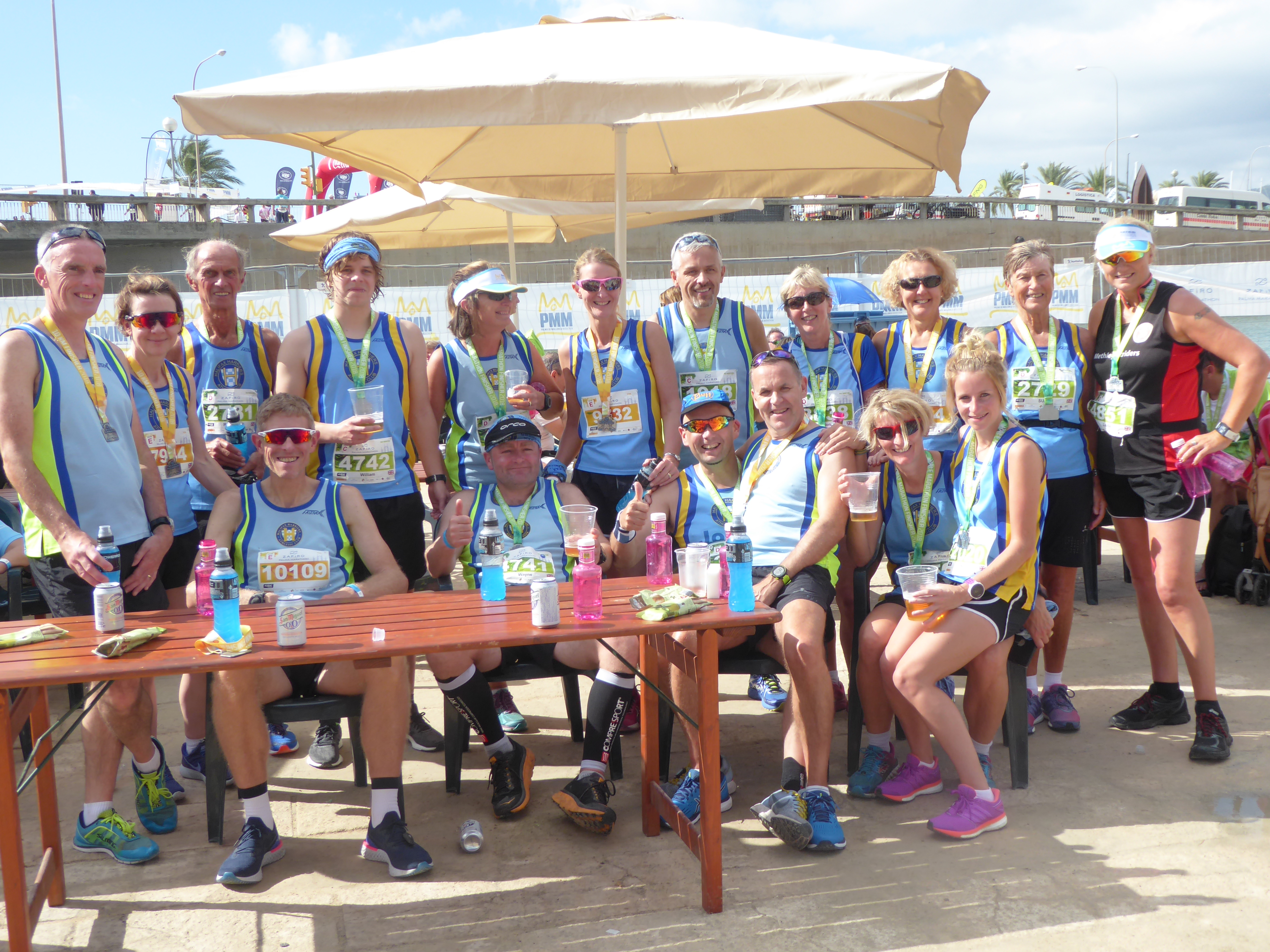 For the fourth consecutive year, Halifax Harriers had their annual club trip to Majorca.  Once again, they had warm and sunny weather for the half marathon and 10k runs.  These are one of the few races undertaken by club members intent on having a good time in the warm weather rather than worrying about setting PB's.  This does not stop runners trying their best, but, with the warm conditions and the nature of the course, times are less important than enjoying the day.
The 10k and half marathon both follow the same 6 miles from the start in front of the magnificent cathedral.  The route follows the seafront for the first 3 miles, passing the harbour full of expensive boats, before returning back to the start for the 10k runners.  The half marathon then follows a twisting, undulating route along narrow alleyways in the old town where there are spectators around each corner.
In the half marathon, which attracted 4000 runners, Halifax Harriers were led home by April Caufield (12th lady) in 1:32:39.  Will Stewart was the first man back in 1:37:22.  Raymond Hall was next to finish in 1:43:41 (1st M70), now starting to regain some of his old form after a long layoff.
Other runners for the club in the half marathon were Wayne Stevens 1:52:09, Jonny Lister 1:56:08, David Broadley 1:57:32, Fiona Murphy 1:58:51, Andrea Ackroyd 2:05:05, Deborah Kirkbride 2:13:00, Keith Midgley 2:13:02, Susan Hall 2:24:01, Jenny St Romaine 2:24:55.
In the 10k, Halifax Harriers had 7 runners.  Once again, first back was Simon Johnson 38:05 (3rd M50) in 25th place out of almost 3000 runners.  First lady for the club was Hazel Berrett 50:05 (3rd F55).aH   
Other runners for the club in the 10k were Craig Empsall 45:28, Paul Hopkinson 47:41, John Moore 52:54, Jenny Hopkinson 56:05, Michelle Broadley 57:25.
OTHER RACES THIS WEEKEND
Halifax Harriers had numerous runners at races in the UK over the weekend. Samantha Sugden was in action at the Yorkshire marathon in which she ran 4:05:34. At the Yorkshire 10 mile race four club members competed with Adrian Thomas first back in 18th position in 58:15, Stephen Rainbow ran 1:07:47, Marc Rocheteau 1:14:17, Jane Curwen 1:31:10.
At the Manchester half marathon Ian Whitehouse was first back in 1:22:48, James O'Rourke ran 1:27:11, Tom Paget 1:28:55, Angela Clarke 1:40:28, Nigel Rigg 1:44:35, Sharon Cousen 1:47:43, Philip Davis 1:54:21.
Nigel Corns ran 1:49:11 at the Leicester half marathon.
At the Roche Abbey 20 mile trail run Hanni Maeer was first lady in 3:06:24 and 5th finisher.
Peter Clegg was 1st at the King of  the Hills Half marathon in Huddersfield 1:28:43
Sarah Wins By A Few Seconds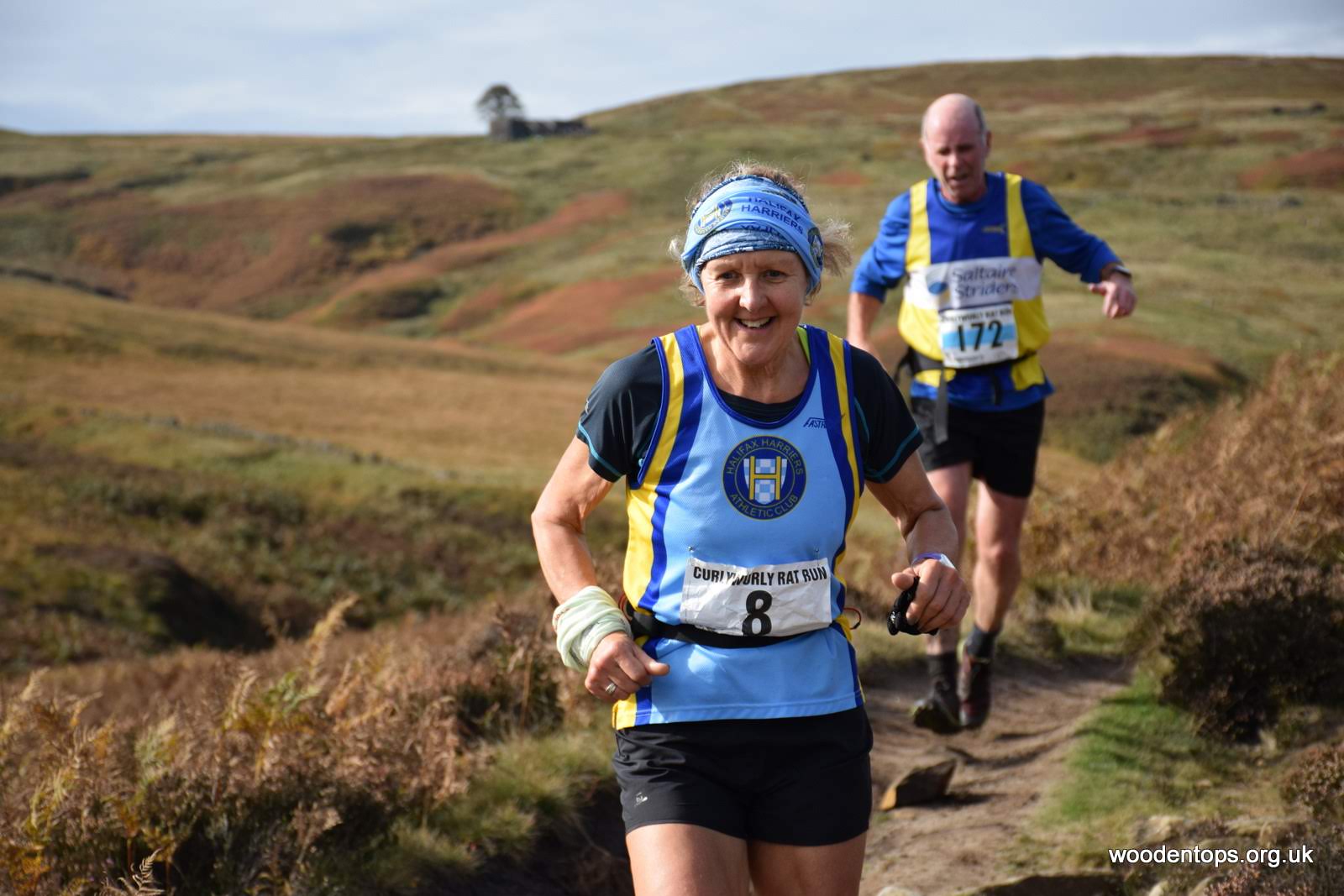 Halifax Harrier Sarah Cumber took the scalp of ex-Olympian Mara Yamauchi at the Oxford half marathon.  Sarah just pipped Yamauchi by 14 seconds when winning the F45 age group in 1:23:59.  Mara Yamauchi represented GB at the 2008 Olympics when she finished 6th in the marathon.  Also at the Oxford half marathon was Halifax Harrier Marc Rocheteau who ran 1:40:00.
Halifax Harriers had runners at several other races at the weekend. 
April Caufield was back to good form being the 3rd lady finisher at the Rochdale half marathon in 1:29:51.  Will Stewart also ran the half marathon and finished in 1:34:01.  John Moore ran the 10k race at Rochdale in a time of 49:09.
David Parrington set a PB of 4:13:55 at the Chester Marathon despite taking a bad fall at the 18 mile point.
At the strangely named Hedgehog half marathon Hanni Maeer finished in 1:49:11.
Halifax Harriers also had runners out on the fells at the Withins Skyline, with both juniors and seniors competing.  In the juniors, Sam Keighley was 6th U/9 boy and Jessica Sanderson was 20th U/11 girl.  First senior man back for Halifax Harriers was Steven Sladdin 44th and first senior lady was Hazel Berrett 181st, followed by Sarah Sladdin 187th and Jane Hobson 206th.